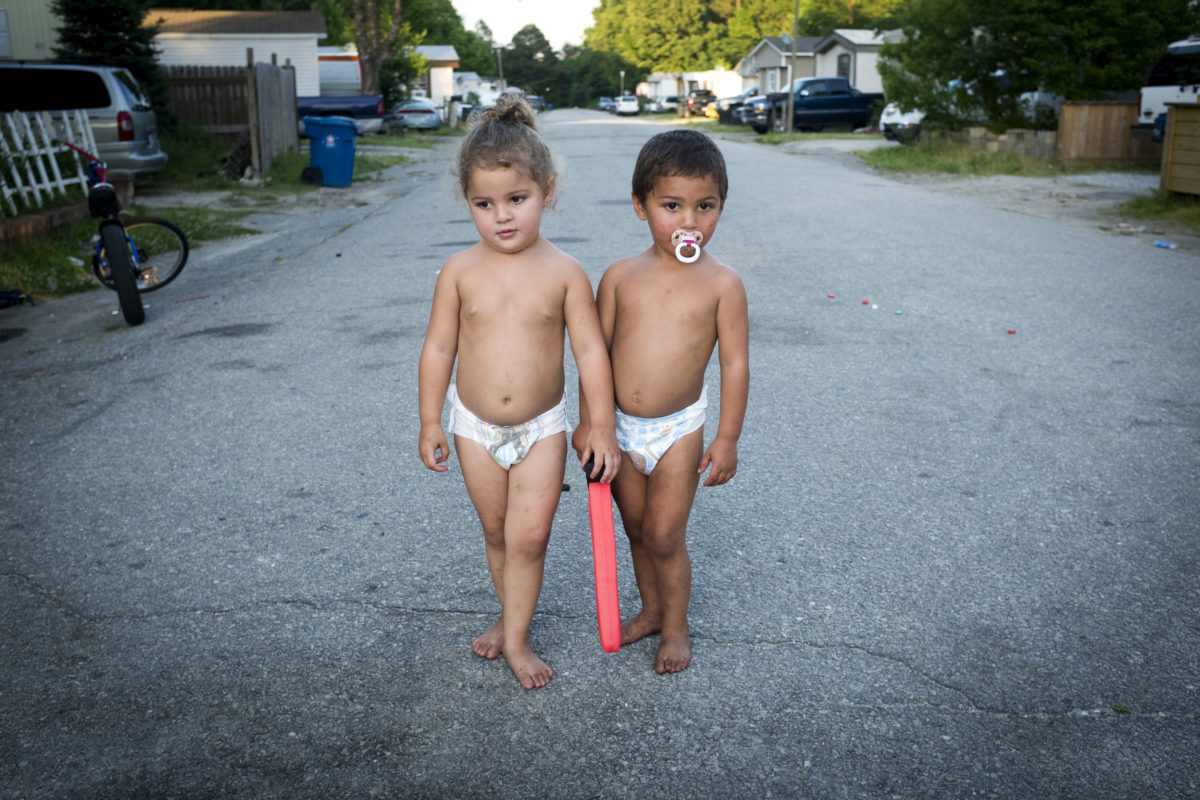 Down the Pike
Twins Sophia and Samuel Hamlin, 2, stand outside their family's home in Bermuda Estates mobile home park along Jeff Davis Highway. Their father, Richard Hamlin, worries that the trailer park could close to make way for housing development his family can't afford to live in.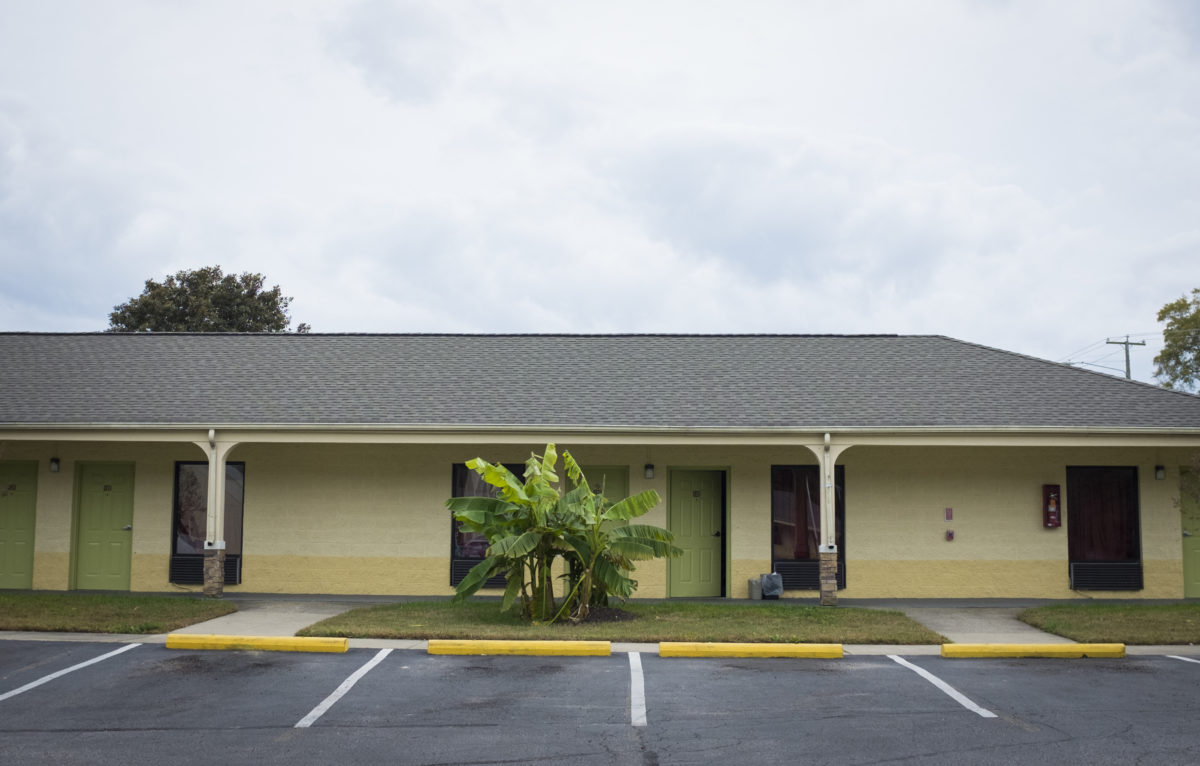 Down the Pike
The White House Motel at 9401 Jefferson Davis Highway provides long-term housing for many families and for others living "on the Pike" who don't know where they will sleep day-to-day.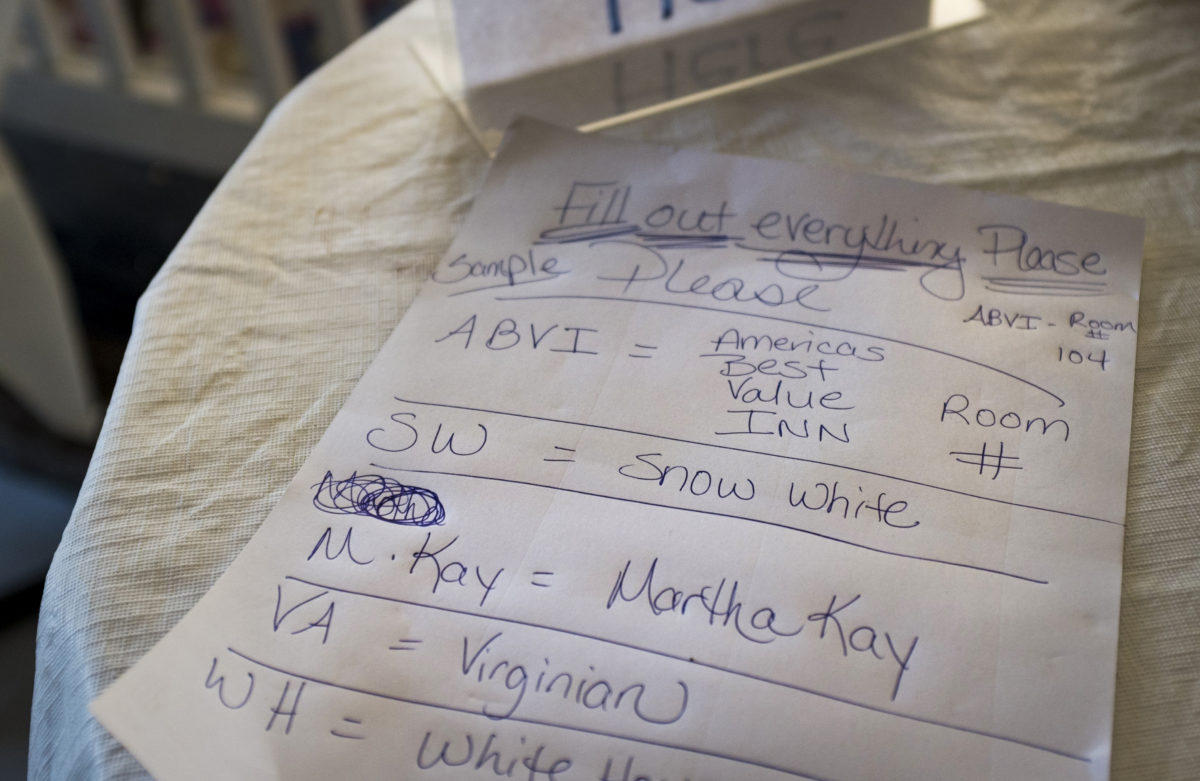 Down the Pike
Place of Miracles Cafe operates out of a church on Willis Road near America's Best Value Inn. "We serve hot homemade meals Tuesday through Friday to the needy who live in the run down motels and trailer parks around the Jefferson Davis corridor," their website reads. Clients sign in for dinner with their name and the abbreviation for the hotel they live in.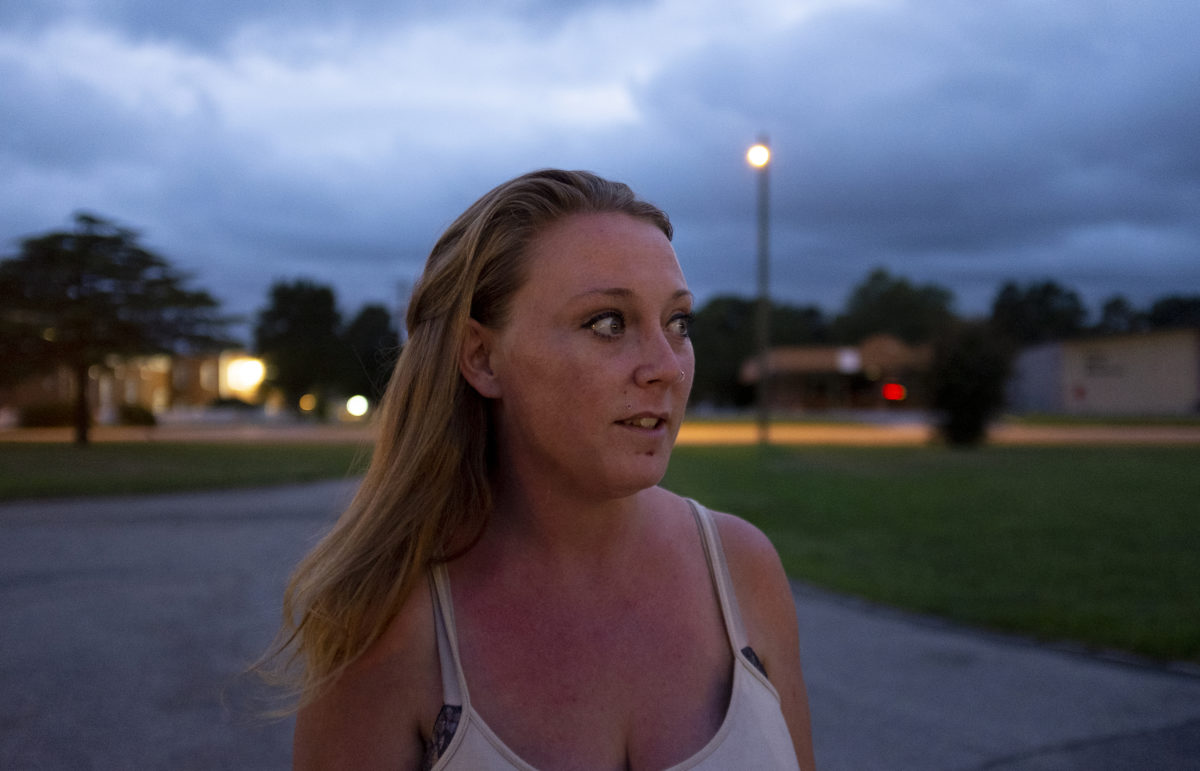 Down the Pike
Kristy* stands outside of the Martha Kay Motel waiting for food distribution from the Place of Miracles Cafe, a local food bank and soup kitchen.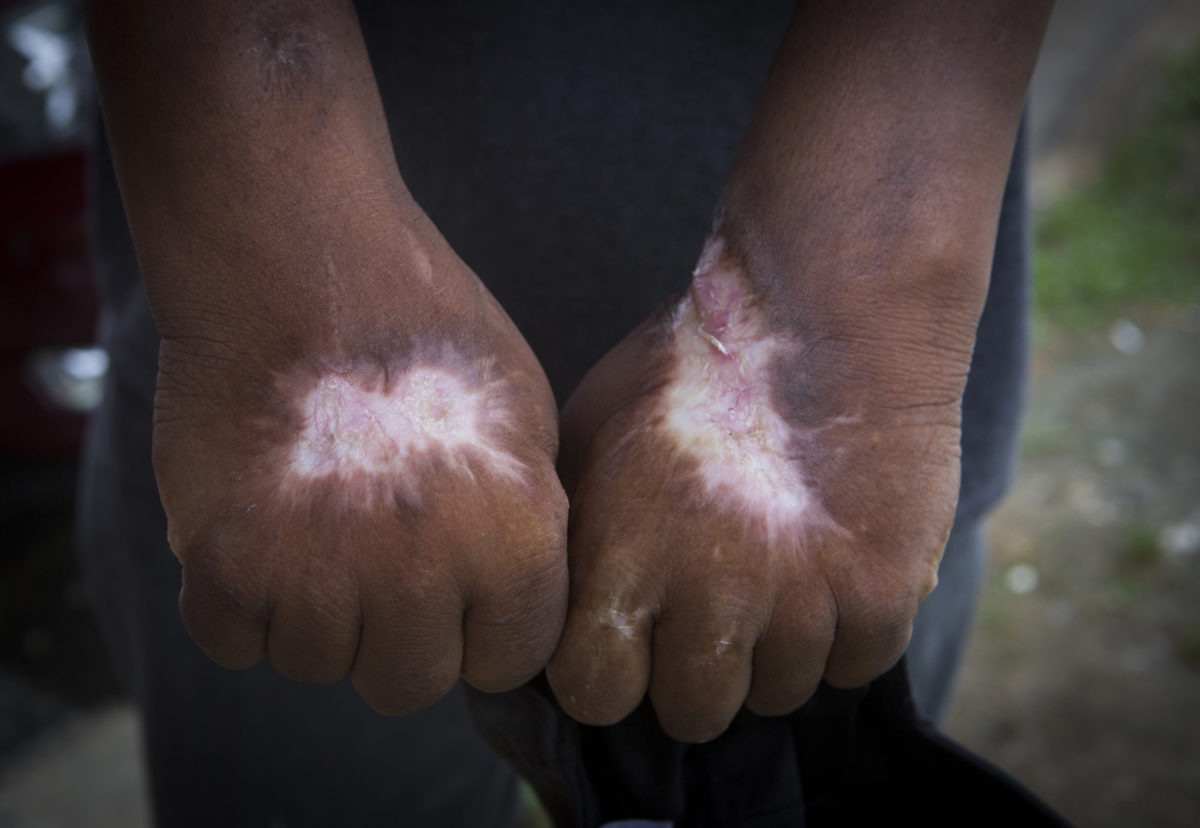 Down the Pike
David, 63, shows his scars from over 35 years of drug abuse. He said he started using cocaine and heroin to "be cool" in the late 70's and now his hands and arms are scarred from repeated needle injections. He has been on methadone for over a decade. "I'm afraid to come off it," he said. He knows America is in the middle of an opioid crisis but added, "There wasn't an 'epidemic' till these drugs came out of the ghetto."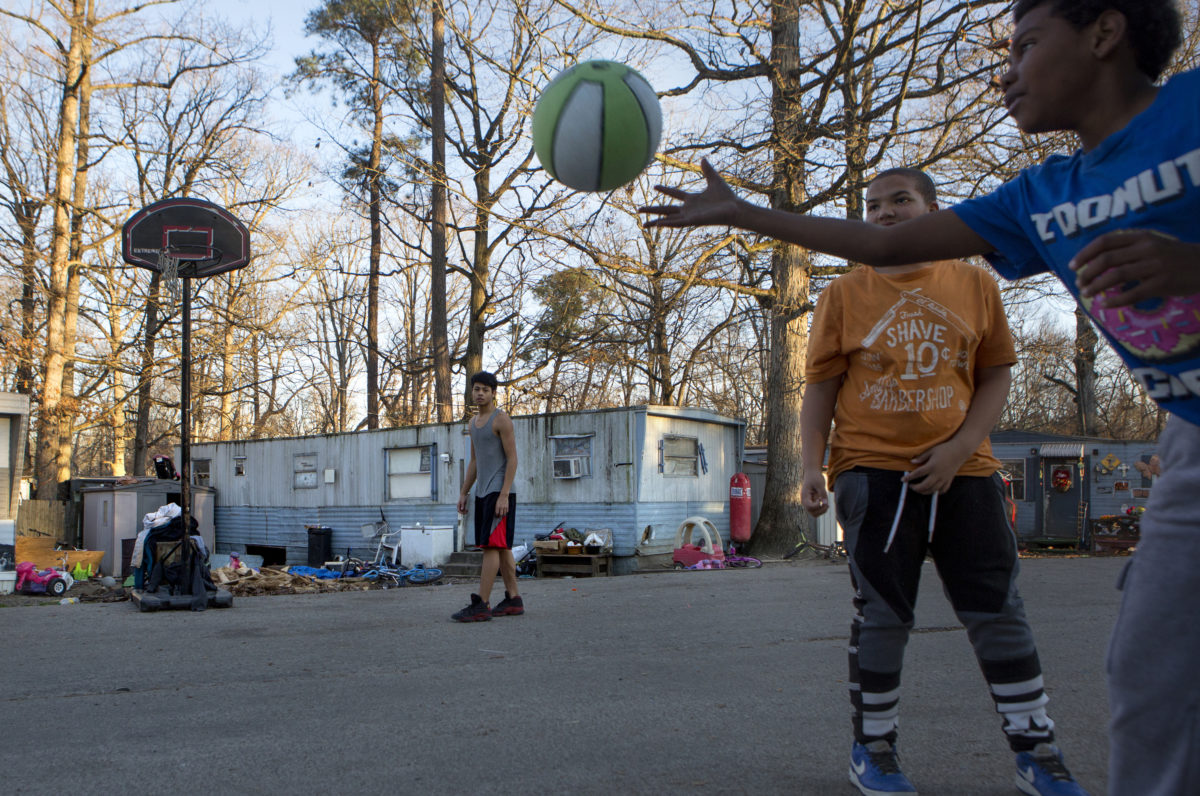 Down the Pike
Kids play basketball in Shady Hill Trailer Park in February 2017.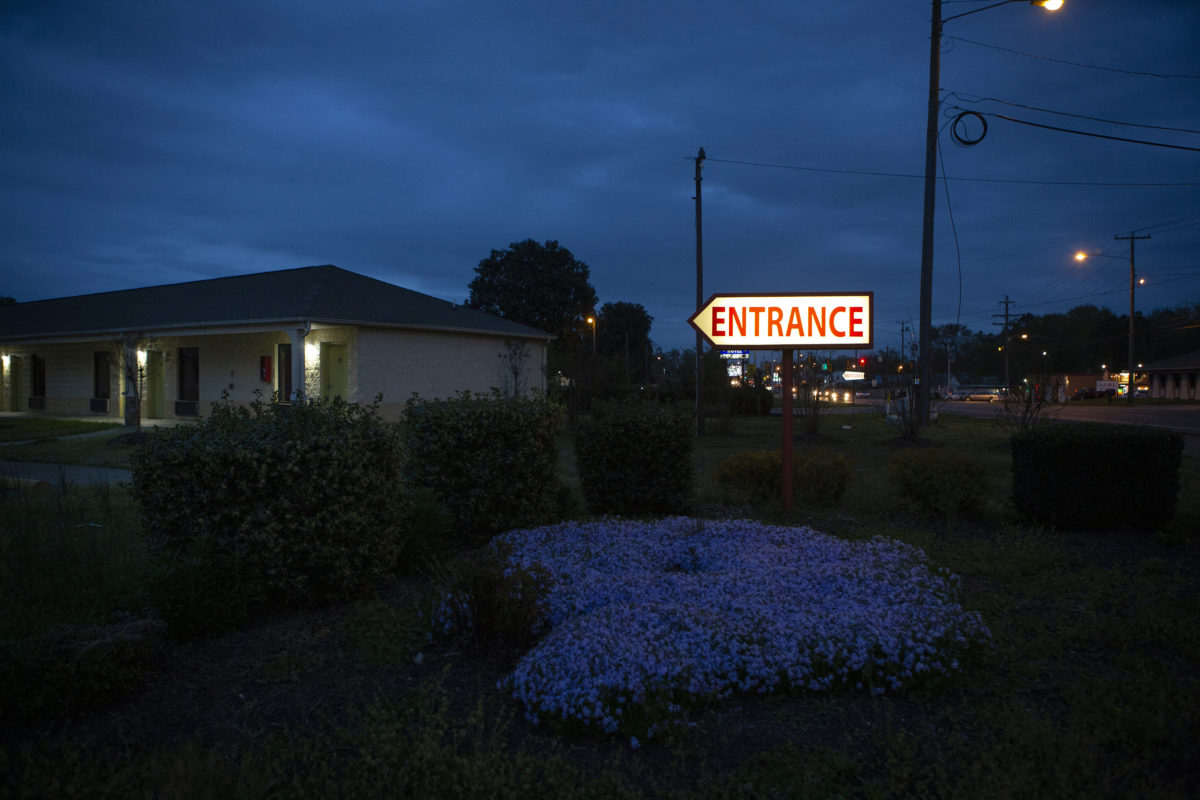 Down the Pike
The sun sets along Jeff Davis Highway in April 2019.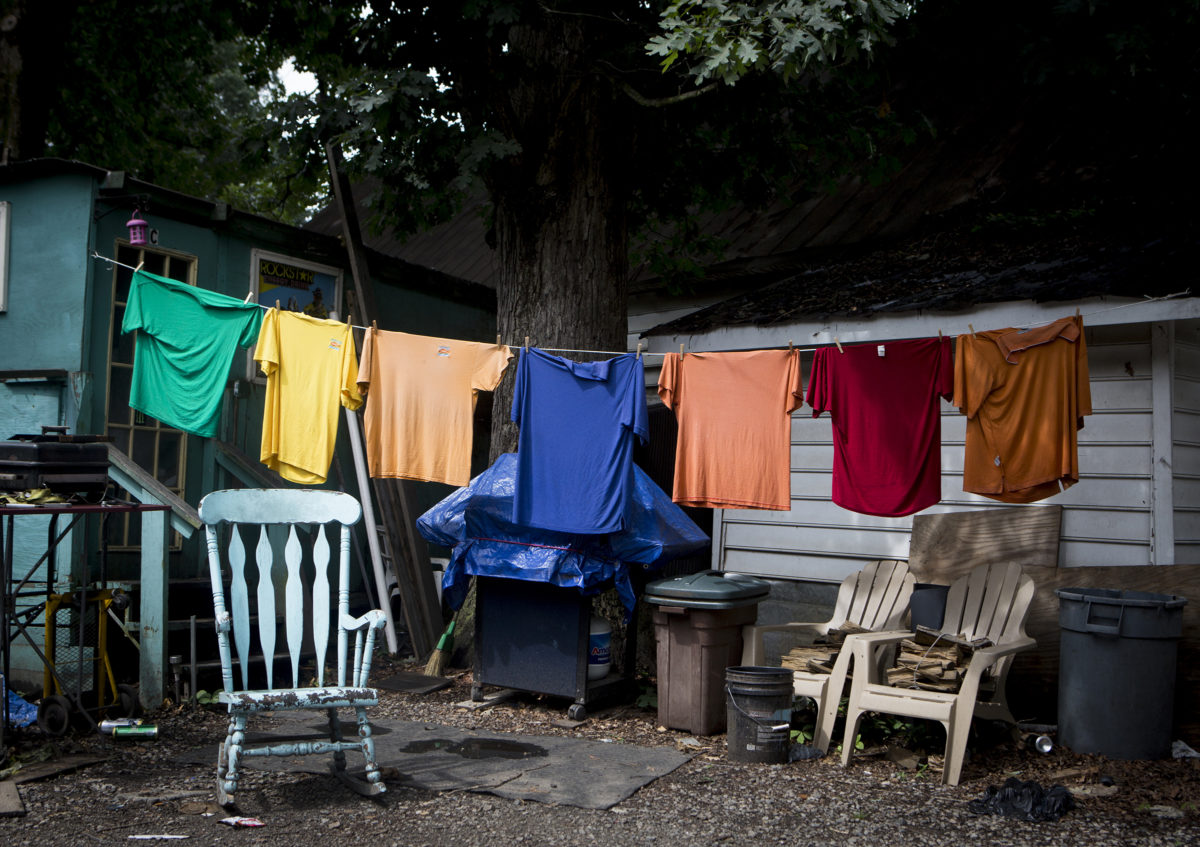 Down the Pike
Laundry hangs out to dry in Shady Hill mobile home park along Jeff Davis Highway on the first day of summer 2017.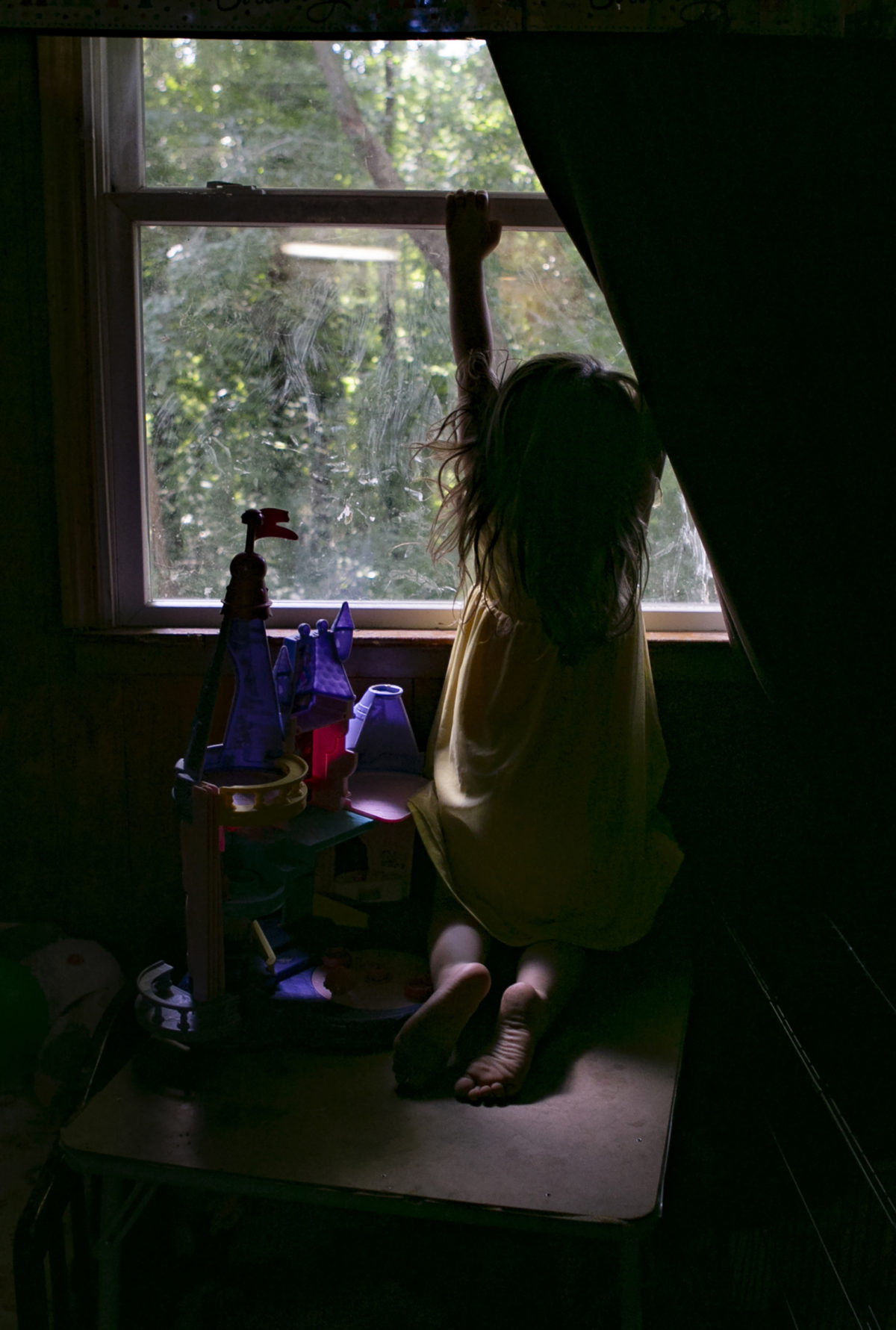 Down the Pike
Arabella, 3, looks out the window at her home in the at the Maisonettes, a group of small apartments along the Jeff Davis Highway. Her mother Angie Smith gave birth to her when she lived at the America's Best Value Inn. Sickness and complications after birth kept Angie bedridden, yet she was afraid to return to the hospital for treatment believing she would be locked out of her room while she was away. With help from a church group, she was able to leave the hotel and has maintained her apartment for three years.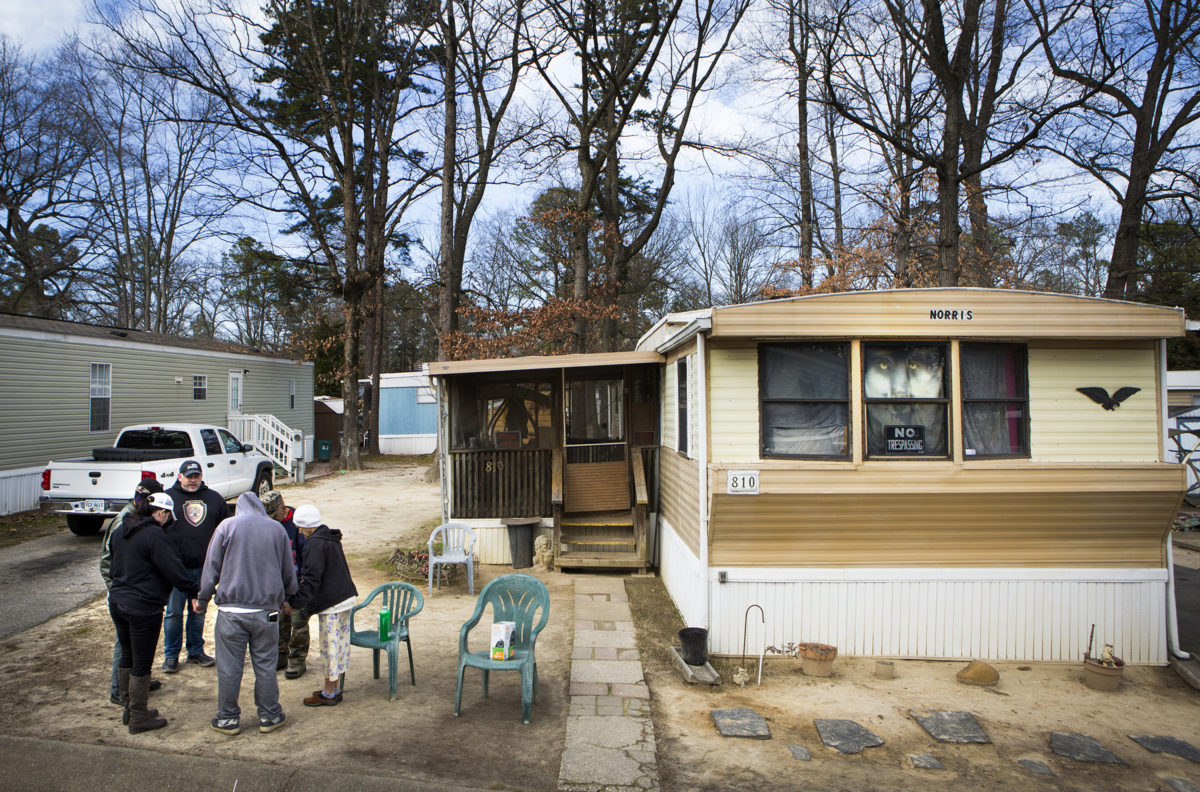 Down the Pike
The Guardians - Chris and Stacy Lane - pray with a family outside of their trailer near Jeff Davis Highway. The Lanes became local missionaries on the Pike after losing their oldest son to gun violence in 2015.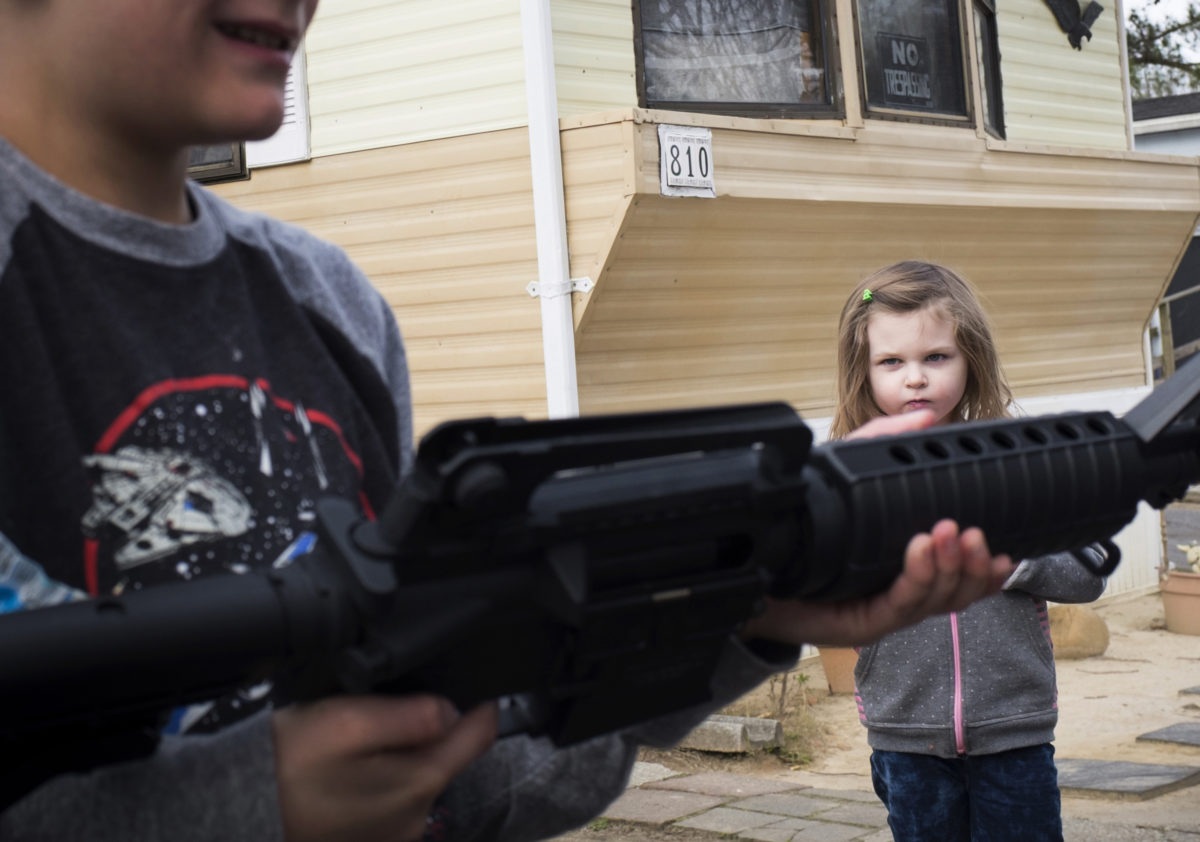 Down the Pike
Kennedy Lane, 5, was three-years-old when her oldest brother, Dakota Austin was murdered at the age of 18. Since that time her parents have become "missionaries" working in the trailer parks and hotels along Jeff Davis Highway. "There's a man - he's not my brother, but another man I liked very much who also died. I know there is a time to go but there are so many people dying. What is God doing?" she said.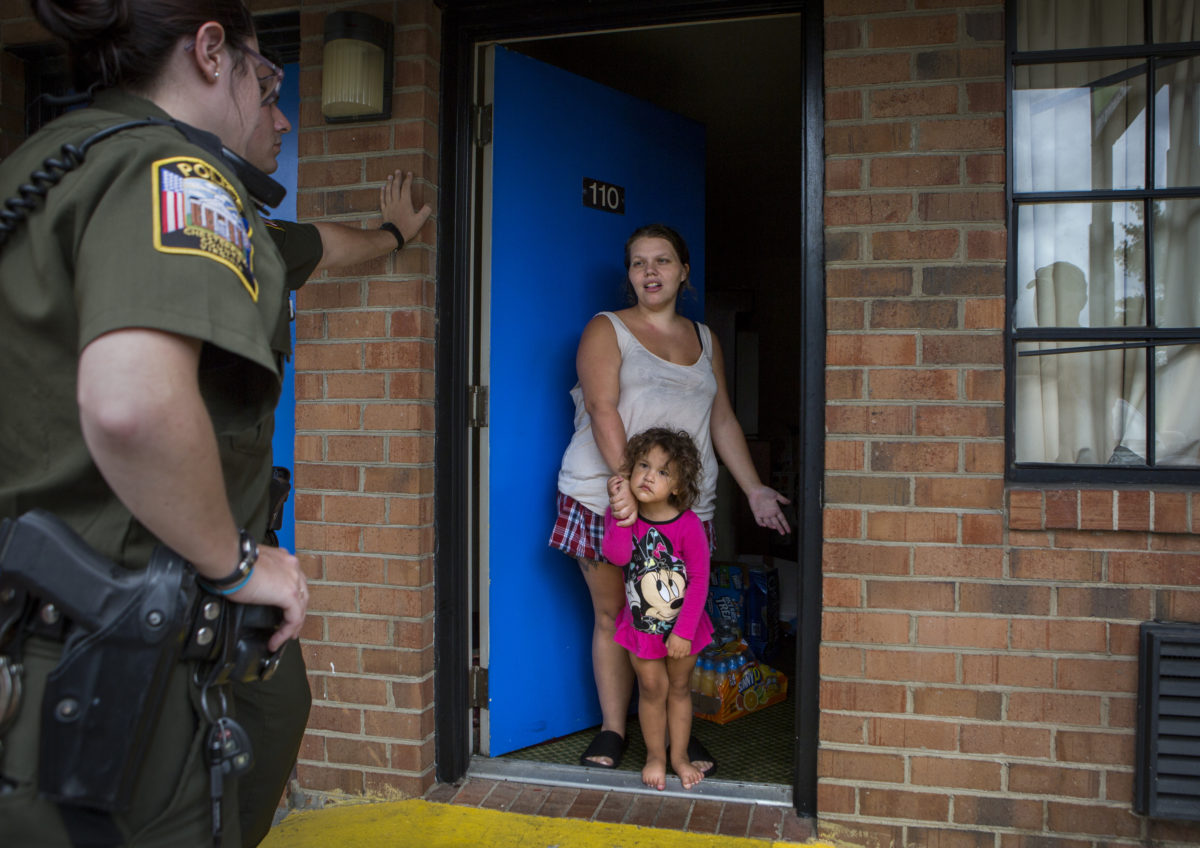 Down the Pike
Kelsey Ratliff stands with her daughter Liliana, 2, in the doorway of their room at America's Best Value Inn while Chesterfield police officers explain that she must vacate the property August 8, 2017. Ratliff has been living at the hotel since Christmas 2016, but the officers explained that because she has switched rooms, the Landlord-Tenant Act does not apply to her and she is not eligible for the official eviction process. Ratliff said she is packed and ready to leave but hasn't been able to find a single hotel with a vacancy for herself, Liliana and her daughter, Ariella, born July 1.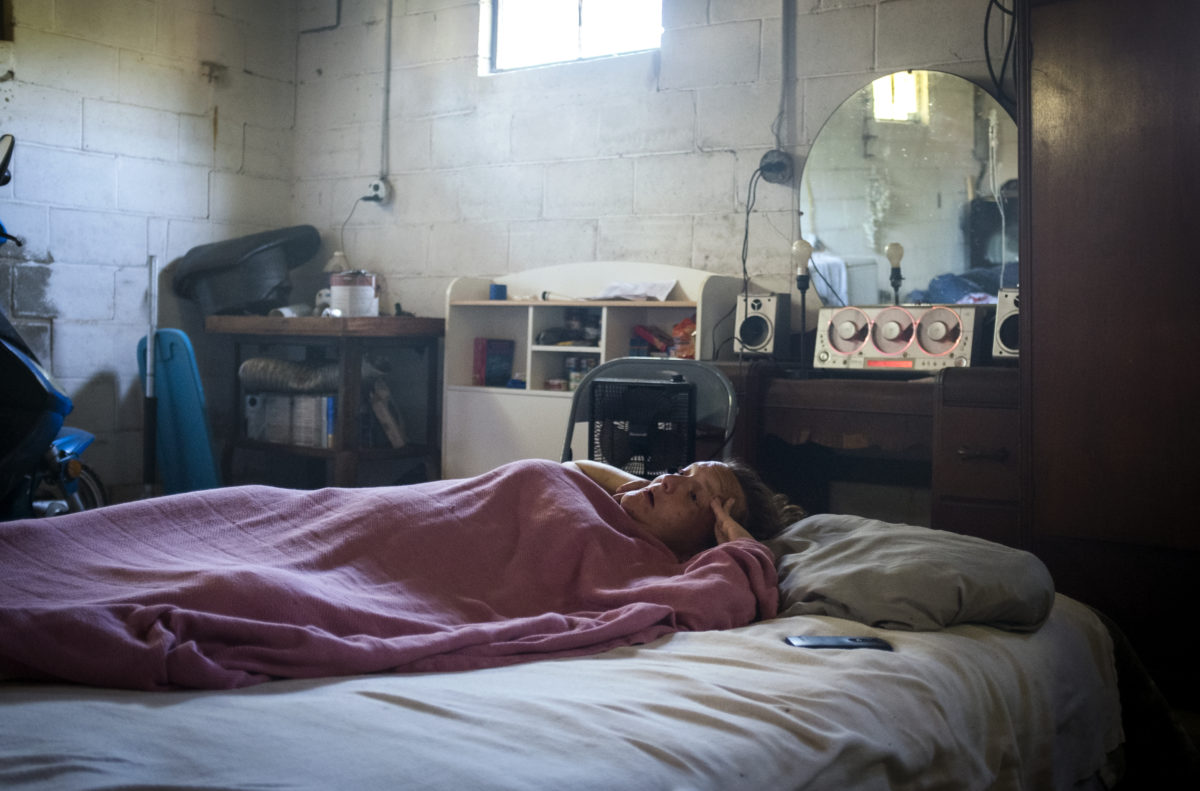 Down the Pike
B.B. finds shelter in a friend's garage after running out of money for day-to-day hotel rooms in September 2017. BB became addicted to oxycodone after being prescribed it for pain after her daughter's birth. After a year and half on oxycodone, she tried heroin and became addicted. "It was cheaper and easier to get high," she said. She lost a baby when trying to kick the habit cold turkey at 8 weeks pregnant. For her third pregnancy, she went to the methadone clinic to control her addiction. "Living is harder than dying. Dying is just more peaceful. Being an addict, life isn't what we want to live because we keep doing the drugs whereas if we die, we are at peace," she said in March 2019.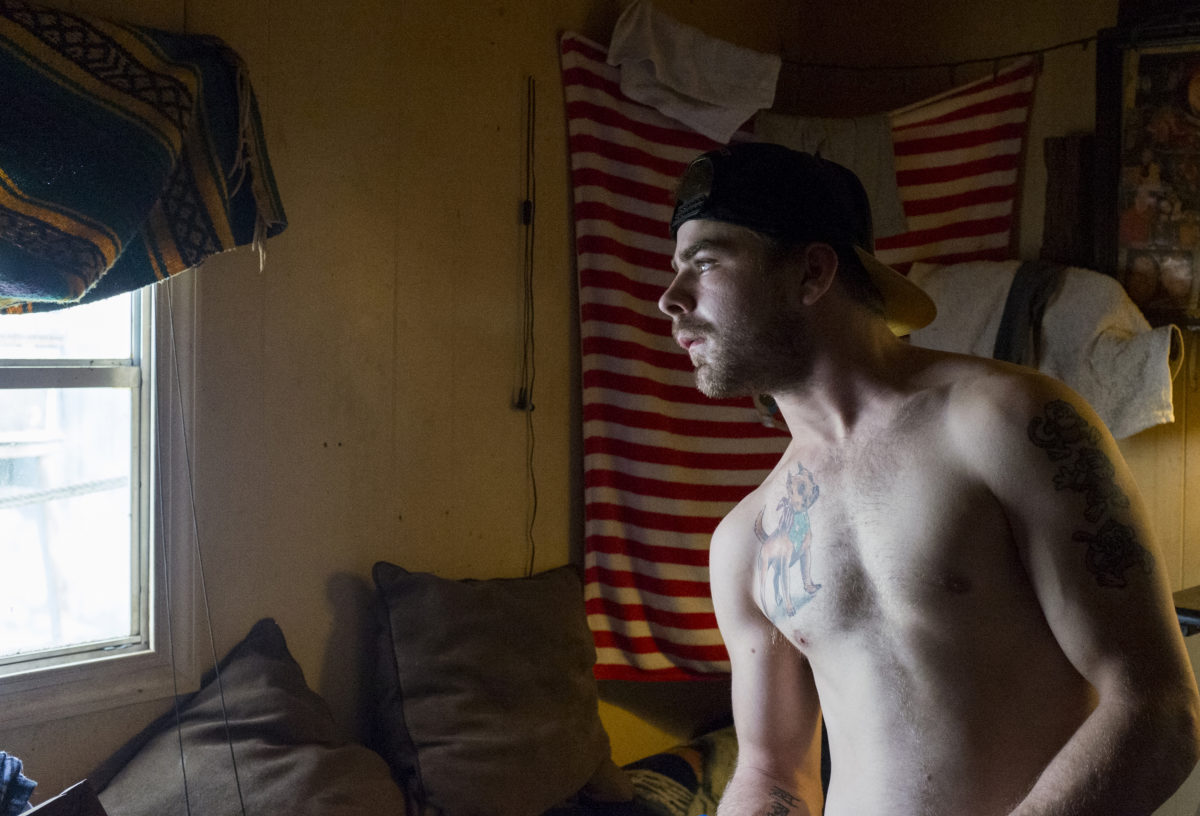 Down the Pike
David Mullenax looks out the window of his mother's trailer in Shady Hill trailer court along Jeff Davis Highway. Shady Hill is known for its violence and poverty. A computer map that displays crime lights up with cartoon fists (assault) and blue stick figures (theft) at the Shady Hill address. David carries a knife in his waist. "I live in a dangerous place, I would usually have a gun," he said.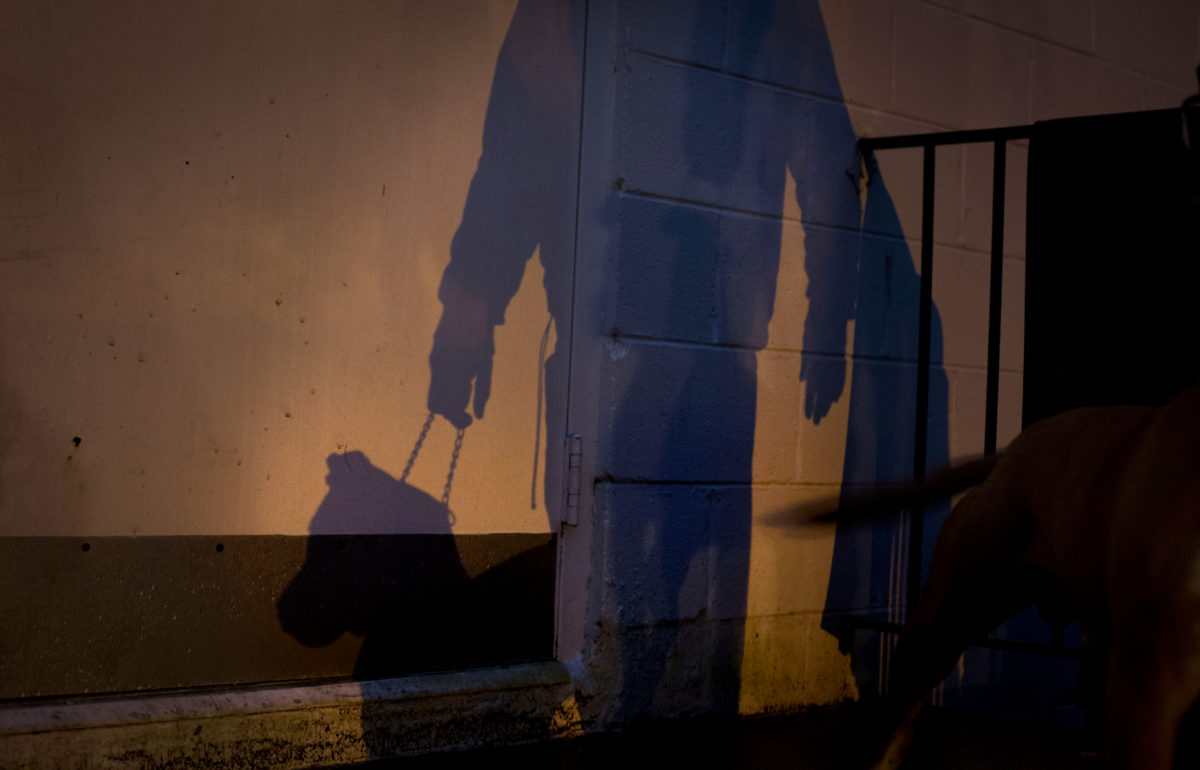 Down the Pike
A stray dog is caught outside the Place of Miracles Cafe in February 2019.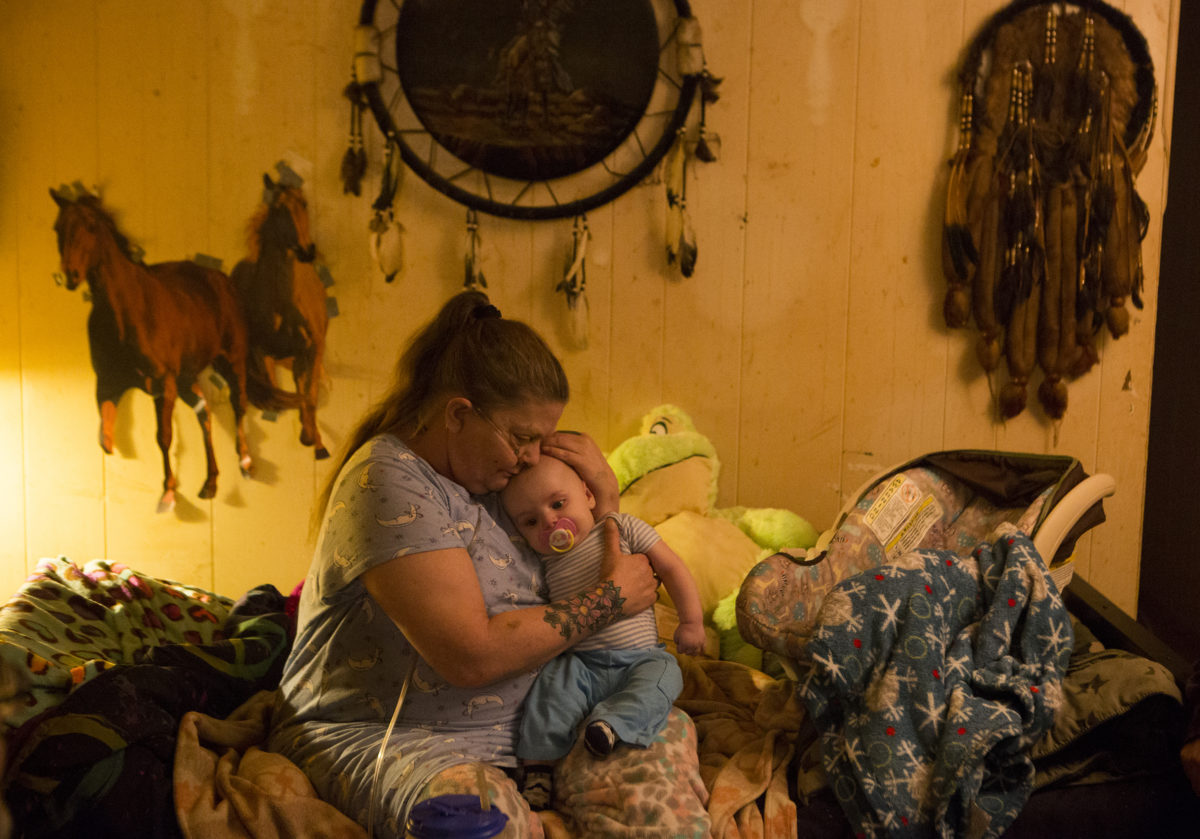 Down the Pike
Anne Fry hugs her 6-months-old grandson, Robbie, in her home in Shady Hill trailer park. Robbie has been in and out of various homes while his parents cope with addiction, depression and incarceration. BB is his mother and Robbie was born addicted.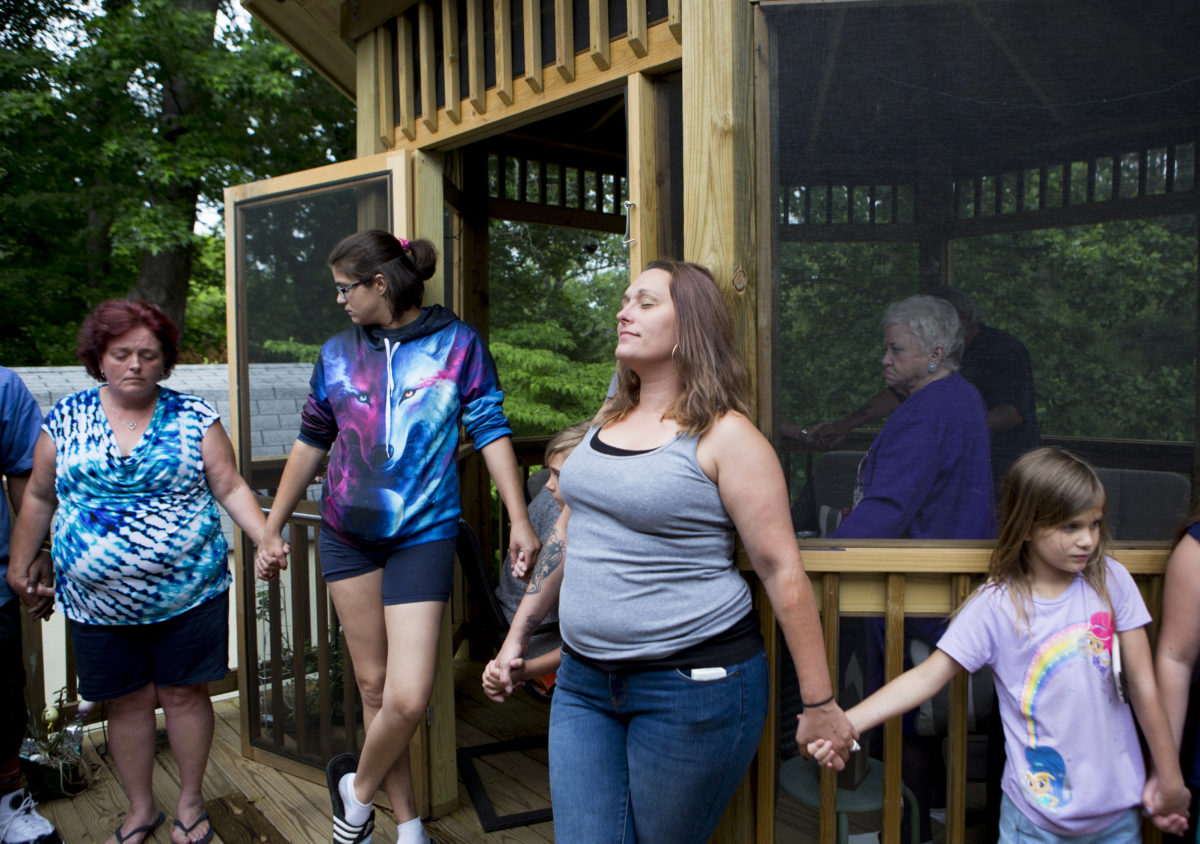 Down the Pike
Patsy Tucker, 31, center, prays with her family at a BBQ in Colonial Heights, Va. June 2018. Patsy became addicted to heroin after a car accident at the age of 23. She later realized that her addiction was a way of coping with childhood sexual assault. Patsy's mother, Diana McArthur, far left, said she never thought Patsy's heroin use would end, but 22 months ago, it did. "It's always going to be a process ... there will always be fear in my heart," Diana said.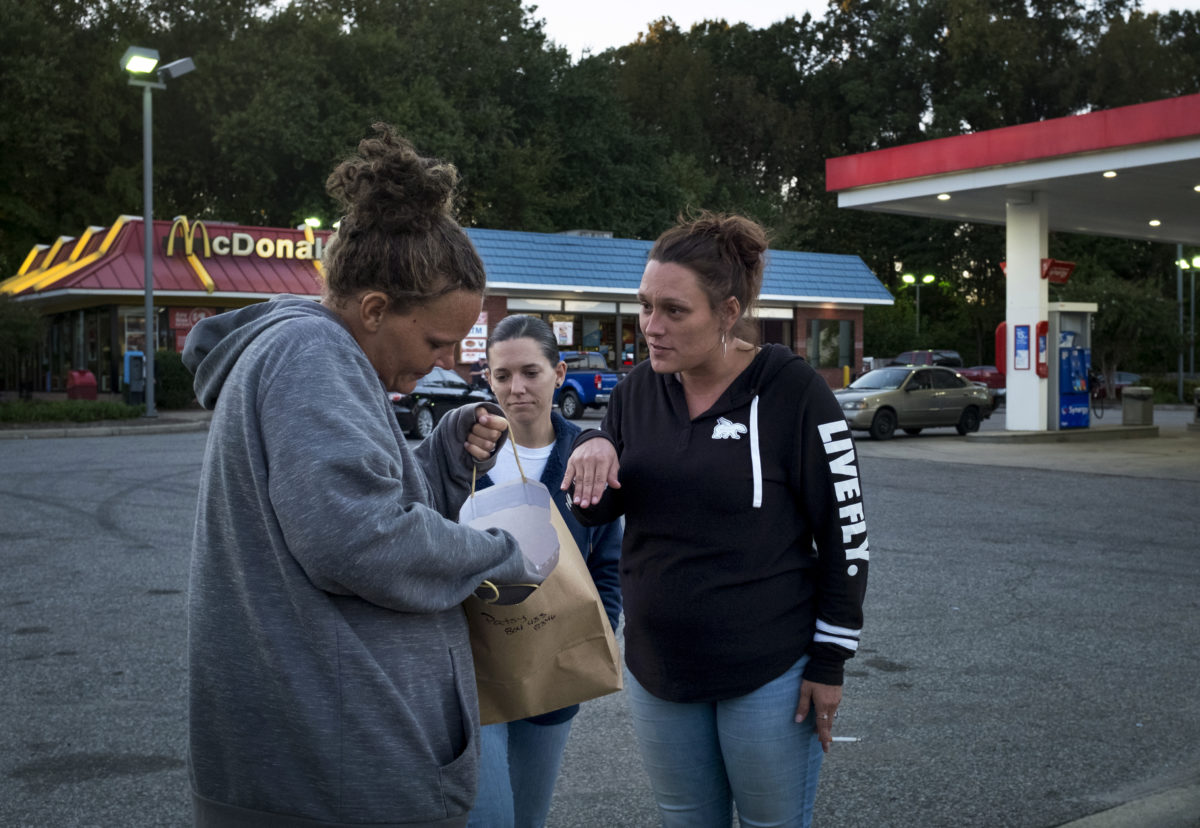 Down the Pike
Patsy and Lindsey Tucker pass out "blessing bags" of toiletries to women living on the streets along Jeff Davis Highway. "I've been there. I want them to know someone still cares," she said.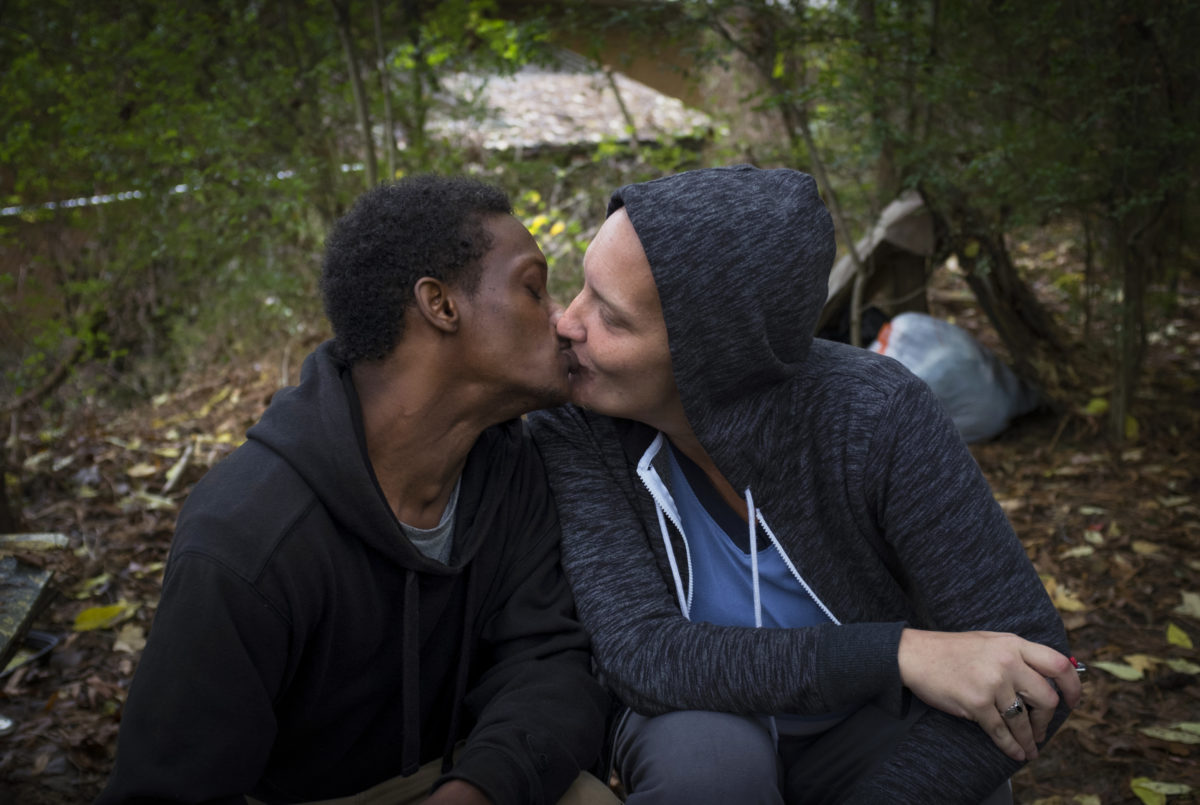 Down the Pike
T and BB share a hit of cocaine in the woods along Jeff Davis Highway where they are living for the night in October 2017. T passed away in the summer of 2019 when he was struck by a car in Ohio.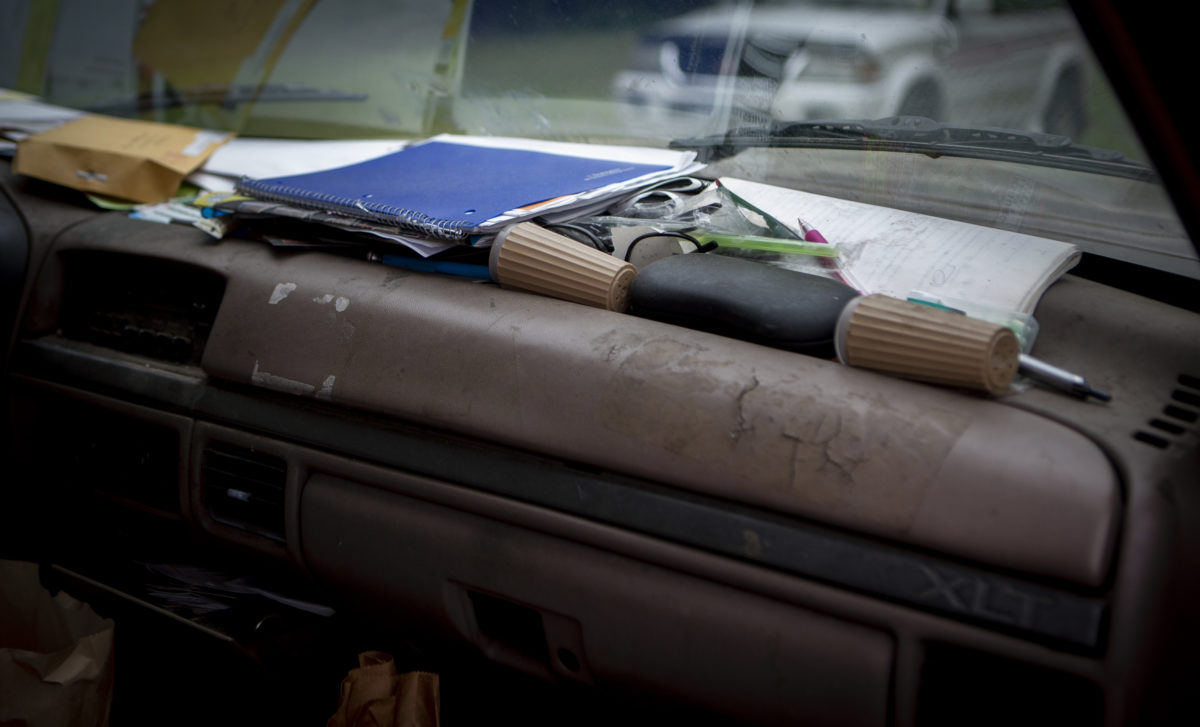 Down the Pike
A truck sits outside of the Place of Miracles Cafe where families living in the hotels come for food in April 2019.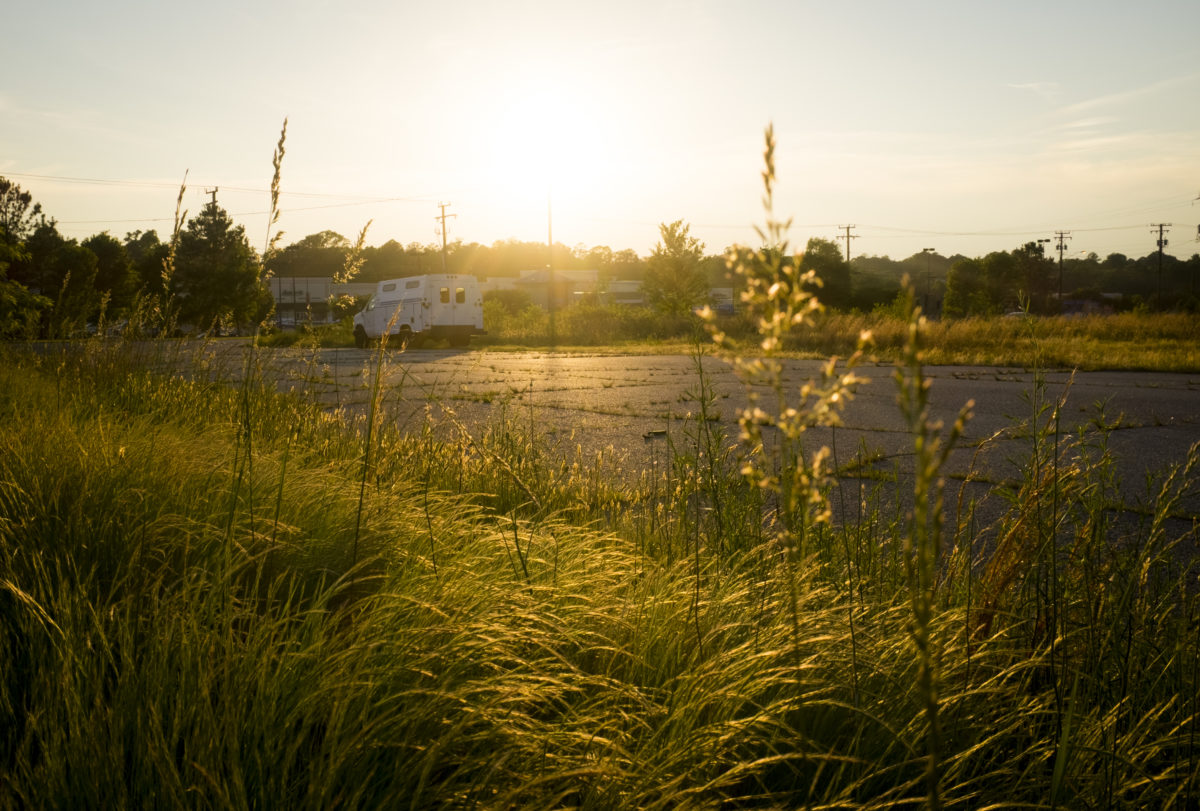 Down the Pike
The Americana Park, a mobile home park, was closed over eight years ago to make room for new development along Jeff Davis Highway, but remains undeveloped. Families in nearby Bermuda Estates trailer park worry that they will be next to be displaced to make way for housing they won't be able to afford.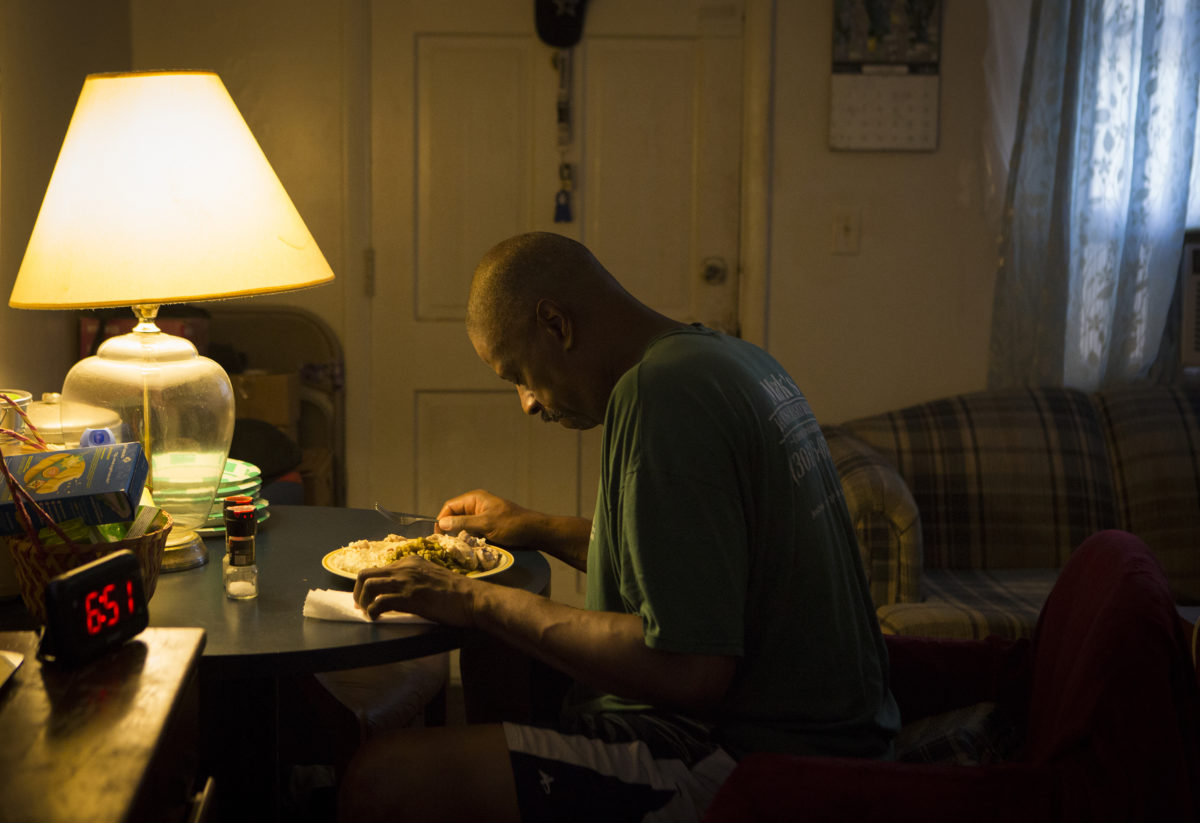 Down the Pike
Marvin Cherry, 58, prays for his dinner in his room at Par 3 on Jeff Davis Highway in early July. Cherry says he is looking forward to the day he can move out of the hotel room he has lived in for four years with his partner Staci Austin. Cherry works six days a week at Friendly's where he has been an employee for 22 years. In 2012, when the Friendly's in Colonial Heights closed and he was relocated to the restaurant on West Hundred Road, he lost all his benefit and seniority, Austin said. "Everything he had worked for all those years was gone," she said.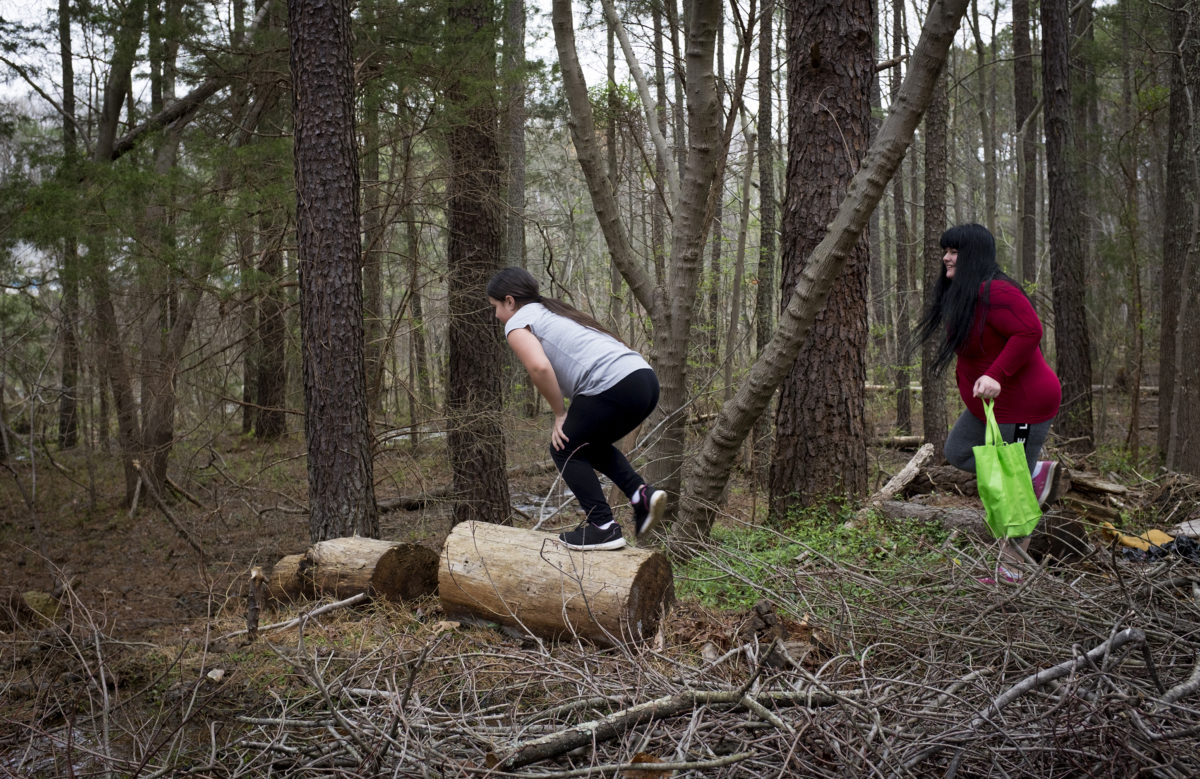 Down the Pike
Angie Smith, 38, and her daughter Angelina, 10, cut through the woods to buy new school clothes at a nearby thrift store. They live on Jeff Davis Highway, which doesn't have sidewalks, so instead of risking the vehicle traffic, they go around. Angie had her first son at the age of 15 and dropped out of high school. She struggles to pay rent on a studio apartment for her and her three children still at home by doing odd jobs on Craigslist. She remembers her mother lying in bed next to her when she was four, doing meth with a boyfriend. "Addiction is a choice," Angie said, determined to raise her children in a safer, cleaner home.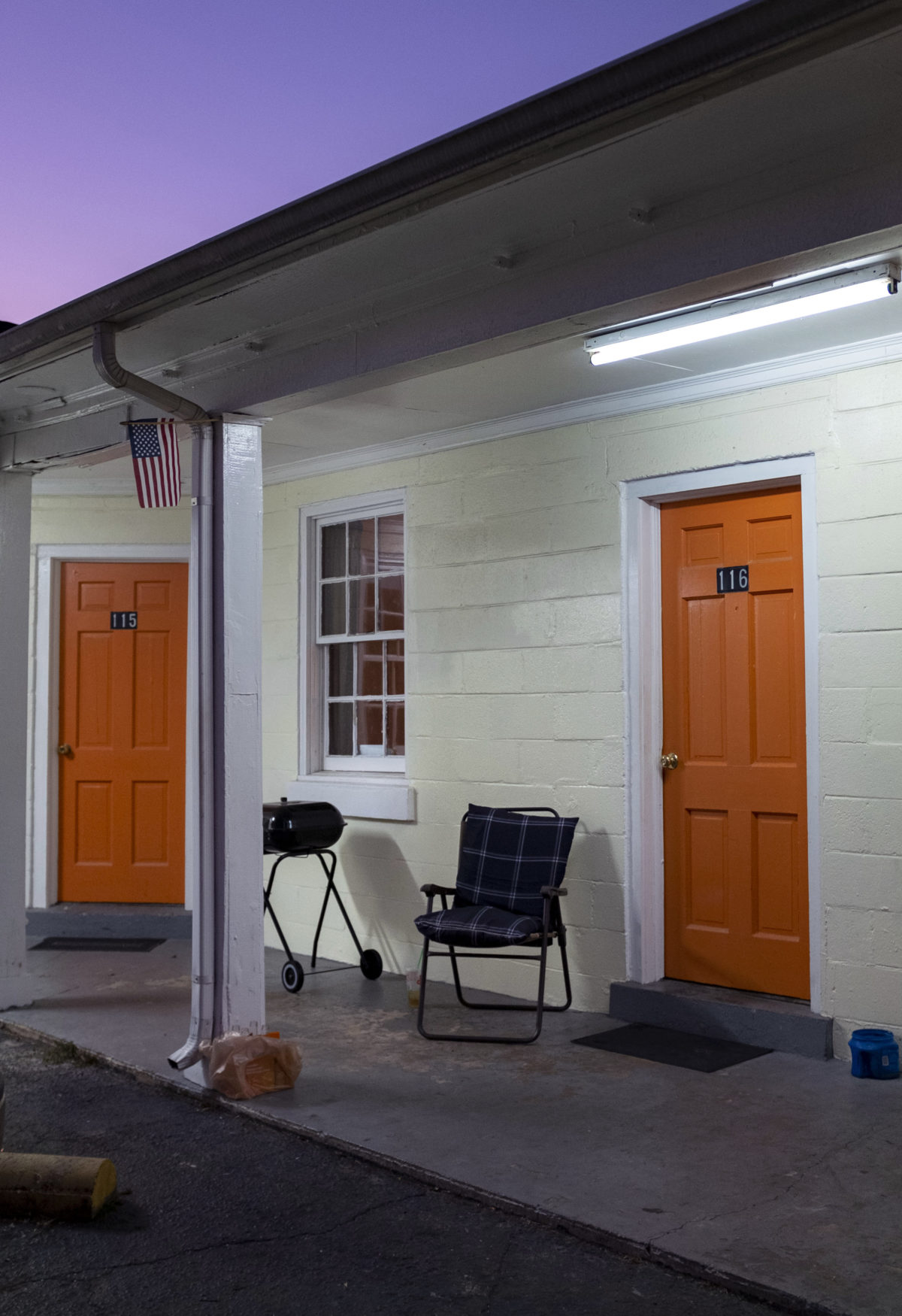 Down the Pike
Families live long-term in the Virginian Hotel.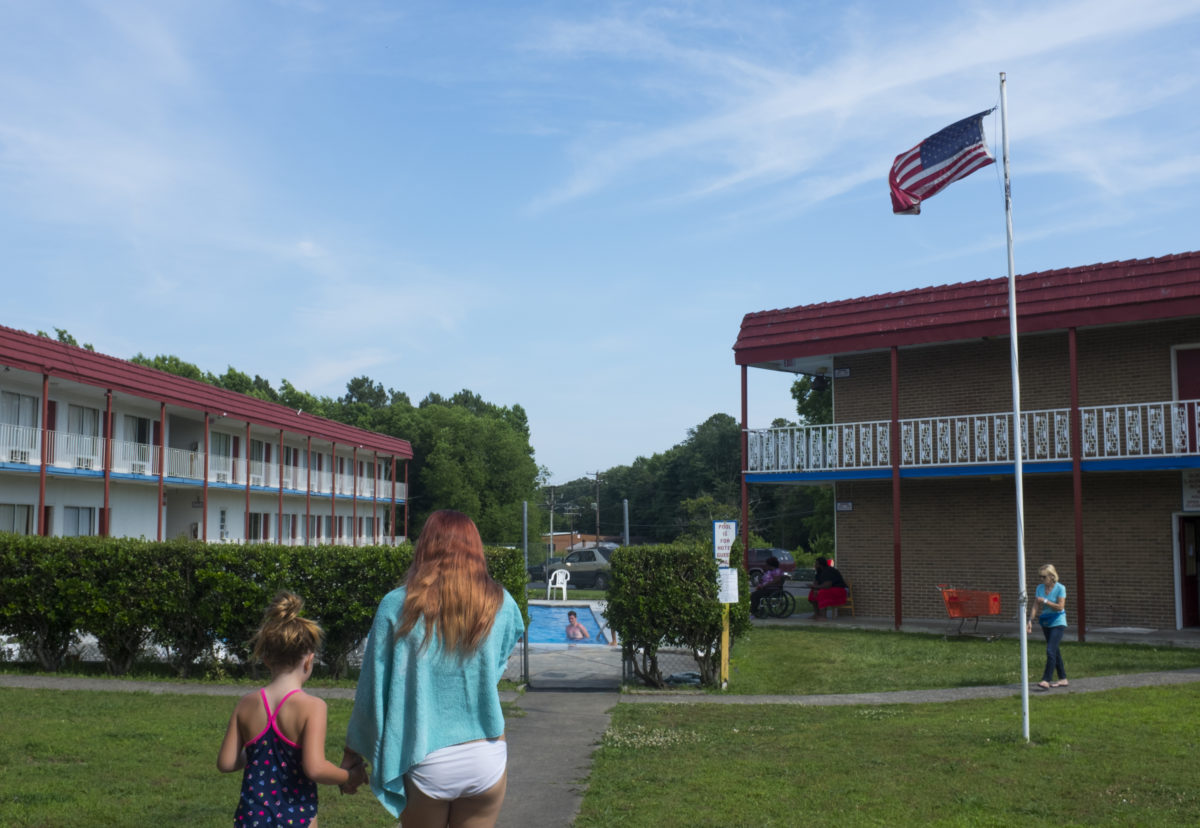 Down the Pike
The Flagship Inn in Petersburg has a pool which dozens of school-age children flock to as soon as the bus drops them off in the parking lot each weekday. It is a welcomed distraction to the hardships of living in a hotel said resident Latish Ragland.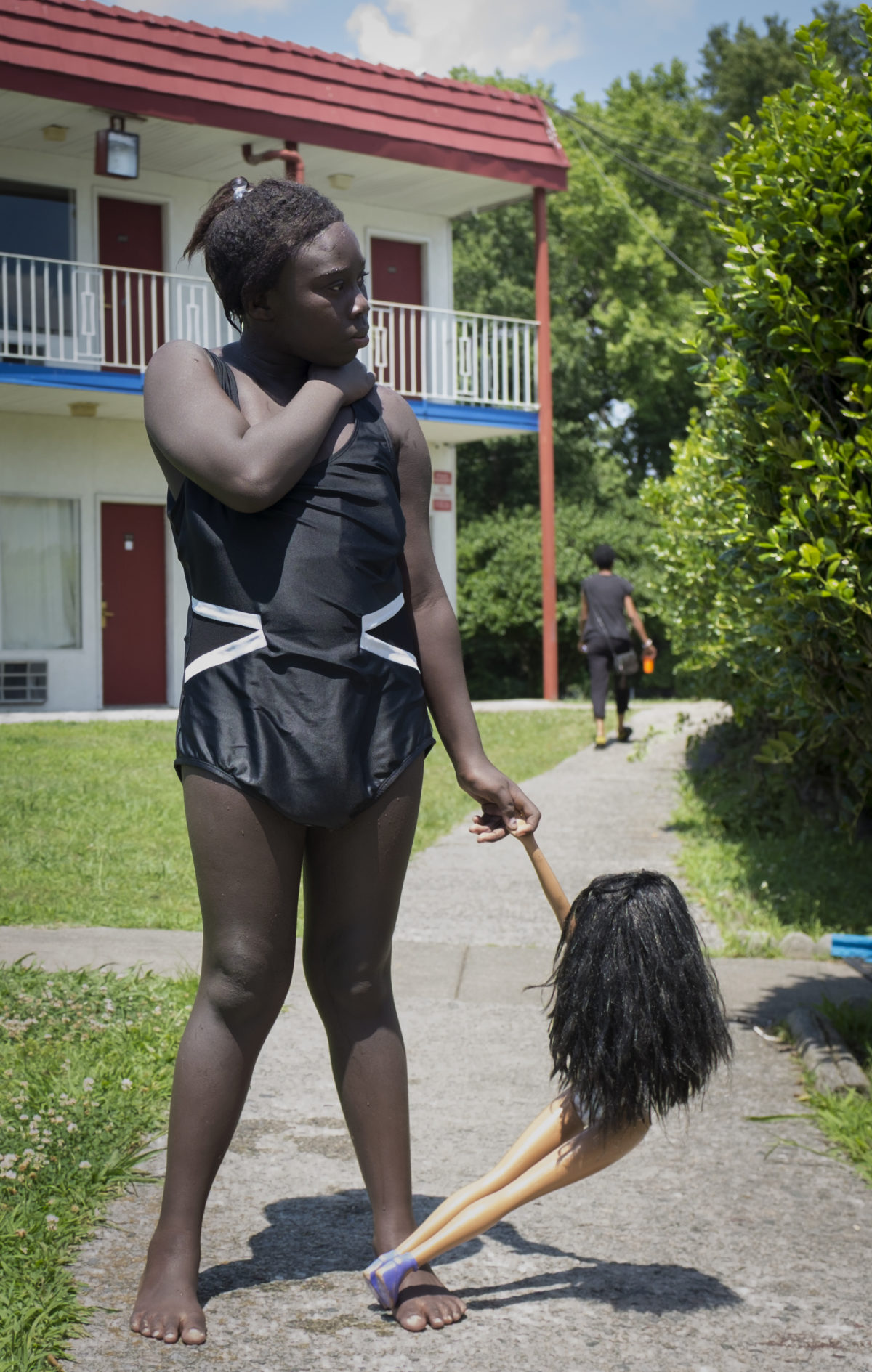 Down the Pike
Annarenee, 9, plays with a doll while waiting to swim at the Flagship Inn in Petersburg.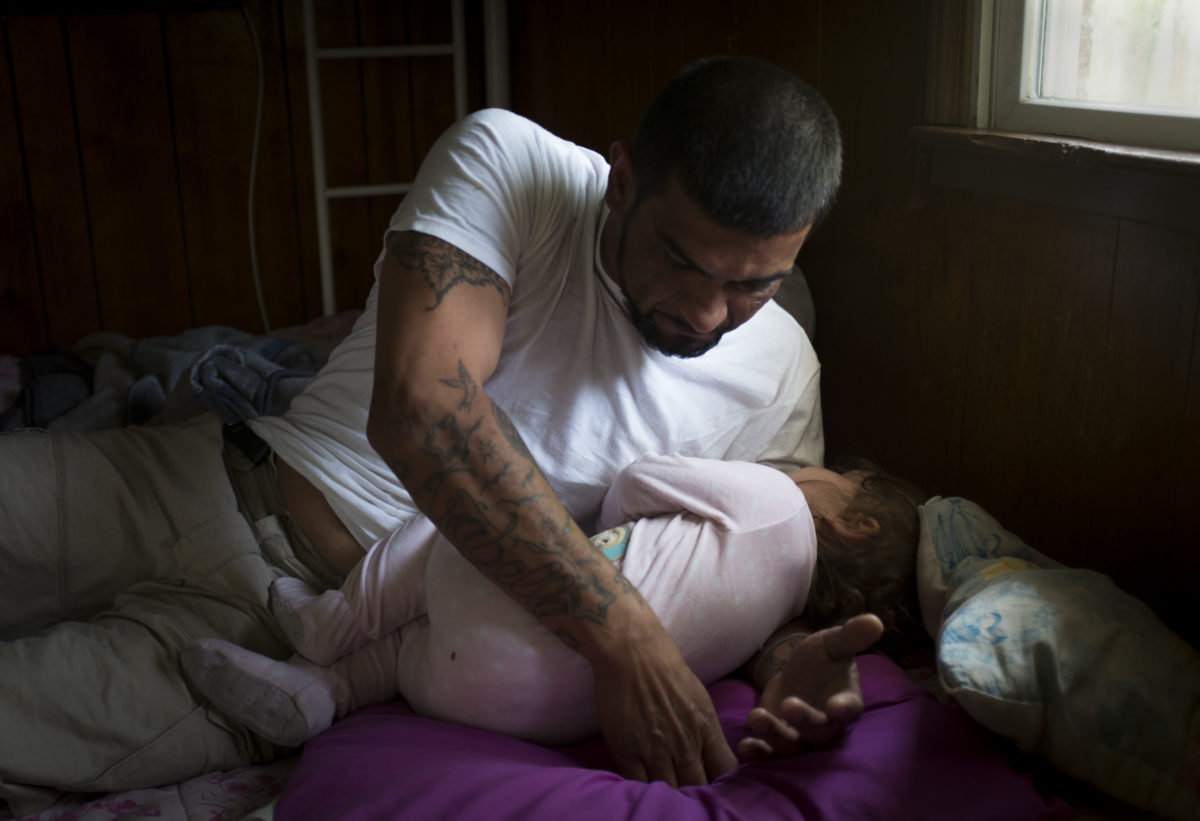 Down the Pike
Kameel Mohammed, 34, holds his daughter Arabella at her mother's house in the Chesterfield Maisonette's along Jeff Davis Highway. His daughter Arabella has only recently met him - he was in prison where he was also detoxing from opioid addiction. "I've used drugs most of my life," he said. Kameel died of a fentanyl overdose 6 weeks after this photo was taken.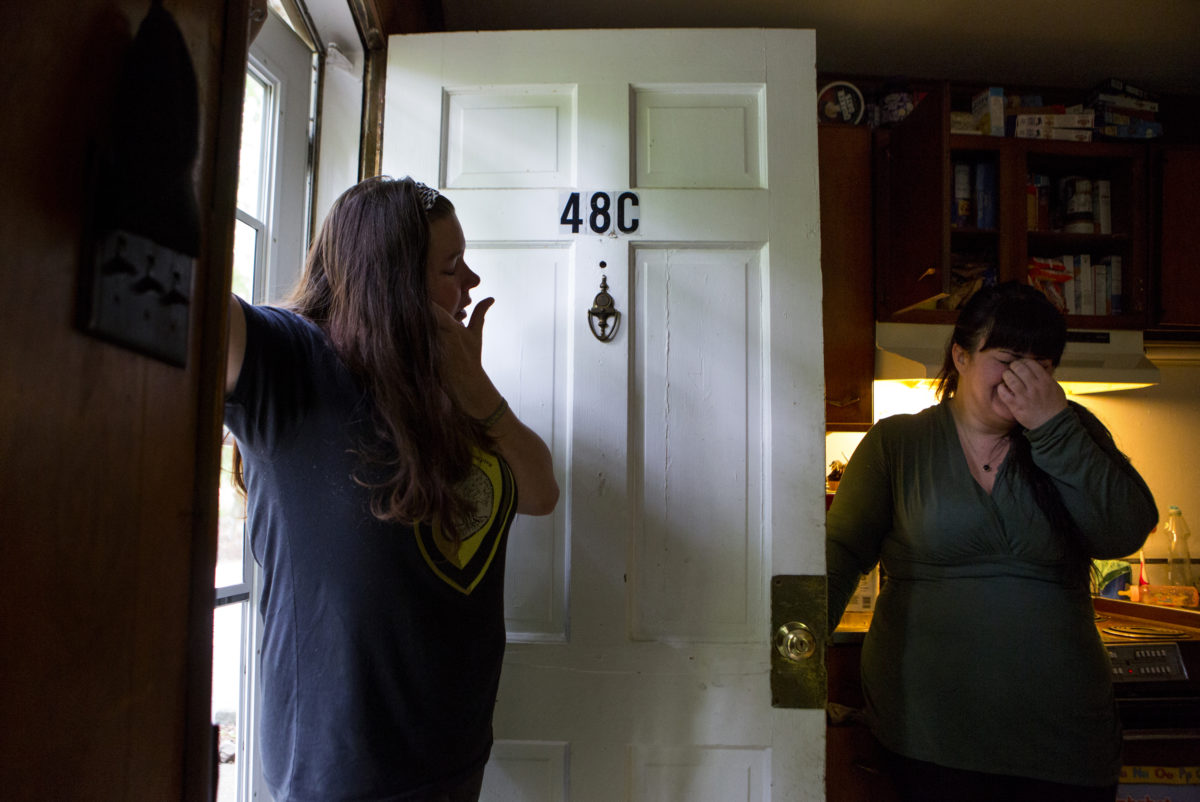 Down the Pike
Angie Smith, left, receives the news that her boyfriend and the father of her youngest child had died over Memorial Day weekend 2017.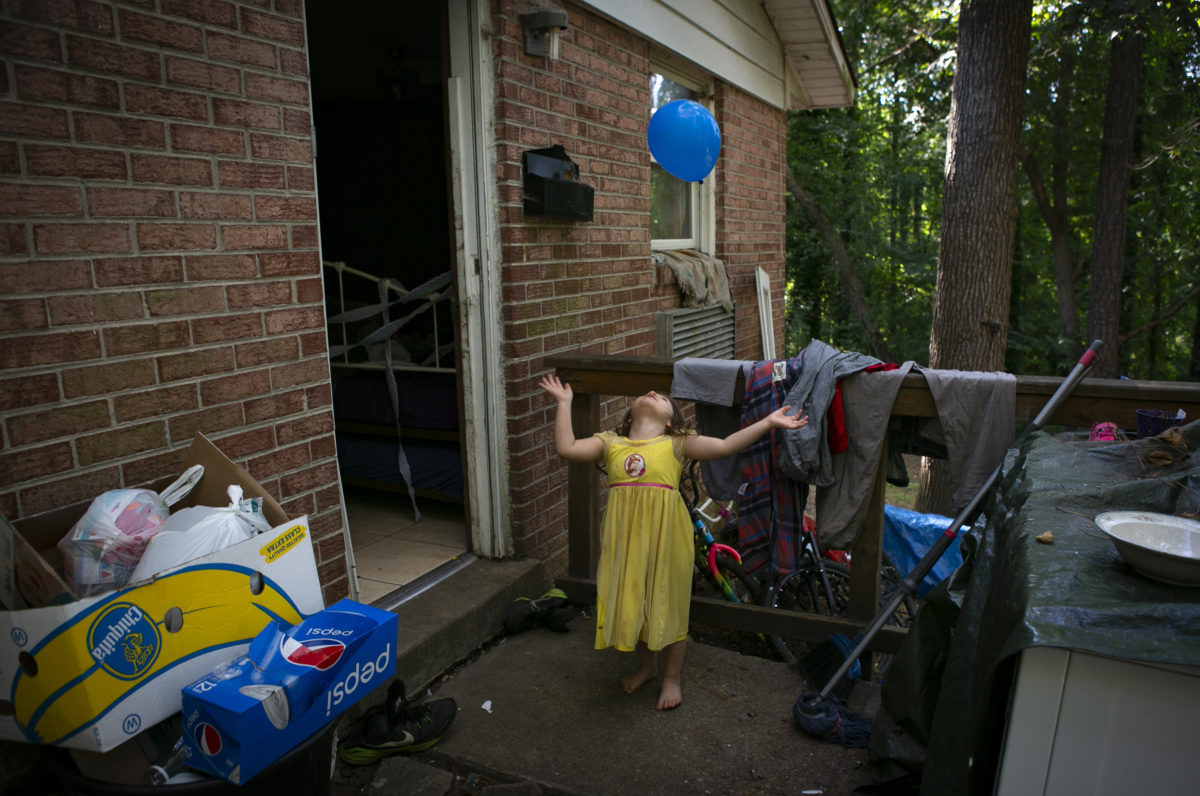 Down the Pike
Arabella, 3, plays outside her home at her sister Angelina's 11th birthday party in July 2019.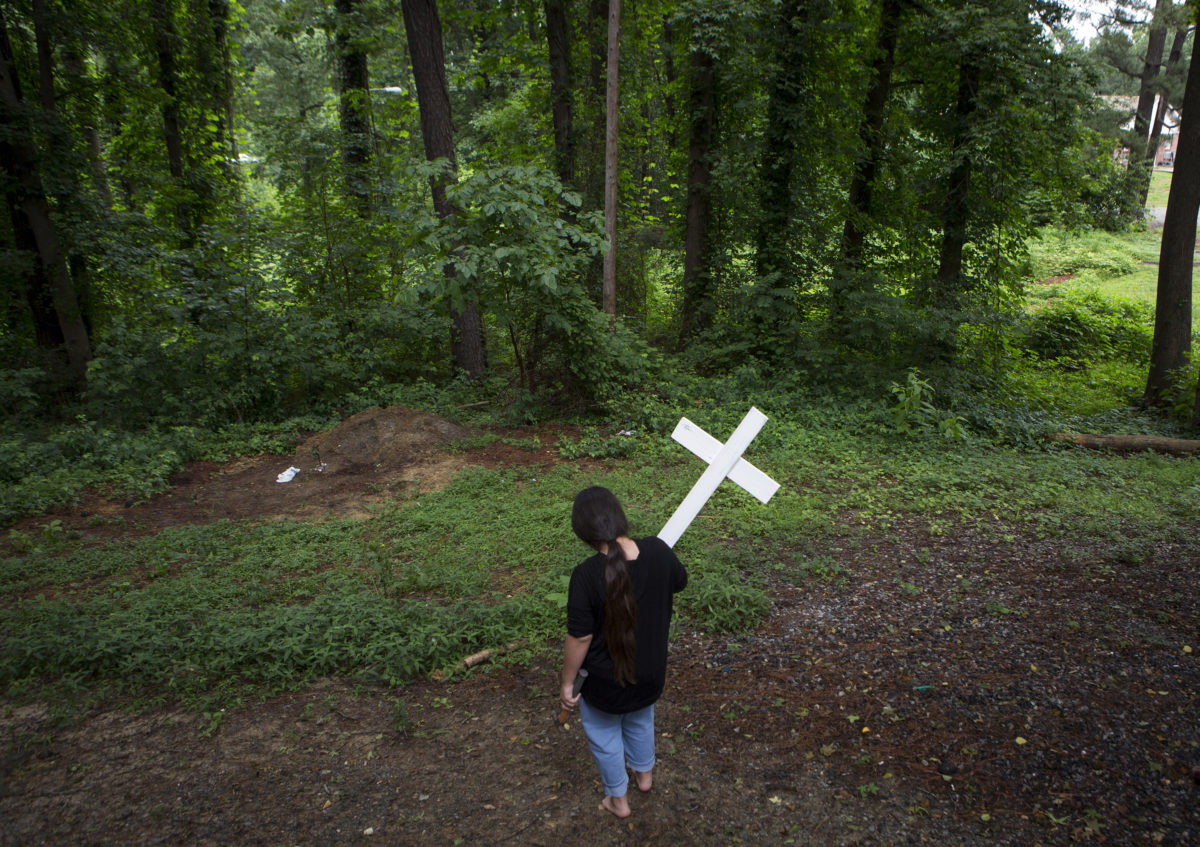 Down the Pike
Two days after her mother's partner, Kameel Mohammed's death (of an apparent overdose), Angelina's dog died. She found pieces of wood in the trash to make a cross to mark Harley's grave. She wondered if God might be punishing her by taking her dog for not crying when she found out about Kameel's passing.
Photography by Julia Rendleman
Down the Pike is a long-term reflection on a tight-knit community in central Virginia dealing with intergenerational poverty and its many consequences including incarceration, crime, food and housing insecurity and poor health outcomes. This project focuses on people living along the Jefferson Davis Highway as a way to communicate the consistency of American poverty.
The story starts with displacement. Poverty in this region can be linked to an infrastructure decision from the 1950s, a time when the major north/south highway on the East Coast was the Jefferson Davis Highway. But I-95 was built, draining the lifeblood from the Jeff Davis artery. The Jeff Davis corridor, or "the pike," as it is known to residents, is an area under special study by the local government. 
They are looking for solutions to the problems of joblessness, lack of access to transportation and the opioid crisis.
Poverty in the area is three and a half times Chesterfield County's average and the crime rate is three times higher. The hotels which were stop-overs for traveling families 70 years ago have become the only attainable long-term housing option for many families. 
Down the Pike is an ongoing, personal work started in 2016 aiming to raise awareness for the consistency of American poverty. The project uses personal narratives to illustrate national problems and provides unavoidable evidence that action is needed on housing, transportation and community services. The work is not dependent on political cycles and promises – for some, the problems are persistent. The goal of Down the Pike is to show the things endured as well as the joyful moments that unite us all as humans.
Images from this story may be licensed for editorial or educational use by publications and educators. Click on the link below to learn more.
VIEW ALL IMAGES FROM THIS STORY
There are usually more images available from this story than are presented here. Click on the link below to view the entire collection.