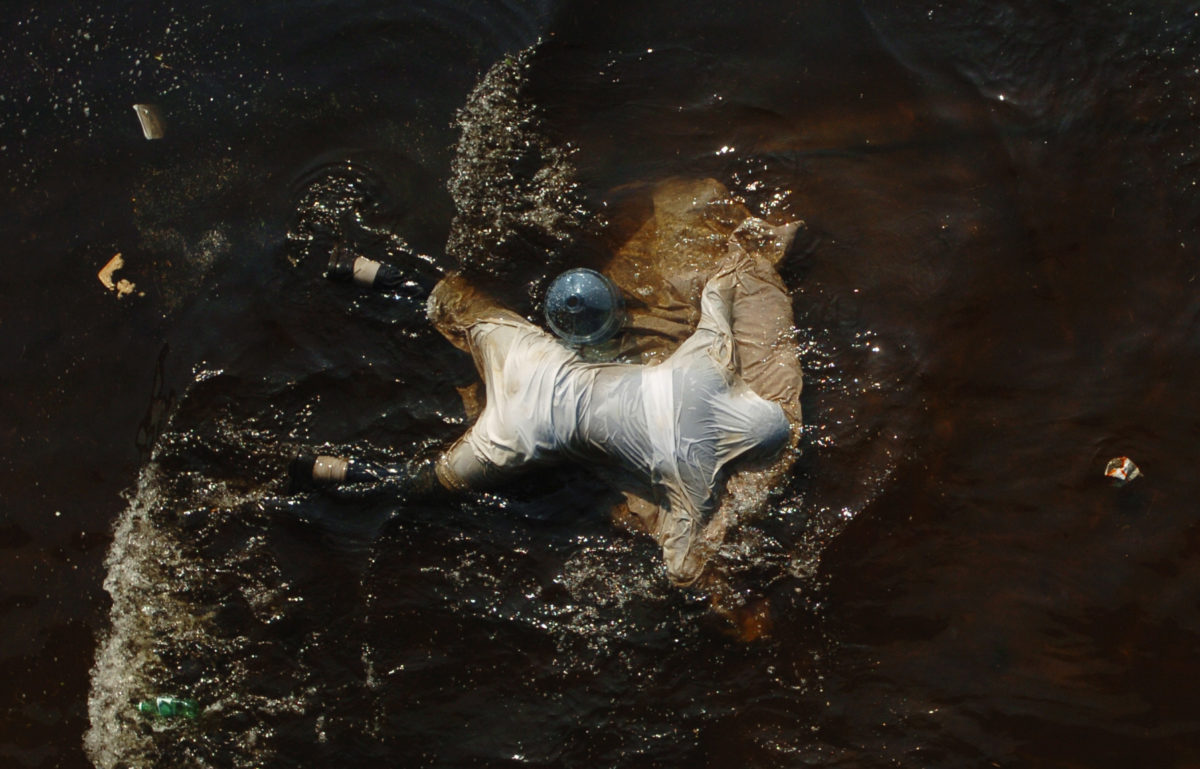 Hurricane Katrina
A bottle of water floats near a body in floodwater under the interstate around the Superdome as waves pass by caused by military trucks in New Orleans on Friday September 2, 2005.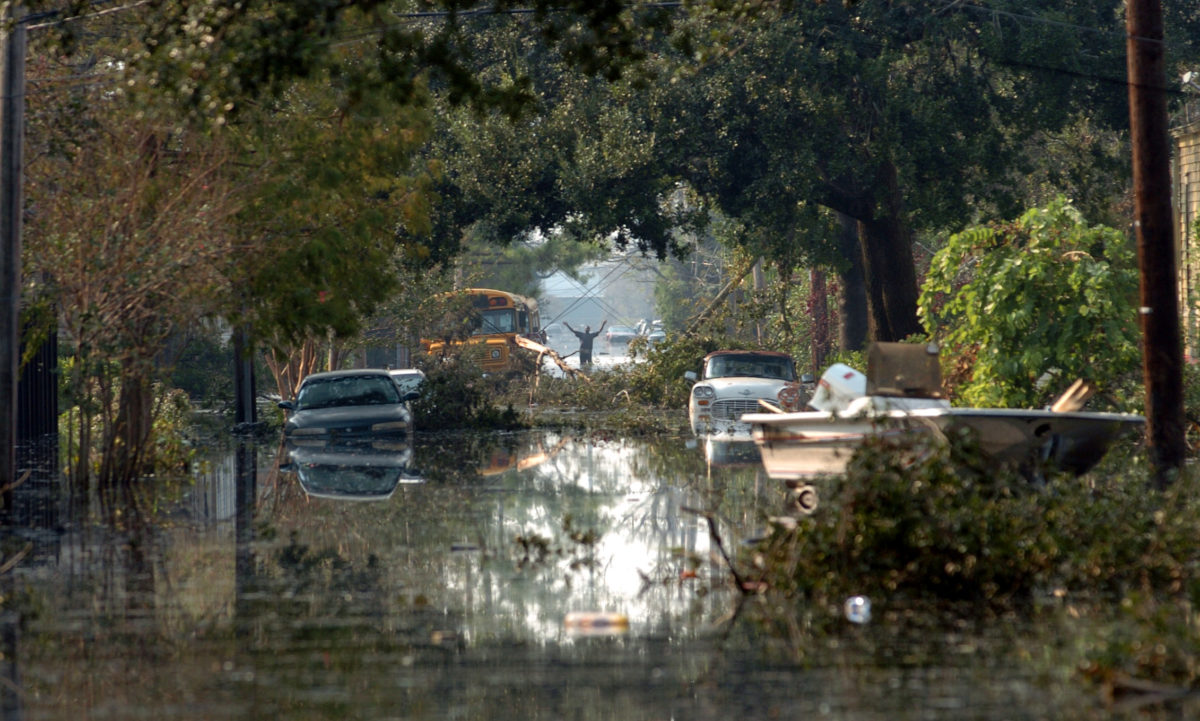 Hurricane Katrina 002
A man stretches his arms, calling for rescue in Uptown New Orleans on September 3, 2015.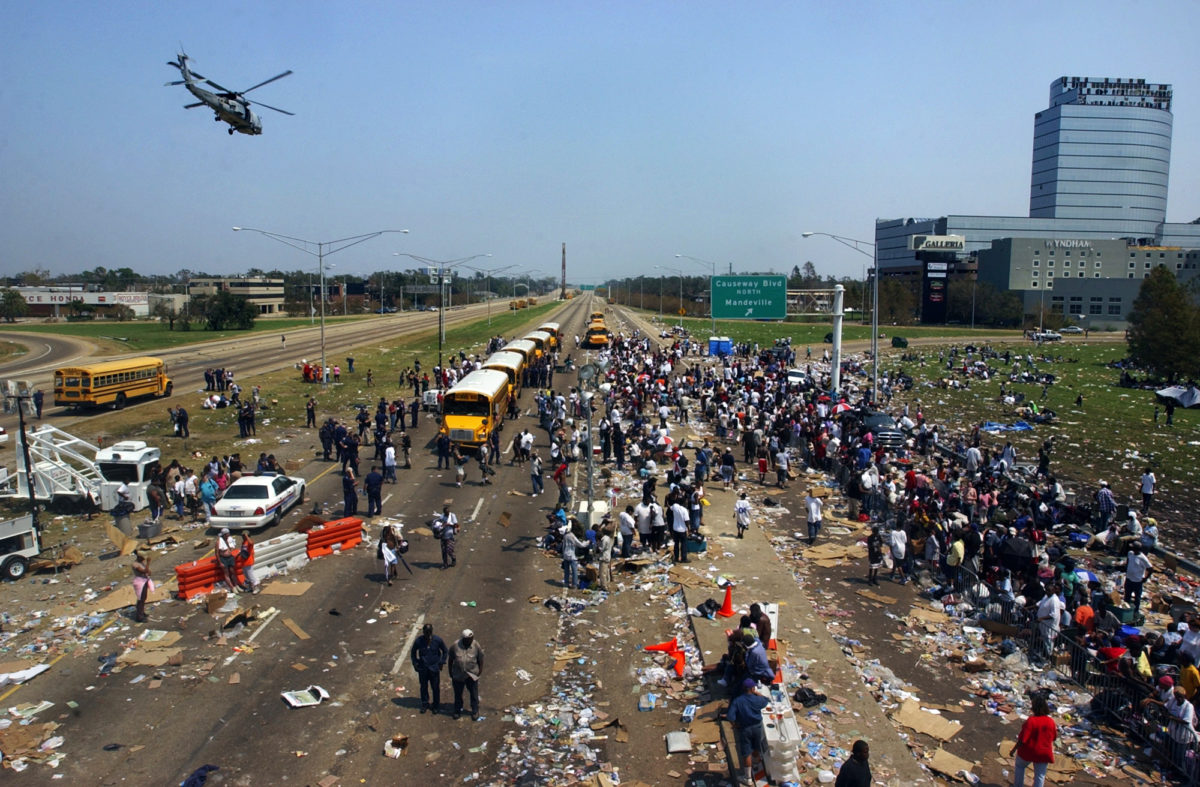 Hurricane Katrina 003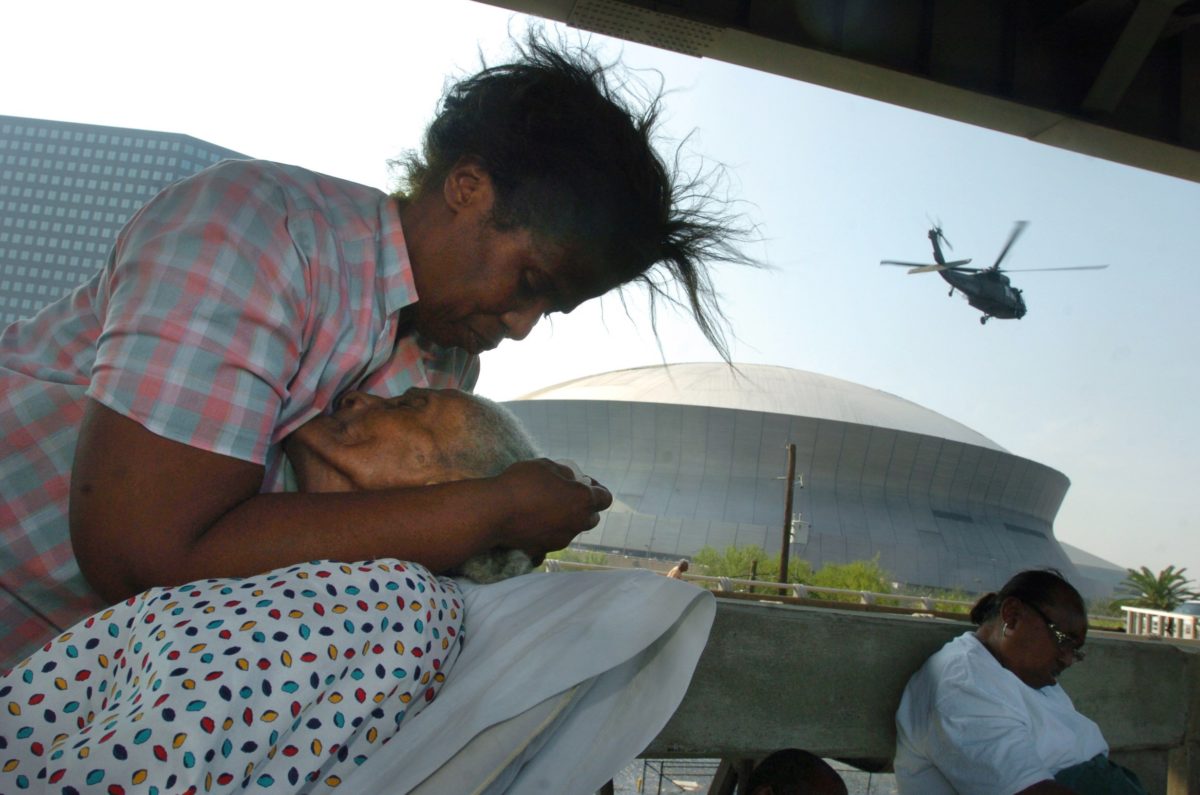 ANN VERONICA RECASNER SHIELDS MOTHER MILDRED FOLEY FROM WIND HURRICANE KATRINA
Ann-Veronica Recasner, tries to shield her mother, 90 year old Mildred Foley from the blasting wind caused by a landing chopper at the Superdome as they camp on the interstate in New Orleans on Friday September 2, 2005. She was dying of dehydration," Ann-Veronica said. "She seems to be a little better."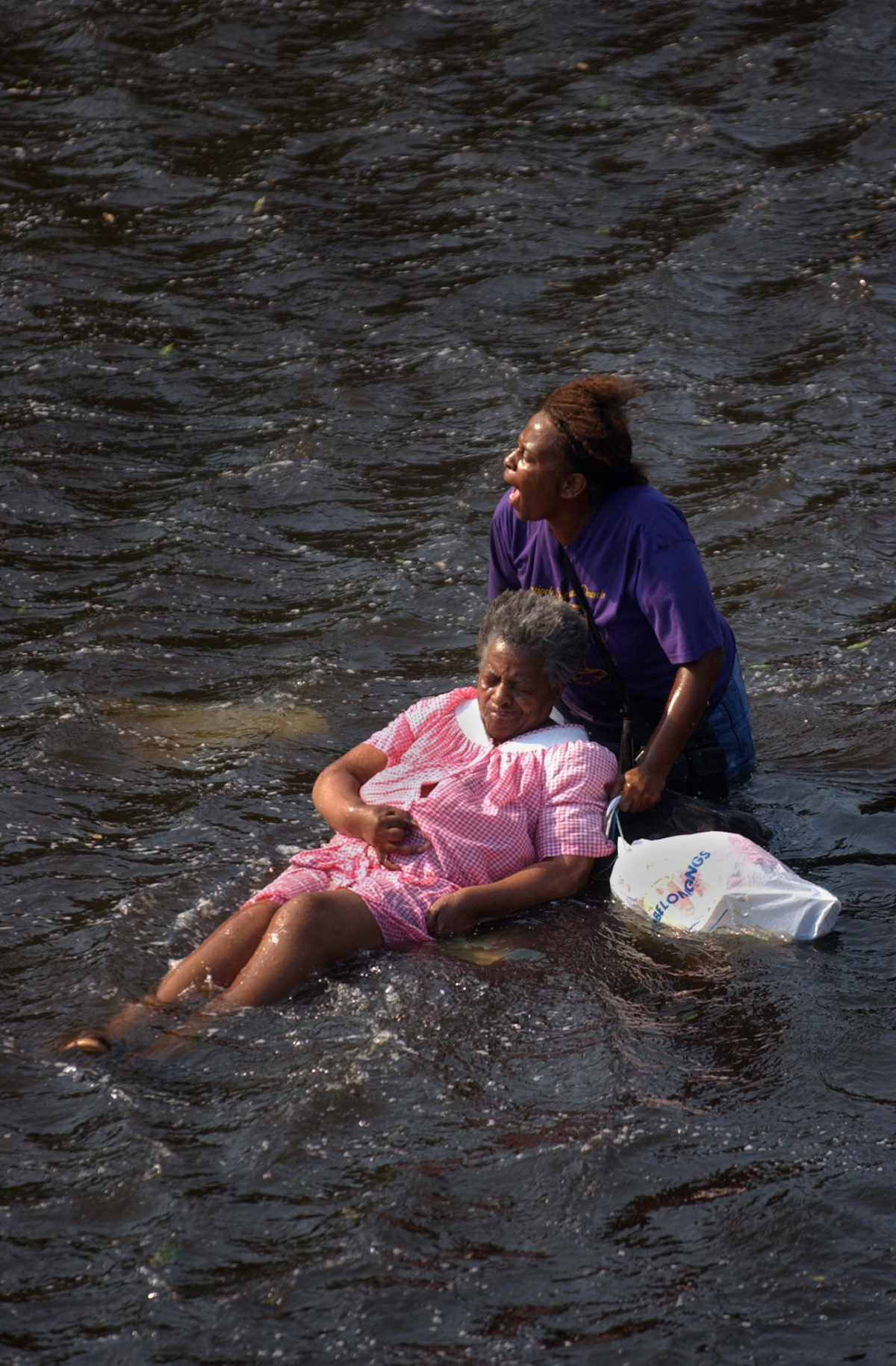 OT_222298_FLYN_katrina
After being rescued by boat from the Lower Ninth Ward and spending the night on the interstate, Sadie James pushes her invalid mother, Irma, in a wheelchair through the flood water to the Superdome on September 2, 2005.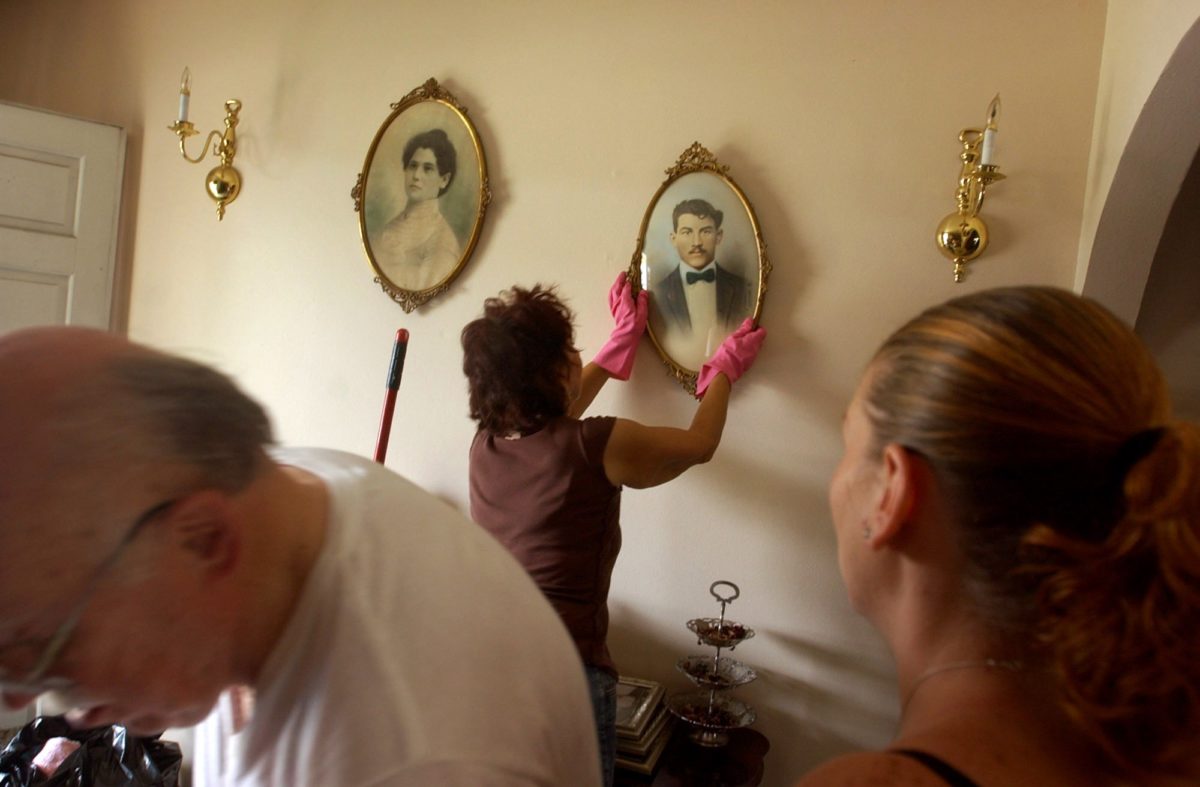 JUNE CLESI
June Clesi fixes a photo on the wall of her grandparents who immigrated from Italy, Katherine Clesi and her husband Antonio Clesi at their home in Metarie in Jefferson Parish on Monday September 5, 2005. "I can't replace those two," she said of the photos. Residents were allowed entrance to Jefferson Parish on Monday. June came back to her house after spending the last week with her family in La Place in a home with 17 other people.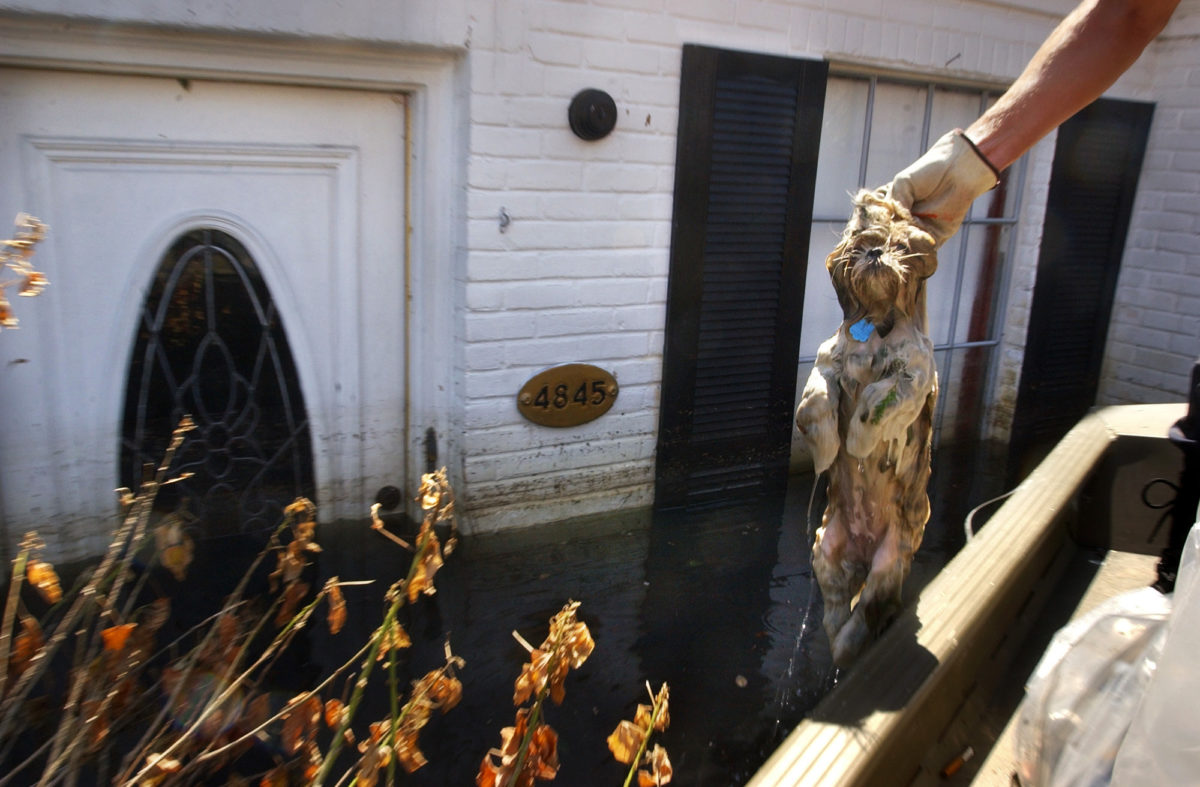 Hurricane Katrina 007
A dog is pulled from the flood water after it was seen paddling near a home in New Orleans East after the levees broke in New Orleans following Hurricane Katrina's landfall in Mississippi.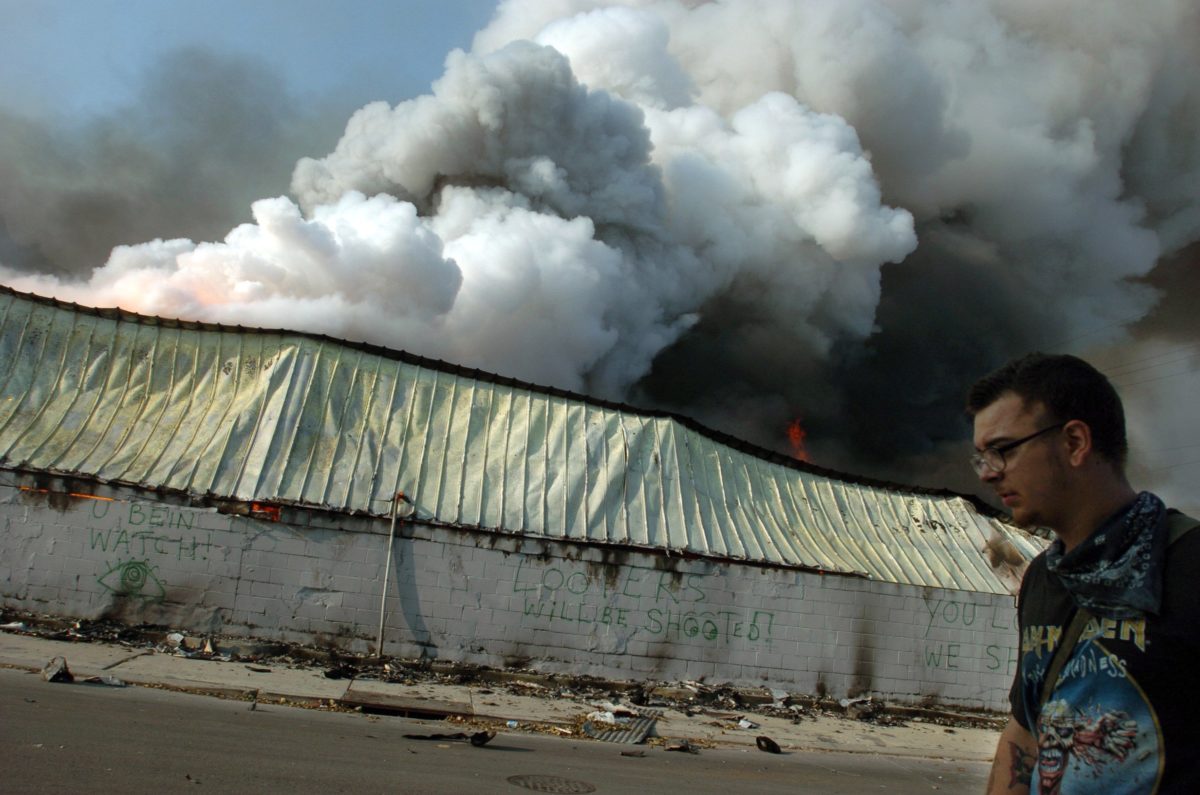 JAKE WEBER WALKS NEXT TO BURNING CHEMICAL STORAGE FACILITY HURRICANE KATRINA
Jake Weber, 25, walks next to a burning chemical storage facility in the Marigny in New Orleans on Friday September 2, 2005. "It sounded like 10 people were banging on (the window)" he said of the explosions he heard the night before.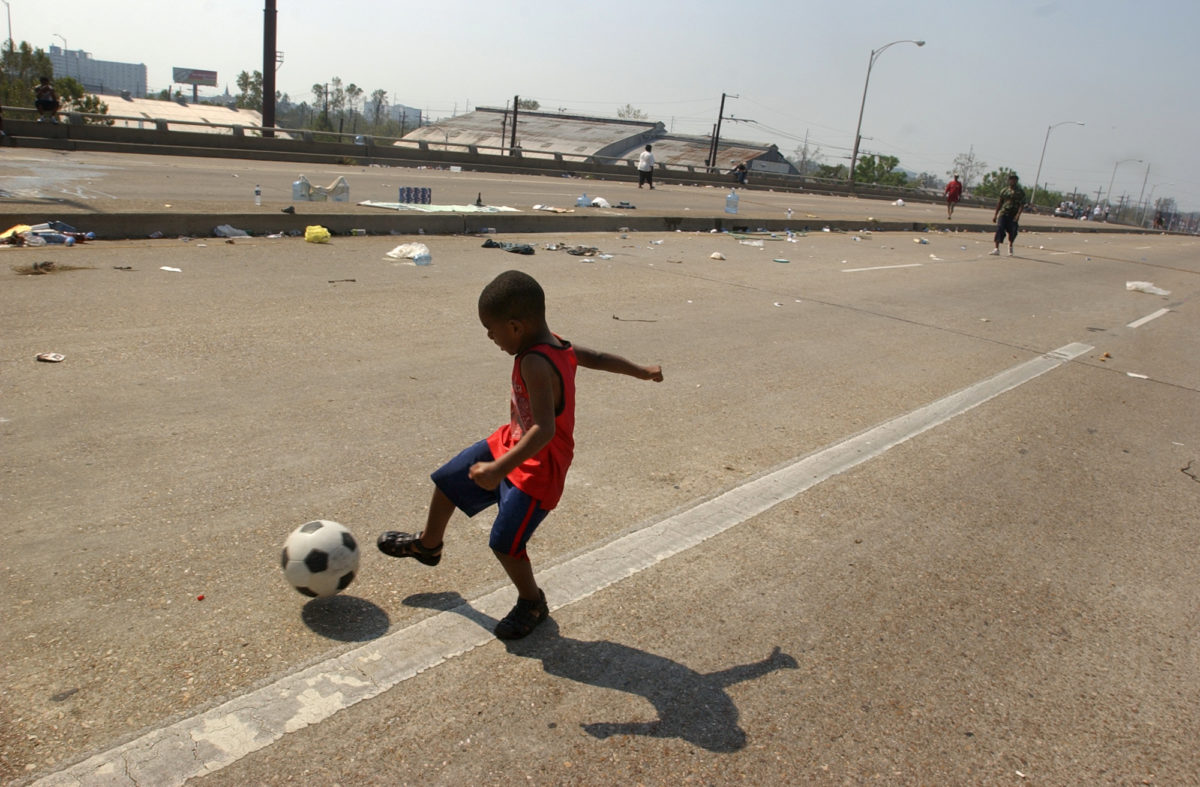 Rodney Lomax
Rodney Lomax, 3, plays with a soccer ball on I-10 where he had been living with his grandmother, relatives and friends on September 2, 2005. His aunt told him he was camping. His grandmother commanded him to keep away away from the sides of the bridge. Five years later, when he was 8, he still remembered the flood and those days on the interstate. "The children kept us sane, because we had to be strong for them," said Rodney's grandmother and guardian, Rhonda Lomax. They eventually evacuated to California and lived with her uncle for several years. For months after Katrina, Rodney was terrified of water, even of being sprayed with a hose. The Christmas after the storm, he helped decorate a relative's office. The other children painted red and white, Christmas colors. Rodney painted the whole window black. "That's all I see," he told them.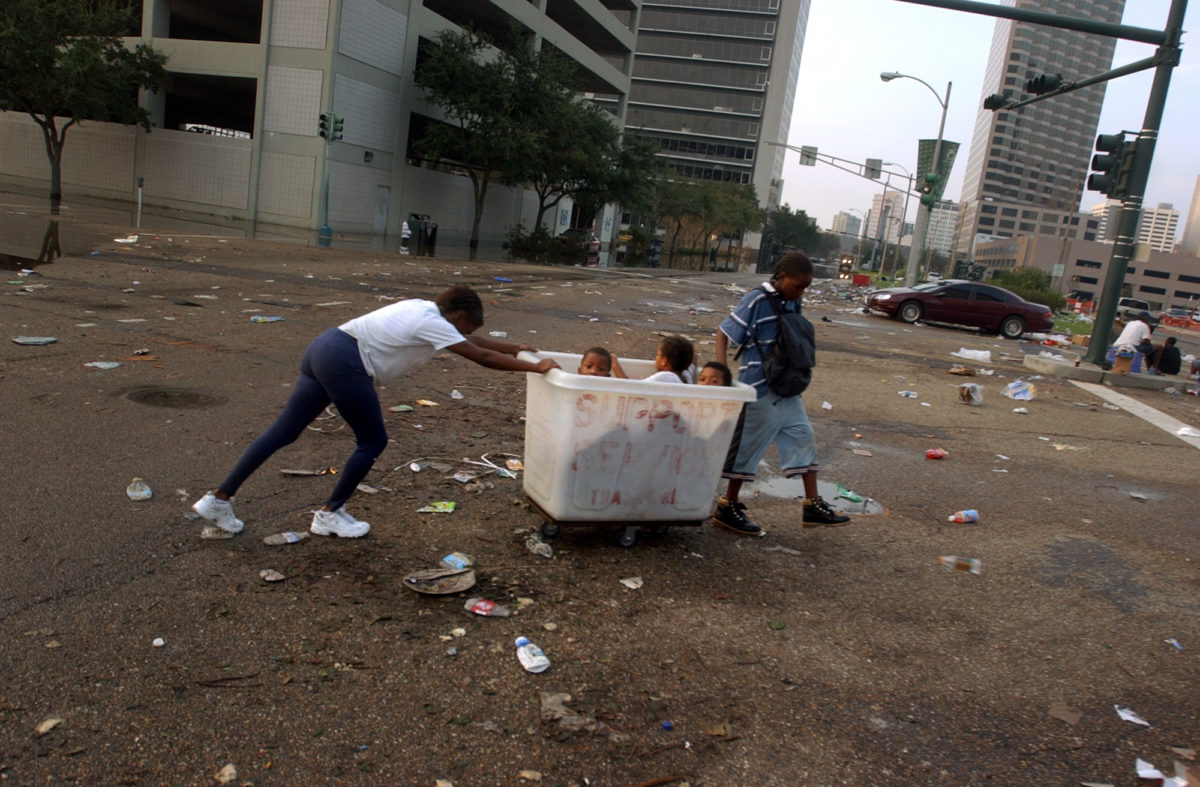 OT_222292_FLYN_newoorleans_1
Evangela Youngblood, 35, left pushes a cart filled with her cousins and niece while Michael Youngblood, 12, her nephew pulls from the other side on Julia Street in New Orleans on Thursday September 1, 2005. "We're going to have to start walking to Baton Rouge in the morning," she said. "I seen children drop dead at the convention center." She said she isn't interested in waiting for a bus that may or may not come around.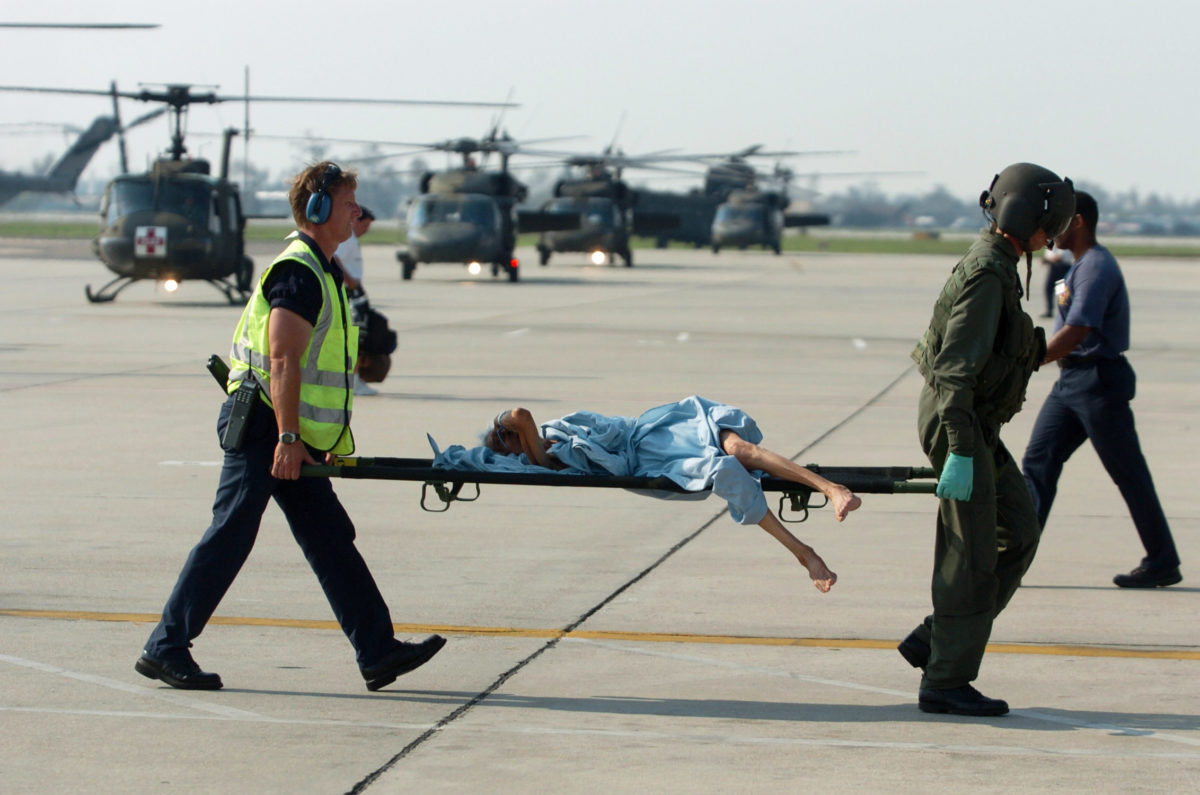 OT_222302_FLYN_katrina
CAPTION: (New Orleans 9/2/05) STORY SUMMARY: Airport (Times photo by Kathleen Flynn)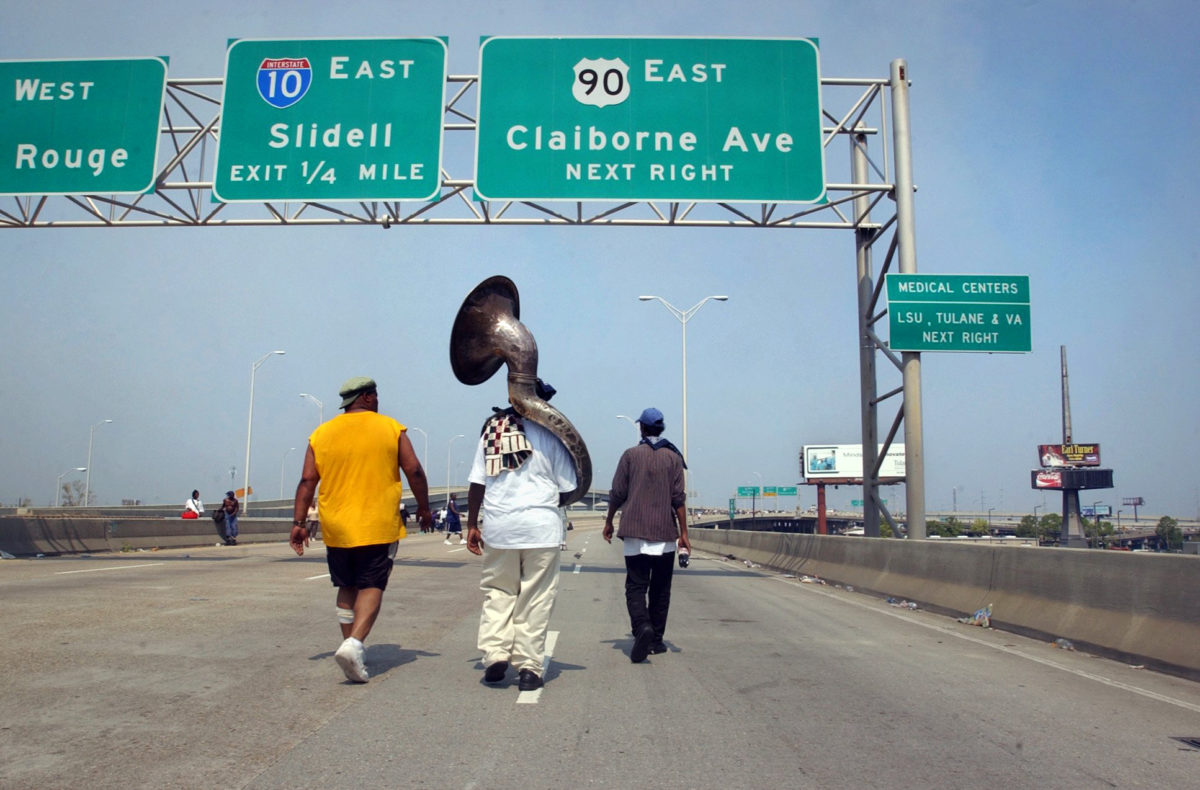 MARK SMITH HURRICANE KATRINA VICTIMS WALK ON INTERSTATE
Mark Smith, middle, walks to an area where he's planning to camp out carrying his sousaphone on the interstate next to the Superdome in New Orleans on September 2, 2005. "If I leave this I might as well jump in the water myself," he said of his instrument. "This is my livelihood."
Photography by Kathleen Flynn
Images and text © Tampa Bay Times & NOLA.com/The Times-Picayune - Presented for Portfolio Purposes Only
Hurricane Katrina made landfall in Mississippi on August 29, 2005. Levee breaches in New Orleans led to massive flooding, and government response was slow.
Hundreds of thousands of people in Louisiana, Mississippi and Alabama were displaced from their homes, and there were 1,836 fatalities, primarily from Louisiana (1,577) and Mississippi (238).
As of today it is the costliest natural disaster and one of the five deadliest hurricanes in the history of the United States.
Over fifty breaches in the levee system were the cause of the majority of the death and destruction.
Eventually, 80% of the city and large areas nearby became flooded, with some of the water remaining for weeks.
The hurricane displaced over one million people from the central Gulf coast making it the largest diasporain the history of the United States.
Explore More Essays From Kathleen Flynn's Hurricane Katrina Coverage
This Story is Not Available for Licensing