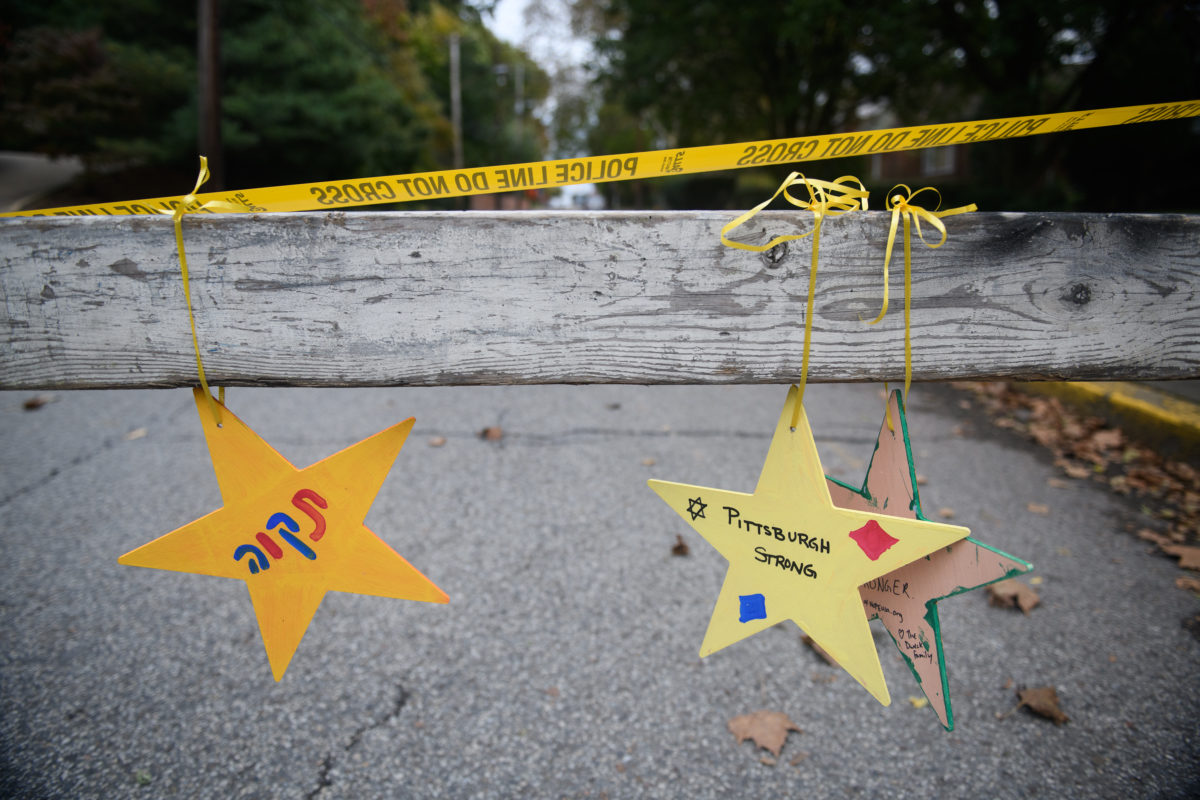 Synagogue01
Items hang from a police roadblock near the Tree of Life Synagogue on Monday, October 29, 2018 in Pittsburgh's Squirrel Hill neighborhood. 11 people were killed in a mass shooting as they worshiped at the synagogue on Saturday morning. Six others were injured as well including four police officers who responded to the incident. CREDIT: Justin Merriman/American Reportage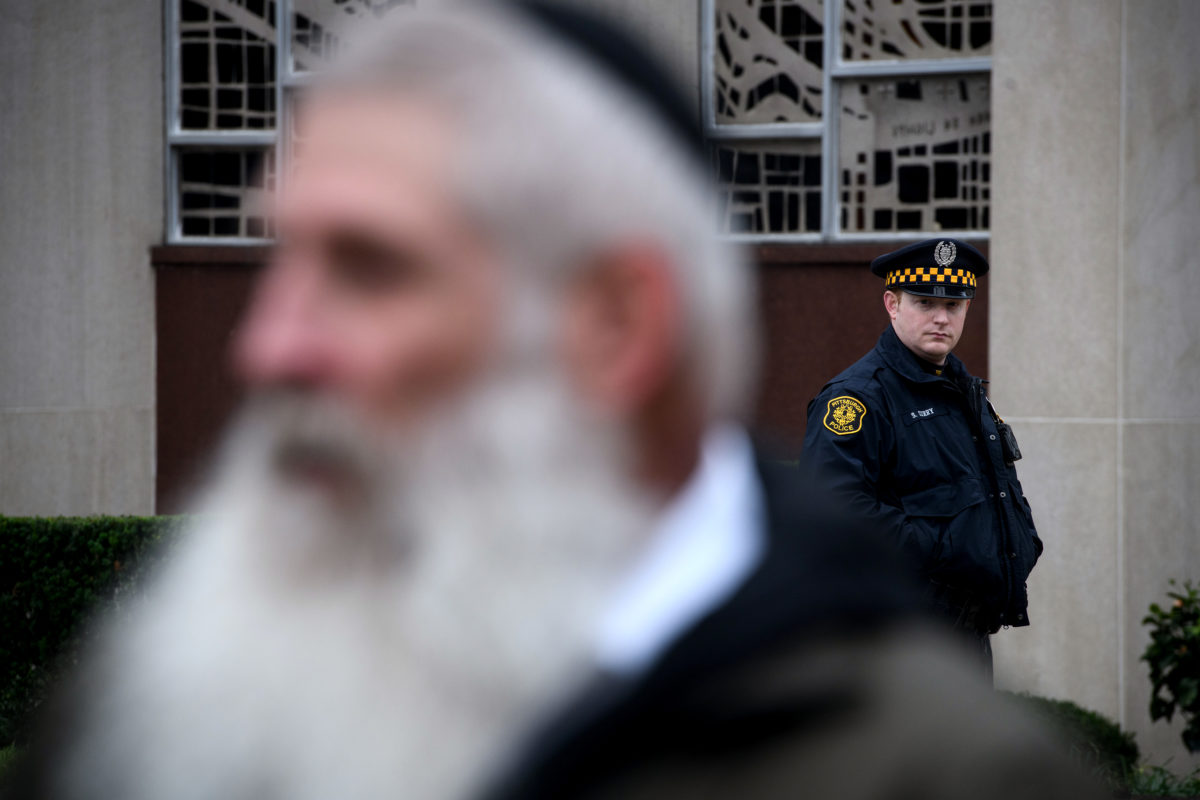 Synagogue02
Kris Kepler of Hazelwood, a neighborhood in Pittsburgh, joins other mourners in front of the Tree of Life Synagogue on Sunday, October 28, 2018 where 11 people were killed in a mass shooting on Saturday morning. Six others were injured as well including four police officers who responded to the incident. Kepler is a member of Tree of Life and regularly attends on Saturdays. CREDIT: Justin Merriman/American Reportage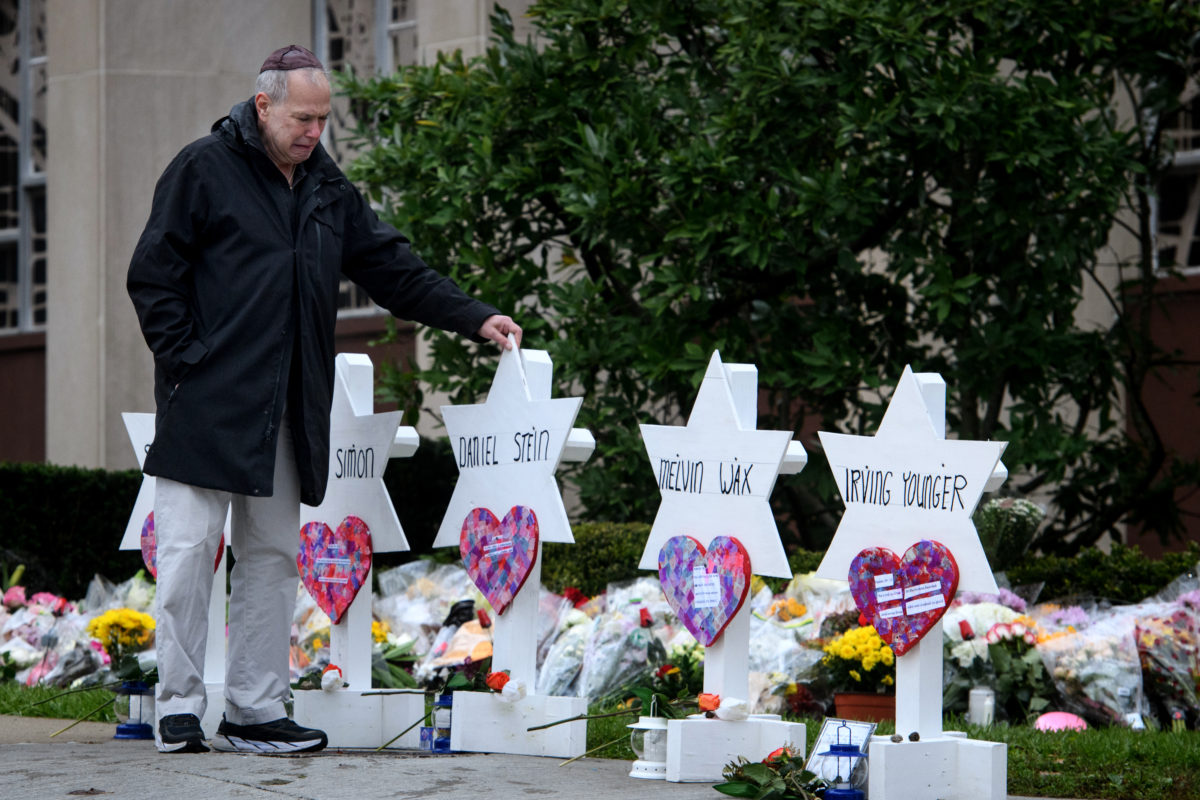 Synagogue03
Bob Goldstein, 71, of Squirrel Hill walks past memorials in front of the Tree of Life Synagogue on Monday, October 29, 2018. 11 people were killed in a mass shooting on Saturday at the synagogue. Six others were injured as well including four police officers who responded to the incident. Goldstein has attended the Tree of Life for his entire life and knew 8 of the victims. CREDIT: Justin Merriman/American Reportage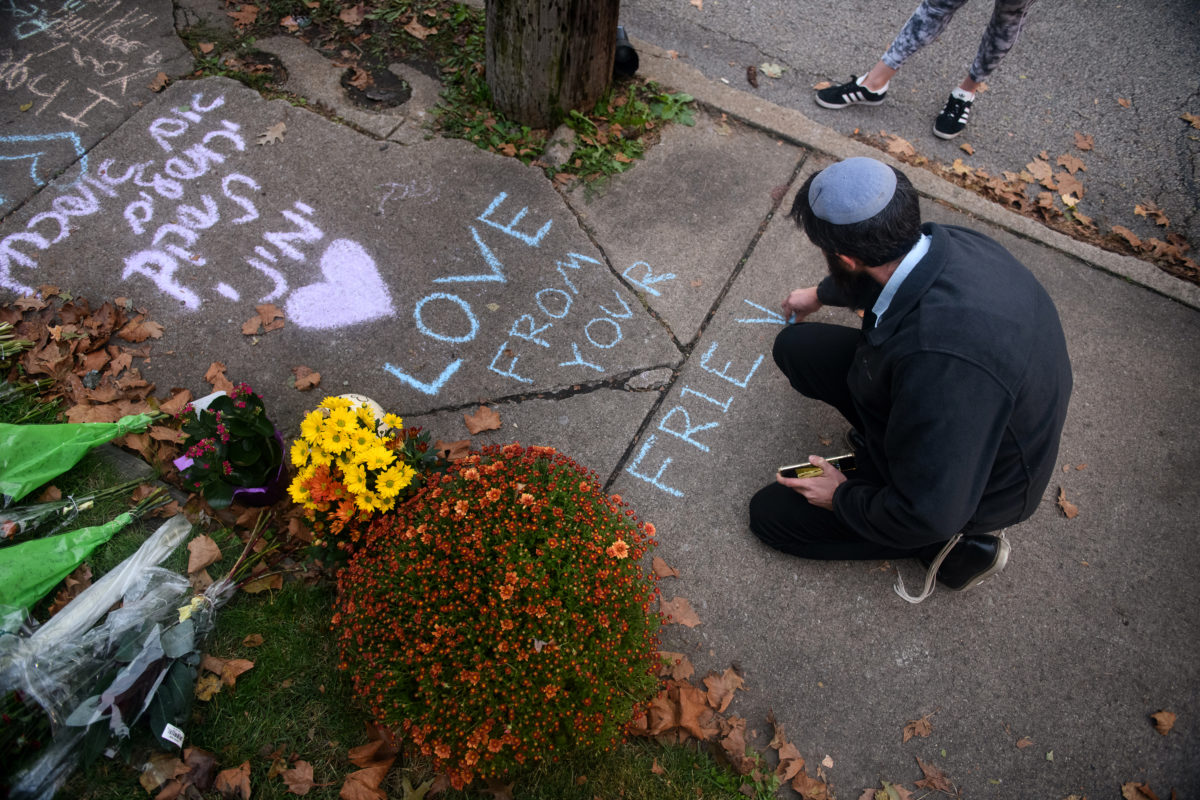 Synagogue04
Aharon Ariel Lavi, 36, of Shuva, Israel writes a message in chalk as he visits a makeshift memorial near the Tree of Life Synagogue on Monday, October 29, 2018 in Pittsburgh's Squirrel Hill neighborhood. 11 people were killed in a mass shooting as they worshiped at the synagogue on Saturday morning. Six others were injured as well including four police officers who responded to the incident. Lavi was in New York City on business when he heard of the shooting and drove 6 hours to Pittsburgh to pay his respects. "We are one family," he said. "I just had to be here." CREDIT: Justin Merriman/American Reportage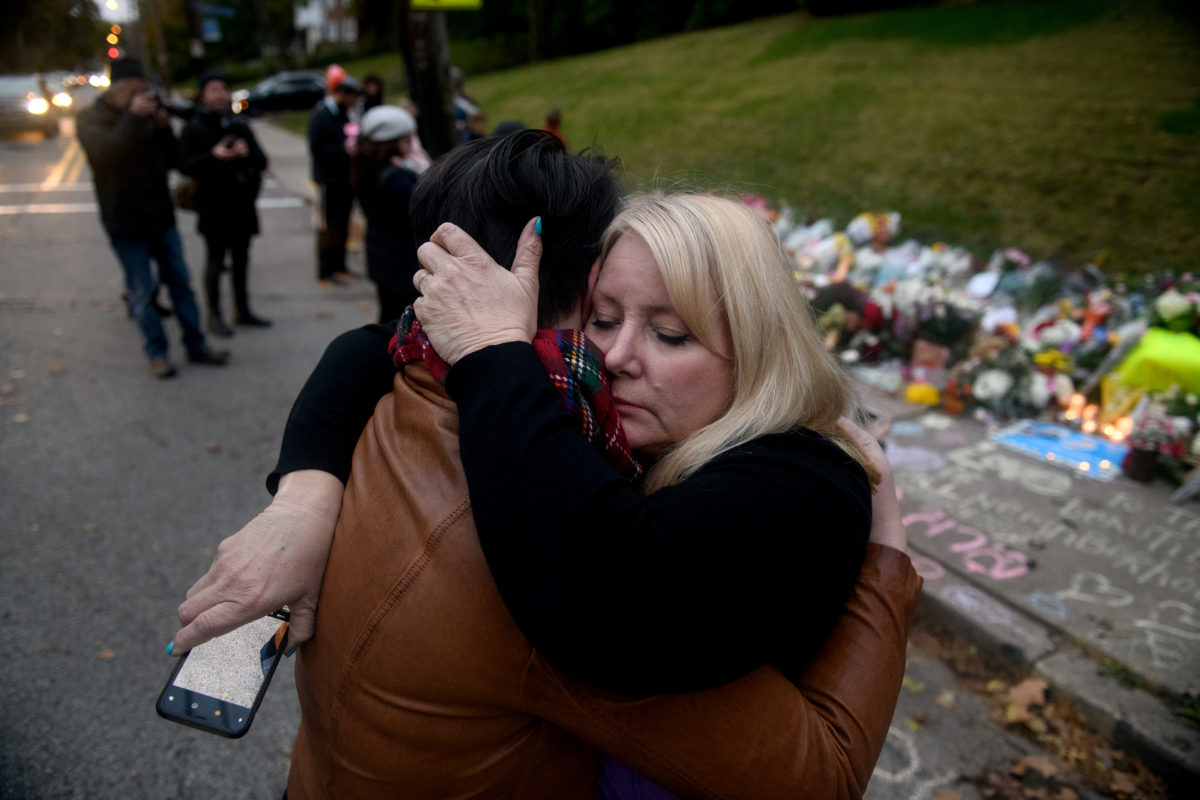 Synagogue05
Sheila May-Stein of Wilkins Township hugs a fellow mourner after a supporter of President Trump upset her as she visited a makeshift memorial near the Tree of Life Synagogue on Monday, October 29, 2018 in Pittsburgh's Squirrel Hill neighborhood. 11 people were killed in a mass shooting as they worshiped at the synagogue on Saturday morning. Six others were injured as well including four police officers who responded to the incident. CREDIT: Justin Merriman/American Reportage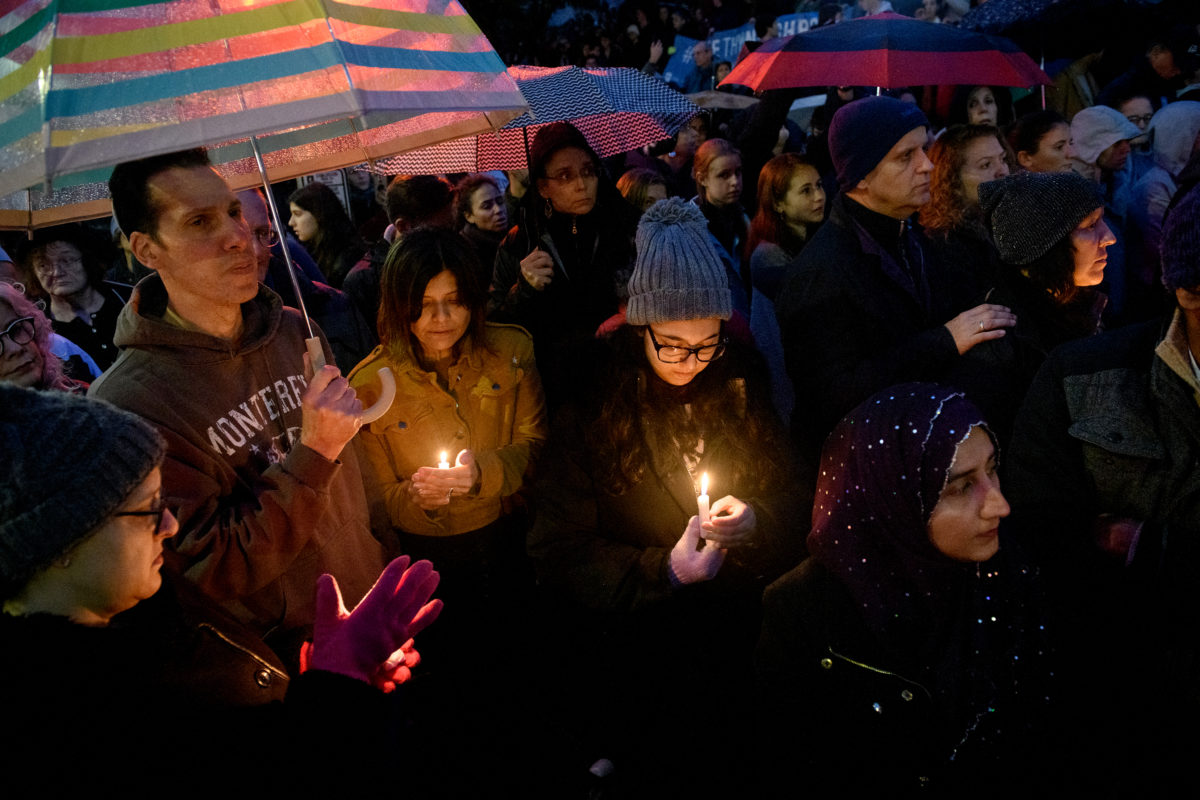 Synagogue06
Mourners join a vigil on Saturday evening in Squirrel Hill where 11 people were killed in a mass shooting earlier in the day at the Tree of Life Synagogue on Saturday, October 27, 2018. Six others were injured as well including four police officers who responded to the incident. CREDIT: Justin Merriman/American Reportage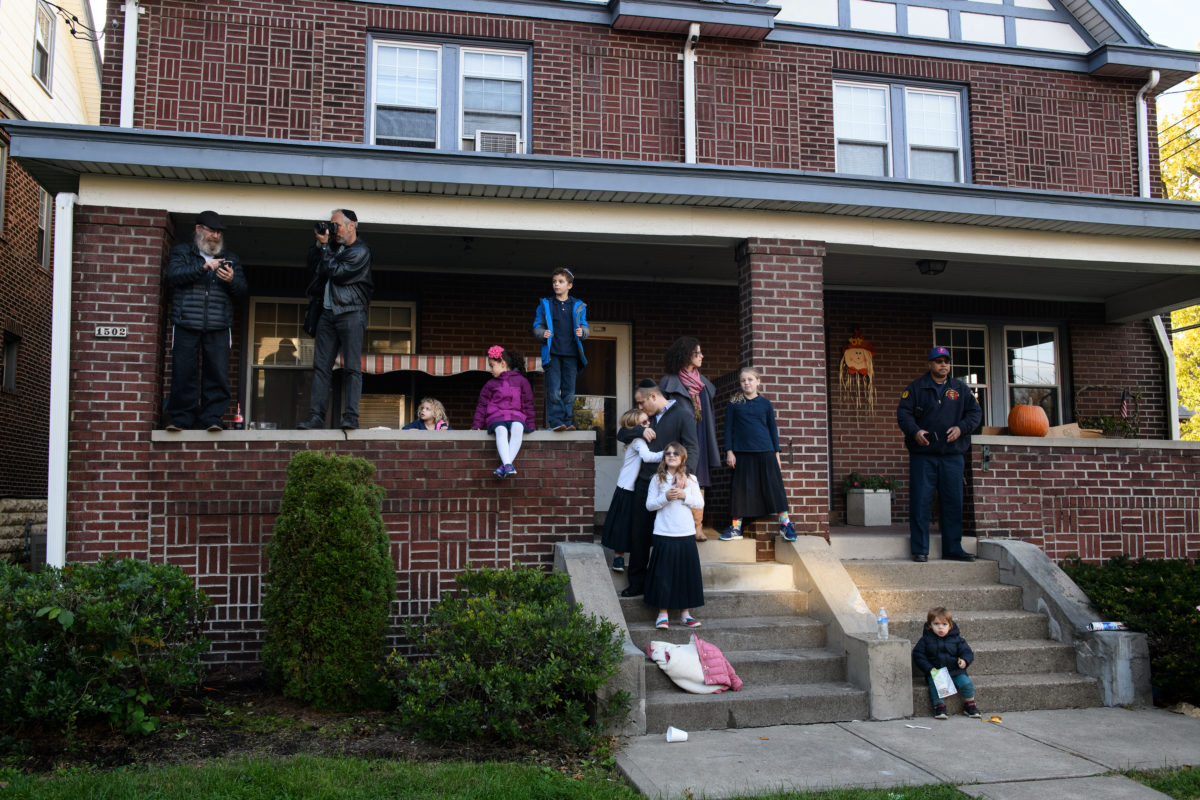 Synagogue07
People watch as several thousand people pass by their home in a solidarity march in response to the visit by President Trump to Pittsburgh in the wake of the Tree of Life Synagogue shooting on Tuesday, October 30, 2018 in Pittsburgh's Squirrel Hill neighborhood. CREDIT: Justin Merriman/American Reportage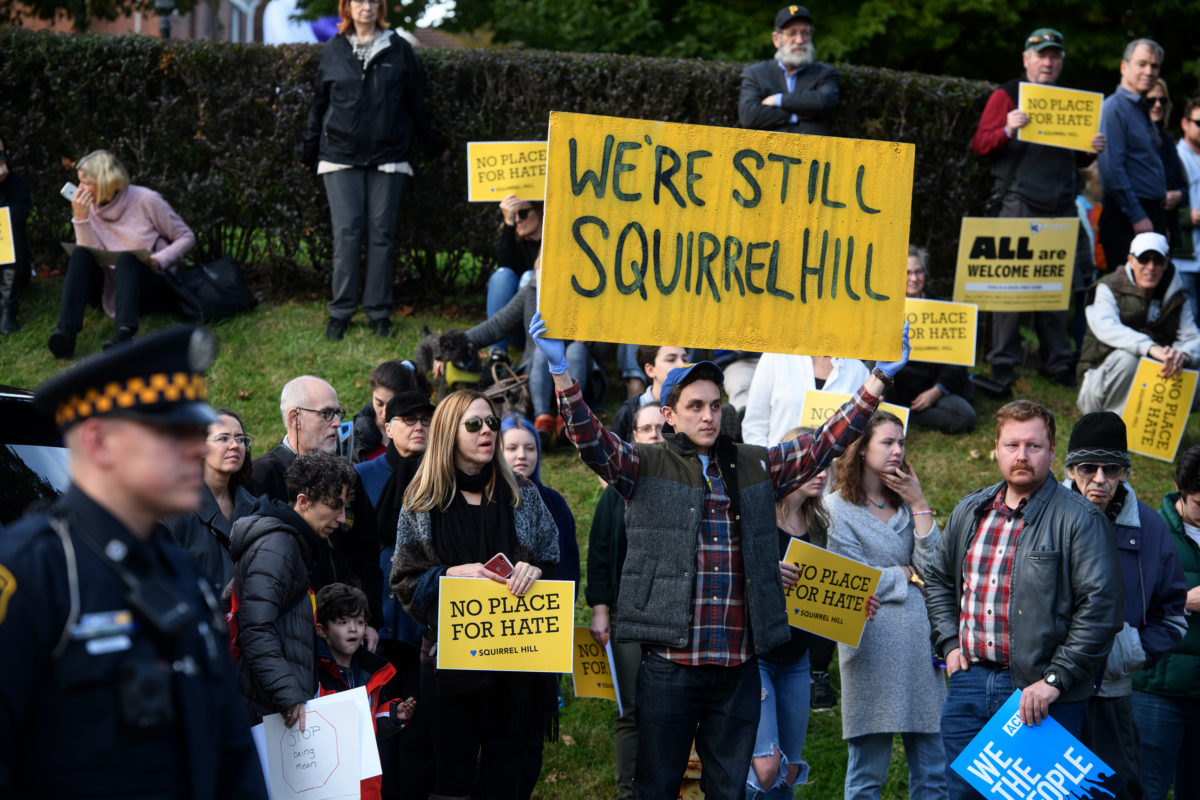 Synagogue08
People join a solidarity march in response to the visit by President Trump to Pittsburgh and the Tree of Life Synagogue shooting on Tuesday, October 30, 2018 in Pittsburgh's Squirrel Hill neighborhood. CREDIT: Justin Merriman/American Reportage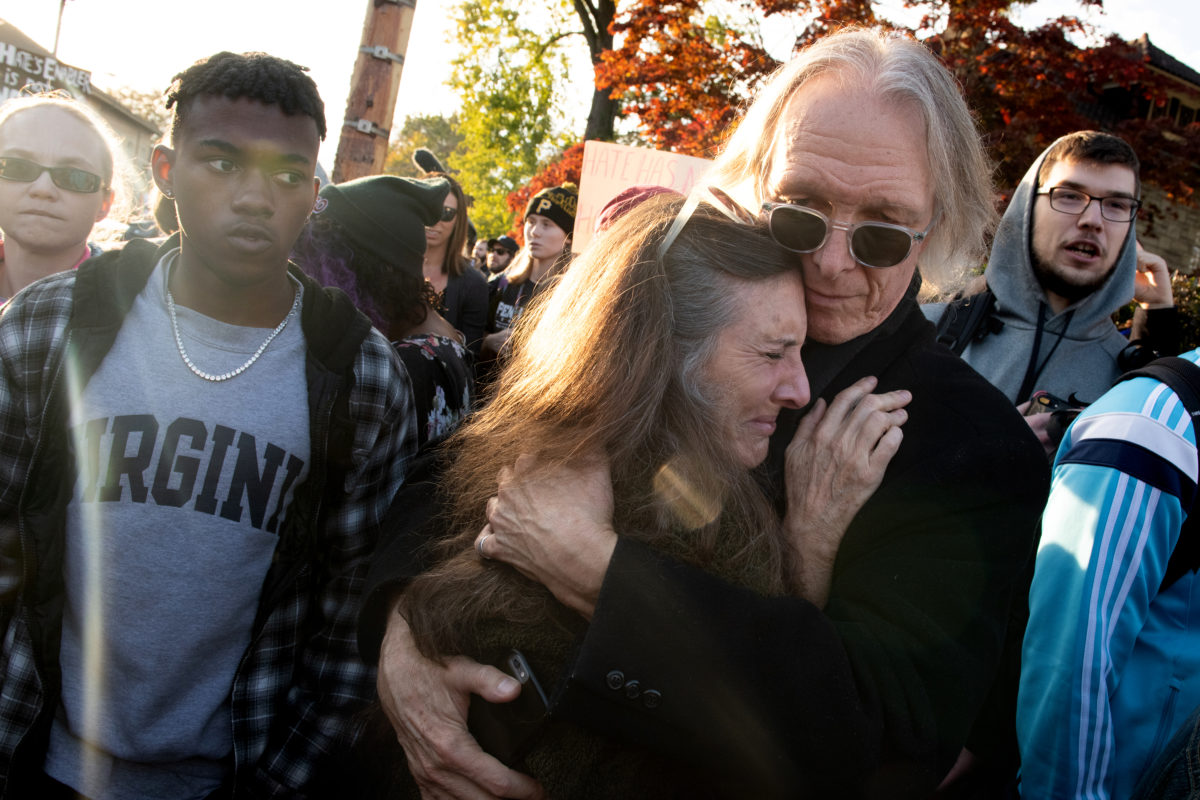 Synagogue09
PITTSBURGH, PA - OCT 30: A woman is comforted by a man in a tense moment during a solidarity march in response to the visit by President Trump to Pittsburgh in the wake of the Tree of Life Synagogue shooting on Tuesday, October 30, 2018 in Pittsburgh's Squirrel Hill neighborhood. (Photo by Justin Merriman/For The Washington Post)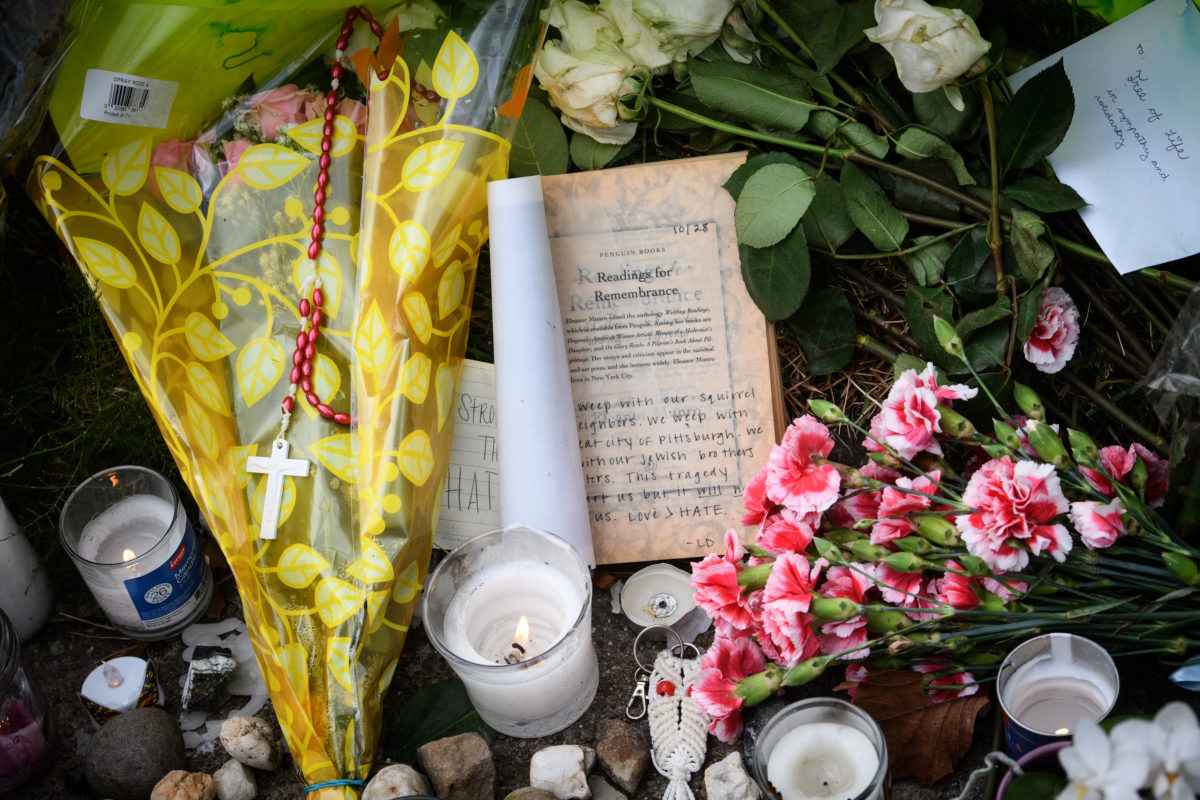 Synagogue10
Mourners leave flowers and other items at a makeshift memorial near the Tree of Life Synagogue on Monday, October 29, 2018 in Pittsburgh's Squirrel Hill neighborhood. 11 people were killed in a mass shooting as they worshiped at the synagogue on Saturday morning. Six others were injured as well including four police officers who responded to the incident. CREDIT: Justin Merriman/American Reportage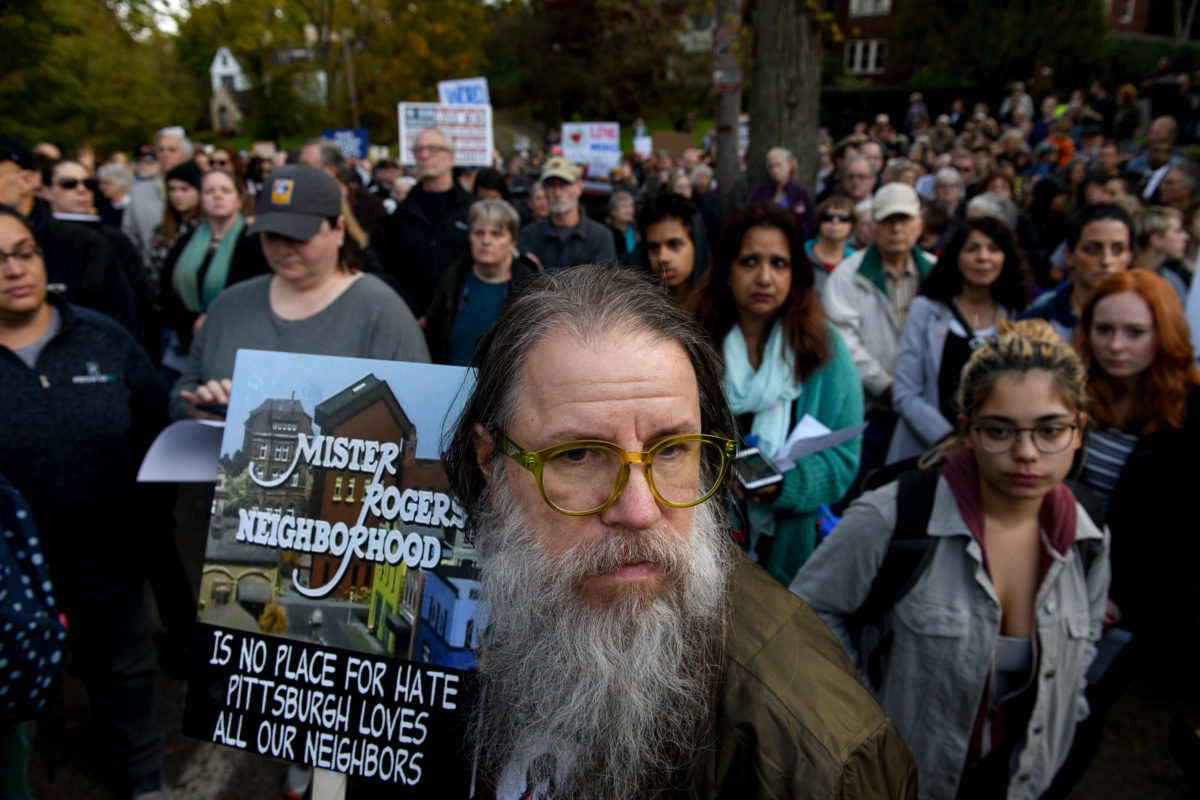 Synagogue11
People join a solidarity march in response to the visit by President Trump to Pittsburgh and the Tree of Life Synagogue on Tuesday, October 30, 2018 in Pittsburgh's Squirrel Hill neighborhood. CREDIT: Justin Merriman/American Reportage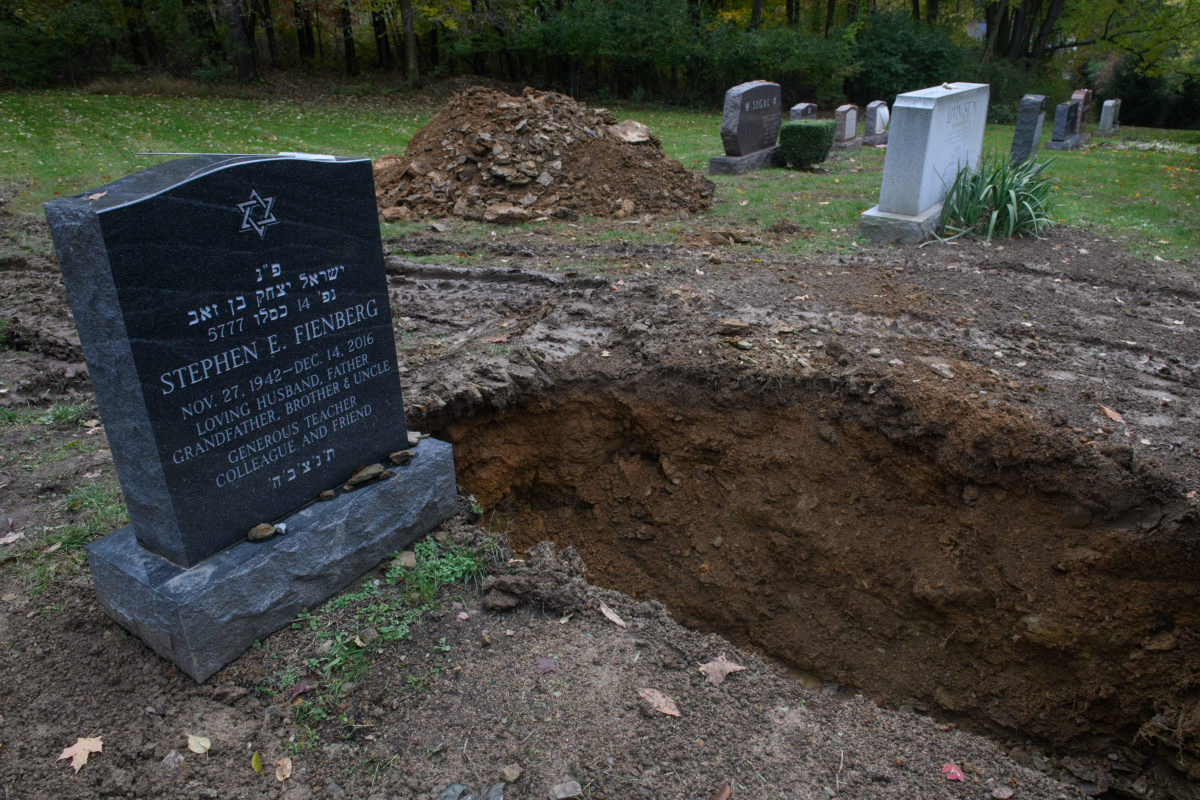 Synagogue12
Tree of Life Synagogue shooting victim, Joyce Fienberg, will be buried next to her husband at the Tree of Life Memorial Park on Monday afternoon, October 29, 2018 in Pittsburgh's North Hills. CREDIT: Justin Merriman/American Reportage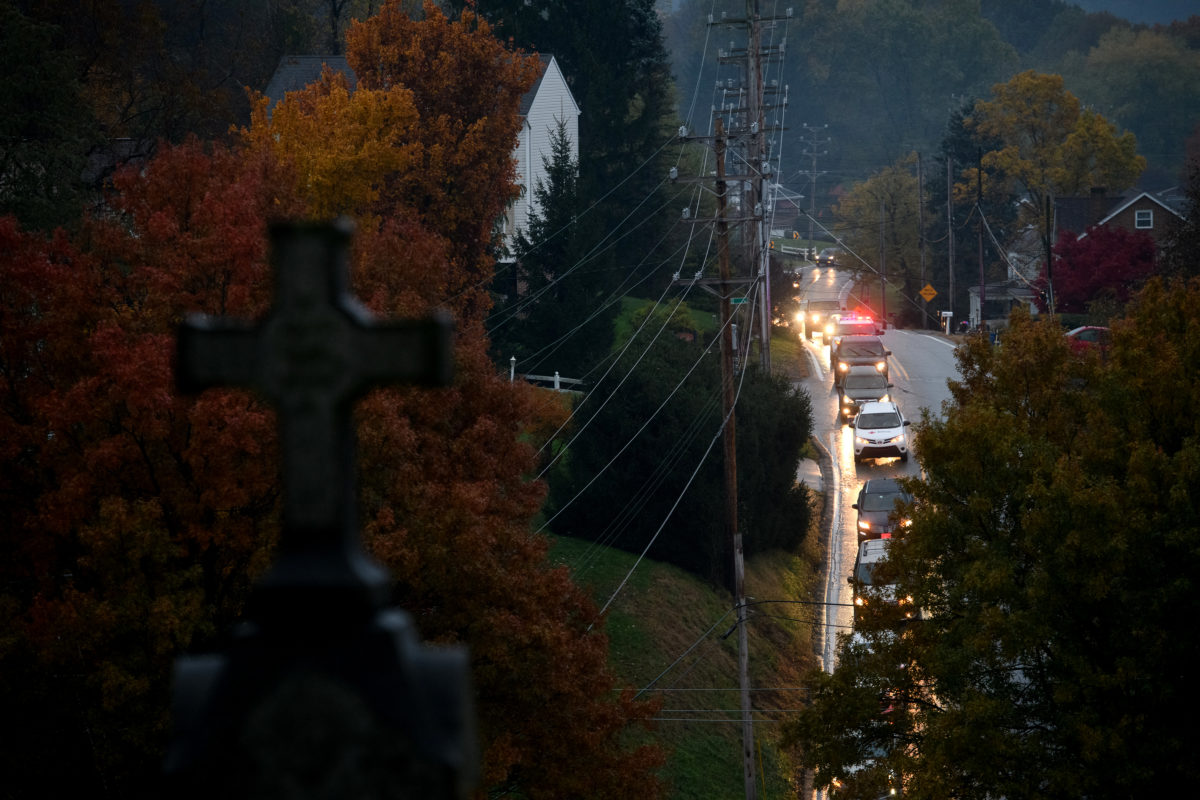 Synagogue13
The funeral procession of Richard Gottfried makes its way to the New Light Cemetery on Thursday, November 1, 2018. Gottfried was one of the Tree of Life Synagogue shooting victims. CREDIT: Justin Merriman/American Reportage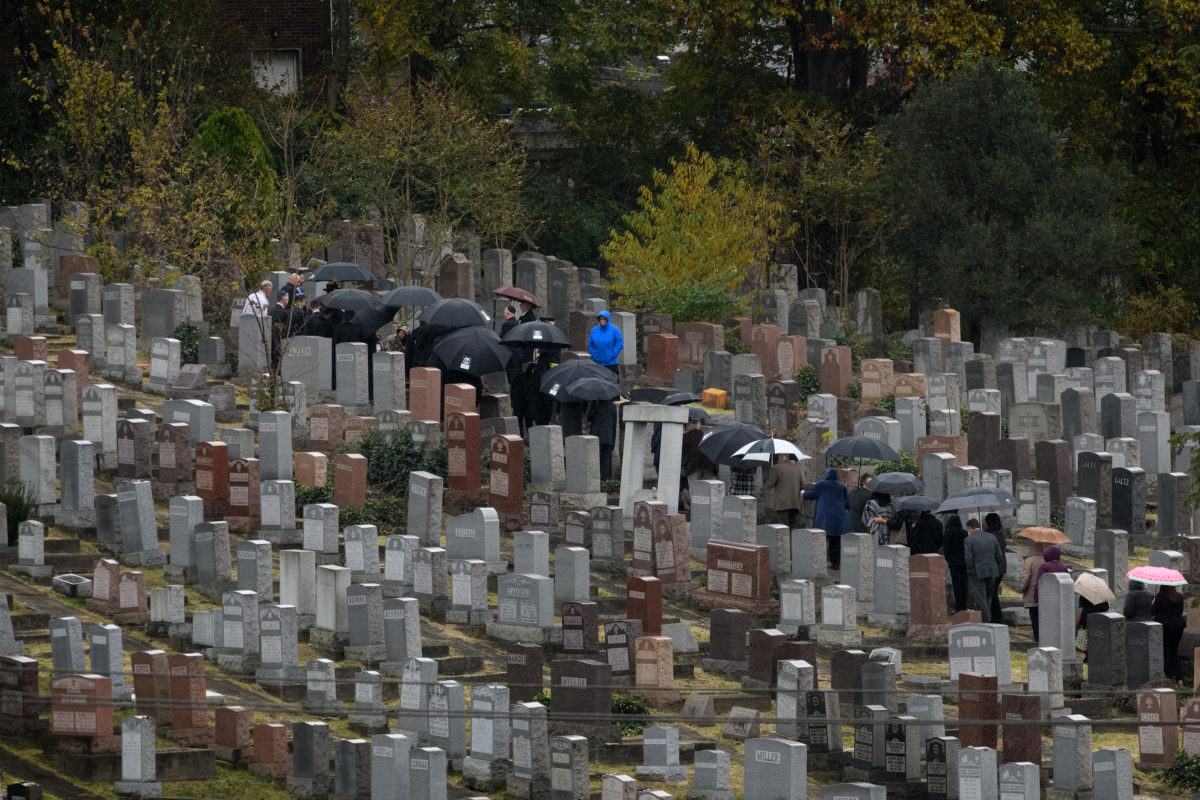 Synagogue14
Mourners gather around the gravesite of Irving Younger, one of the victims of the Tree of Life Synagogue shooting, at Shaare Torah Cemetery on Wednesday, October 31, 2018 in Brentwood. CREDIT: Justin Merriman/American Reportage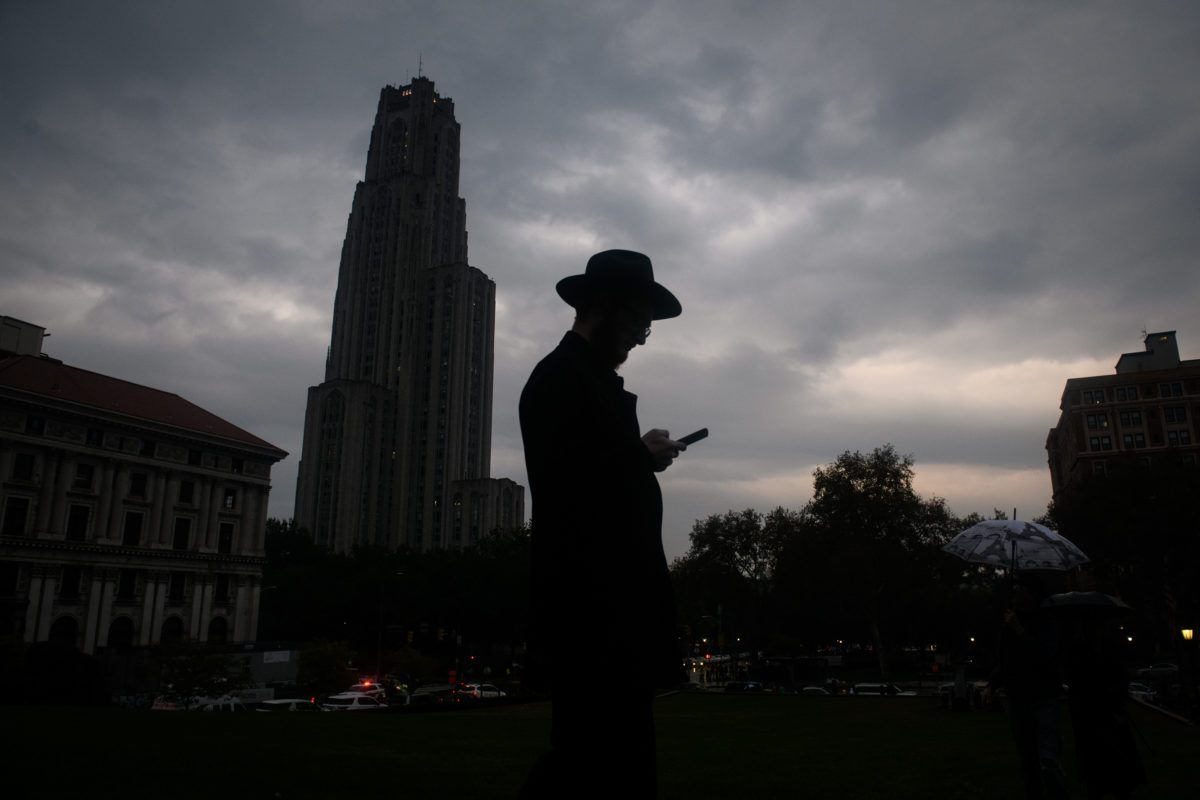 Synagogue15
A mourner stands outside of Soldiers & Sailors Memorial Hall and Museum watching a livestream on a cell phone of the vigil to remember the victims of the Squirrel Hill mass shooting on Sunday evening. The hall was filled to capacity and hundreds more gathered outside. CREDIT: Justin Merriman/American Reportage
Mass Shooting at the Tree of Life Congregation Synagogue
Photography by Justin Merriman
T
he Tree of Life Congregation Synagogue sits in the heart of a vibrant Jewish community in Pittsburgh's Squirrel Hill neighborhood.
On October 27th, it became the site of the deadliest attack against the Jewish community in American history.
Law enforcement alleges that Robert Bowers, 46, stormed into the synagogue during Sabbath prayers armed with an AR-15 style assault rifle and at least three handguns shouting anti-Semitic slurs as he opened fire.
11 worshippers were killed and six others injured including four police officers.
The Tree of Life Synagogue Victims
Joyce Fienberg, 75 Richard Gottfried, 65 Rose Mallinger, 97 Jerry Rabinowitz, 66 Cecil Rosenthal, 59 David Rosenthal, 54 Bernice Simon, 84 Sylvan Simon, 86 Daniel Stein, 71 Melvin Wax, 87 Irving Younger, 69
Images from this story may be licensed for editorial or educational use by publications and educators. Click on the link below to learn more.
VIEW ALL IMAGES FROM THIS STORY
There are usually more images available from this story than are presented here. Click on the link below to view the entire collection.