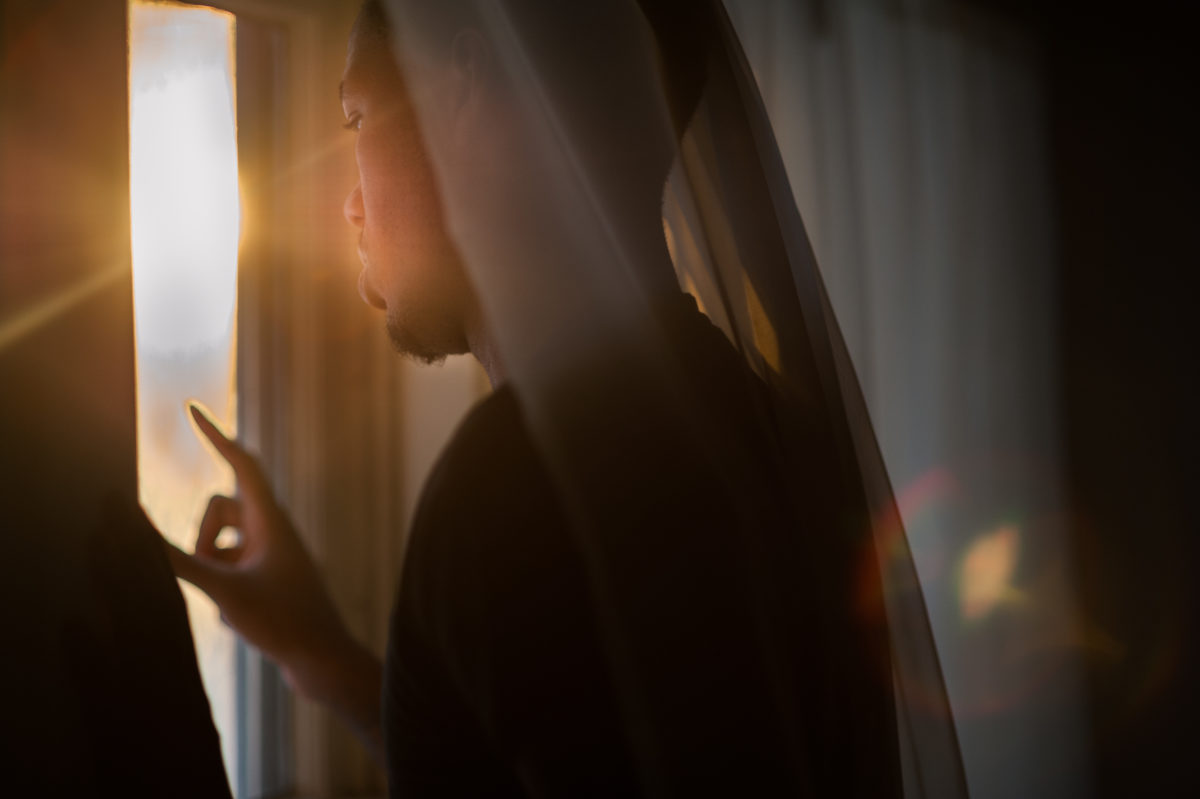 Three Bags Full
"In this picture, I'm confused. I just got home [on break from college]. I was planning on dropping out — I'm not even gonna lie to you. I wasn't even gonna tell nobody. But I'm like, Yo, this is not the same. I don't feel the same at all. My homies was doing gang signs and stuff. I was like, Oh shit, I forgot all about this. I used to love that — I used to love being around my homies, chillin' and stuff. After seeing, like, what I have ahead of me, the gift I got, like actually going to college, seeing my homies all living in somebody's house that they don't even know. I was like, Yo, I don't have to be here [in Chicago]." Tavaris Sanders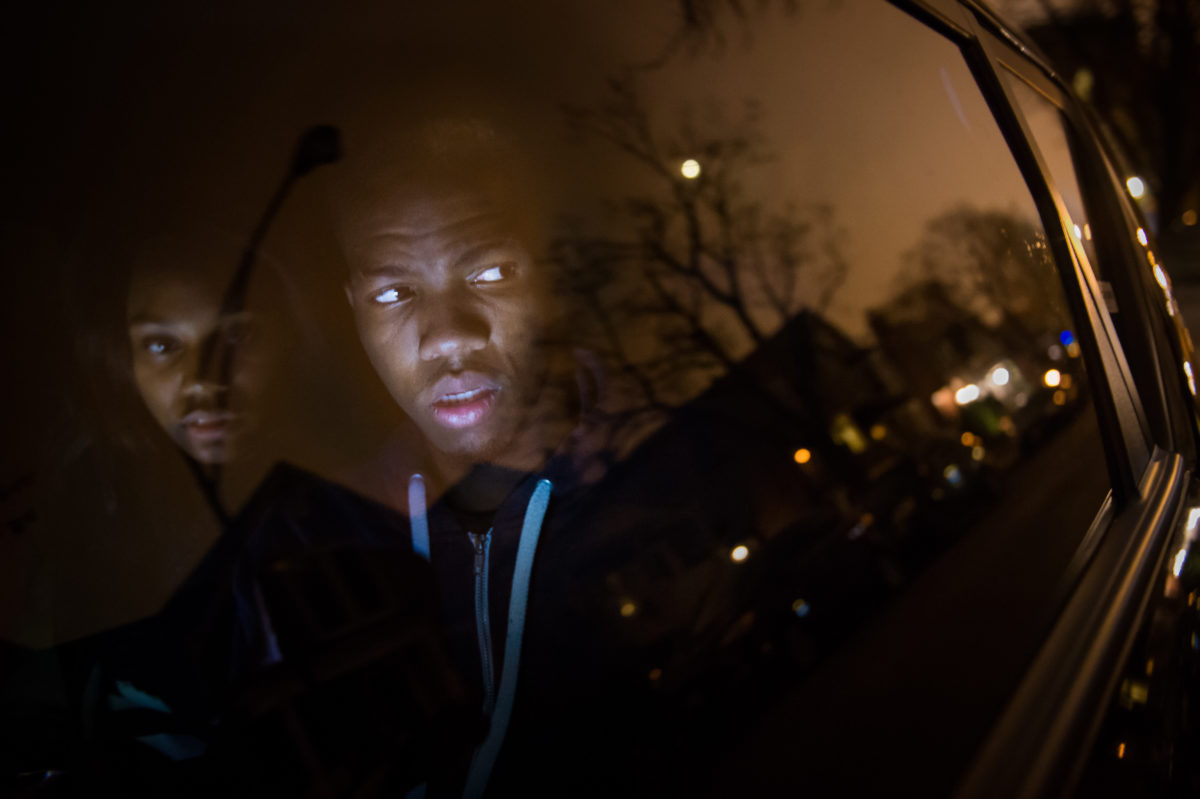 Three Bags Full
"When I was in high school I was, like, still on my game with my crew, but they knew what I was trying to do. And they respected that 'cause I told them the truth. Even though we got into fights in the hood, beating people up, they made sure I stayed outta trouble, 100 percent. Like, I don't have a real family, but they was family to me. And I was still going to school — I made sure I went to school, regardless of the situation. And they had my back through it, thick and thin, even though I got in a lotta trouble with them. I regret it, but at the same time I still don't because it was with them." - Tavaris Sanders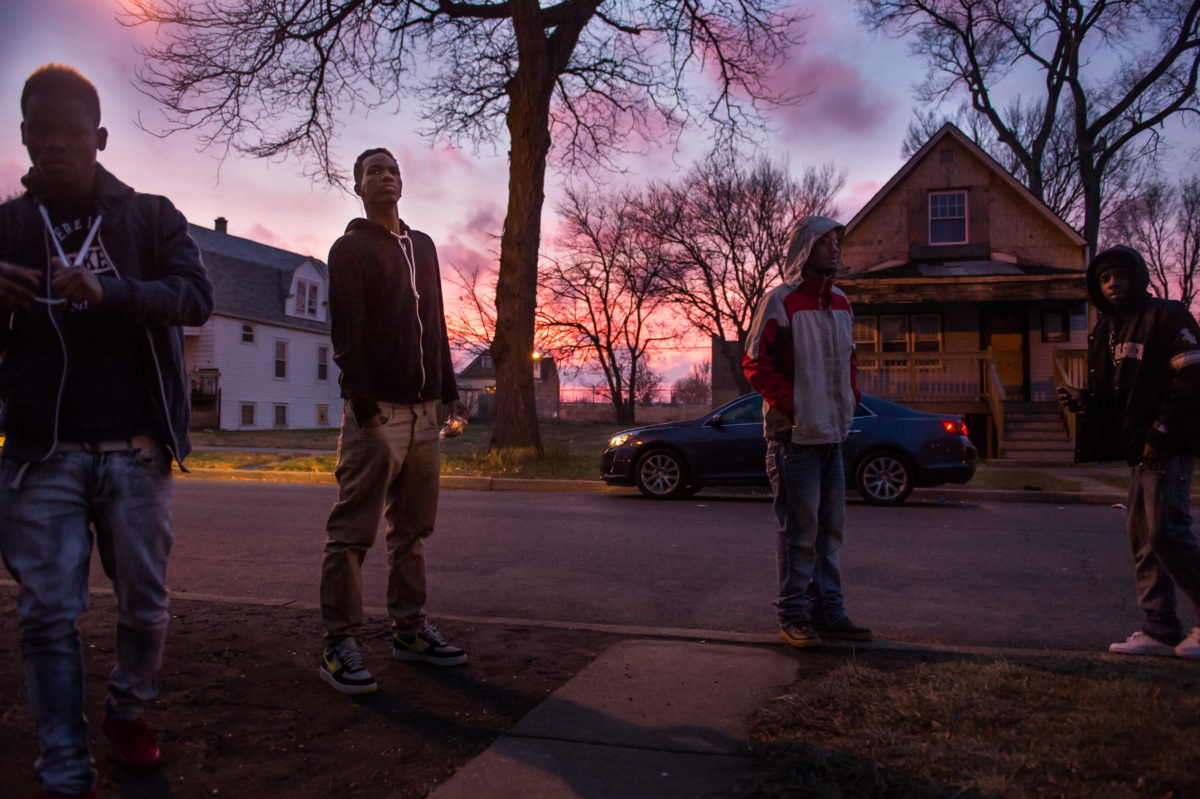 Three Bags Full
"This is my brother (Left). He has a peculiar style — slash-white-boy-slash-hood-nigga at the same time. He's my foster brother, like, the other half of my heart. This is like blood to me, 100 percent. If he could come to college with me, I would be so happy, like, I would never drop out. I decided we should go see my [biological] family. And I just see how the hood in Chicago, the South Side, is devastating. The houses are messed up. Look at the clothes I'm wearing — I'm wearing like college clothes. I have an H&M hoodie on, H&M pants. I'm like so different. It's not like, Why am I here? It's more like, Do I belong here?" Tavaris Sanders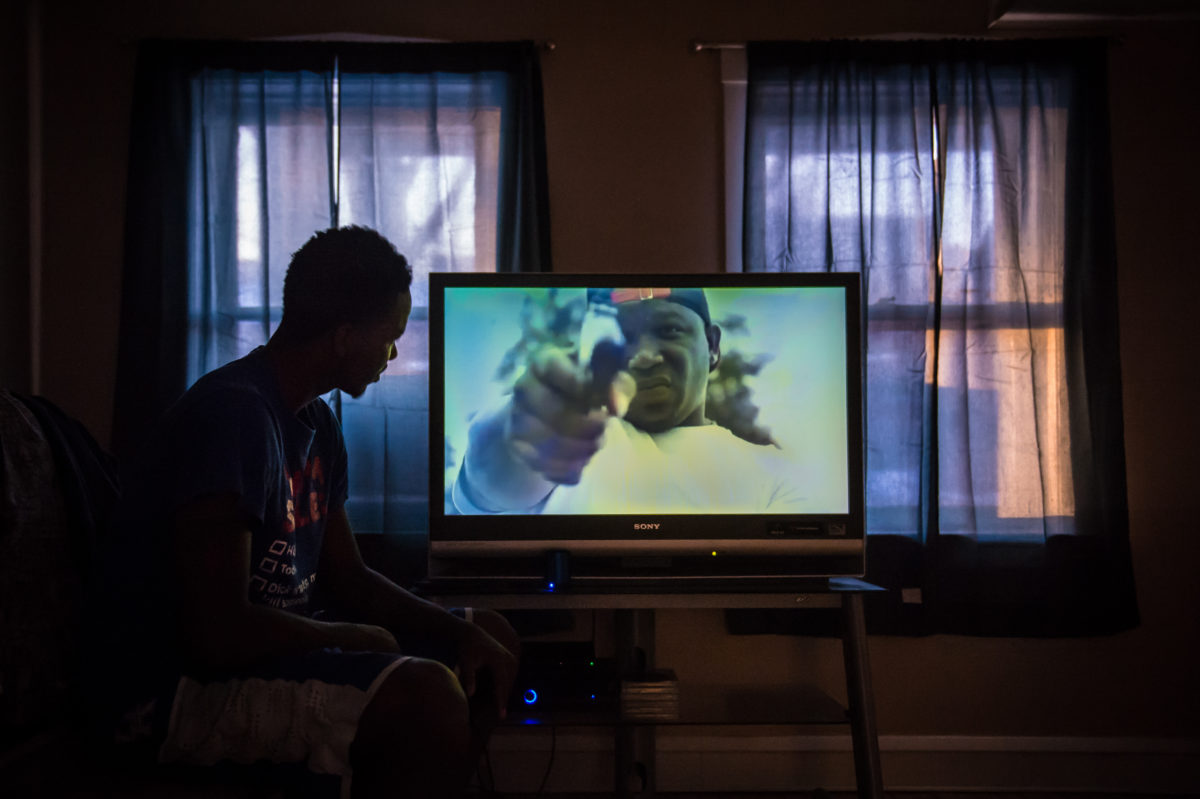 Three Bags Full
Tavaris watches music video in the basement of his foster parents home. According to Chicago Sun-Times data over 3,500 people were shot in Chicago in 2017. When Tavaris left school after his completing his sophmore year he assumed that he would back in the fall to commence his junior year.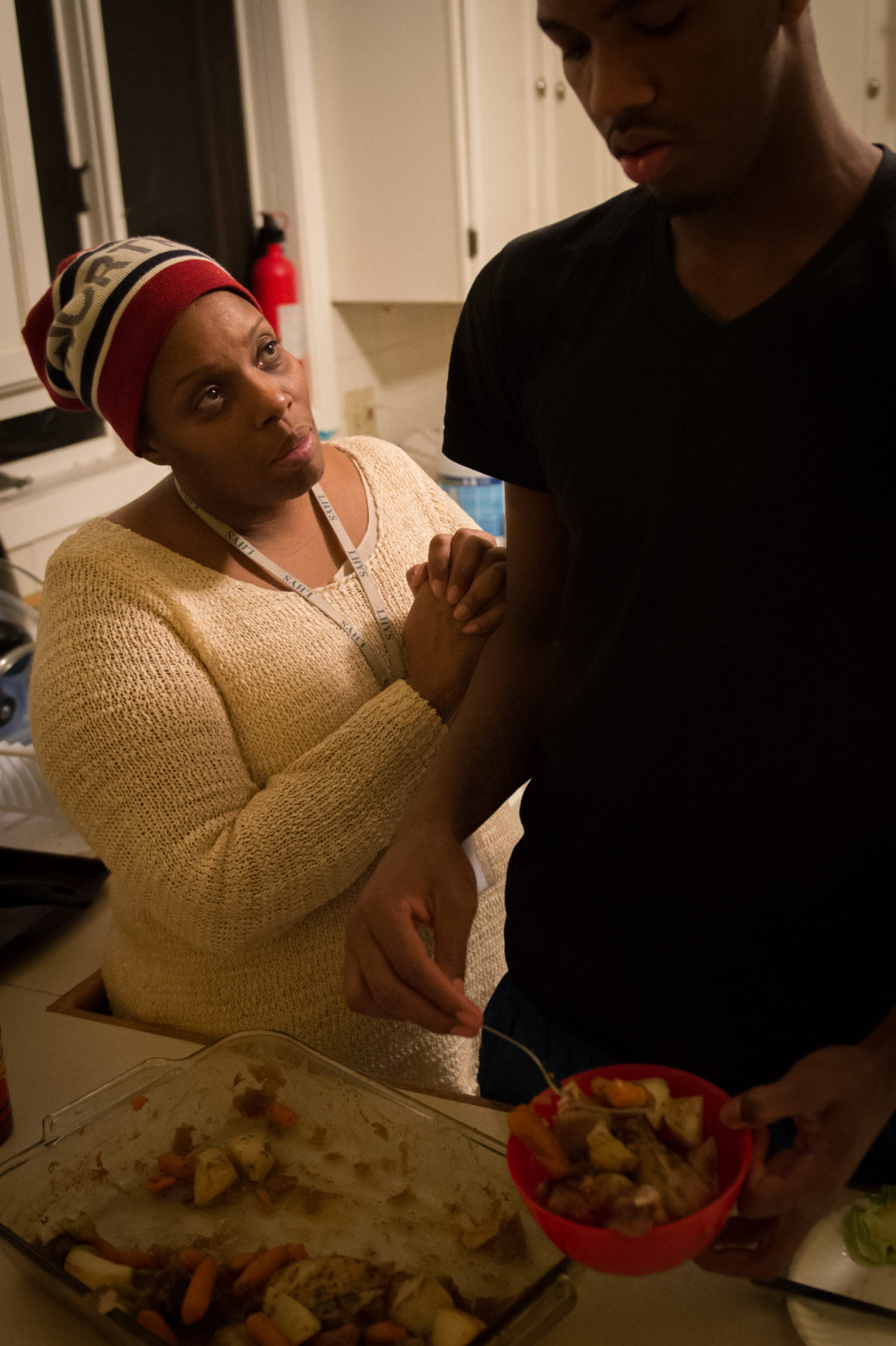 Three Bags Full
"Me at the crib with my [foster] momma. My mom, she's like a huge part of my life. She understands me. She's always trying to get under my skin, because she knows what I'm capable of doing. She knows that I'm a bright, intelligent man, but sometimes I belittle myself because I feel like I don't belong to where I'm at. She's like, Taz, you gotta go. Get out of the city. There's a lotta bad things going on. There's shooters, there's killers. The way she explained it, she was right. I'm like, Let me stay here. She's like, Taz, you can't. You know what you're gonna do. You're gonna get in trouble, you're gonna do bad things. She was 100 percent right. And after thinking about it, constantly and constantly, I was like, I gotta go." Tavaris Sanders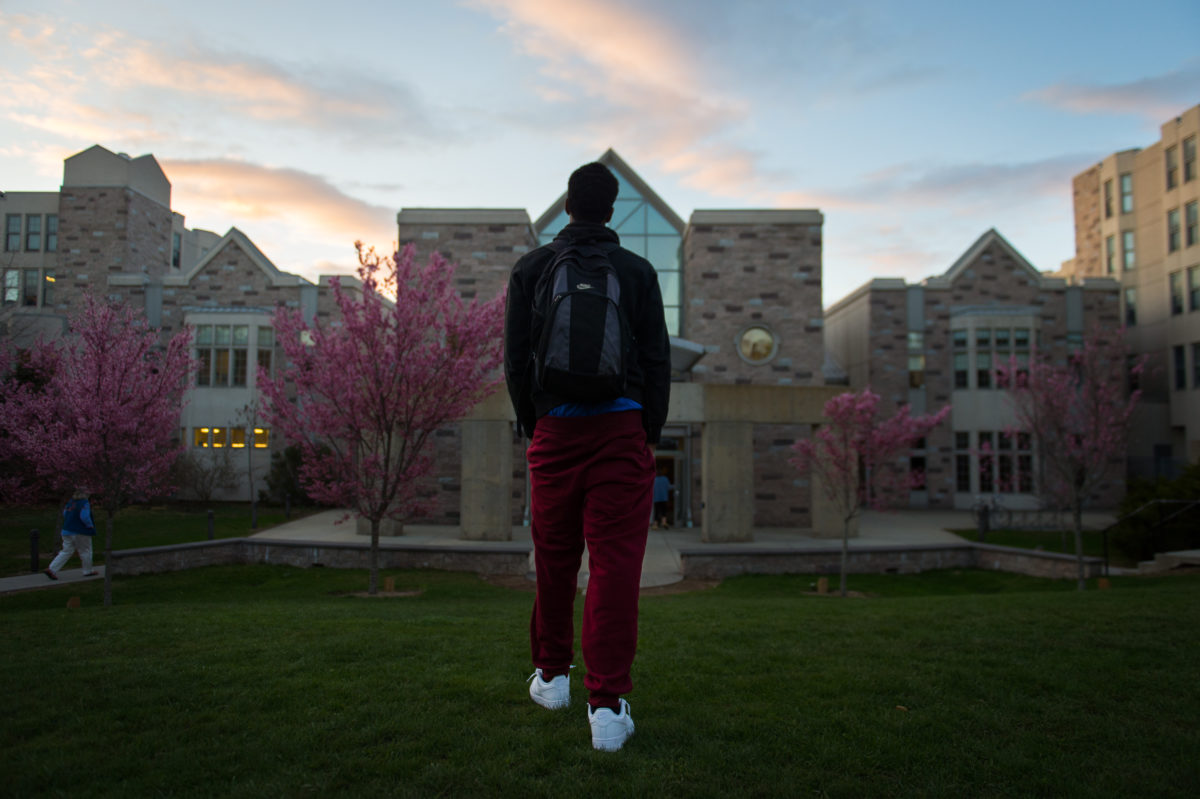 Three Bags Full
"First year I was more lonely than ever. I really didn't have no friends. I began to get depressed. I didn't feel accepted here at all. I had a hard time working because I started to get in that mode, like, I don't care anymore, people don't understand me, why should I do any work. My grades started falling off, and I got on academic probation the first semester." - Tavaris Sanders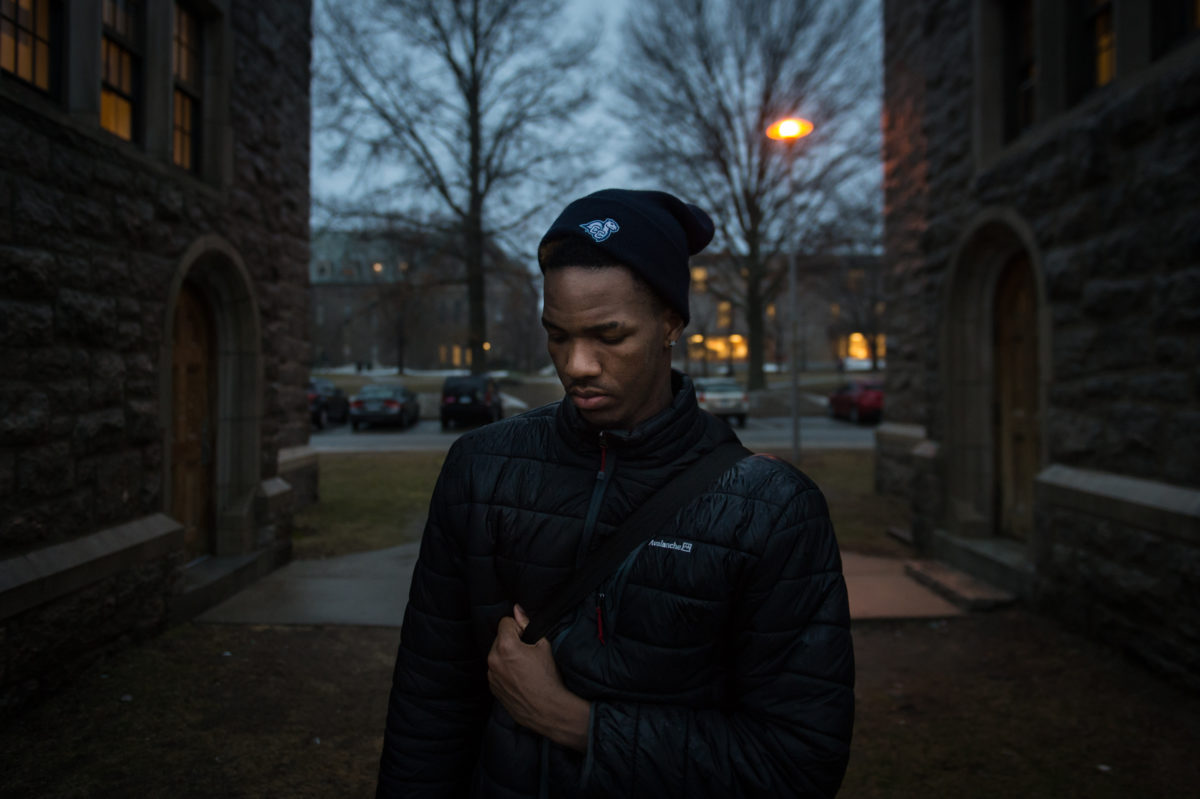 07_TBF_8839
"I have no support out here, sometimes I want to cry, no one understands me… No one is trying to sit down and watch dance [videos] with me and make secret handshakes, I just miss things like that." Tavaris Sanders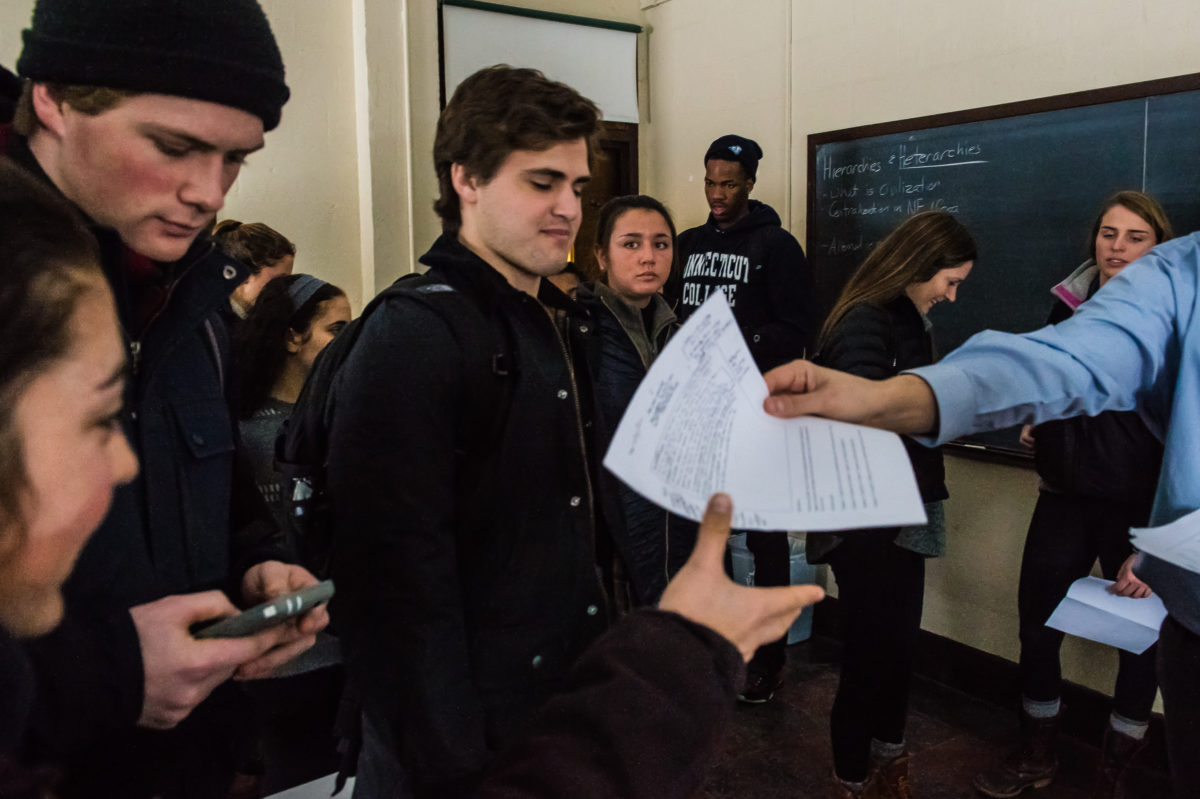 Three Bags Full
"It was African history. The way he explained stuff was like, What? Literally, I was confused. I used to go to his office hours all the time, because I used to struggle with the papers he gave us. He's like, Did you read it? I'm like, Yeah, I read it, but I didn't understand it. All these big words. I wanted to say that, but I was trying my best to keep my composure. I'm like, Bro, I read it, but I didn't really understand it, so that's why I'm coming to you. Look at me: Aw, shit, they handing our papers back. I know I messed up. You can see I'm in the back. I'm gonna make sure I'm the last person so nobody see my grade." Tavaris Sanders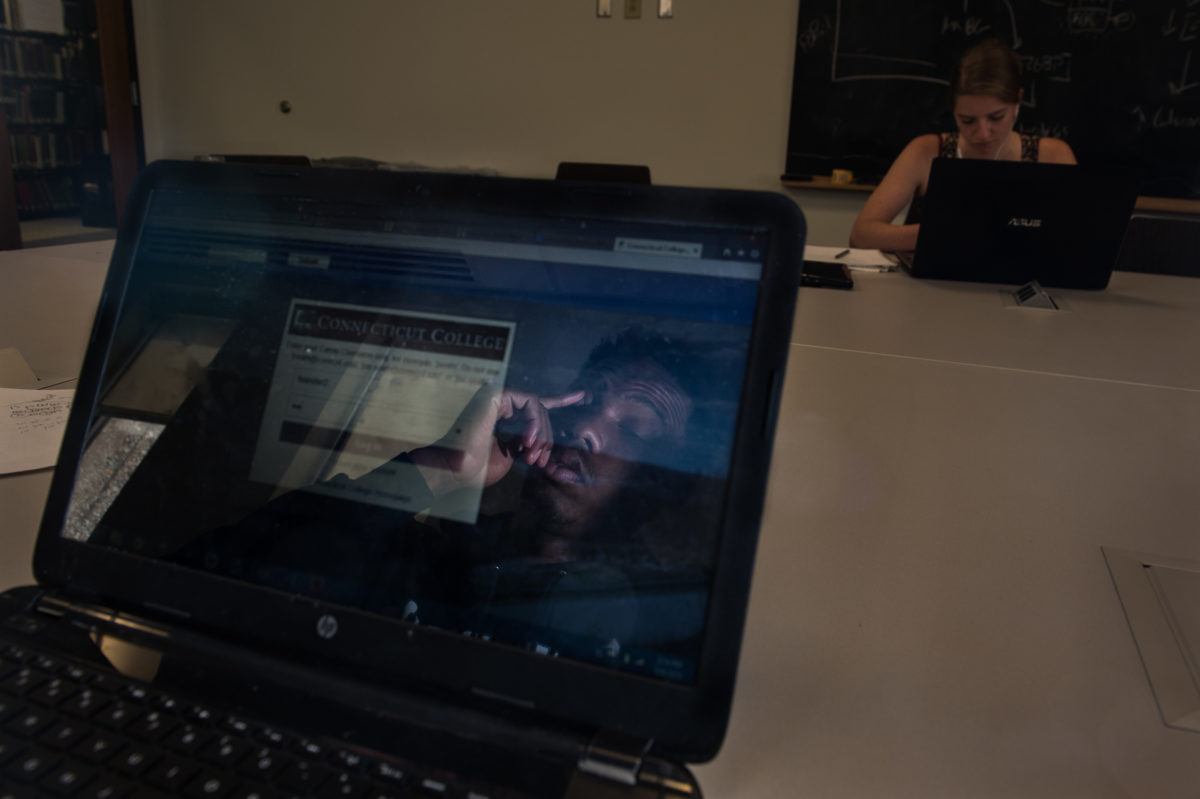 Three Bags Full
"Coming here, like, people study for hours, and they have all this advanced grammar and big words and I'm like, Yo, we did not learn this in high school. Whoa, the transition was so hard. And like, yeah, we're gonna do a five-page paper. What? We never did a five-page paper in our high school. It was more like a one-page paper." – Tavaris Sanders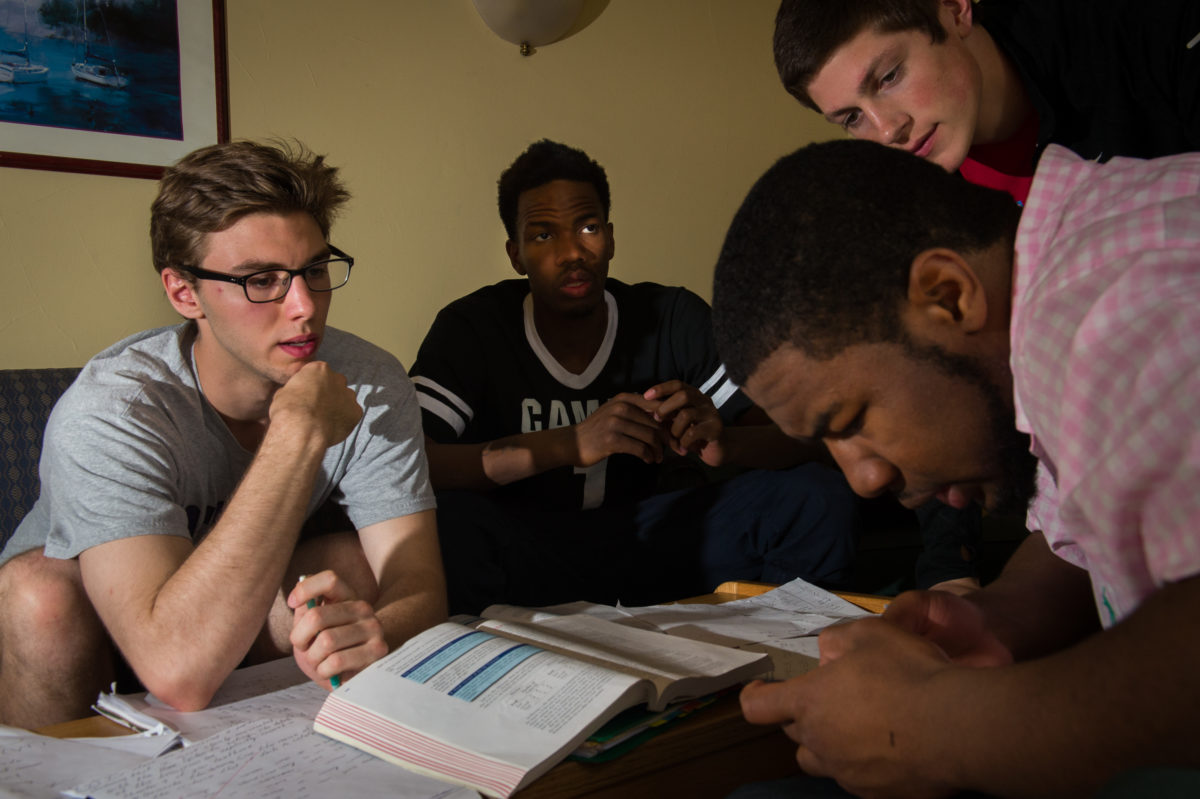 Three Bags Full
Tavaris Sanders crams just before a final examination in a mathematical thought class with friends.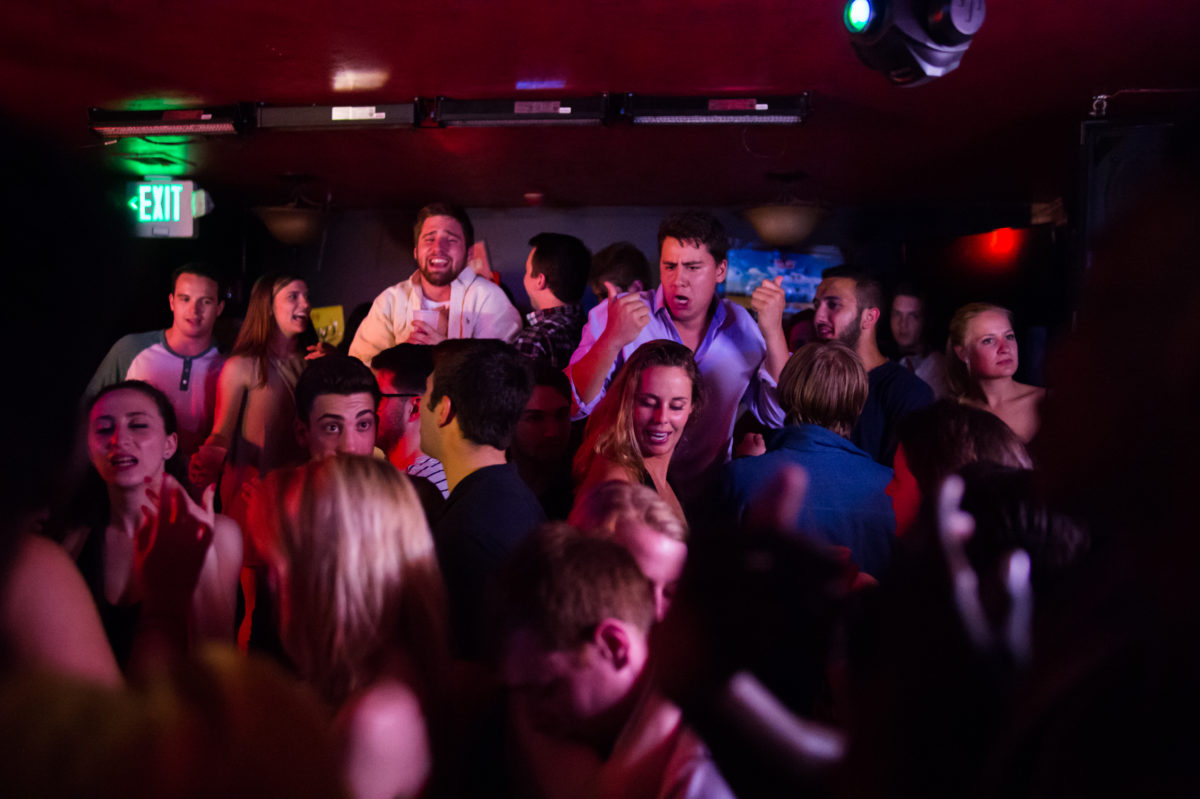 Three Bags Full
Connecticut College students dance the night away at one of the college bars in New London, Connecticut. Though Tavaris has always held a passion for dancing he did not drink before attending college and could not relate to the way Conn College students partied.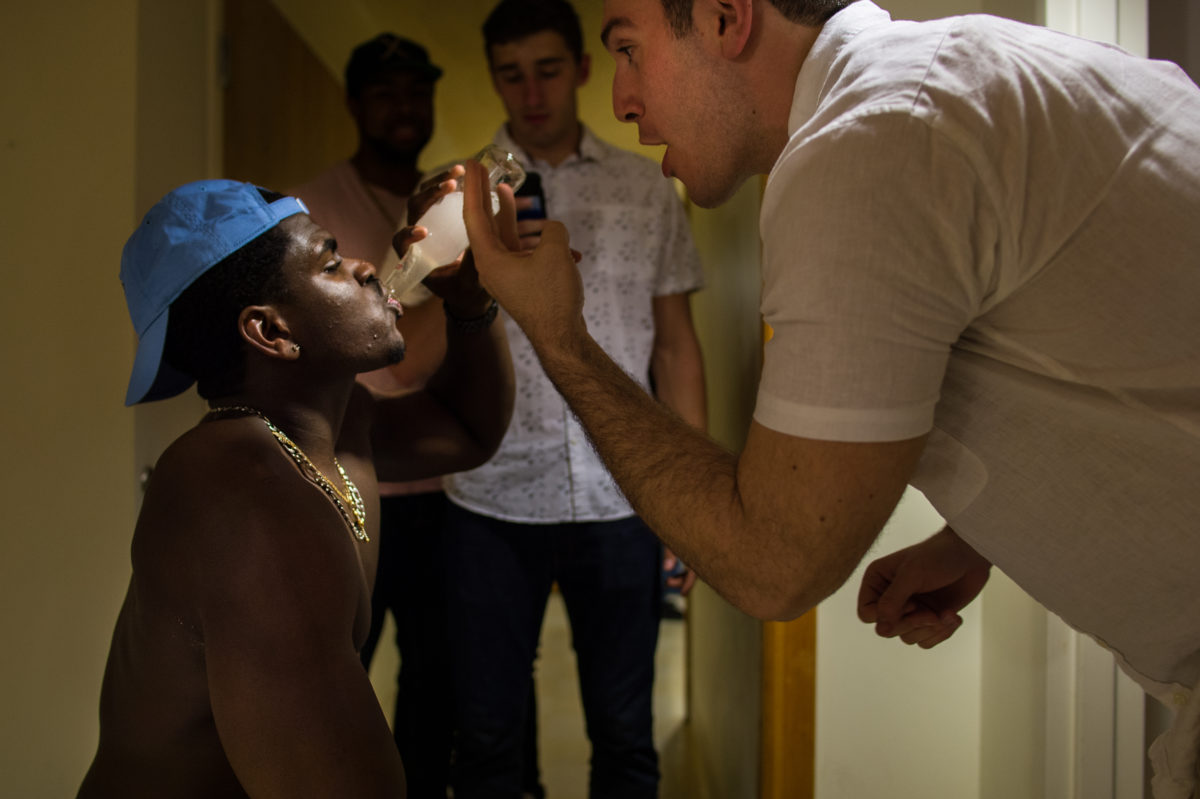 Three Bags Full
One of Tavaris's friends celebrates his birthday in the dorms of connecticut college. As it was his birthday he had the distinction of being required to chug smirnoff ice on command, a game refered to as "icing" someone.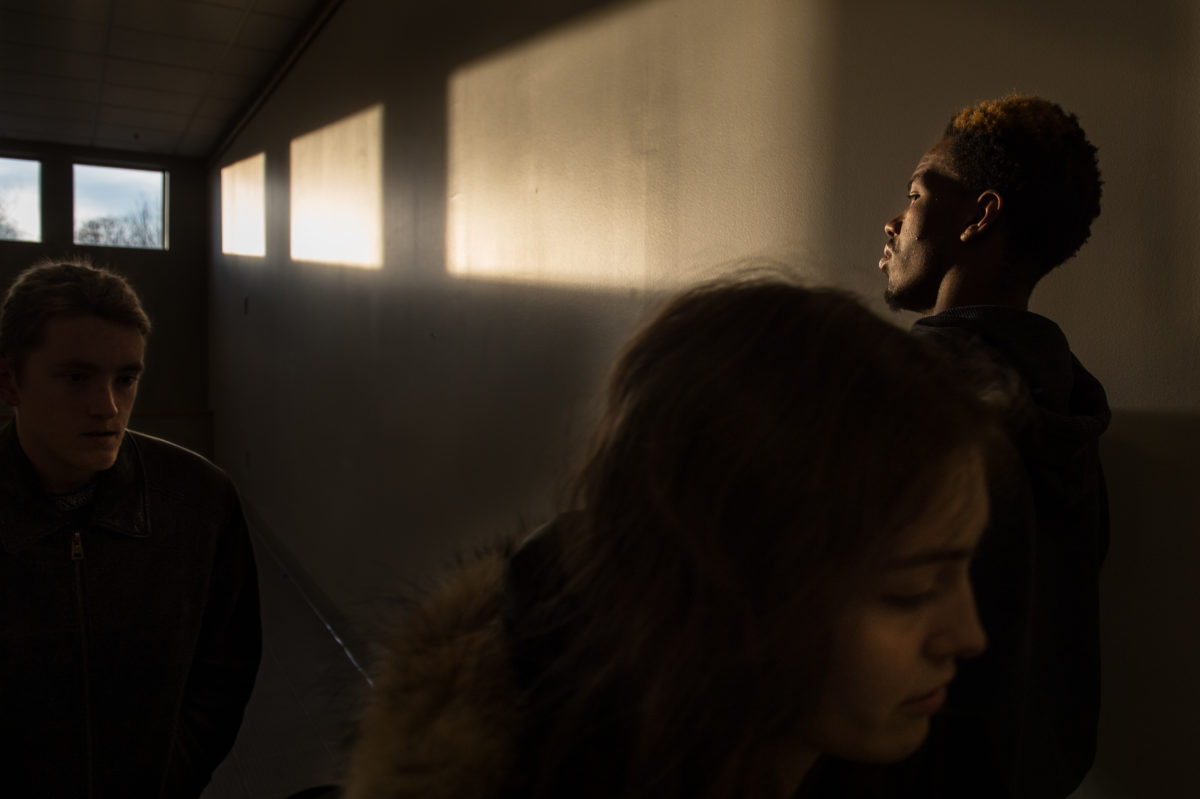 Three Bags Full
Tavaris, a sophmore at the time, looks at fellow students while passing them in the hallway of his dormitory at Connecticut College.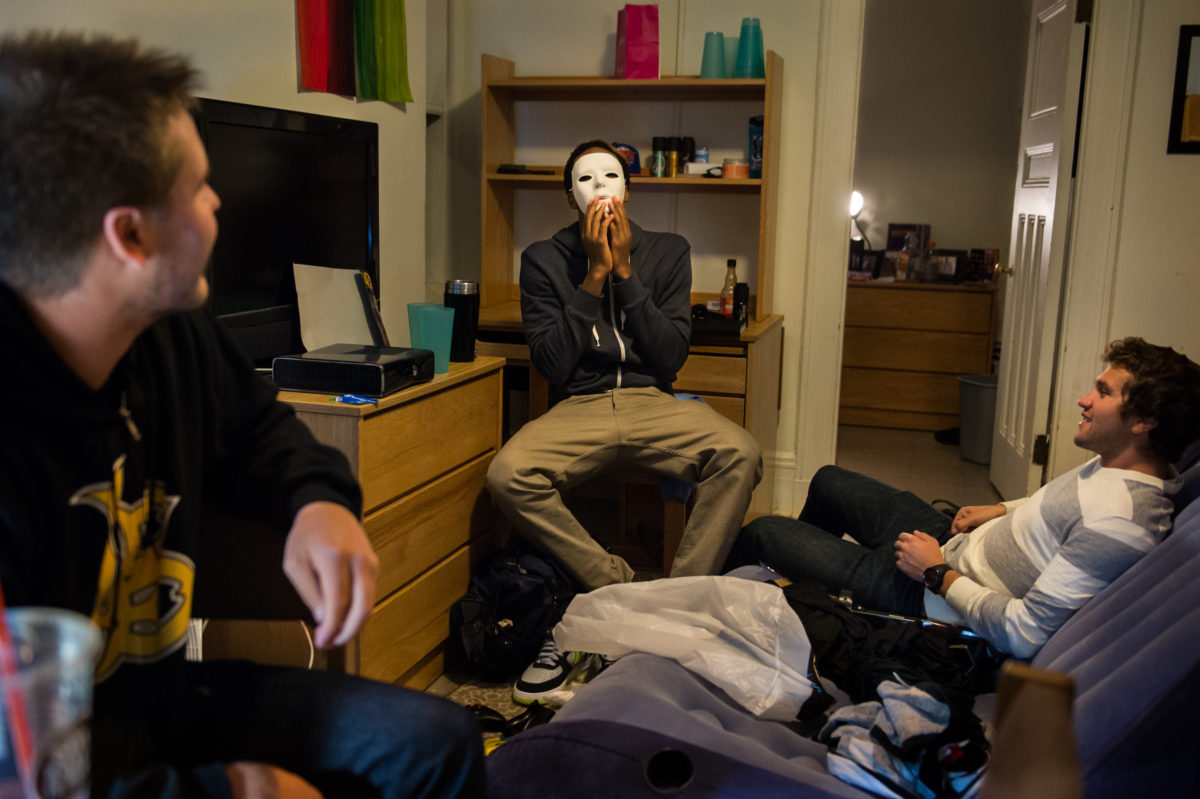 14_TBF_8390
"Halloween night, I was in a freshman dorm. Boy, this picture — I'm just saying, like, Leave me alone. The stuff they're talking about has nothing to do with anything I would talk about." Tavaris Sanders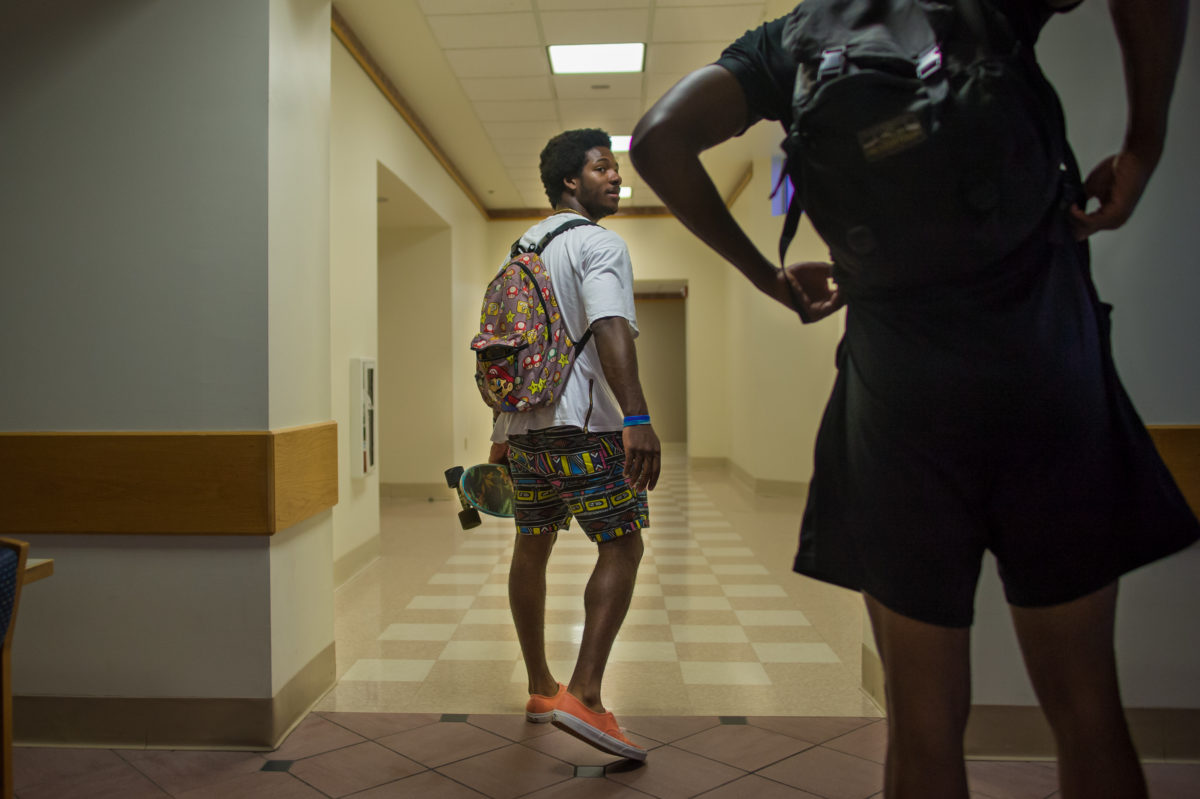 Three Bags Full
"Chaz, the most social person you'll ever meet. Chaz talks to everybody. Knows how to fit in perfectly with any group. He does DJ'ing. Everybody loves him. Always positive. You never see him mad. He could fit in the hood, he could fit in the most whitest environment ever." Tavaris Sanders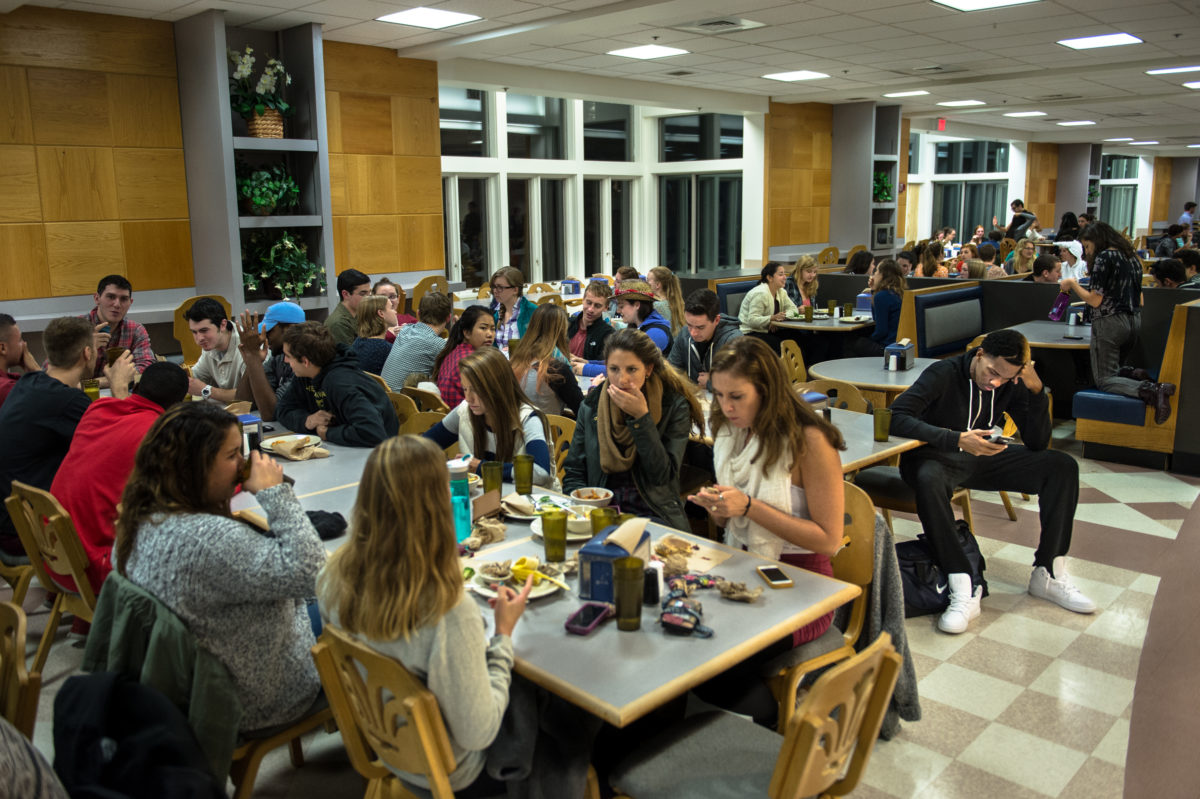 Three Bags Full
"It's just me. I sat by myself, listening to music, looking at stuff that's happening at home — dance videos, parties. I'm seeing what my brother doing. All the types of stuff that makes me happy. Being on my phone was a way to, not zone out, but I guess make myself comfortable while sitting there." - Tavaris Sanders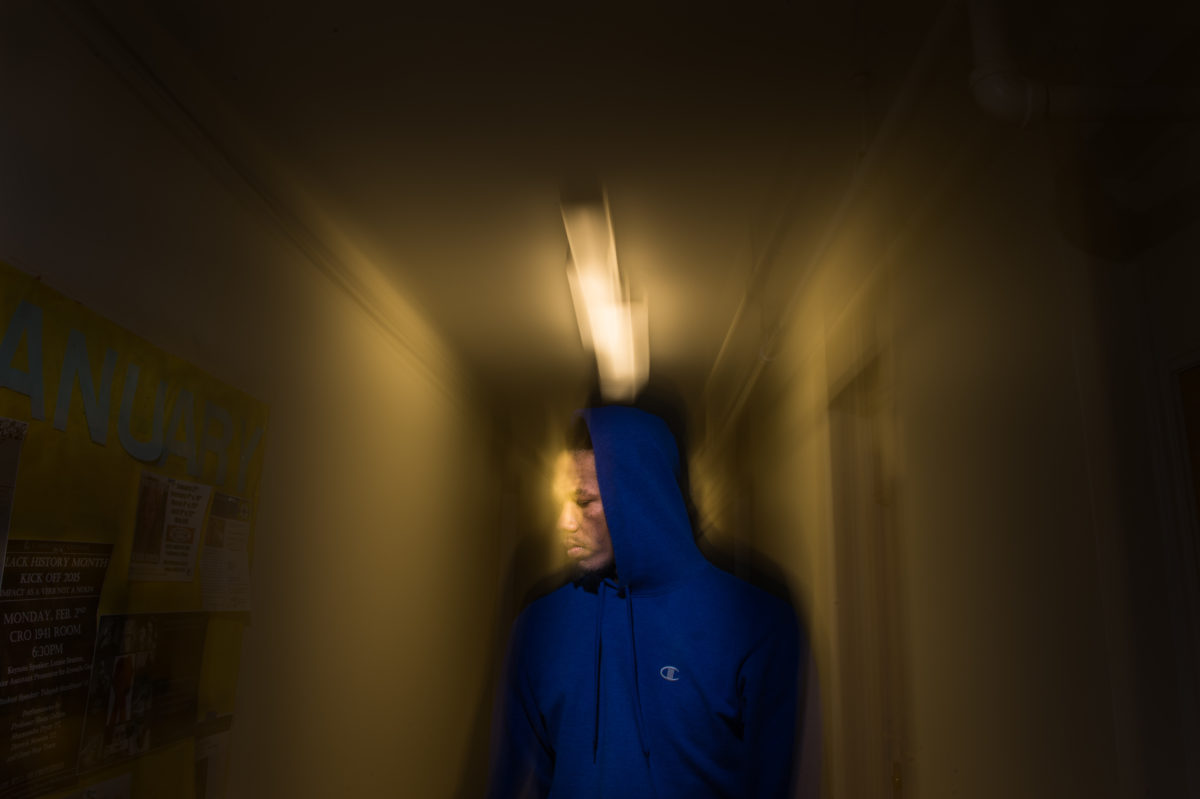 Three Bags Full
"One night I was on the phone with my mom. I wanted to go back to the hood with my homies. And I had a girl, it was this long-distance relationship, and we ended up talking that night, and I was so angry. There was a point where I couldn't hold it in any more, it was all bottled up. So I just started screaming. My roommate came out, which is understandable, and he was like, "Yo, you need to shut up". And I'm like, "What? Bro, stop talking to me. You don't even know what I'm going through." He did not care about that, like, "You need to shut up, I'm trying to go to sleep." And I started saying, "You're fake as hell." And then my roommate grabbed me, and I'm like, "Bro, you got five seconds to let me go, or I'm gonna beat your ass." And he let me go. I got into trouble. The next day they sent me to the honor code, or whatever it is, and I had a meeting, and they wasn't even worried about what was really going on. They was like, "You need not to do that anymore. You're disturbing students." I'm like, "So you really don't care why I did that? You want to know the explanation?" She said something, and it irritated me, and I just, like, shut down." Tavaris Sanders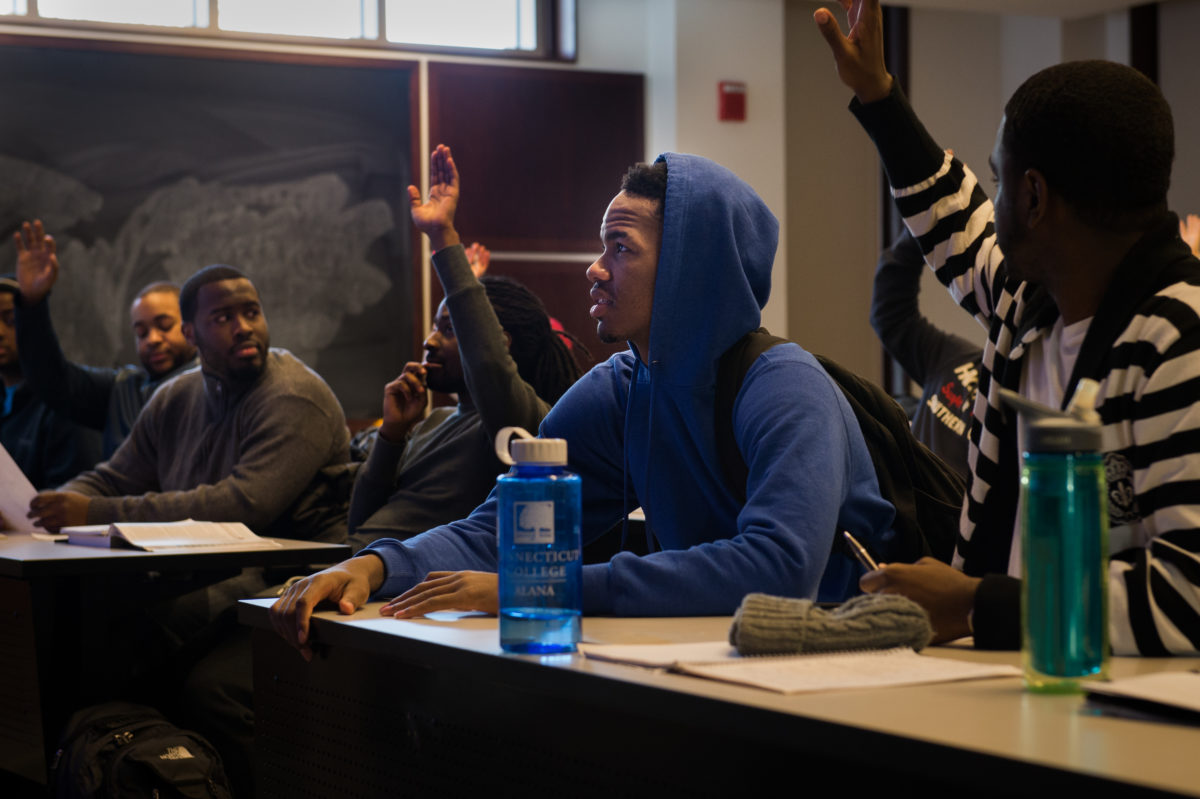 Three Bags Full
"This is my Africana-studies class. I was very fascinated by this class — I wanted to know more about myself. The way [the professor] talks — he talks the way I talk at home. He has slang. There's white people in our class, too, but they don't feel belittled. He talks about white supremacy, he talks about everything, and he doesn't discriminate [against] them. They feel so comfortable, and they love it, like they wanna be Africana-studies majors, too. David Canton [the professor], he's my student adviser — this is the man I can relate to. He's the main one here that understands me. He's mad funny, hilarious. He's always busy, though." Tavaris Sanders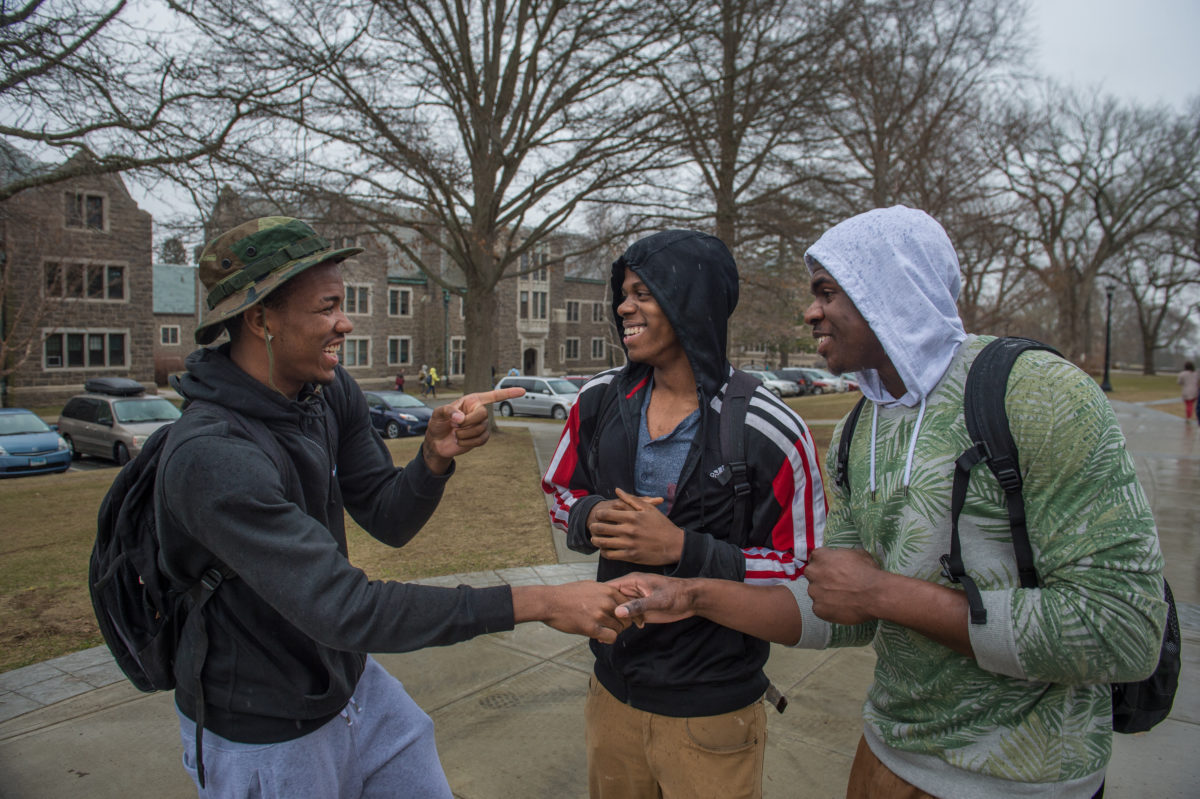 Three Bags Full
In between classes, as Tavaris traverses campus, he runs into two friend and recounts the antics of the previous night.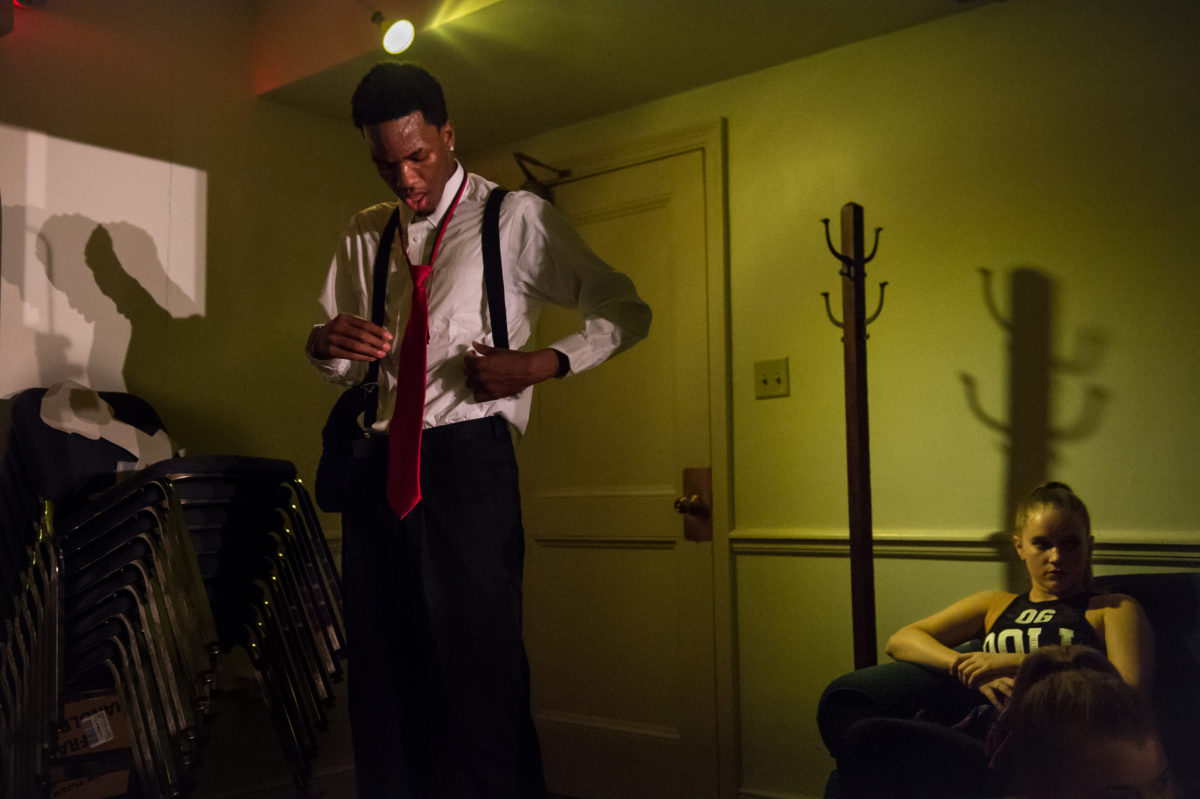 Three Bags Full
"That's my dance at Eclipse. Eclipse is an event that's more for us — for, like, minorities, a way for us to express ourselves. I'm doing a piece to a song by Bruno Mars. I was so happy. I'm gonna be on stage in front of a lot of people. I didn't feel segregated at all, 'cause it's all about dancing. Everybody loves the way I dance." Tavaris Sanders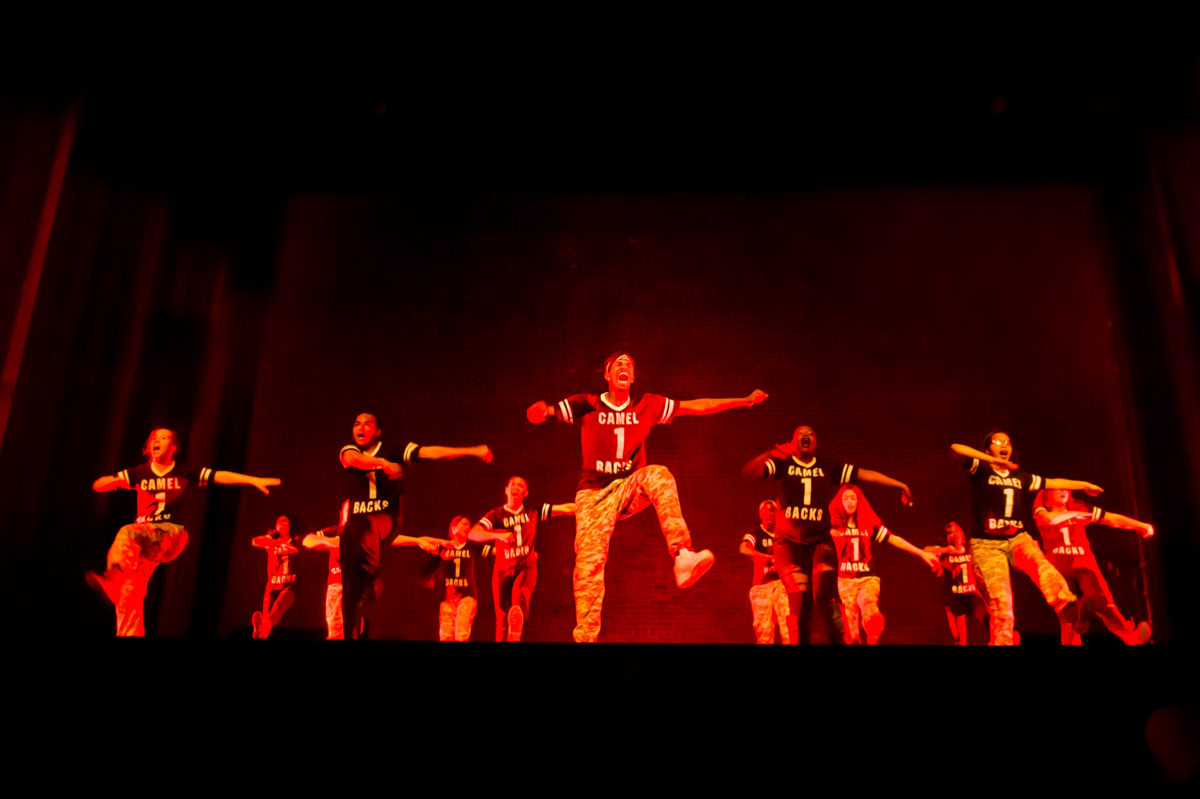 21_TBF_4501
" This is like the best dance I ever had, in the Eclipse event. It was a way for me to express myself, to show how we get down in Chicago, to show how we do step in Chicago. It's like, Yo, this is me. You shoulda seen the faces I made — I be wilding, I be going crazy. But I love it, because the vibe was just so great — the applause, how people look just fascinated by what I do. People are still trying to understand me, which is kinda weird, but I think the more I keep trying, the better it's gonna get. Progress is gonna happen. People got my back. People are starting to understand my slang a little bit more. I got people saying my slang, you know. People listen to my music — well, people always listened to my music. They just don't understand it at all." Tavaris Sanders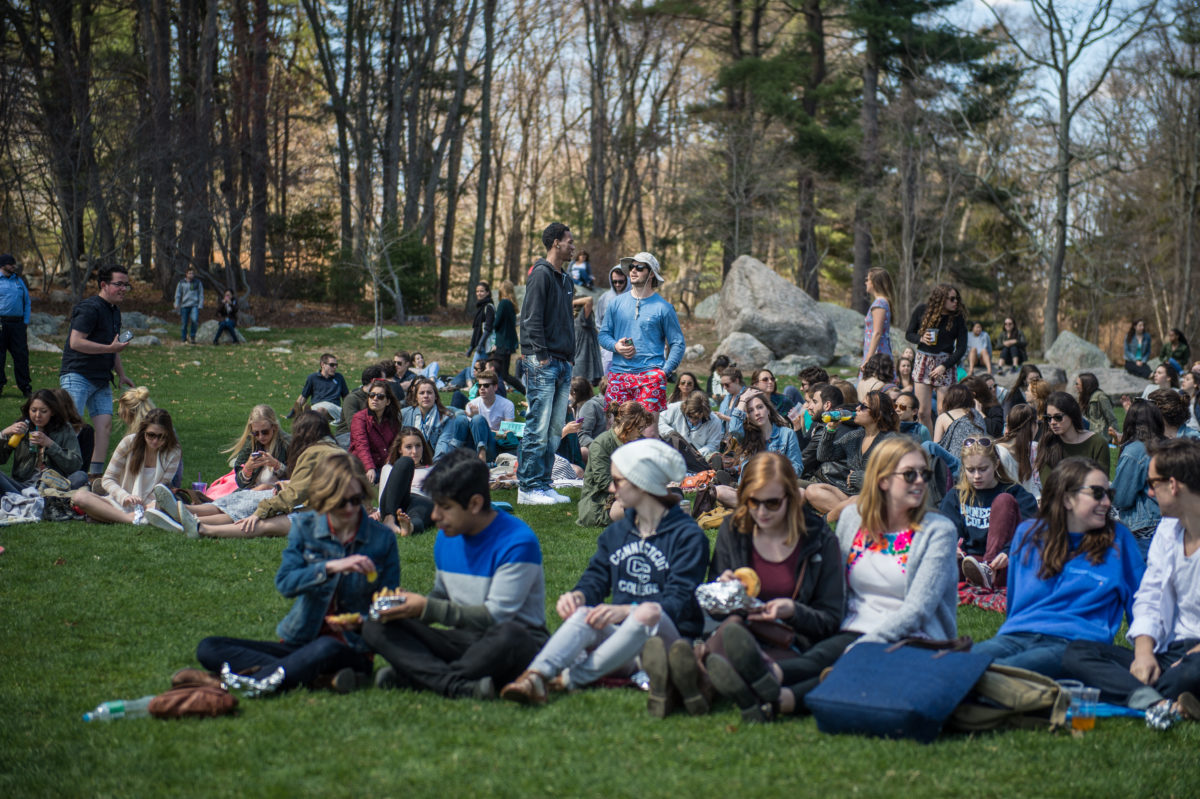 Three Bags Full
"I'm trying to accept this place. I got a journey ahead of me, but I can do it. Yeah. Imagine me being here. A black male from the hood, coming to a college like this. It's so weird. Facts." Tavaris Sanders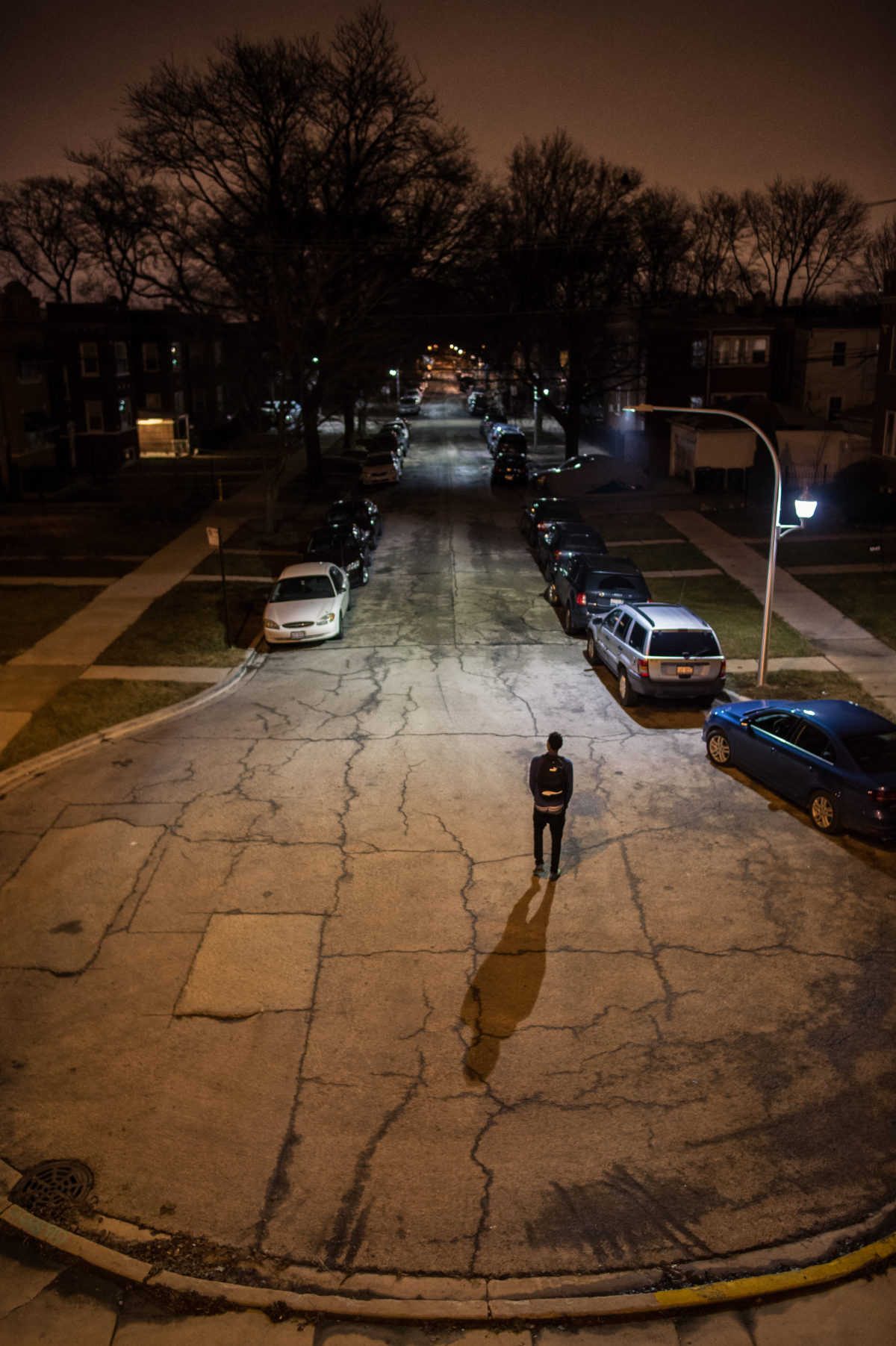 23_TBF_2741
Tavaris returns home in Chicago after a seeing a movie with friends. He is cutting through a cull de sac to avoid walking on the more dangerous streets in the West Side of Chicago.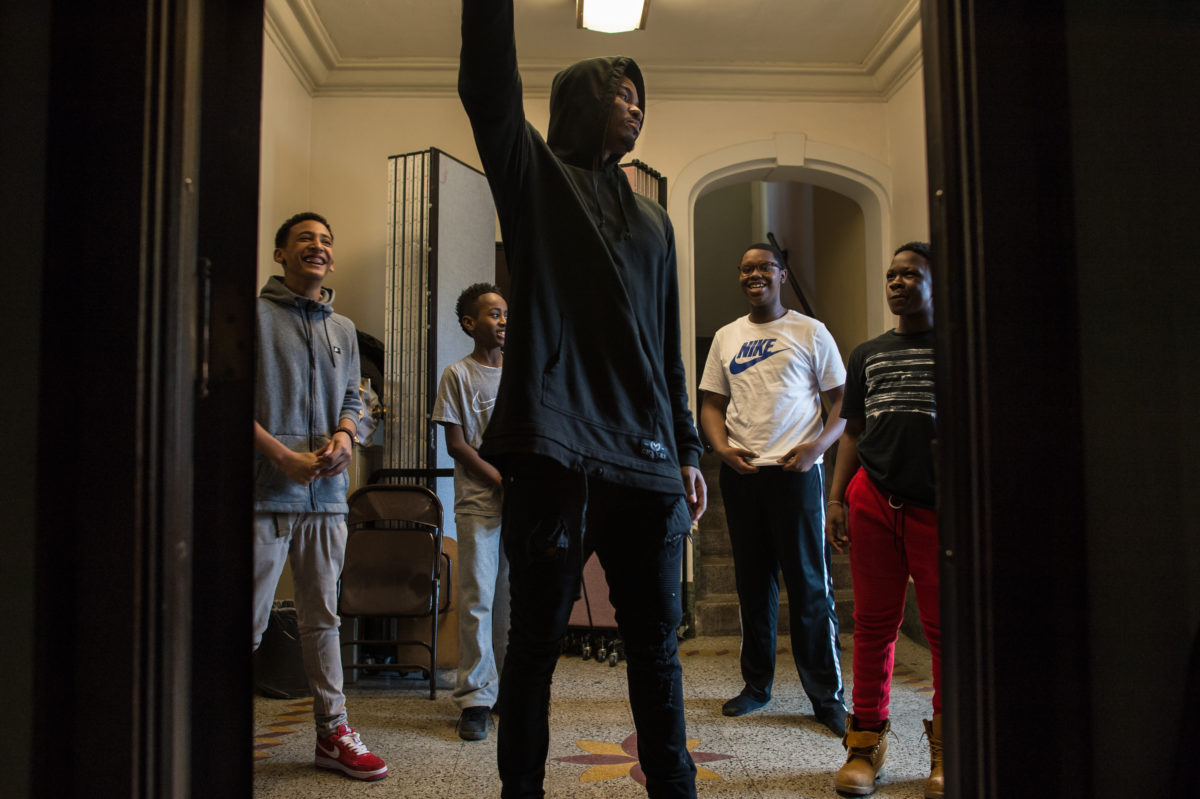 24_TBF_5391
"My first objective was to go back home and help those who want to be helped. David Canton [his advisor at Conn College] said, You know, you can't do just that. That's like just offering somebody a book and telling them to read it. You gotta have a plan. Like, you gotta have an organization, have people behind you. So I'm trying to figure out what particular thing I'm going to do to help my people. I wanna help people because people helped me throughout my whole life." Tavaris Sanders helps kids at a local afterschool program by choreographing a dance routine with them.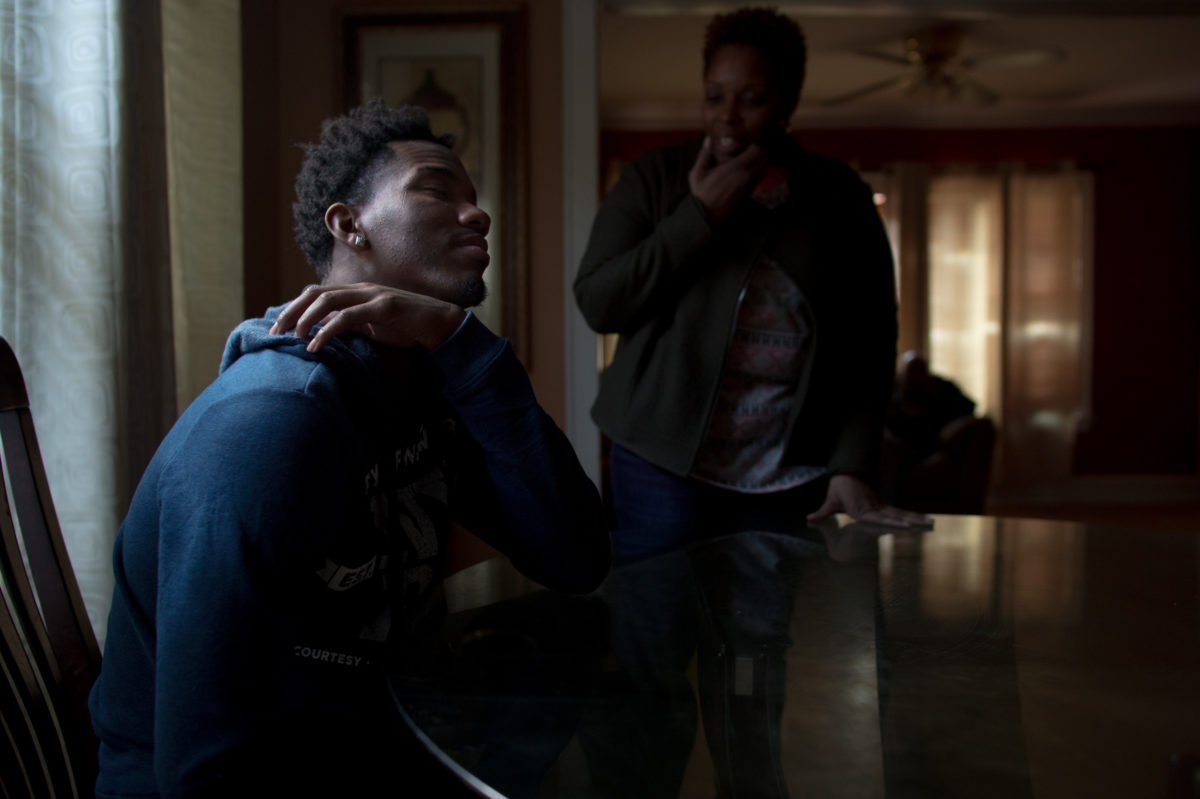 Three Bags Full
Tavaris speaks with his foster mom, Charlene Burris, in the home she maintains for her biological family. She maintains separate homes for her foster children, paid for by the state, and for her biological children. Tavaris has aged out of the foster care system so he can no longer live with her at her at the foster care home, so she has given him a room with her biological family. Most kids in the foster care system do not have the support that Charlene provides for Tavaris. In Illinois, a foster child ages out of the system at 21 and must be completely independent. Foster kids in America rarely have homes to return to when they are in college.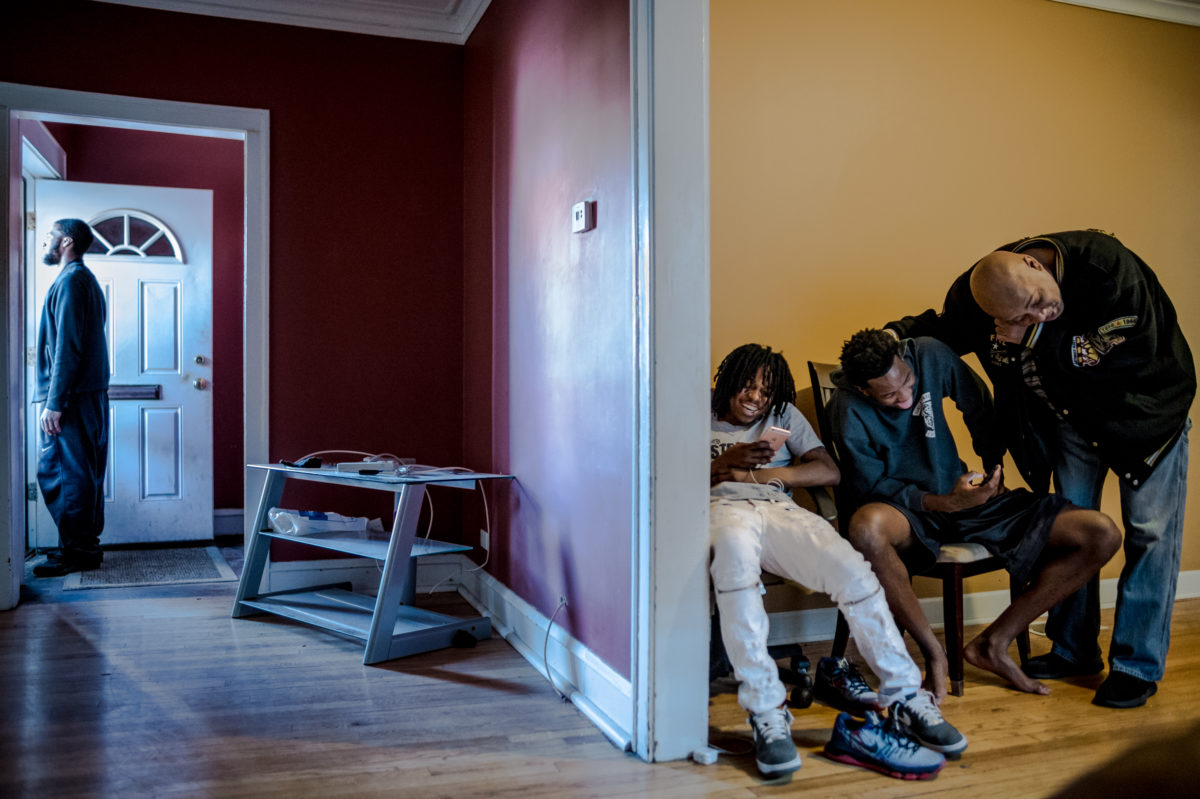 26_TBF_1877
Dwayne Burris, Tavaris's foster father jokes around with him in the home where his foster mother Charlene's biological kids live. The siren call of the streets, the lure of quick money, is everpresent in Tavaris's life in Chicago.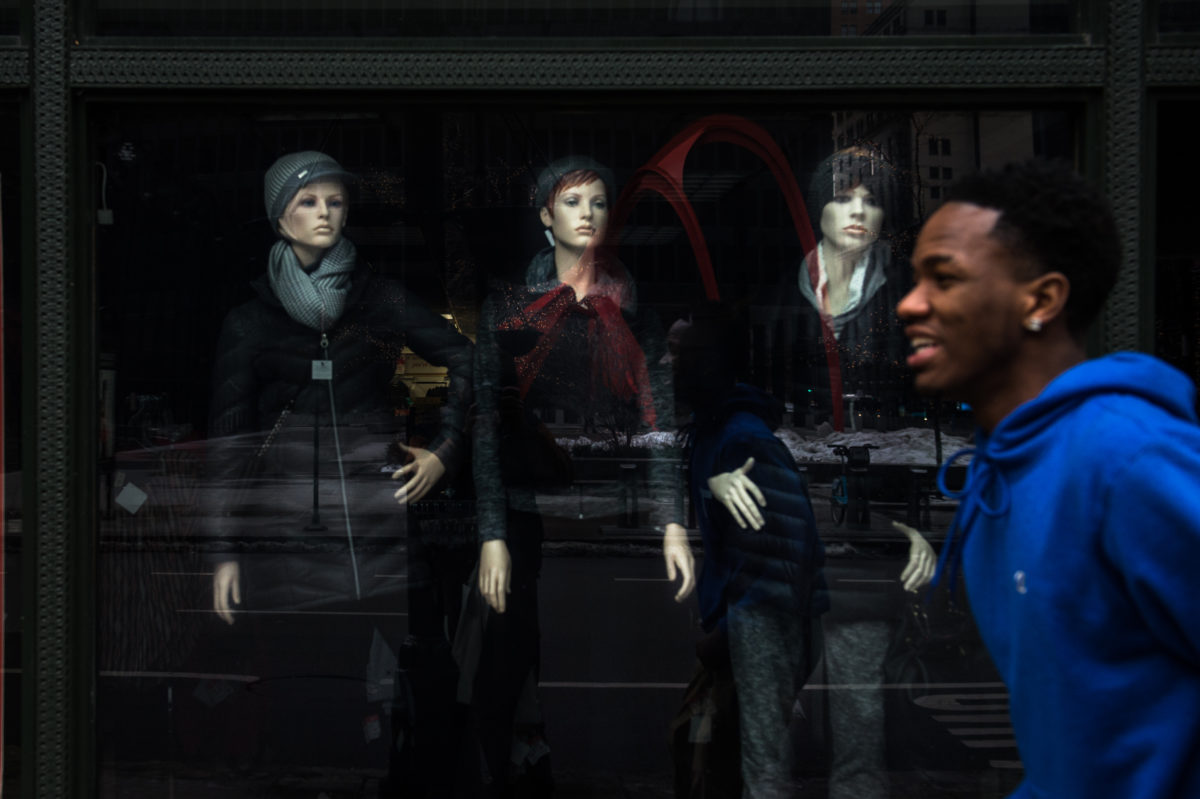 Manequins peer out of a downtown chicago store front.
Manequins peer out of a downtown chicago store front.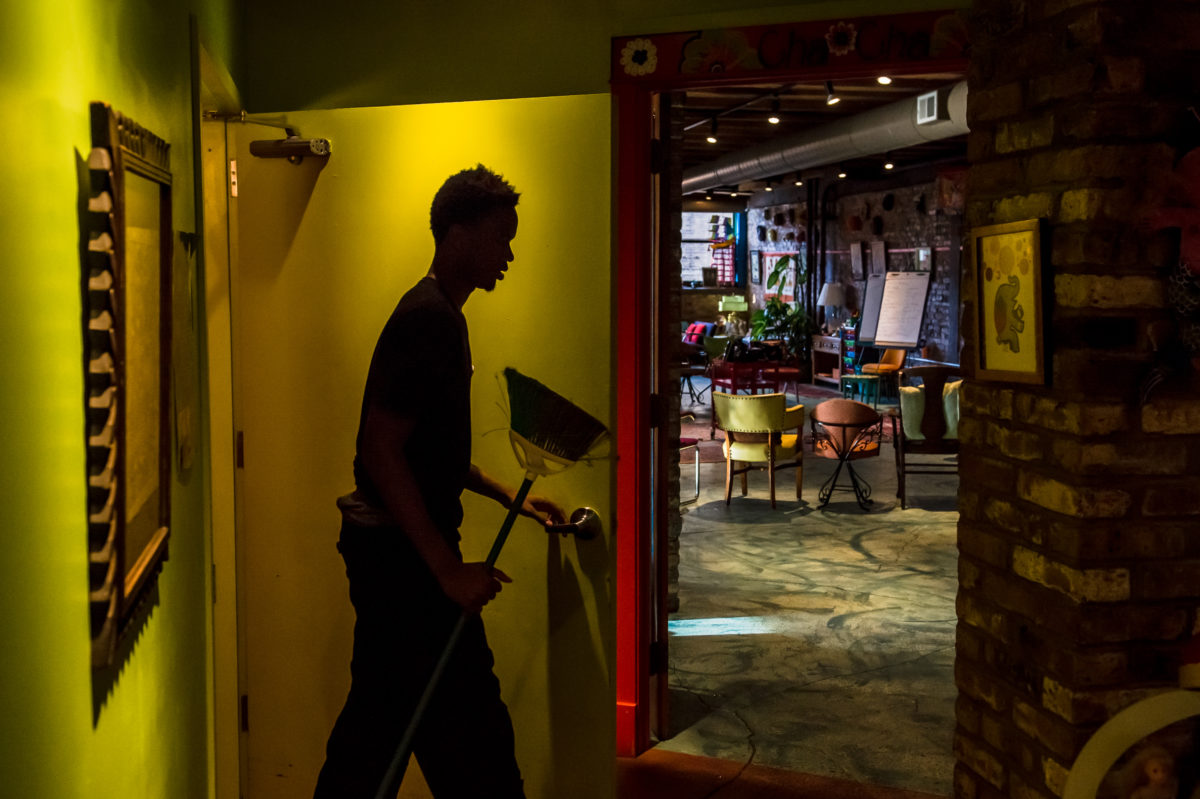 Three Bags Full
Tavaris prepares to clean up after guests leave the Catalyst Ranch, an eclectic meeting space and event venue catering to businesses in Downtown Chicago. When the summer between Tavaris's sophomore and junior years drew to a close, he was surprised to learn that Connecticut College would not let him reenroll.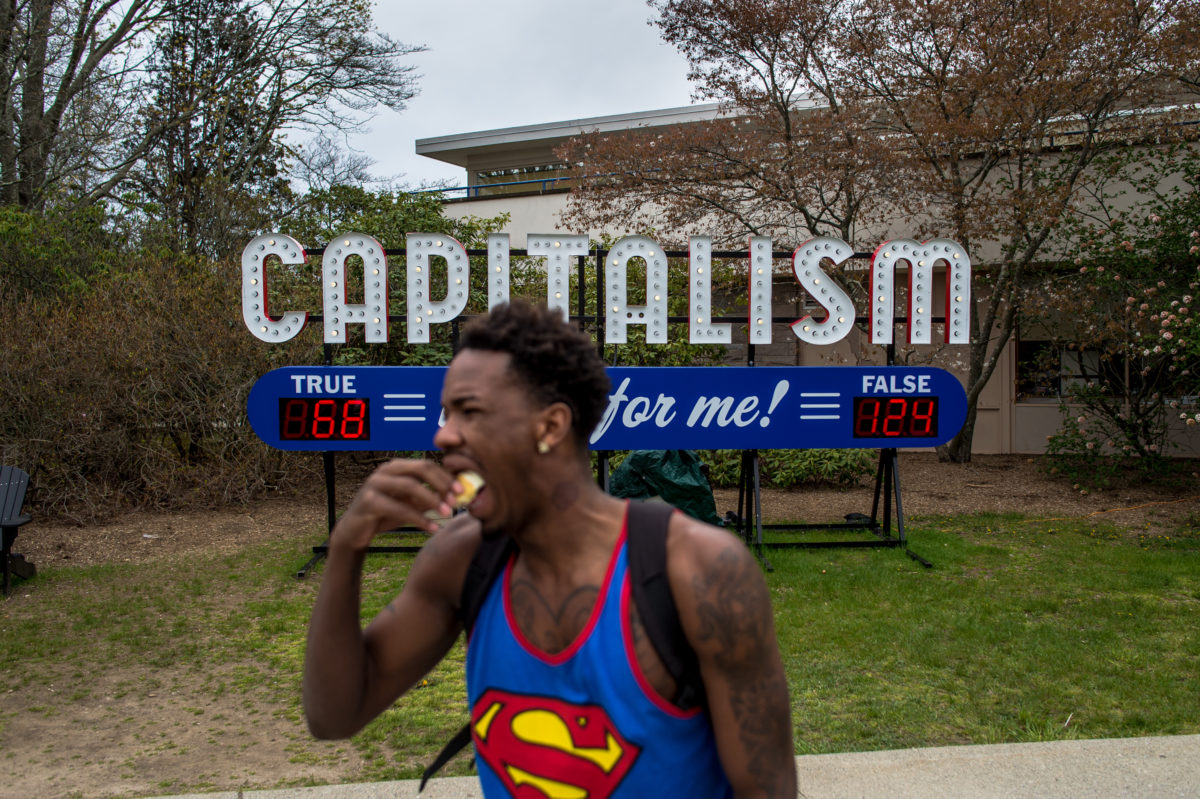 Three Bags Full
In order to receive his scholarship from Connecticut College Tavaris needed to be on track to graduate within four years. Over the course of his first two years Tavaris had dropped four classes, leaving him 14 credits shy of being on a four-year graduation track. Tavaris dropped these classes because he couldn't handle the course load and feared losing his scholarship over low academic performance. In order to reenroll at Connecticut College, Tavaris needs to make up these 14 credits at a different institution.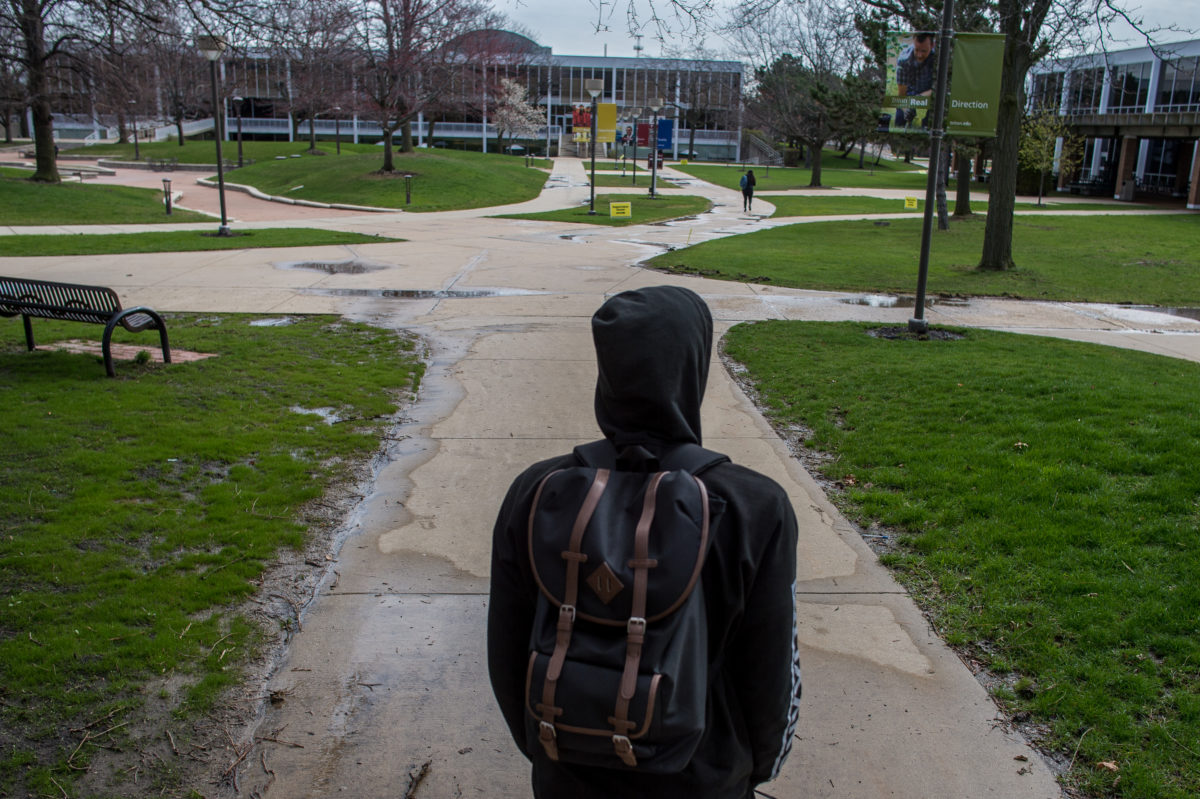 30_TBF_4981
Tavaris enrolled at Triton Community college in 2017 to make up some of the credits he is missing. Triton, however, being a community college does not offer the 200 level courses that Connecticut College requires Tavaris take before rejoining. In order to take those classes Tavaris will have to enroll at a 4 year college instiution. Those insitutions are significantly more expensive than Triton, requiring him to save much more money. He still hopes to return to Connecticut College.
Photography by Jonah Markowitz
Three Bags Full, chronicles Tavaris Sanders's struggle to adapt to life as a black man from the foster care system of Chicago, to a predominantly white wealthy school at Connecticut College. Bootstrap stories tend to reaffirm the mirage of the American dream, ending when the person makes it out of their impoverished neighborhood. Three Bags Full picks up where these stories usually end.  Tavaris's story shows that upward mobility in America is fraught with economic, cultural, and educational obstacles, particularly for young men and women of color.
Tavaris's agency in telling his own story is paramount, after all this is his lived truth. Therefore he narrates the project, in his own words. This piece was published in the Chronicle of Higher Education and uses excerpts from a joint interview of Tavaris, which Jonah Markowitz conducted with a writer from the Chronicle, Lawrence Biemiller.
"I could just start off with the bad part. I was in jail for six months — not jail, juvenile. I was 14.  I got out and I went to high school and I told myself, I'm gonna rise above what I was doing, which was fighting, gangbanging, the works. I started getting good grades, straight A's, and ended up having a 4.2 GPA. I was in National Honor Society, student council. I just felt good about myself.
While I was in high school, I was living in a group home because I had no place to go.
That's how I met my mentor, Kim Michelson, and she told me, I see potential in you. You should go to college. So I start applying to colleges. I went to Emory, in Atlanta, for two weeks, and I went to Franklin & Marshall for two days, and I went to Connecticut College for two days.
When I came here, they had a lot of things going on, so, like, you really didn't know what was going on, 'cause it was only two days. I decided to do early decision. They gave me an interview, and I told them my story, and they said, OK, we're accepting you, and they gave me a great scholarship, like almost the full amount."
Images from this story may be licensed for editorial or educational use by publications and educators. Click on the link below to learn more.
VIEW ALL IMAGES FROM THIS STORY
There are usually more images available from this story than are presented here. Click on the link below to view the entire collection.