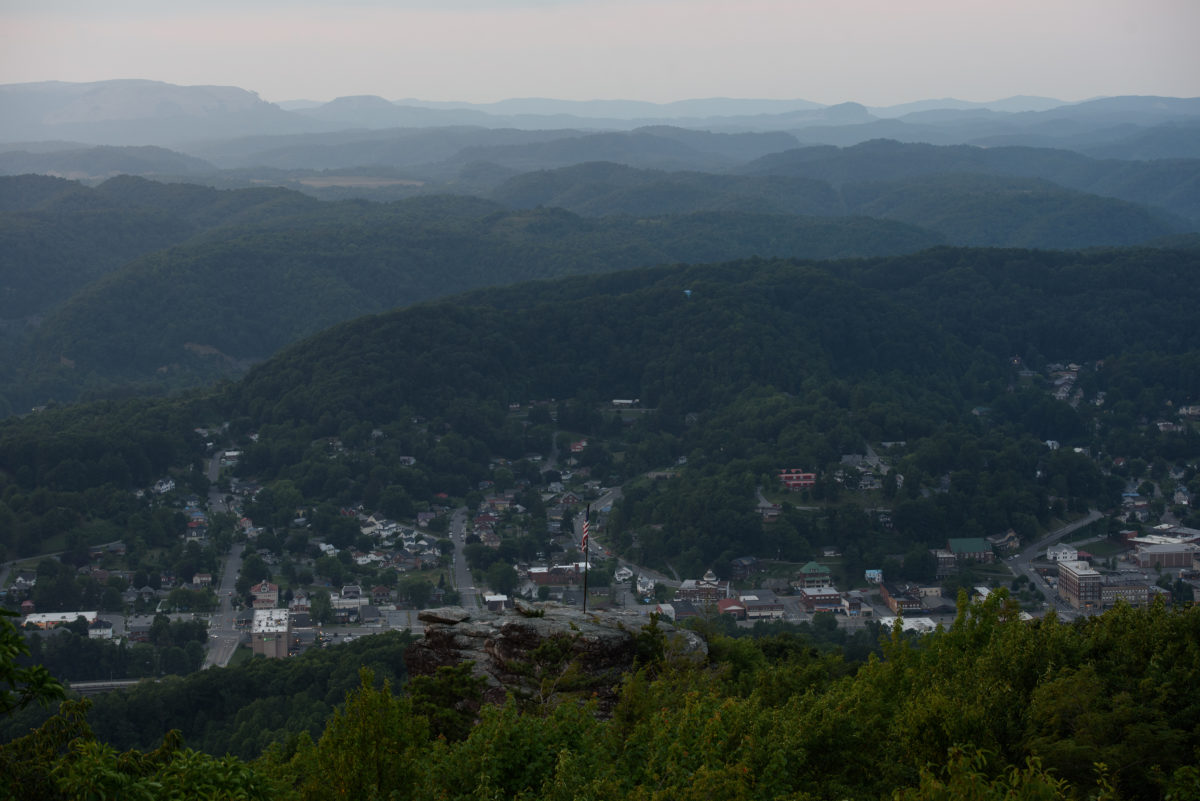 Uninsured in Rural America
The evening decends over the Appalachian Mountains near Norton, Va., on Wednesday, July 19, 2017. Justin Merriman/American Reportage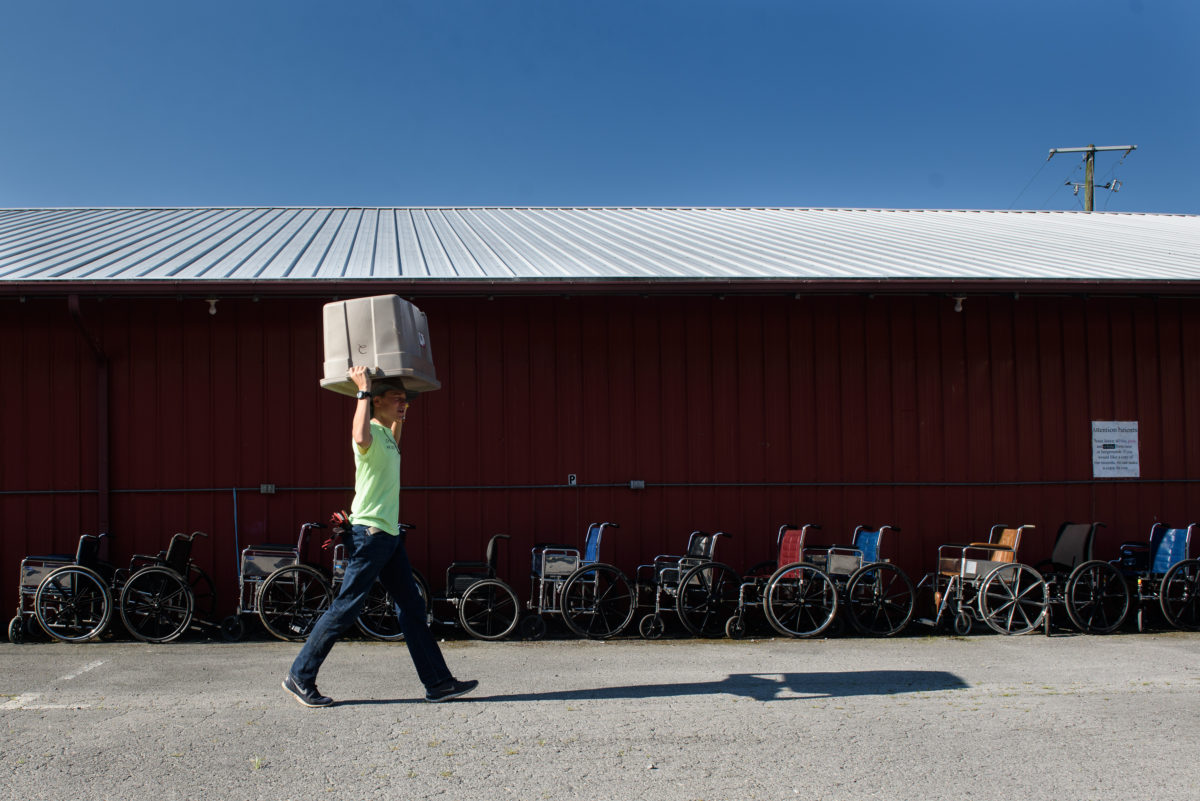 Uninsured in Rural America
Jack Garvey, 17, a volunteer from Clarendon Hill Presbyterian Church helps set up the Wise County Fairgrounds for the upcoming Remote Area Medical Clinic (RAM) on Wednesday, July 19, 2017 in Wise, Va. The three-day clinic is the largest pop-up medical clinic in the United States and will serve more than 2,000 people who cannot afford private healthcare. Justin Merriman/American Reportage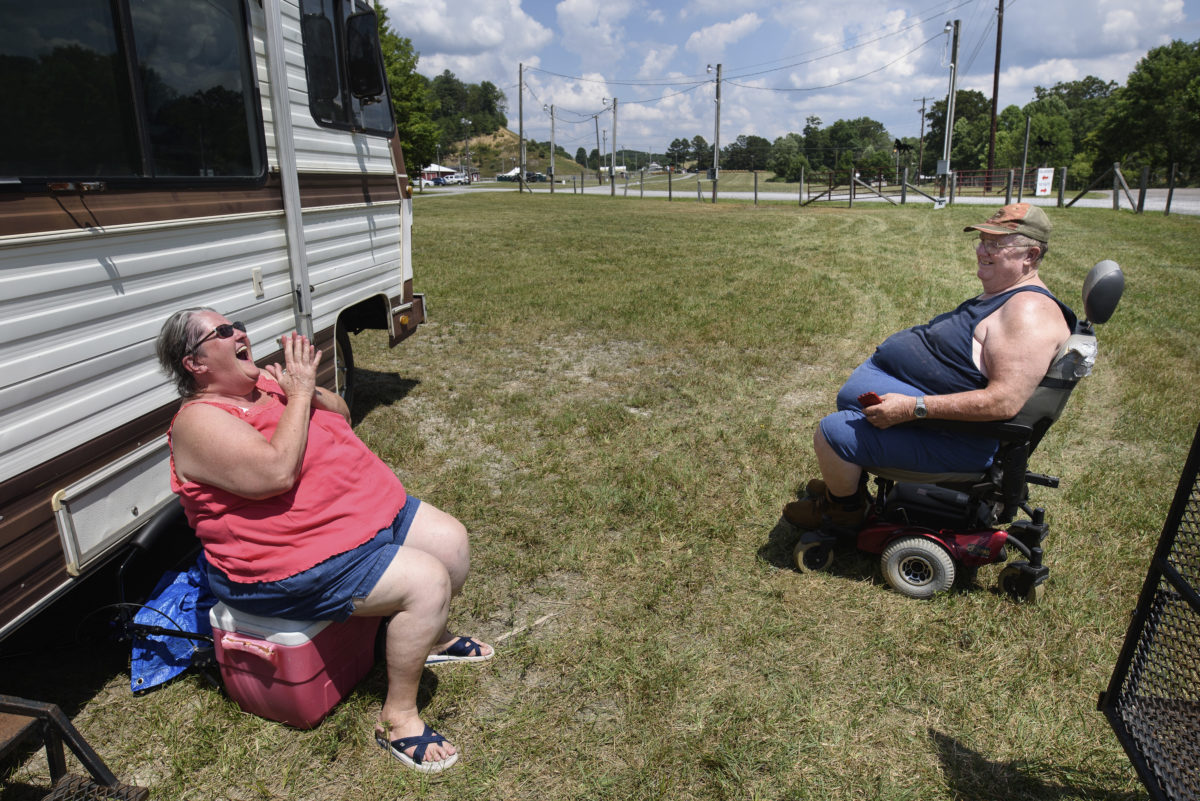 Uninsured in Rural America
Murleen Smith, 55, of Big Stone Gap, Va., laughs with her husband, Bill, 71, as they sit near their recreational vehicle on Wednesday, July 19, 2017 at the Wise County Fairgrounds in Wise, Virginia. The two are the first to arrive at the fairgrounds for the Remote Area Medical Clinic (RAM) which will open to patients on Friday at 6:00 a.m. Over 2,000 people are expected to converge on the fairgrounds to seek medical, dental and vision care. "We live in the land of plenty, the home of the free and the brave and there is still so much need," says Murleen who will attend RAM this year for the fourth time. "I'm 55 years old. I've tried to get Obamacare. For me its $800 a month. There's no way to afford insurance and there's no way to live without it," she says. Having suffered five heart attacks in a period of two days, being diagnosed with diabetes and having to take copious amounts of medications, Murleen says she counts on RAM. "Basically you wait all year for this to come around," she says. Justin Merriman/American Reportage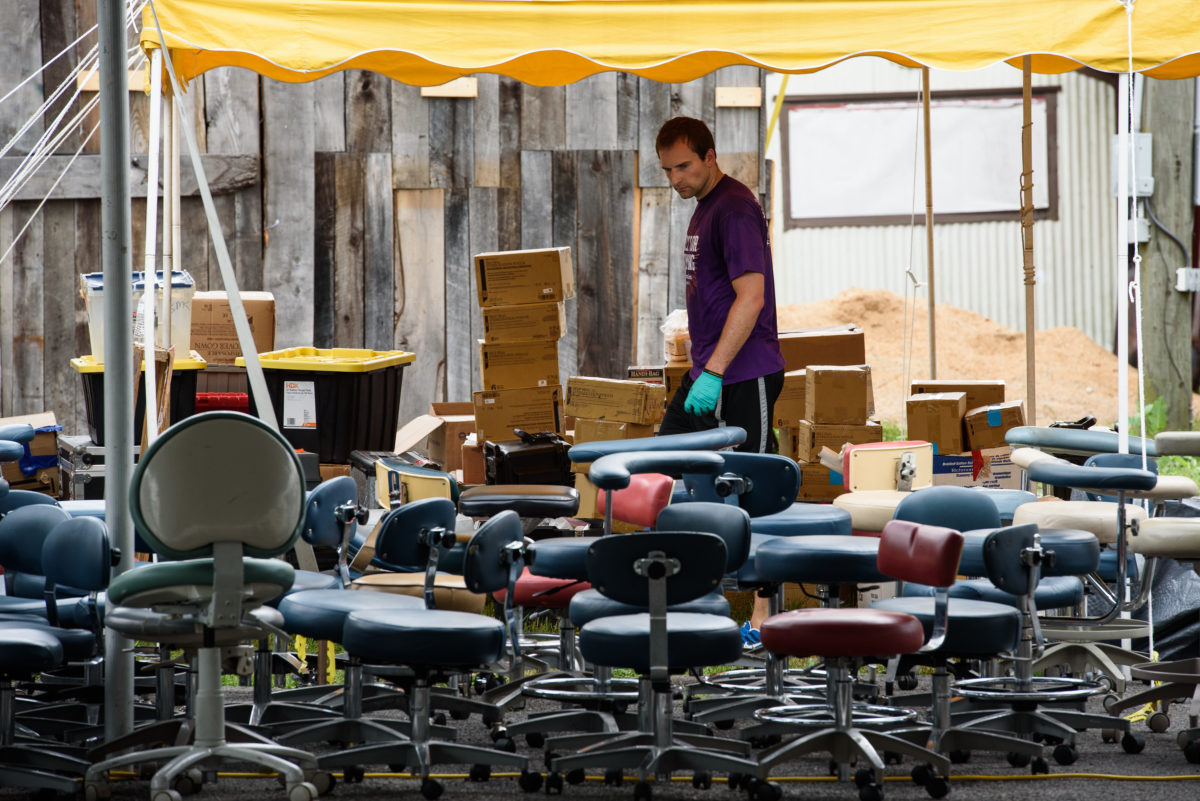 Uninsured in Rural America
A volunteer walks by dental supplies at the Wise County Fairgrounds for the three-day Remote Area Medical Clinic (RAM) on July 20, 2017 in Wise, Virginia. The clinic (RAM) will open to patients on Friday at 6:00 a.m., and will run through Sunday. Over 2,000 people are expected to converge on the fairgrounds to seek medical, dental and vision care, for the largest pop-up medical clinic in the United States. Justin Merriman/American Reportage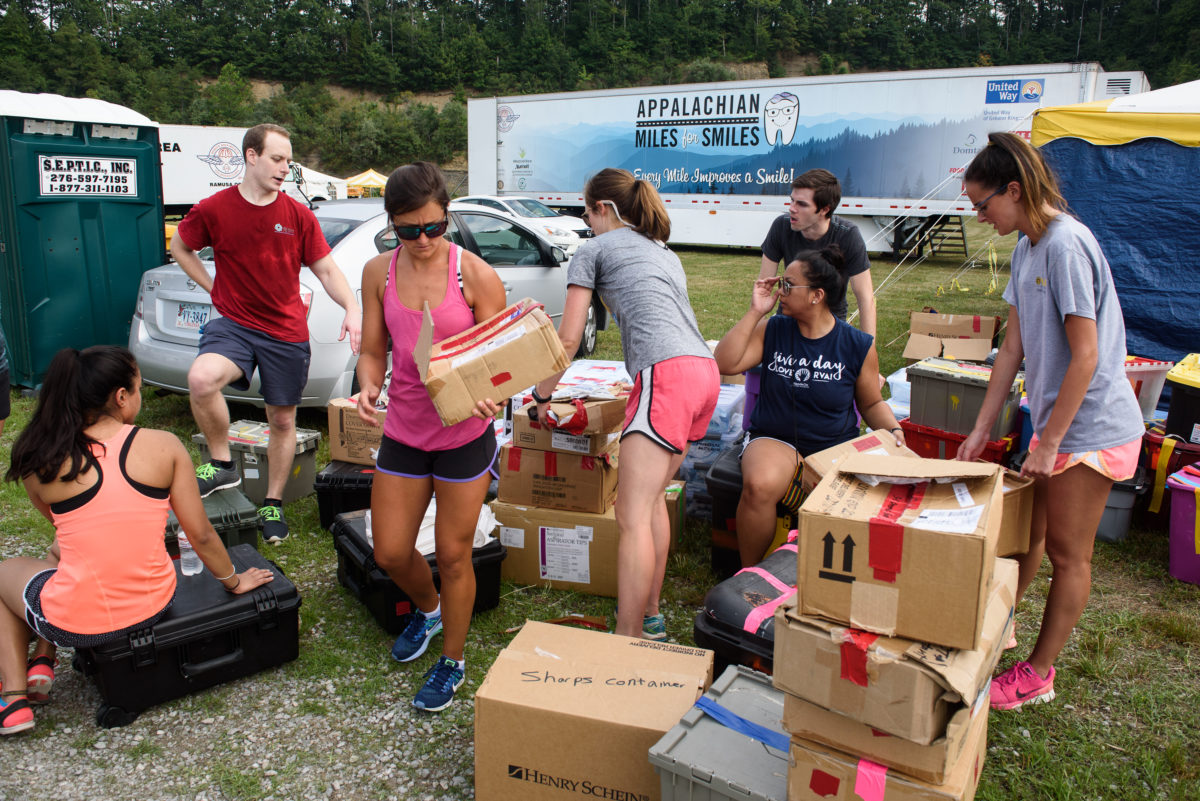 RAM_Final_Edit_05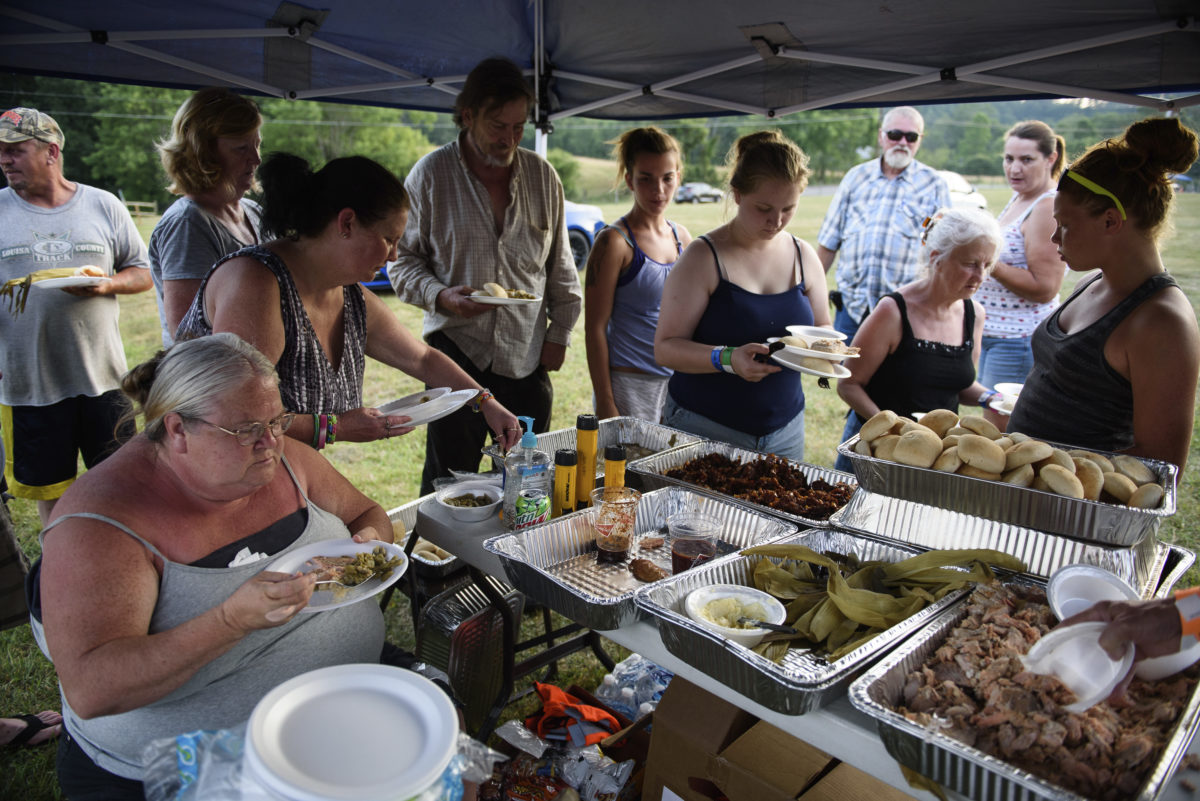 Uninsured in Rural America
People take advantage of free food that was put out for people camping in the parking lot of the Wise County Fairgrounds after the first day of the Remote Area Medical (RAM) clinic on Friday, July 21, 2017 in Wise, Virginia. Over 2,000 people are expected to converged on the fairgrounds to seek medical, dental and vision care during the three-day clinic. Justin Merriman/American Reportage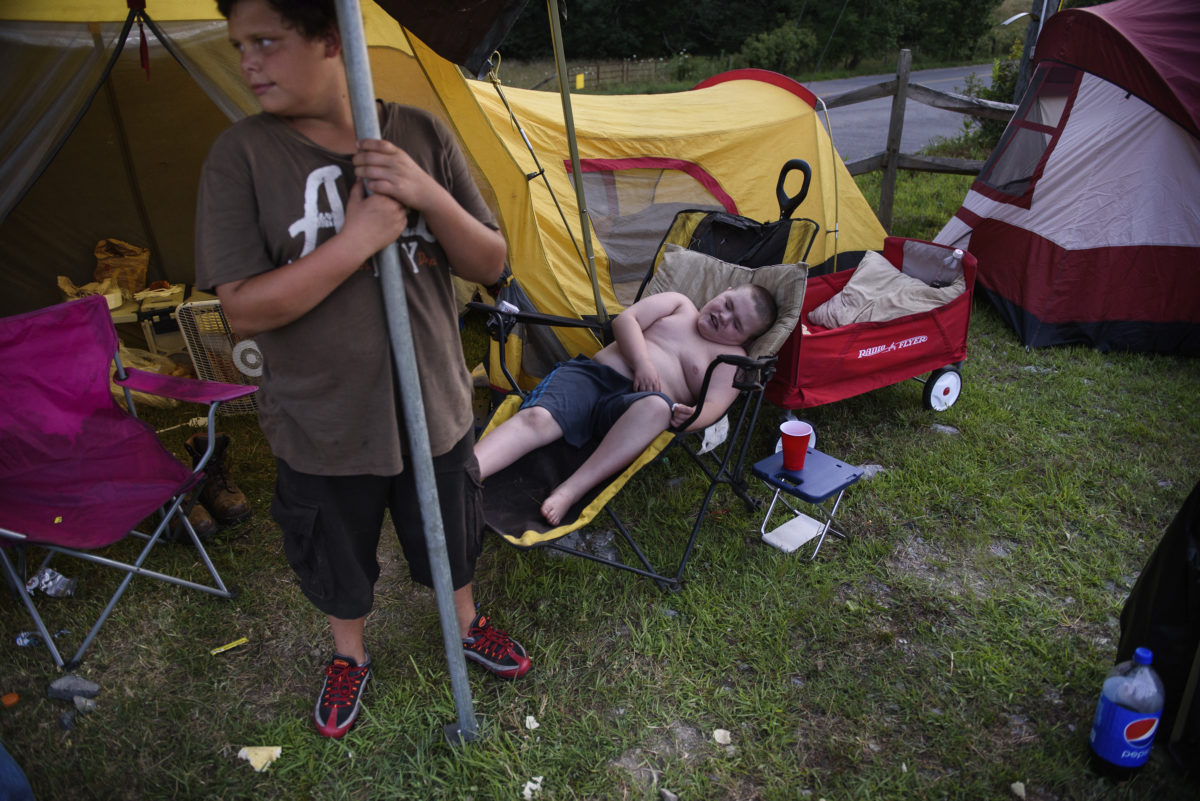 Uninsured in Rural America
Issac Vanderpool, 9, of Kingsport, Tenn., right, lays down in a chair near his family's tent and his cousin, Dominic Stewart, 11, left, as they prepare to spend the night in the parking lot of the Wise County Fairgrounds on Thursday evening, July 20, 2017 in Wise, Virginia. The family is waiting for the gates to open tomorrow morning at the Remote Area Medical Clinic (RAM) at the fairgrounds. Justin Merriman/American Reportage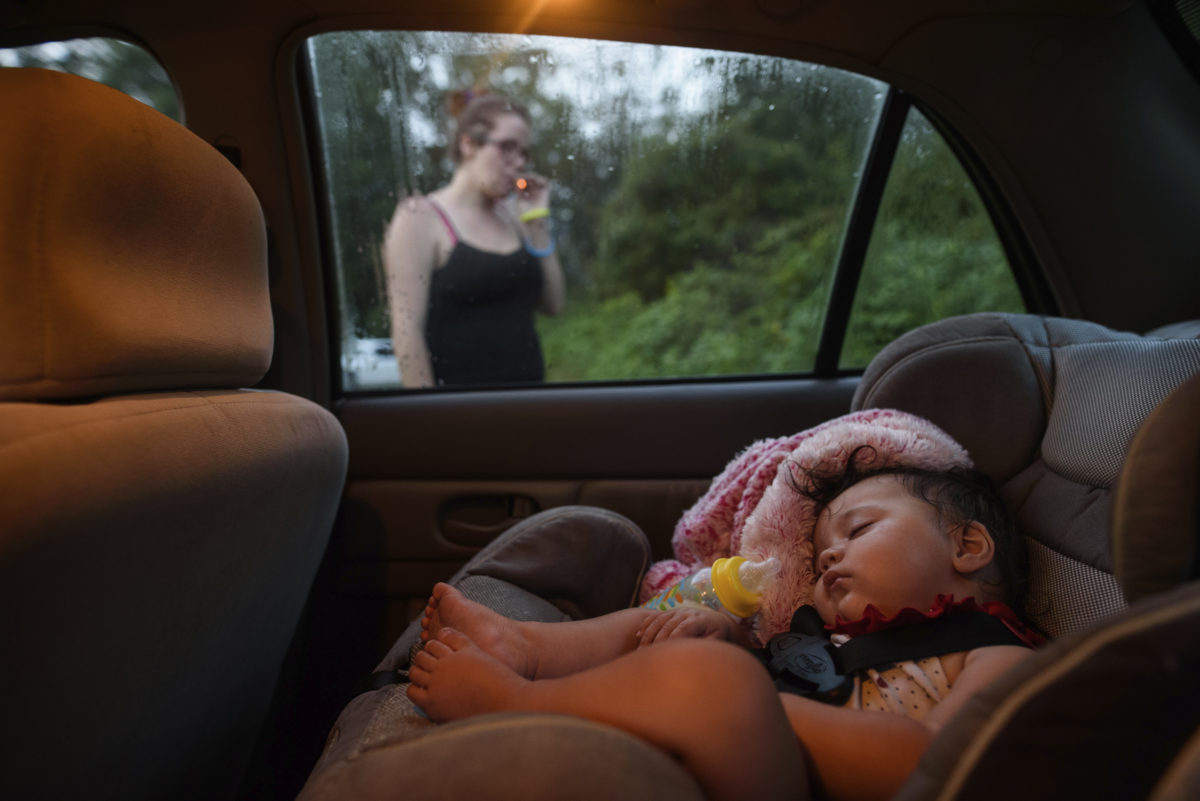 Uninsured in Rural America
As 10-month old Shyann Holt of Kingsport, Tenn., sleeps in the backseat her mother, Jessica, 20, smokes a cigarette in the parking lot of the Wise County Fairgrounds on the final day of the Remote Area Medical (RAM) mobile clinic on Sunday morning, July 23, 2017 in Wise, Virginia. Jessica, her baby and her mother have camped in the parking lot for three days and spent last night in the car during a thunderstorm. She has several hours left to wait until she can pick up her free glasses and head home. Justin Merriman/American Reportage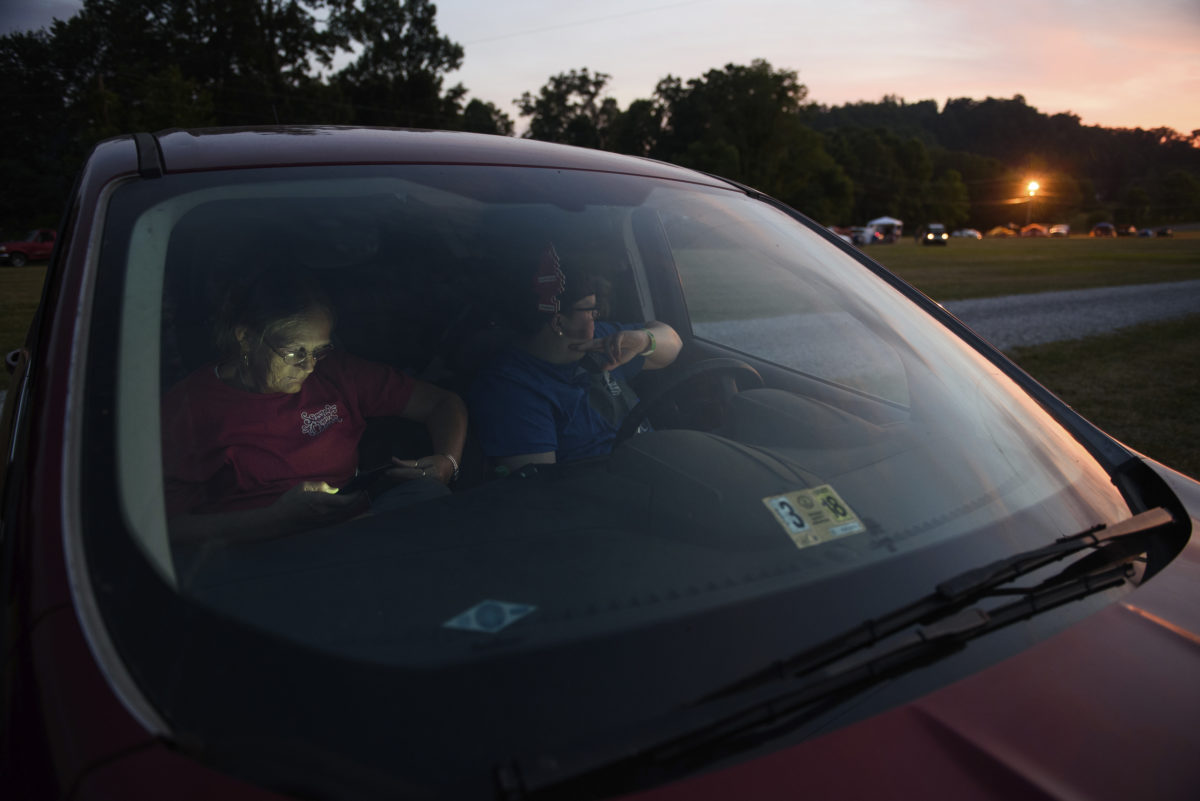 Uninsured in Rural America
Kathy McCarthy, of Coeburn, Va., is illuminated by the screen of her cell phone as she waits inside as they prepare to spend the night in the parking lot of the Wise County Fairgrounds on Thursday evening, July 20, 2017 in Wise, Virginia. They are waiting for the gates to open tomorrow morning at the Remote Area Medical Clinic (RAM) at the fairgrounds. Justin Merriman/American Reportage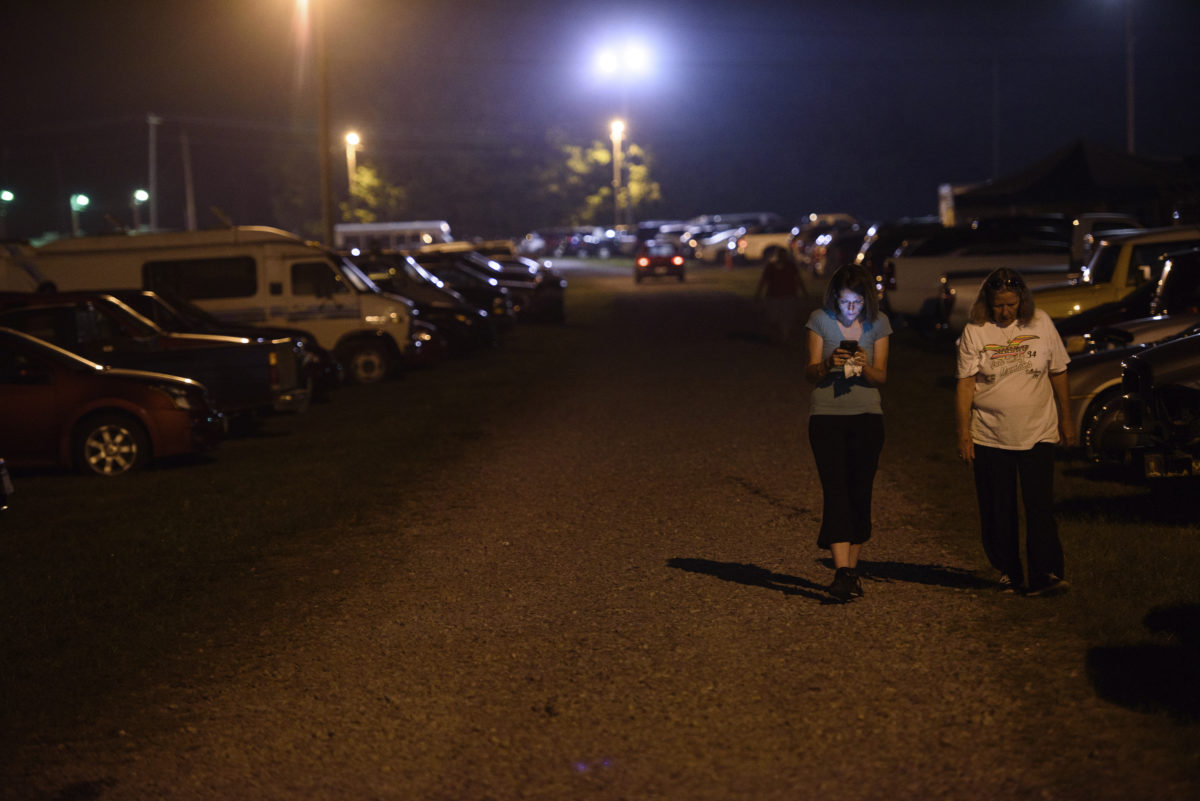 Uninsured in Rural America
People wait in the parking lot for their numbers to be called to enter the Remote Area Medical (RAM) mobile clinic to receive free healthcare early Saturday morning, July 22, 2017 at the Wise County Fairgrounds in Wise, Virginia. The three-day event provides dental, medical and vision services to uninsured and underinsured people. Justin Merriman/American Reportage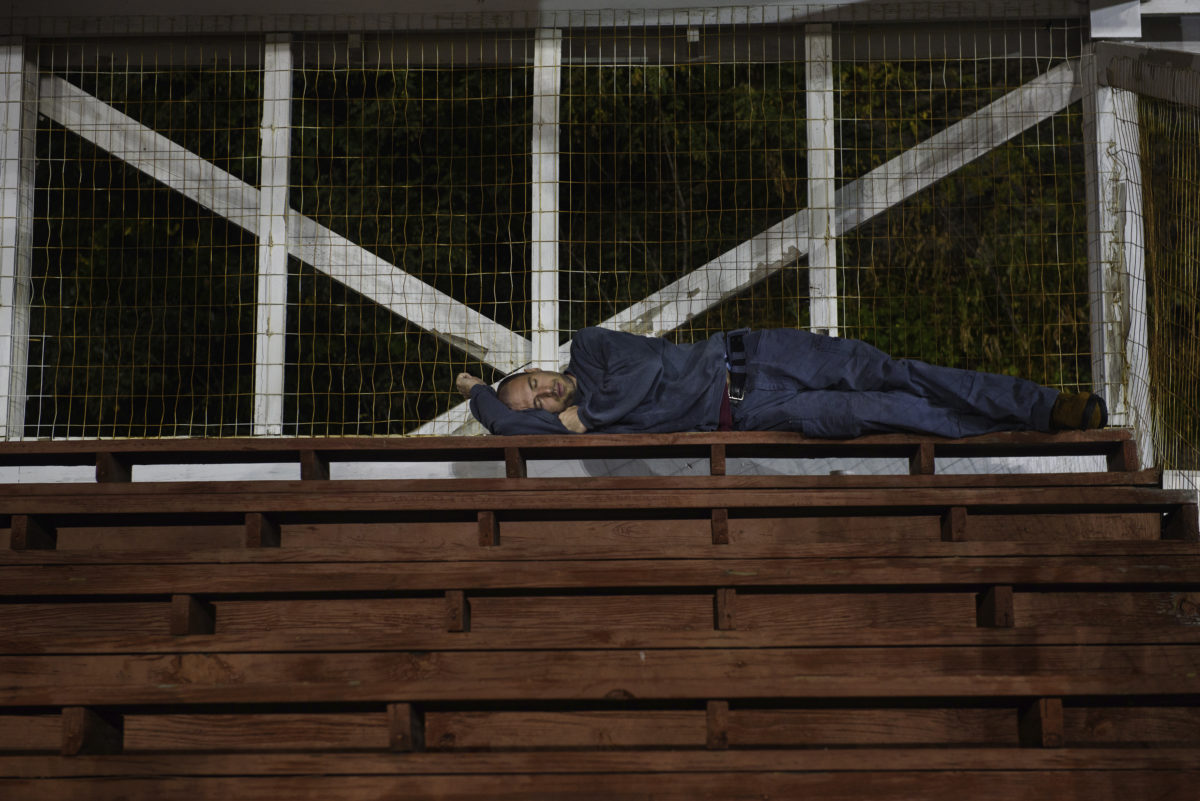 Uninsured in Rural America
A man sleeps in the bleachers at the Wise County Fairgrounds as he waits to get free healthcare on the final day of the Remote Area Medical (RAM) mobile clinic on Sunday morning, July 23, 2017 in Wise, Virginia. The three-day event provides free healthcare to uninsured and underinsured people. Justin Merriman/American Reportage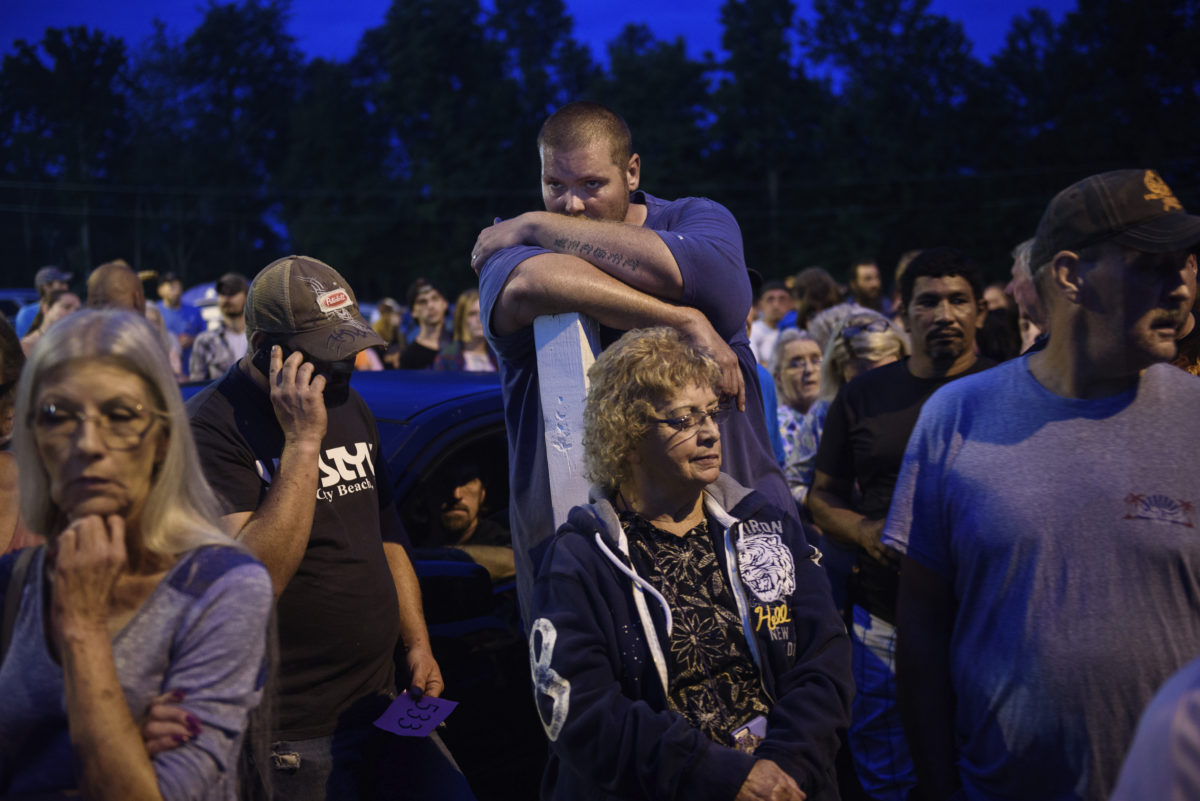 Uninsured in Rural America
People wait in the parking lot for their numbers to be called to enter the Remote Area Medical (RAM) clinic early Friday morning, July 21, 2017 at the Wise County Fairgrounds in Wise, Virginia. The three-day event provides dental, medical and vision services to uninsured and underinsured people. Over 2,000 people from as far as 15 different states are expected to attend the clinic. Justin Merriman/American Reportage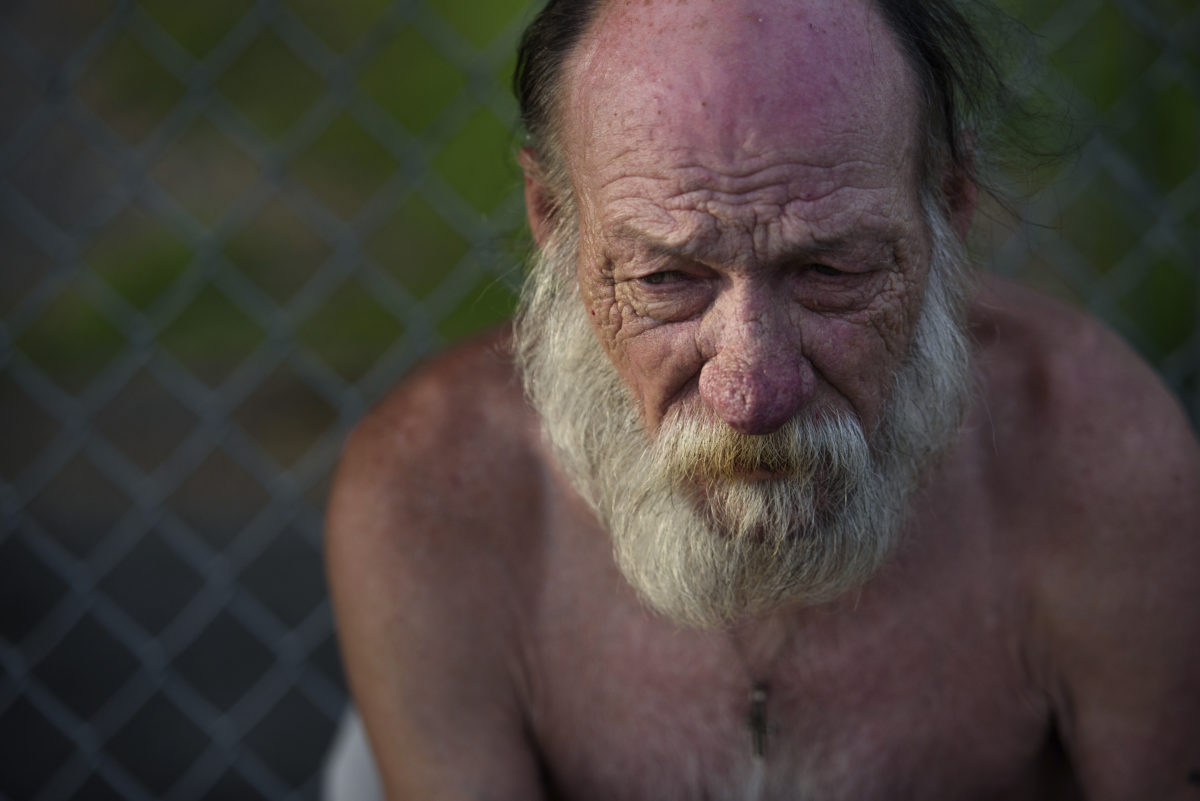 Uninsured in Rural America
Marvin Phillips, 61, of Clintwood, Va., waits in the parking lot of the Wise County Fairgrounds where he plans on spending the night, as he waits for gates to open at the Remote Area Medical Clinic (RAM) on Thursday evening, July 20, 2017 in Wise, Virginia. Phillips, a former coal miner, hopes to have dental care provided by the clinic. Justin Merriman/American Reportage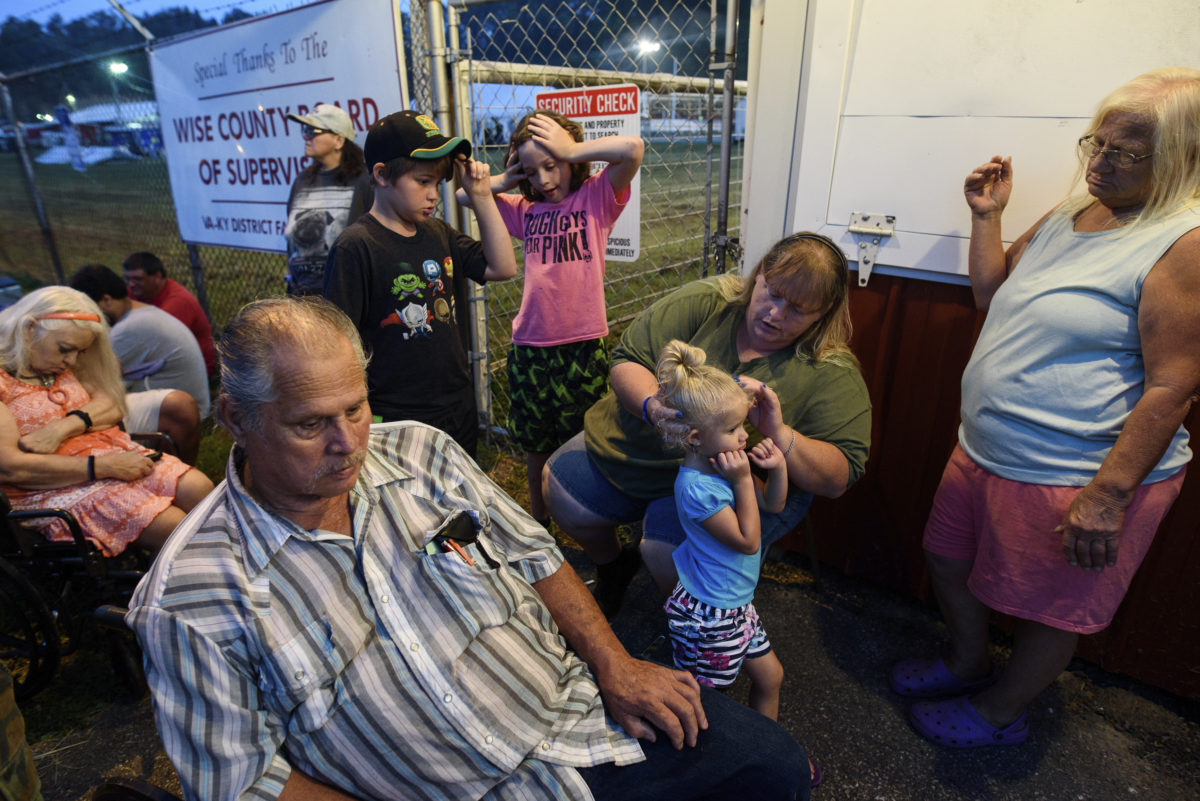 Uninsured in Rural America
Linda Hill, 43, of Churchill, Tn., looks at her three-year old niece, Katiana Garbart's head as she waits with others in the parking lot of the Wise County Fairgrounds for her number to be called to enter the Remote Area Medical (RAM) mobile clinic to receive free healthcare early Saturday morning, July 22, 2017 in Wise, Virginia. The three-day event provides dental, medical and vision services to uninsured and underinsured people. Justin Merriman/American Reportage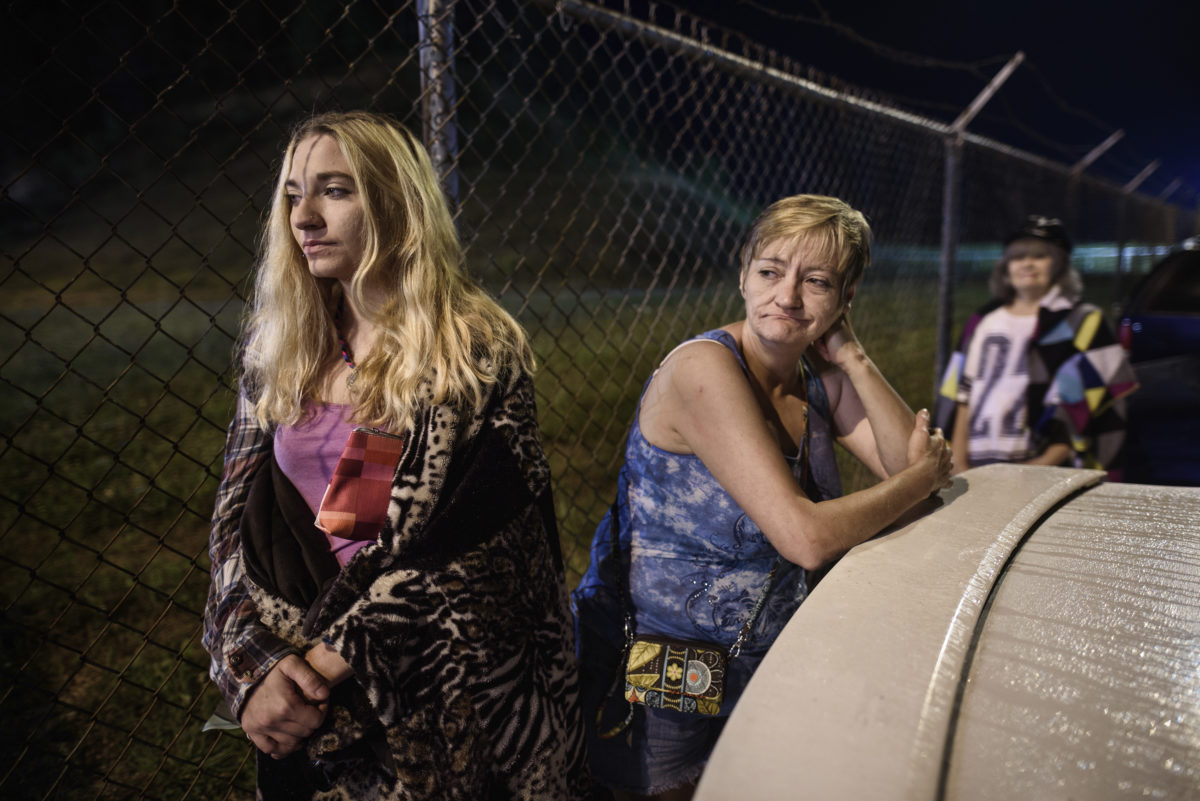 Uninsured in Rural America
Ashley Fields, 25, of Castlewood, Va., left, waits with her mother, Barbara Street, 49, in the parking lot of the Wise County Fairgrounds, where they spent the night, to get free healthcare at the Remote Area Medical (RAM) mobile clinic on Saturday morning, July 22, 2017 in Wise, Virginia. The three-day event provides free healthcare to uninsured and underinsured people. Justin Merriman/American Reportage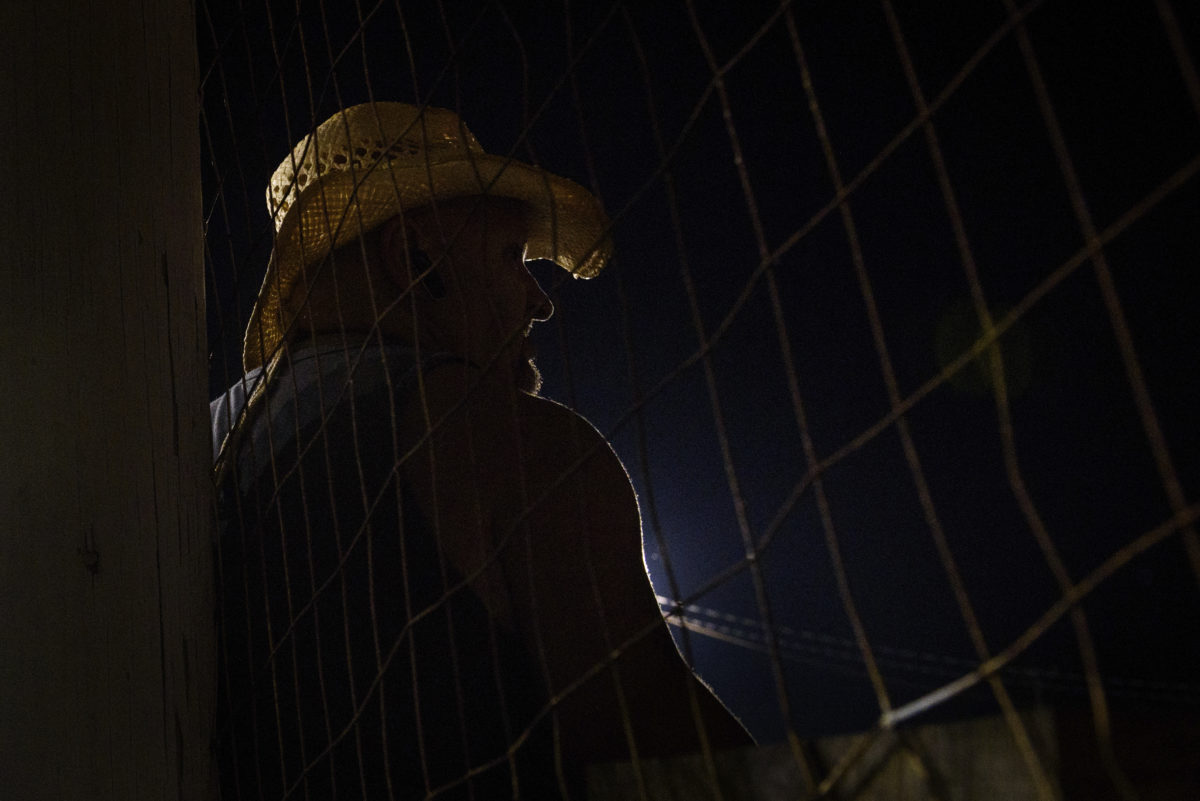 Uninsured in Rural America
Charlie Marrs, 48, of Coeburn, Va., waits at the Wise County Fairgrounds to get free healthcare on the final day of the Remote Area Medical (RAM) mobile clinic on Sunday morning, July 23, 2017 in Wise, Virginia. The three-day event provides free healthcare to uninsured and underinsured people. Justin Merriman/American Reportage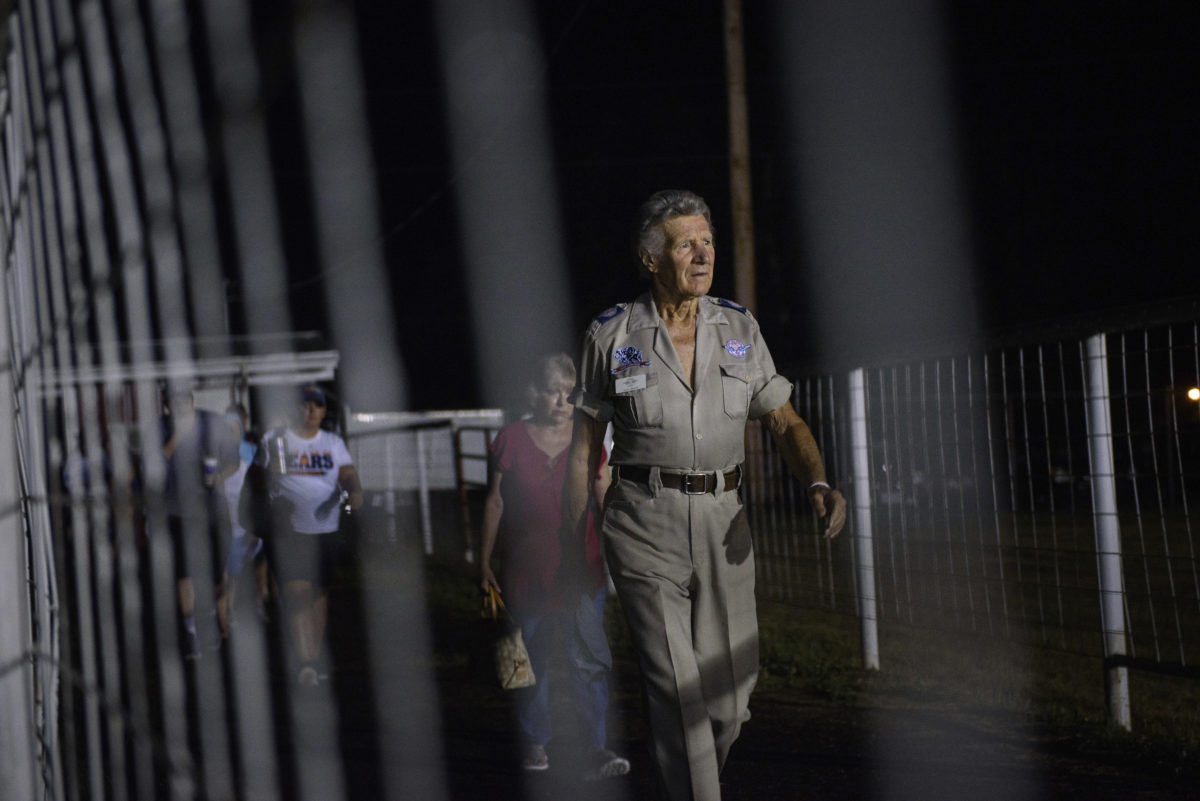 Uninsured in Rural America
Stan Brock, the founder and president of Remote Area Medical, leads a group of people into the Wise County Fairgrounds to get free healthcare at the final day of the Remote Area Medical (RAM) mobile clinic on Sunday morning, July 23, 2017 in Wise, Virginia. The three-day event provides free healthcare to uninsured and underinsured people and is the largest pop-up clinic in the United States. Justin Merriman/American Reportage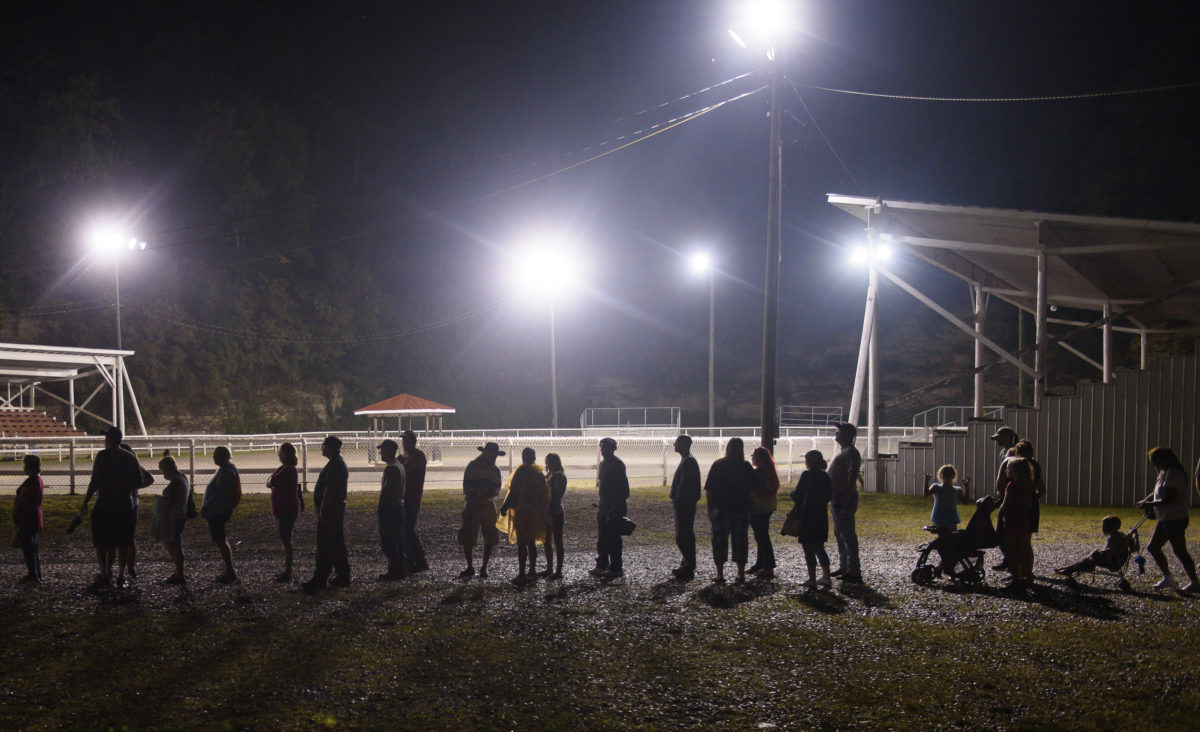 Uninsured in Rural America
People line up at the Wise County Fairgrounds to get free healthcare on the final day of the Remote Area Medical (RAM) mobile clinic on Sunday morning, July 23, 2017 in Wise, Virginia. The three-day event provides free healthcare to uninsured and underinsured people. Justin Merriman/American Reportage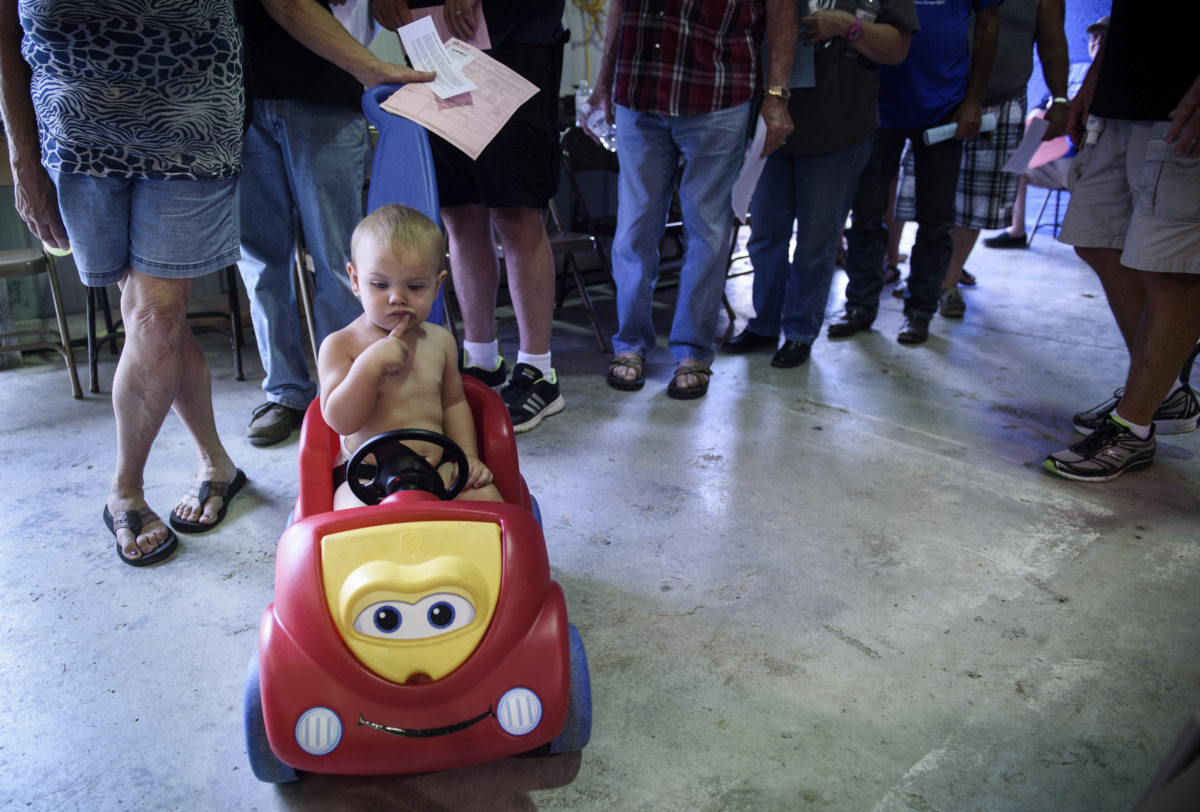 Uninsured in Rural America
13-month-old Brexton Dean waits with his grandmother, Judy Greene, 63, of Norton, Va., in the triage area inside a barn at the Remote Area Medical Clinic (RAM) on July 20, 2017 at the Wise County Fairgrounds in Wise, Virginia. The clinic (RAM) will officially open to patients on Friday at 6:00 a.m., and will run through Sunday. Several hundred people were allowed in Thursday to register, get triaged and receive minimal medical care prior to returning on Friday morning for their full services. Justin Merriman/American Reportage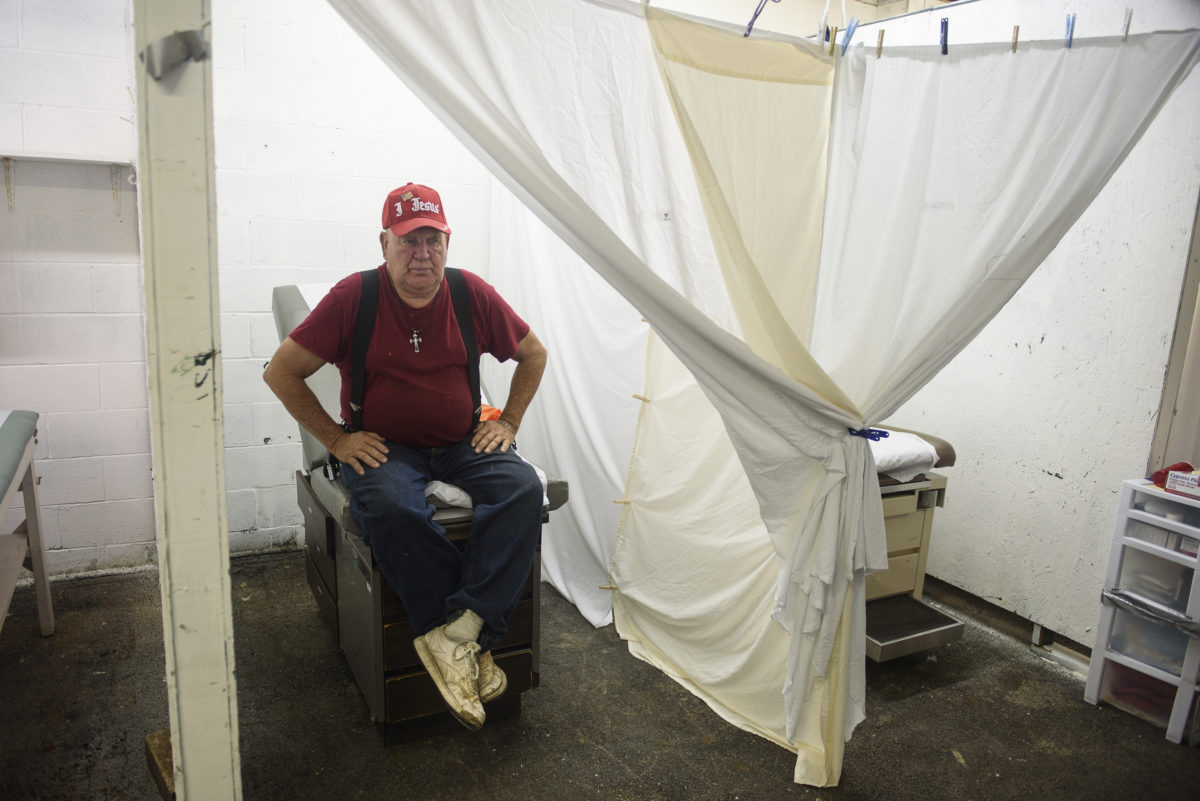 Uninsured in Rural America
Spirit Walker, 72, of Kingsport, Va., a Native American, waits to be seen by a doctor in a makeshift exam room at the Remote Area Medical (RAM) clinic Friday morning, July 21, 2017 at the Wise County Fairgrounds in Wise, Virginia. The three-day event provides dental, medical and vision services to uninsured and underinsured people. Over 2,000 people from as far as 15 different states are expected to attend the clinic. Justin Merriman/American Reportage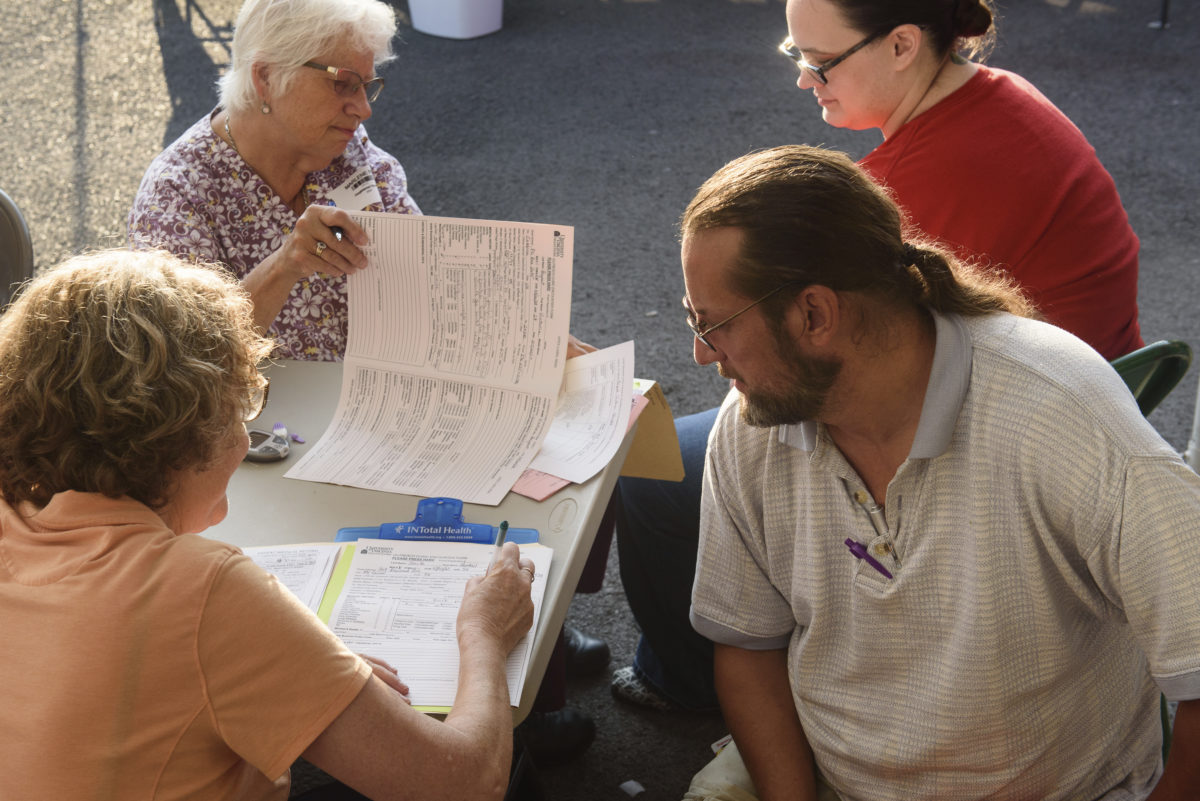 Uninsured in Rural America
People are triaged in the medial area at the Remote Area Medical (RAM) mobile clinic at the Wise County Fairgrounds on Saturday, July 22, 2017 in Wise, Virginia. The three-day event provides free healthcare to uninsured and underinsured people. Justin Merriman/American Reportage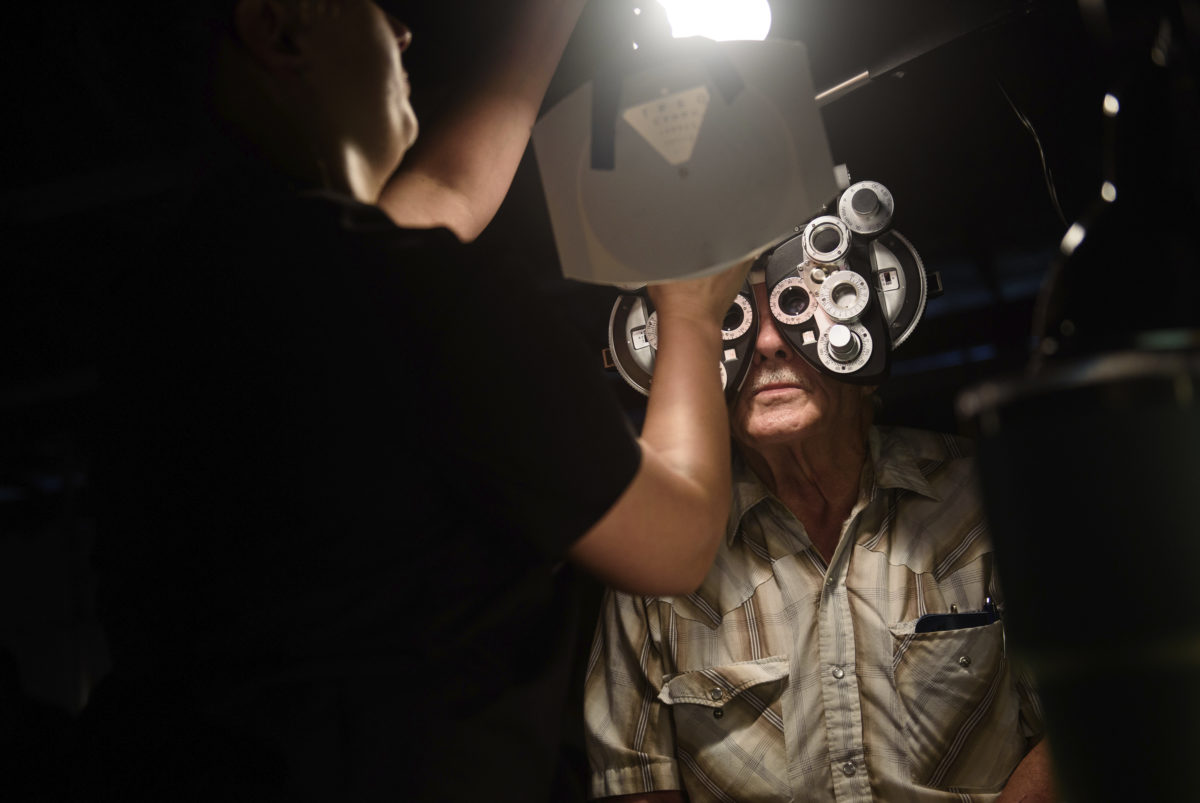 Uninsured in Rural America
A person has their eyes examined at the Remote Area Medical (RAM) mobile clinic at the Wise County Fairgrounds on Saturday, July 22, 2017 in Wise, Virginia. The three-day event provides free healthcare to uninsured and underinsured people. Justin Merriman/American Reportage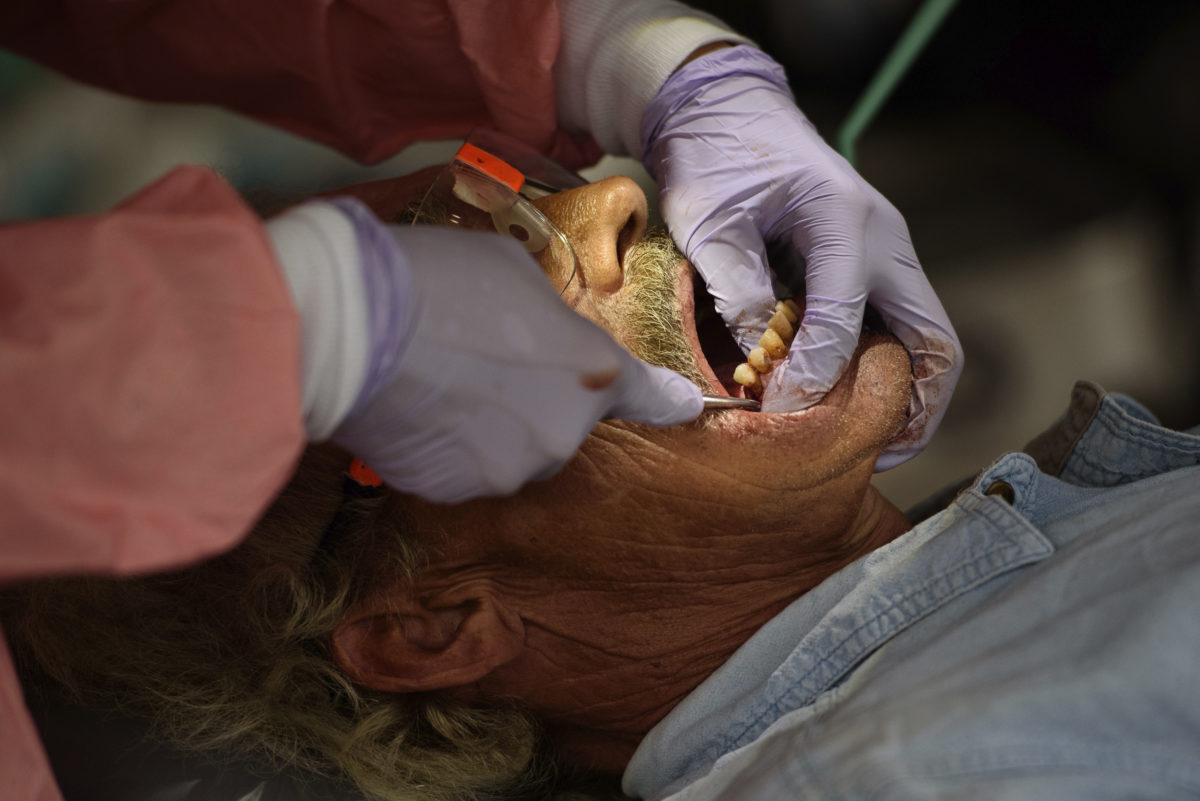 Uninsured in Rural America
A man has his teeth pulled at the Mission of Mercy dental clinic inside the Remote Area Medical (RAM) clinic early Friday morning, July 21, 2017 at the Wise County Fairgrounds in Wise, Virginia. The three-day event provides dental, medical and vision services to uninsured and underinsured people. Over 2,000 people from as far as 15 different states are expected to attend the clinic. Justin Merriman/American Reportage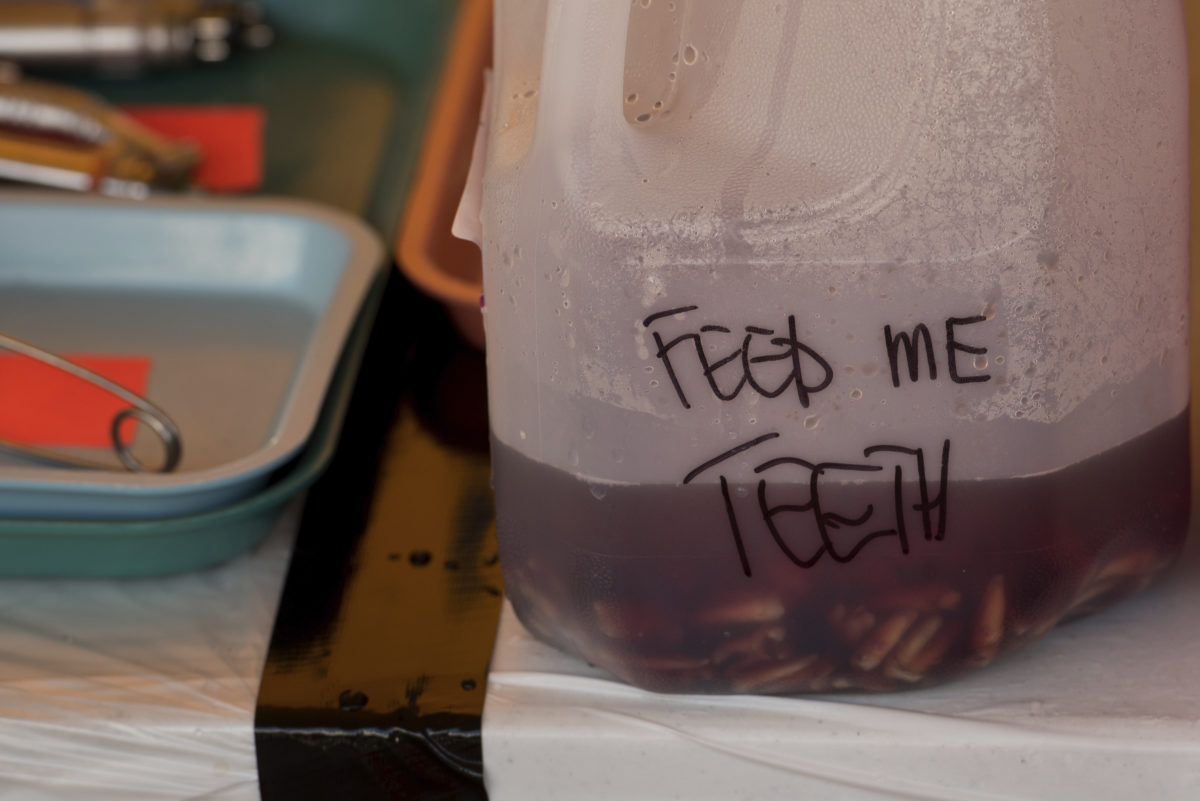 Uninsured in Rural America
A gallon water jug holds teeth that were removed from patients at the Mission of Mercy dental clinic inside the Remote Area Medical (RAM) mobile clinic at the Wise County Fairgrounds on Saturday, July 22, 2017 in Wise, Virginia. The three-day event provides free healthcare to uninsured and underinsured people. Justin Merriman/American Reportage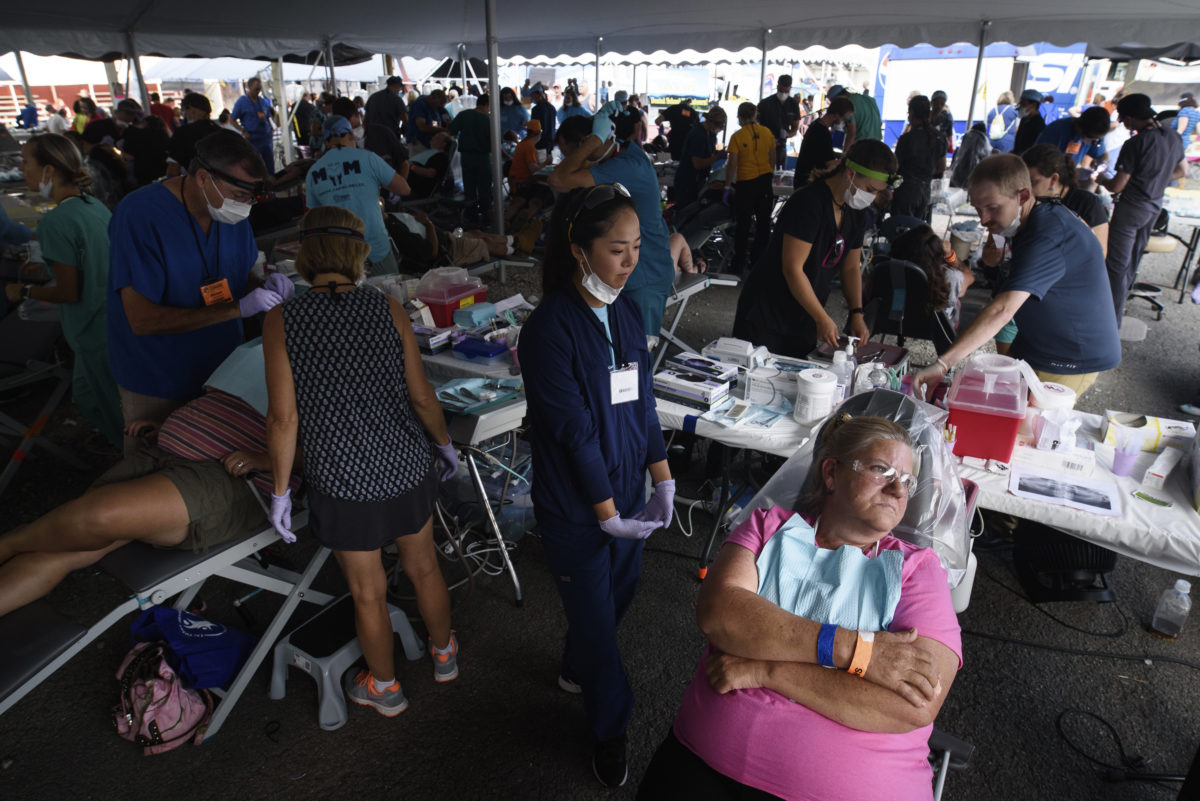 Uninsured in Rural America
Madge Osborne, of Richland, Va., waits for oral surgery at the Mission of Mercy dental clinic inside the Remote Area Medical (RAM) mobile clinic at the Wise County Fairgrounds on Saturday, July 22, 2017 in Wise, Virginia. The three-day event provides free healthcare to uninsured and underinsured people. Justin Merriman / American Reportage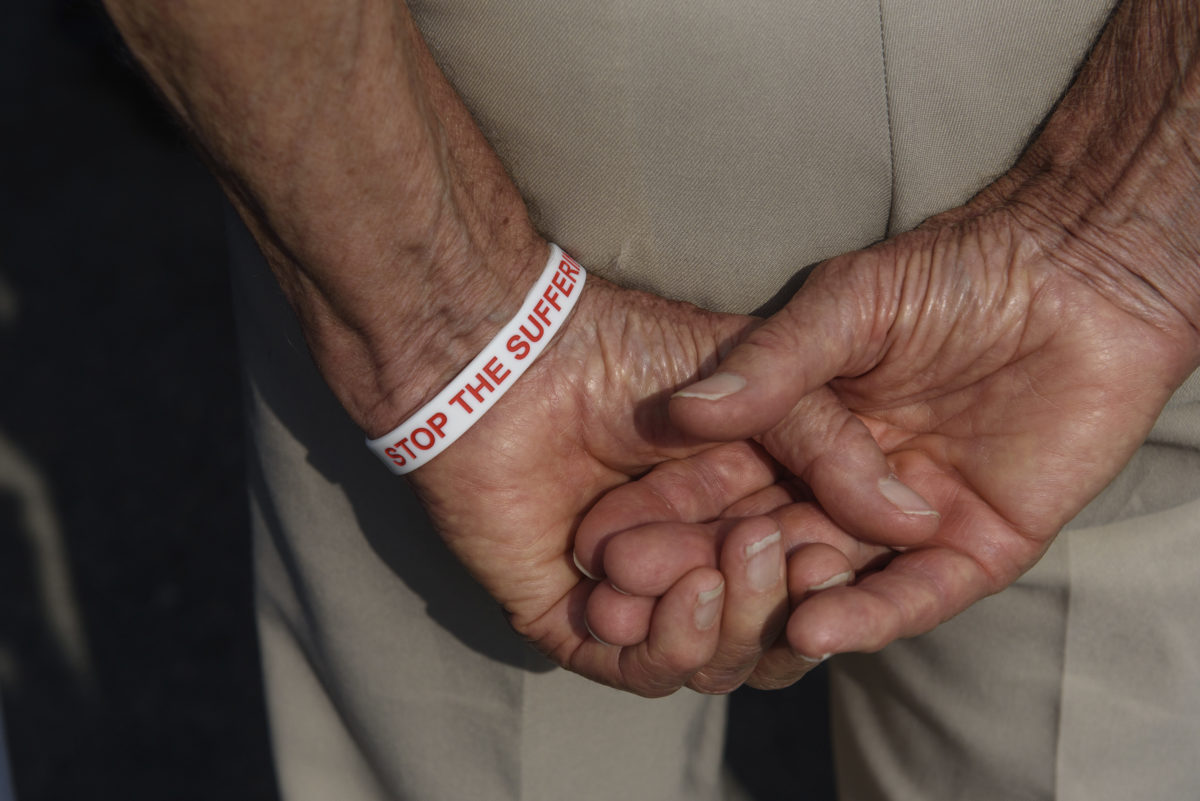 Uninsured in Rural America
Stan Brock, the founder and president of Remote Area Medical (RAM) clinic, wears a 'Stop the Suffering' bracelet as he stands at the clinic Friday morning, July 21, 2017 at the Wise County Fairgrounds in Wise, Virginia. The three-day event provides dental, medical and vision services to uninsured and underinsured people. Over 2,000 people from as far as 15 different states are expected to attend the clinic. Justin Merriman/American Reportage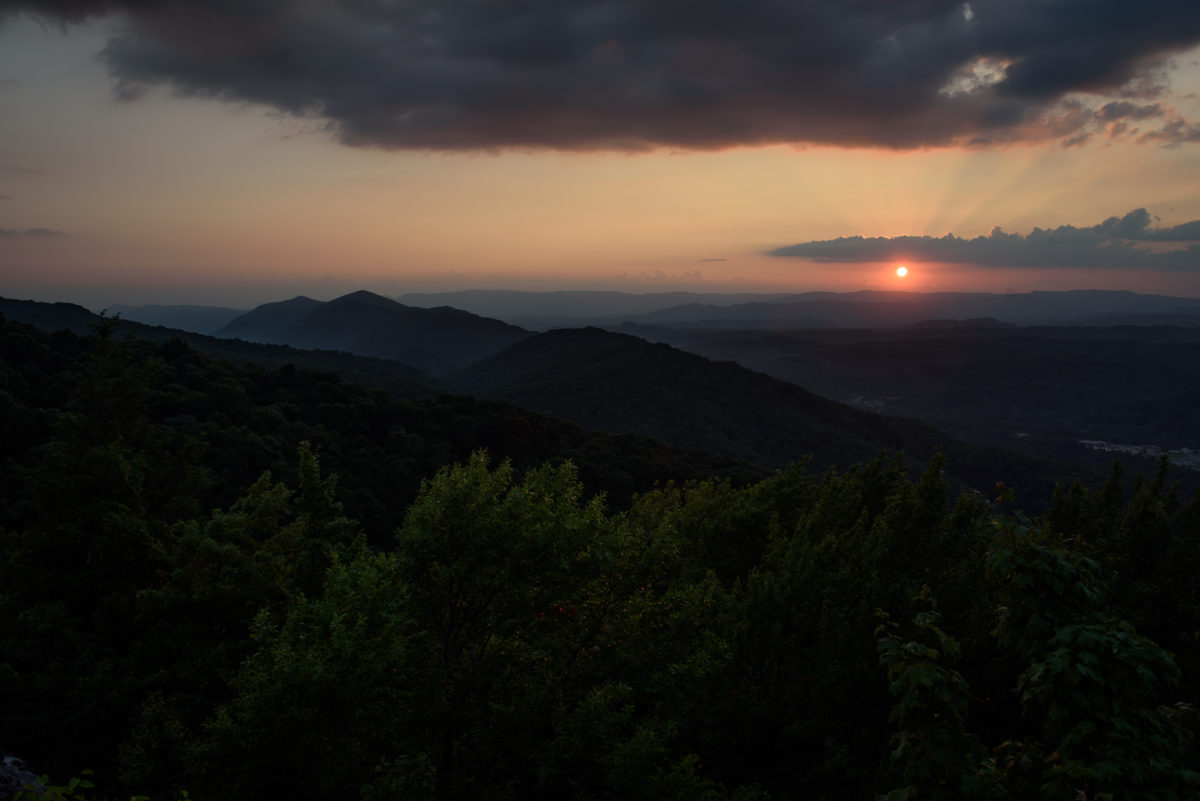 Justin Merriman, Freelance, Photographer, Photojournalist, American Reportage, Virginia, Wise, Healthcare, Medical, Dental, Vision, Help, Poverty, Appalachia, Doctors, RAM, Remote Area Medical, Health Wagon
The sun sets over the Appalachian Mountains near Norton, Va., on Wednesday, July 19, 2017. Justin Merriman/American Reportage
Uninsured in Rural America
Photography by Justin Merriman • Text by Chris Togneri
Hours before daylight, hundreds of desperate people wait outside the gate.
They hold pieces of paper with numbers, praying theirs are low enough to assure entry. They have traveled too far and endured too much to be denied.
At 5 a.m., a man in a beige uniform steps through the gate and speaks to them in a British accent. He counts off: "One, two three, four" — all the way to fifty. The first group shows their numbers and passes through the gate, almost every one of them stopping to thank the man or give him a hug.
"We've got the best medical technology in the world. If you can afford it," says the man with the British accent. His name is Stan Brock, the star of the old television show Wild Kingdom. "But millions and millions of people cannot afford it. That's why you see these crowds at every event like this we hold."
And that's why, in 1985, Brock launched Remote Area Medical, a series of free pop-up health care clinics for America's underserved citizens. This clinic in Wise, Virginia from July 21 to July 23, drew 2,000 people from all over the South and beyond, people who otherwise could not afford healthcare.
They come from all walks of life, but share a common trait: They are angry.
"Our government is supposed to be for the people, by the people," said Ron McGrady, 33. "Well, we are the people."
"And we need to be heard," said Randall Smith, 54, who travelled with his friend from Mount Carmel, Tennessee.
"We are in desperate need," McGrady said. "We're needing help from America."
Images from this story may be licensed for editorial or educational use by publications and educators. Click on the link below to learn more.
VIEW ALL IMAGES FROM THIS STORY
There are usually more images available from this story than are presented here. Click on the link below to view the entire collection.