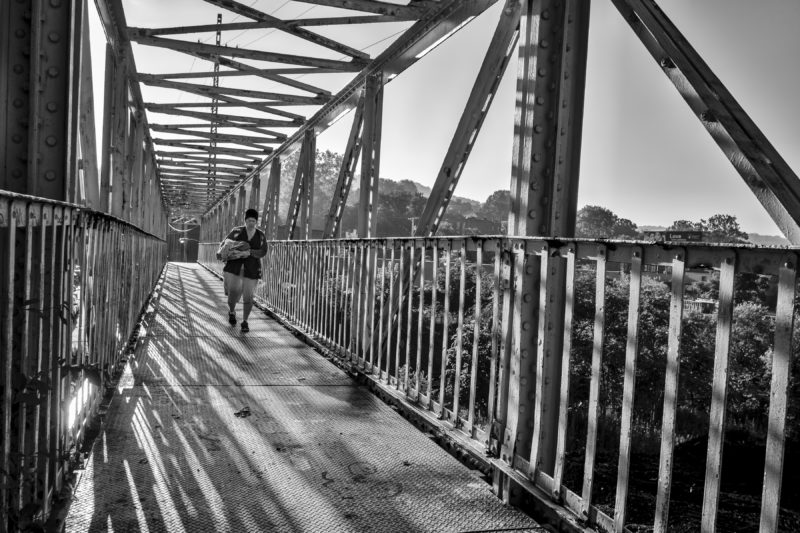 Tuesday, July 25, 2017 – Hazelwood, Pa.
I am back in Western Pennsylvania steel country to continue work on Searching for Dream Street, an exploration of the former steel towns that helped give the Pittsburgh the nickname "The Steel City."
I am planning to re-explore towns such as Clairton and Homestead as well as begin work in some of the towns up the Allegheny River including Brackenridge and Natrona.
Yesterday (Tuesday) was a bit of a bust with overcast skies most of the day. Good light today, but the clouds are due to return tomorrow.
I am trying to make connections with the residents of these towns so I can dig a bit deeper and show how the decline of the steel industry some 30 years ago is still affecting the residents of these towns today and how they continue to push forward to hold onto ethnic traditions brought to this country by their ancestors.
Have to head out for the nice late afternoon light, but there will be more to come.
Wednesday, July 26, 2017 – Clairton, Pa.
I am trying to find ways to illustrate the problems that the residents of Clairton are having with the air quality in their town.
Residents of Clairton and other nearby towns have sued U.S. Steel over emissions from the quenching towers of its Clairton Works coke plant. The lawsuit, claims that the U.S. Steel plant has not reduced its toxic emissions and as a result, children need to use inhalers while playing sports because of asthma.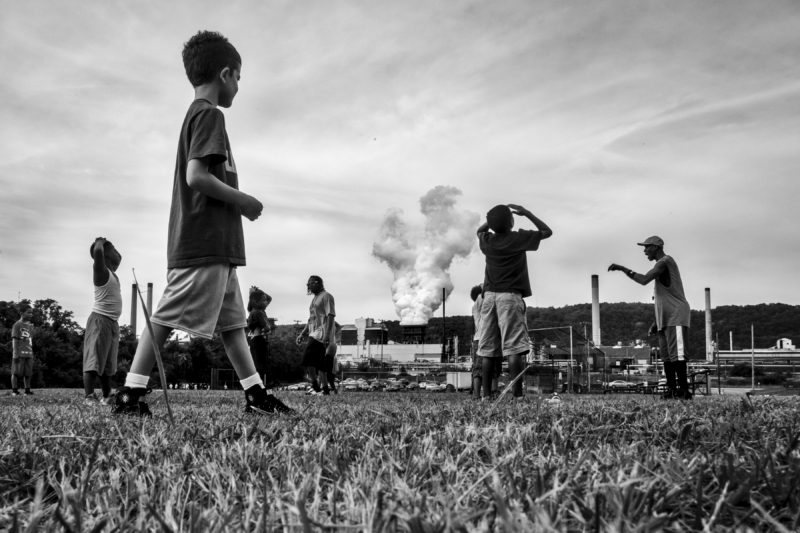 Allegheny County Health Department research indicates that Clairton has child asthma rates approaching 23 percent. U.S. Steel has paid almost $4 million in fines to the Allegheny County Health Department since 2009 due to emissions violations from the Clairton plant which is the largest coke manufacturing facility in the United States.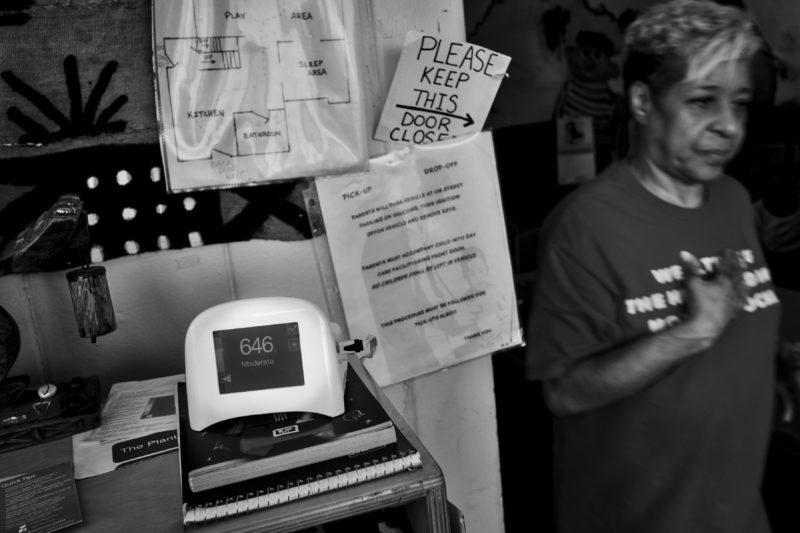 Thursday, July 27, 2017 – Braddock, Pa.
As journalists know, working on a story always has its ups and downs. Weather does not cooperate, subjects and sources cancel or become unable to contact, as well as a myriad of other unforeseen circumstances can derail the progress of the process.
Pile on the self-doubt that we all encounter, and you can sum up my last 24 hours.
Still, one has to slog forward and work through it. So yesterday, after some things fell through and the weather was being uncooperative, I headed out again to see what I could find and possibly salvage the day.
It paid off. I was able to make contact with a subject that I wanted to photograph in Hazelwood and we made an appointment for late this afternoon. It should be pretty cool and I look forward to sharing it with readers.
Then, as I was driving around Braddock to see what if anything had changed since the last time I was there months ago, I came across a scene that made me quickly circle the block.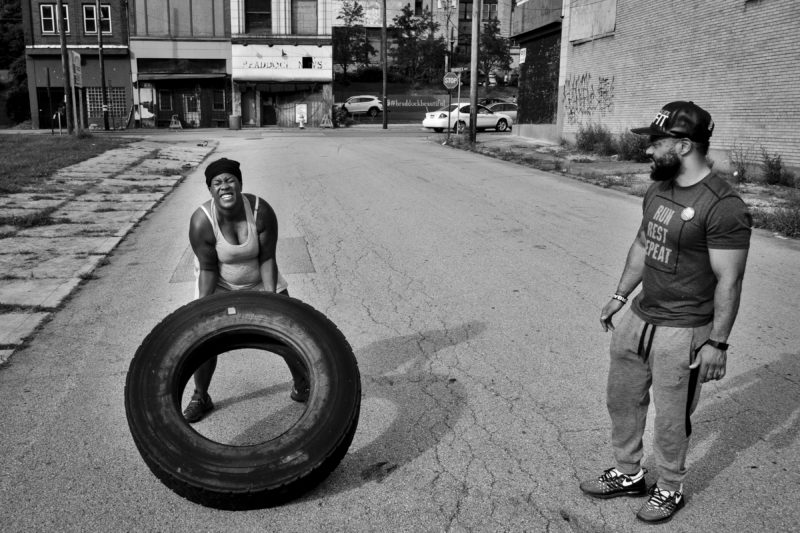 There, in the middle of a side street and right in front of some decaying buildings, including the former Braddock newspaper's home, was a man and woman working out.
I found out the man was a personal trainer and nutritionist, and she had lost over 100 pounds under his tutelage. I explained what I was doing and they gave permission to make some images as she flipped a large tire down the road.
At that moment the planets seem to align for a moment and the setting sun peeked out of the clouds and flooded the scene with nice light.
As I was shooting, I could not help but feel what I was photographing was a metaphor for Braddock's slow rebirth.
Small improvements have been being made to the landscape of the town. A few months ago Braddock had no restaurants other than the food truck (which is excellent) that pulls up outside of a microbrewery that opened up a couple of years ago. Now it has two, one of which is owned by renowned chef Kevin Sousa and is relying on local produce from Grow Pittsburgh's urban farm in the town, the restaurant's greenhouse, and a community bread oven. Sousa has hired from the community and offers all Braddock residents a 50 percent discount on food.
Reviving a dying town takes time and commitment, just as self-improvement can be difficult. It is hard. But most things that are really worth doing, usually are.
Friday, July 28, 2017 – New Kensington and Hazelwood, Pa.
I began the day with a return trip up to New Kensington to visit some of the old-timers that still live there.
Tommy West, a local community activist, artist and photographer, introduced me to Achille (Kelly) Gasbarra, 94, as well as Everhart Flenory, 73.
I love sitting down and talking with people and hearing about their lives. Mr. Gasbarra enlisted in the Navy and claims he is the only person in the Navy that never saw water. He was a cook and worked in Nevada at a naval ammunition depot that shipped ammunition to the Pacific fleet. He recently celebrated his 75th wedding anniversary with his wife Matilda. When talking about what New Kensington used to be like, he says "the place was full of people."
I also stopped into the Valleys bar to visit with some locals. Bars in many of these steel and industrial towns open at 7 a.m. to cater to third shift workers and people looking for some early-morning camaraderie.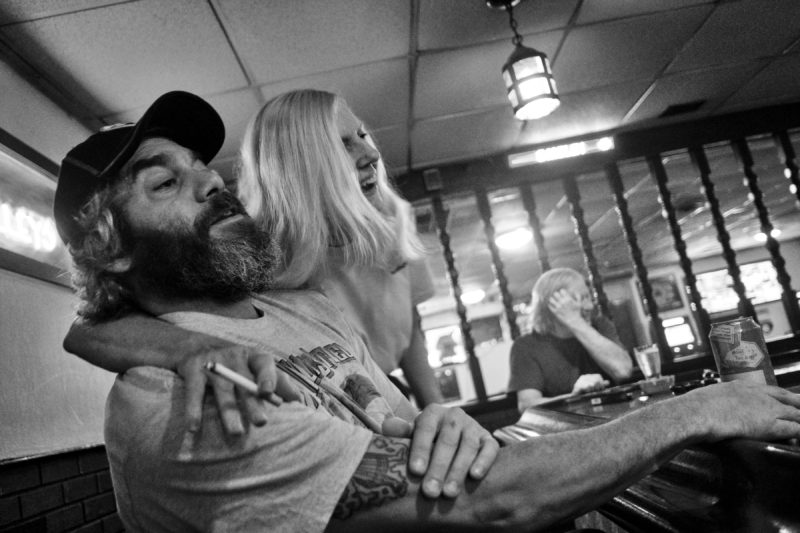 Tommy then took me over to meet Everhart Flenory. A retired steel worker who was born and raised in New Kensington, Everhart has a bit of a colorful past. He quit school at the age of 15 and went into the streets to make money. Already an accomplished pool player, he would hustle with money put up by older backers. I am sure he has many great stories to tell and I hope to get back there and interview him in-depth.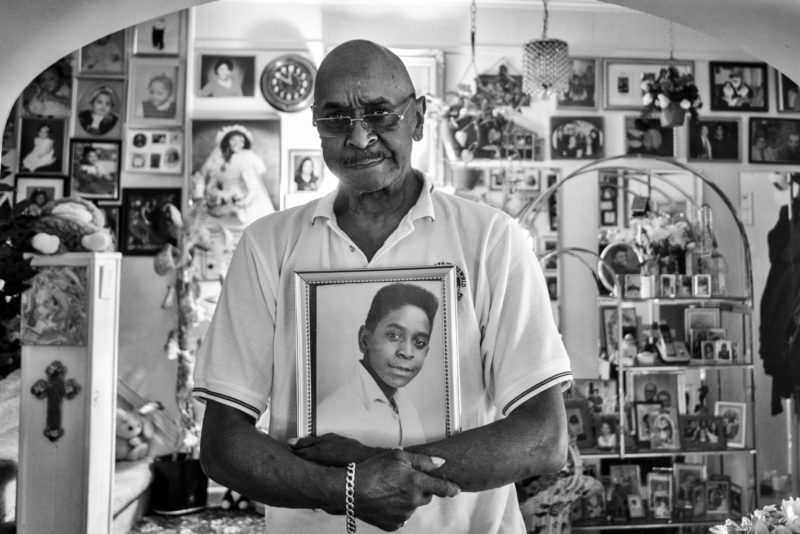 Friday ended with an amazing shoot at a small Hungarian restaurant in Hazelwood. Jozsa Corner is owned and operated by Alexander Jozsa Bodnar. Bodnar, 74, a native of Budapest, Hungary came to Pittsburgh in 1957 at the age of 15, fleeing his native country after participating in the failed 1956 Hungarian revolution.
Bodnar opened Jozsa Corner in 1988, in a building that he says was built in 1886 by Transylvania Saxons, and offers an ethnic, family-style dining experience centered around his grandmother's recipes.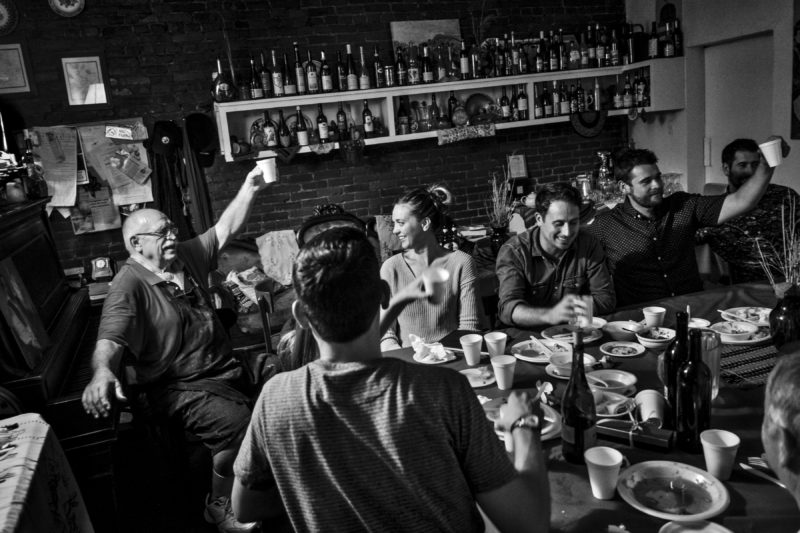 I was there as he prepared dinner for about 20 guests and watched as he charmed them with fantastic food and fascinating stories.
Bodner is doing his part to keep Hungarian traditions alive in Hazelwood.
Until the next trip….