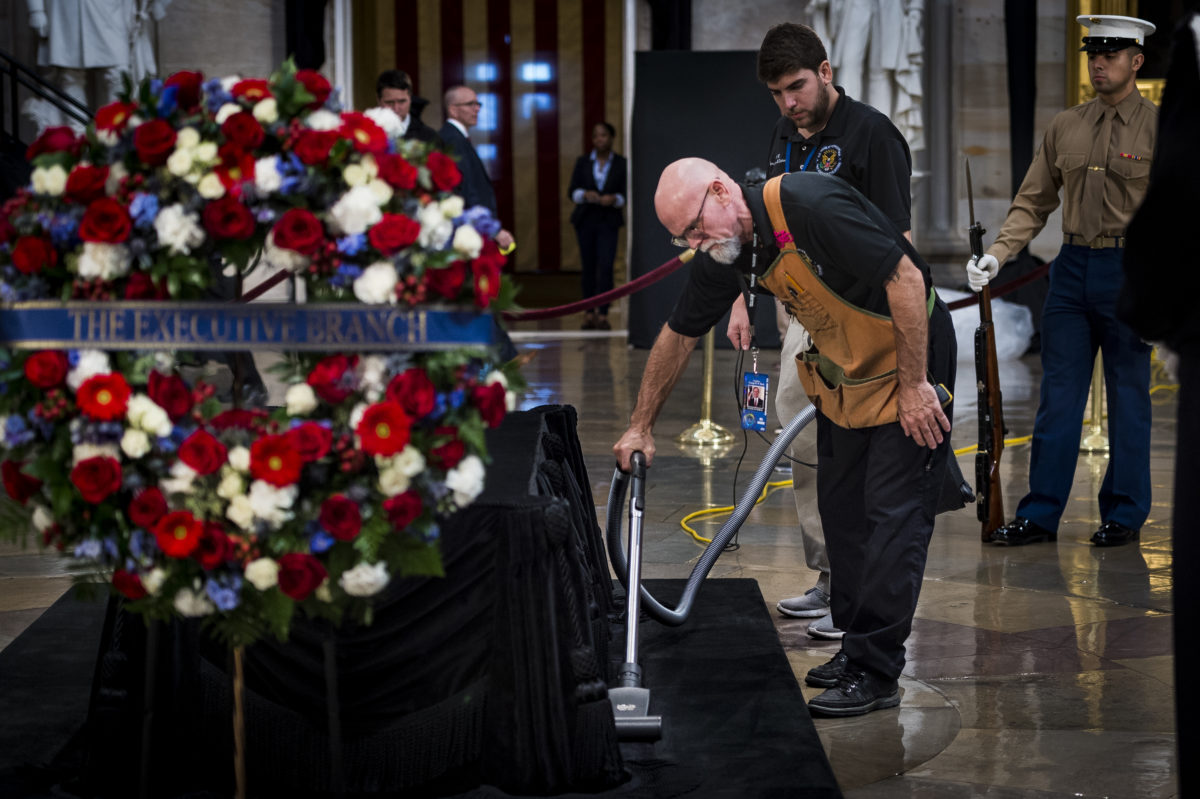 Former President George H.W. Bush Lies in State in the United States Capitol
Mike Dean, chief upholsterer of the House of Representatives, vacuums around the catafalque, a wooden platform that was used for President Abraham Lincoln's funeral in 1865, in the United States Capitol Rotunda where former President H.W. Bush will lie in state during a ceremony to honor the late President on Monday, Dec. 3, 2018. (Photo by Pete Marovich for The New York Times)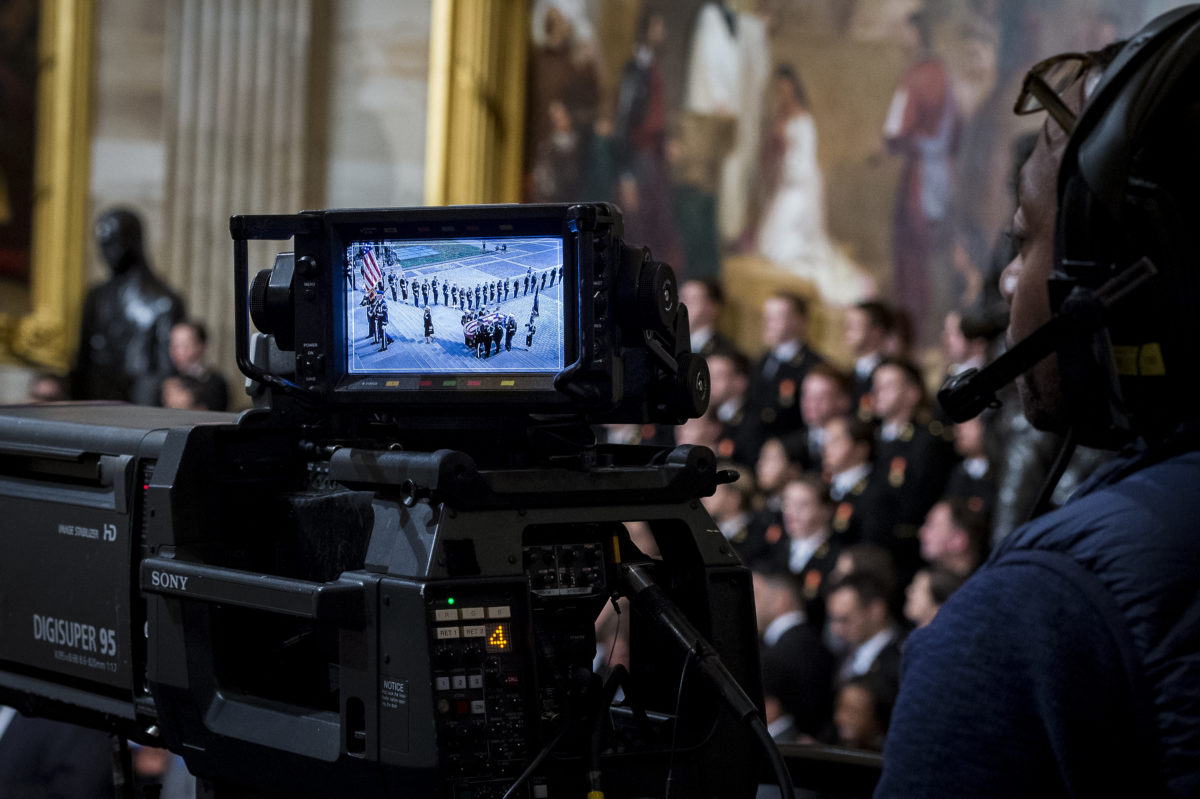 Former President George H.W. Bush Lies in State in the United States Capitol
A television cameraman watches on his monitor from inside the Capitol Rotunda as the body of former President George H.W. Bush is carried up the steps of the United States Capitol by a Department of Defense Honor Guard on Monday, Dec. 3, 2018. (Photo by Pete Marovich for The New York Times)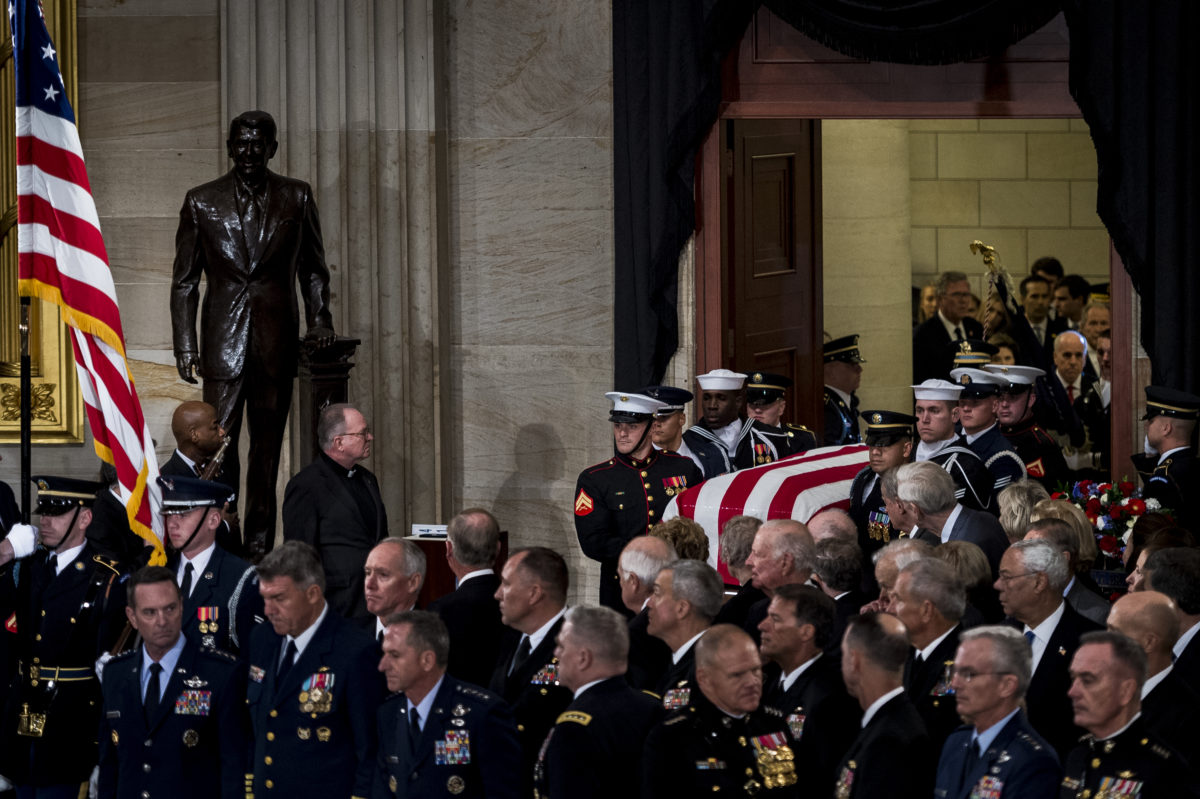 Former President George H.W. Bush Lies in State in the United States Capitol
The body of former President George H.W. Bush is carried into the United States Capitol Rotunda by a Department of Defense Honor Guard where he will lie in state, during a ceremony to honor the late President on Monday, Dec. 3, 2018. (Photo by Pete Marovich for The New York Times)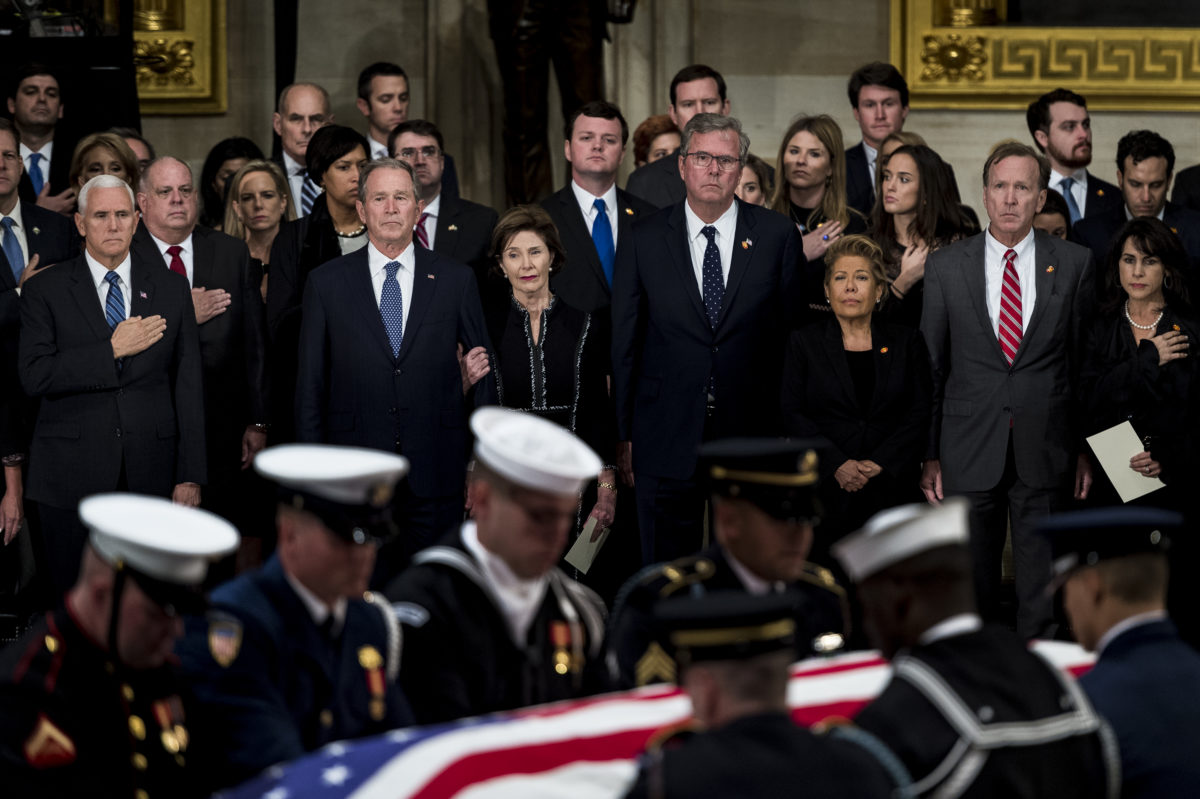 Former President George H.W. Bush Lies in State in the United States Capitol
Vice President Mike Pence, former U.S. President George W. Bush, former U.S. First Lady Laura Bush, Jeb Bush, former Governor of Florida, his wife Columba Bush and Neil Bush, chairman of Points of Light Institute, his wife Maria Andrews, stand as the body of former President George H.W. Bush is carried into the United States Capitol Rotunda by a Department of Defense Honor Guard where he will lie in state on Monday, Dec. 3, 2018. (Photo by Pete Marovich for The New York Times)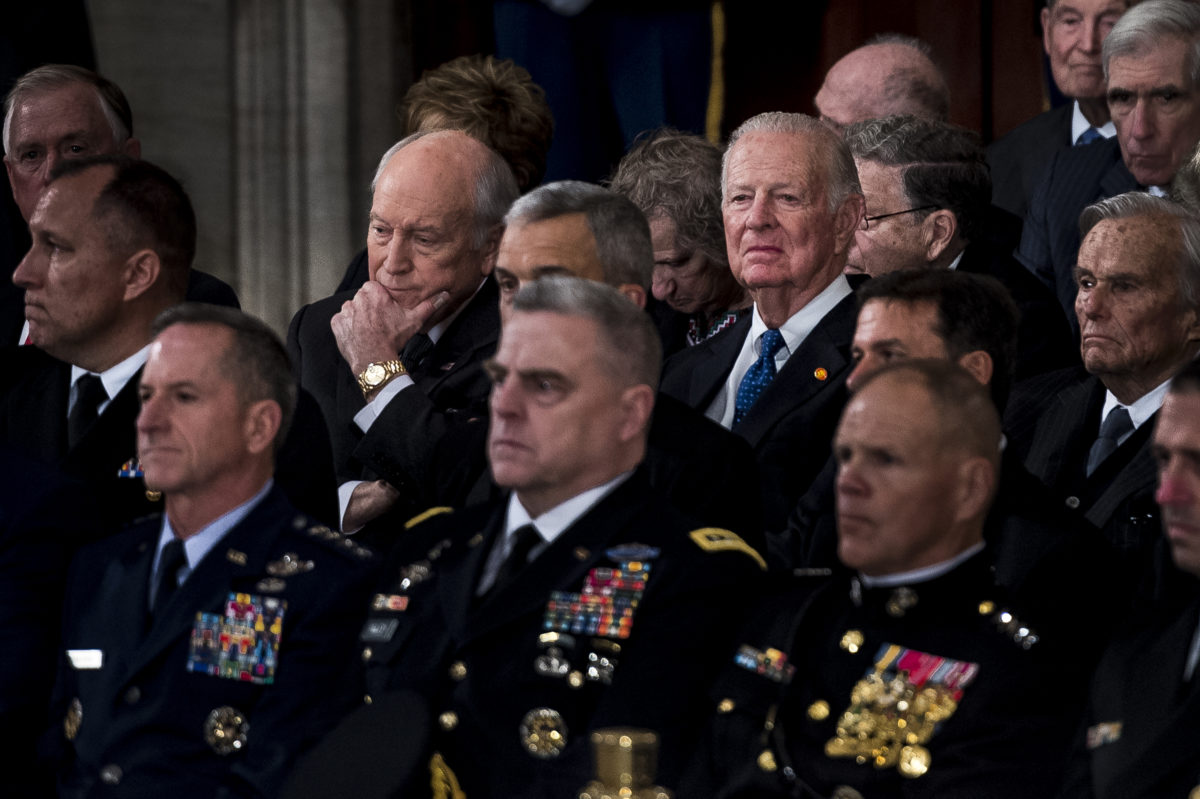 Former President George H.W. Bush Lies in State in the United States Capitol
Former Vice President Dick Cheney and former Secretary of State James Baker attend a ceremony in honor of the late President President George H.W. Bush as he lies in state in the United States Capitol Rotundaon Monday, Dec. 3, 2018. (Photo by Pete Marovich for The New York Times)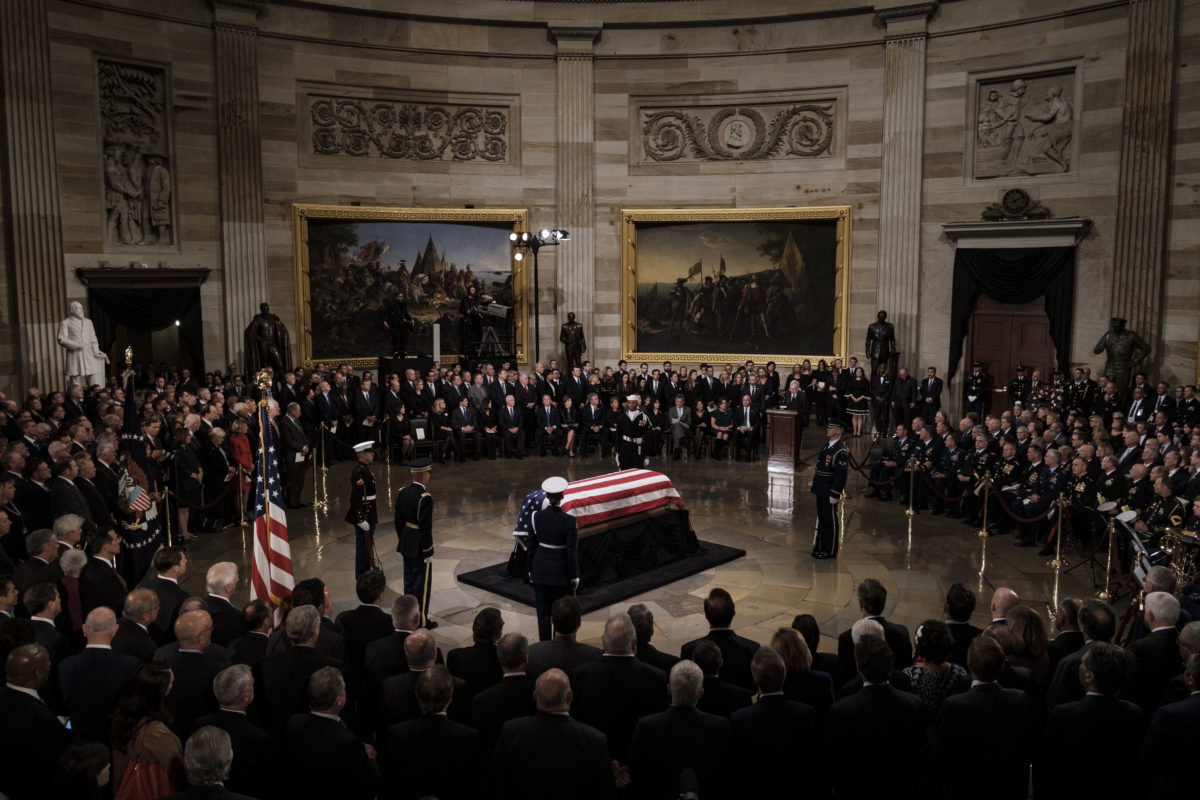 Former President George H.W. Bush Lies in State in the United States Capitol
The body of former President George H.W. Bush lies in state during a ceremony in the United States Capitol Rotunda to honor the late President and Naval Aviator on Monday, Dec. 3, 2018. (Photo by Pete Marovich for The New York Times)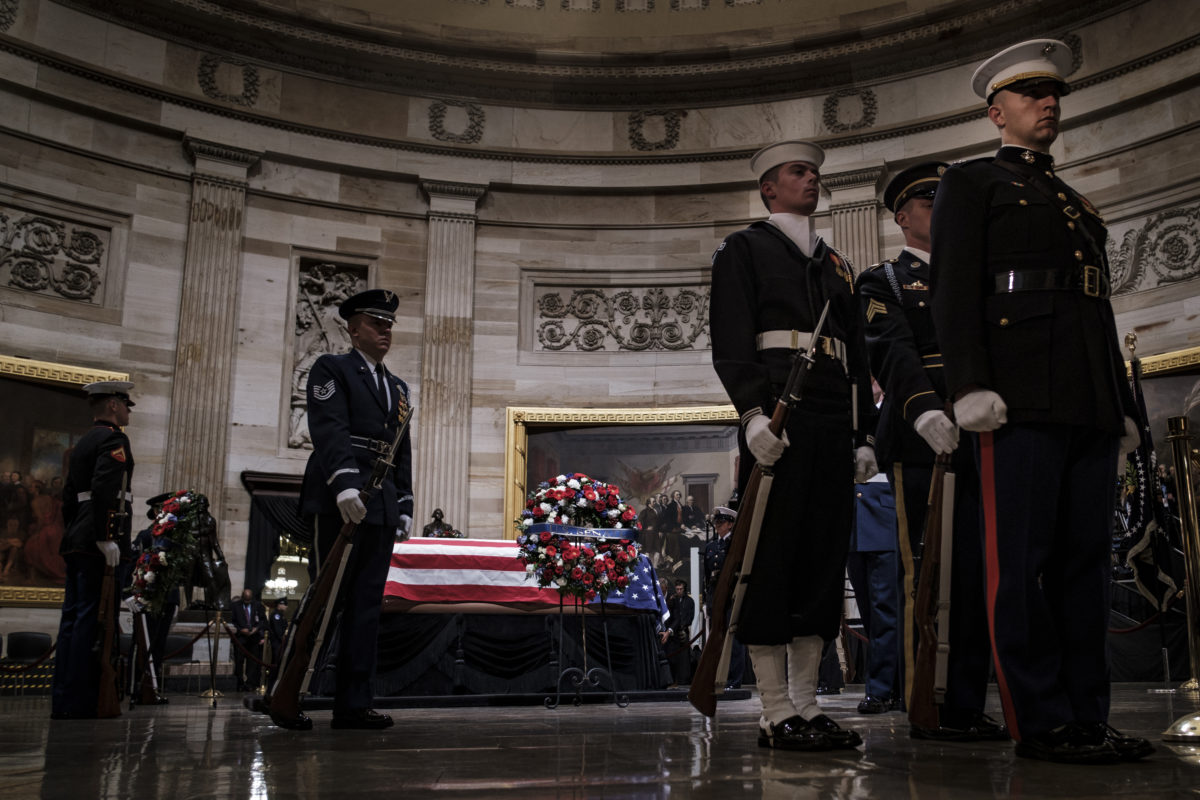 Former President George H.W. Bush Lies in State in the United States Capitol
The military honor guard changes shifts as the body of former President George H.W. Bush lies in state in the Rotunda of the U.S Capitol on Monday, Dec. 3, 2018. (Photo by Pete Marovich for The New York Times)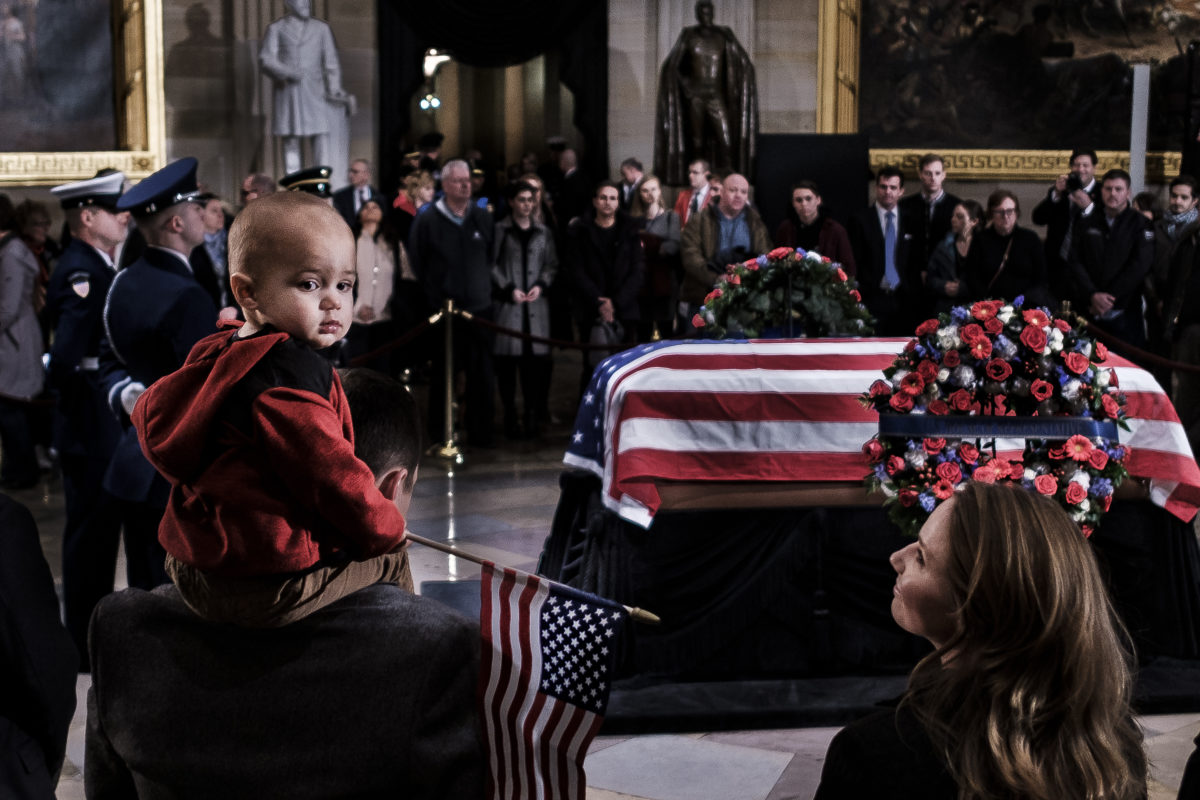 Former President George H.W. Bush Lies in State in the United States Capitol
A young boy looks back at the media as the body of former President George H.W. Bush lies in state in the Rotunda of the United States Capitol in Washington, D.C. on Monday, Dec. 3, 2018. (Photo by Pete Marovich for The New York Times)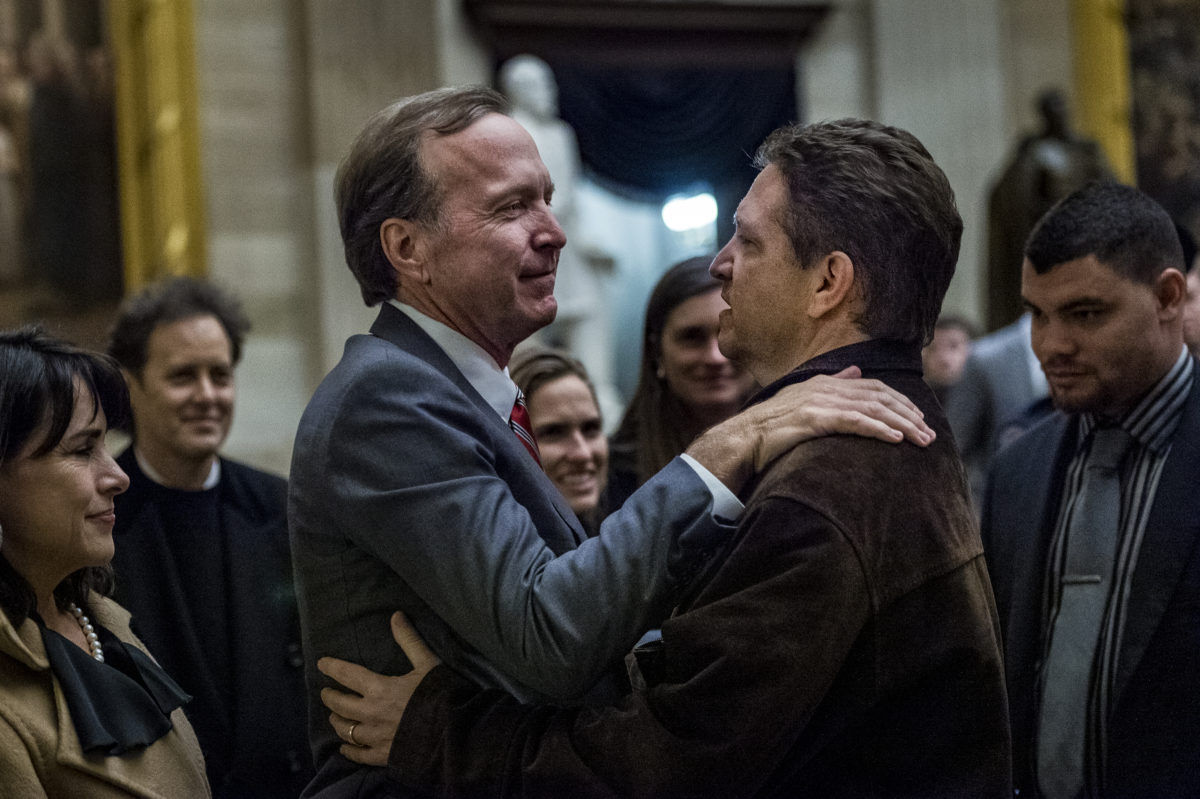 Former President George H.W. Bush Lies in State in the United States Capitol
Neil Bush, son of former President George H.W. Bush stands with his family as they thank members of the public for coming to pay their respects to his dad as he lies in state in the Rotunda of the U.S Capitol on Monday, Dec. 3, 2018. (Photo by Pete Marovich for The New York Times)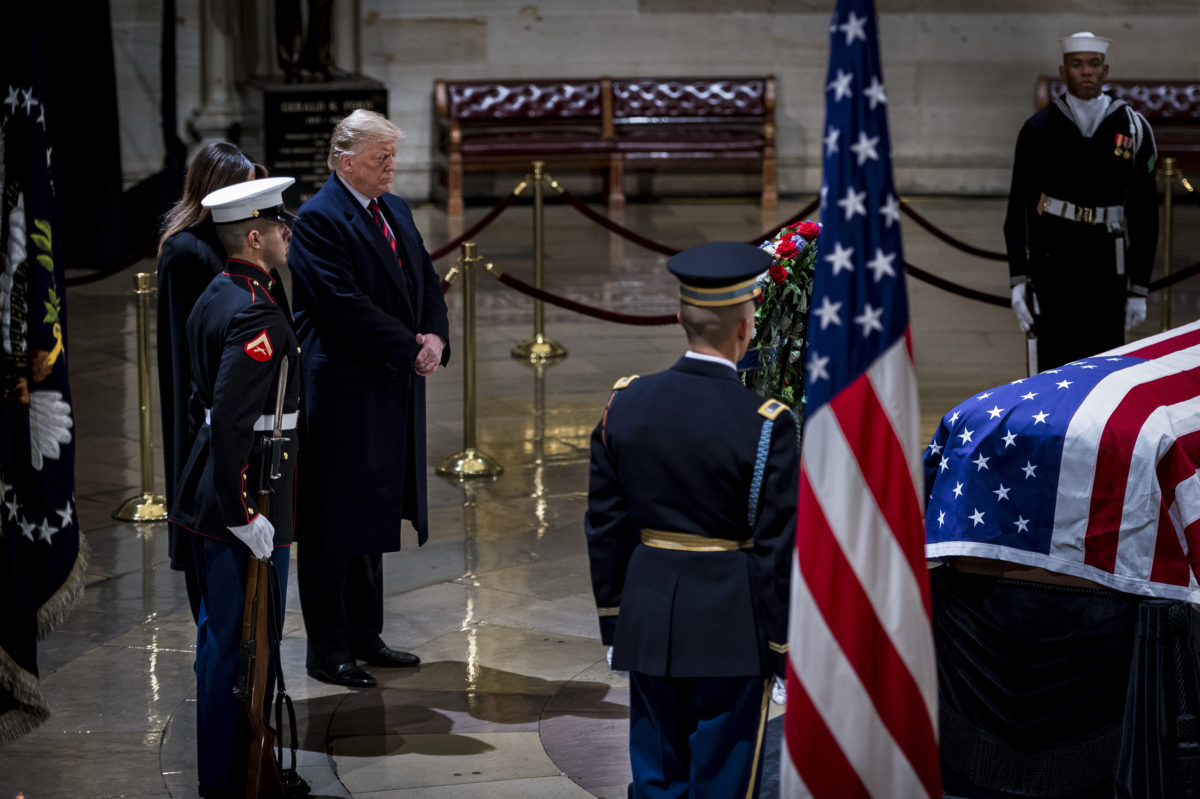 Former President George H.W. Bush Lies in State in the United States Capitol
President Donald Trump and First Lady Melania Trump pay their respects to former President George H.W. Bush as he lies in state in the Rotunda of the U.S Capitol on Monday, Dec. 3, 2018. (Photo by Pete Marovich for The New York Times)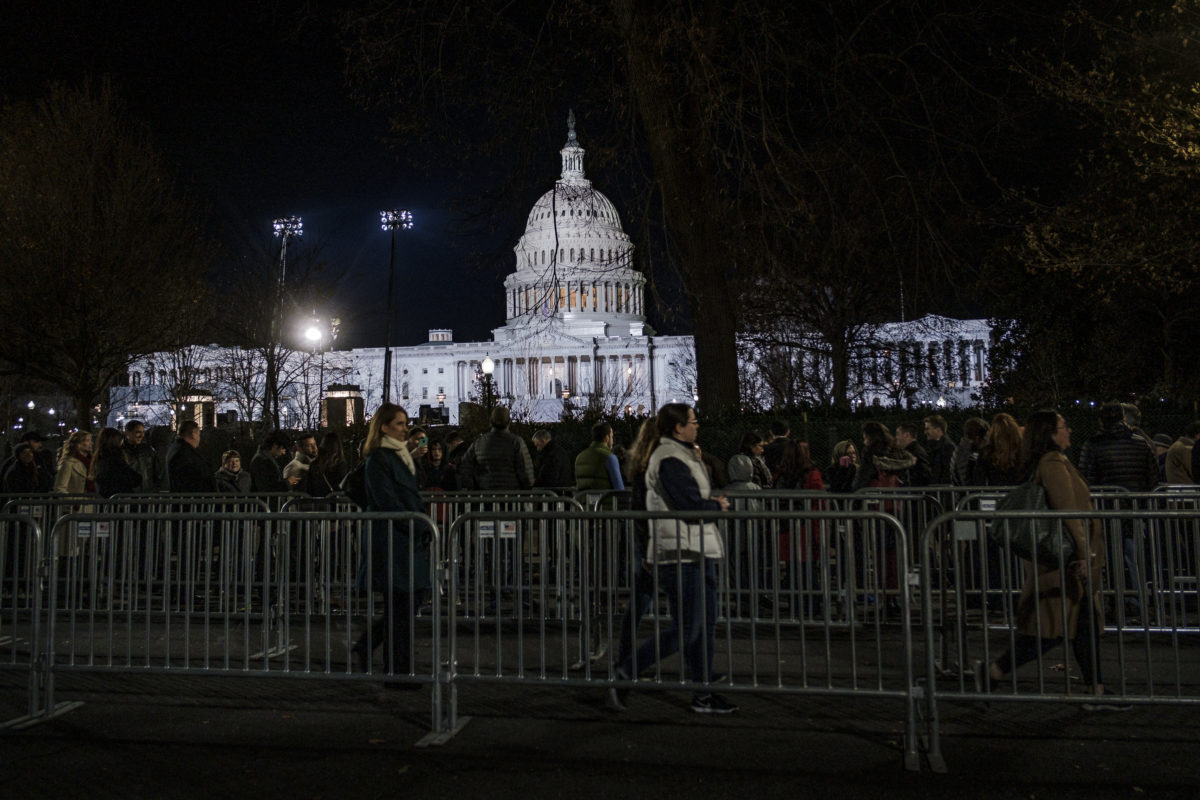 Former President George H.W. Bush Lies in State in the United States Capitol
Thousands of mourners line up in front of the United States Capitol late into the night to pay their respects to former President George H.W. Bush as he lies in state in the Rotunda of the U.S Capitol on Monday, Dec. 3, 2018. (Photo by Pete Marovich for The New York Times)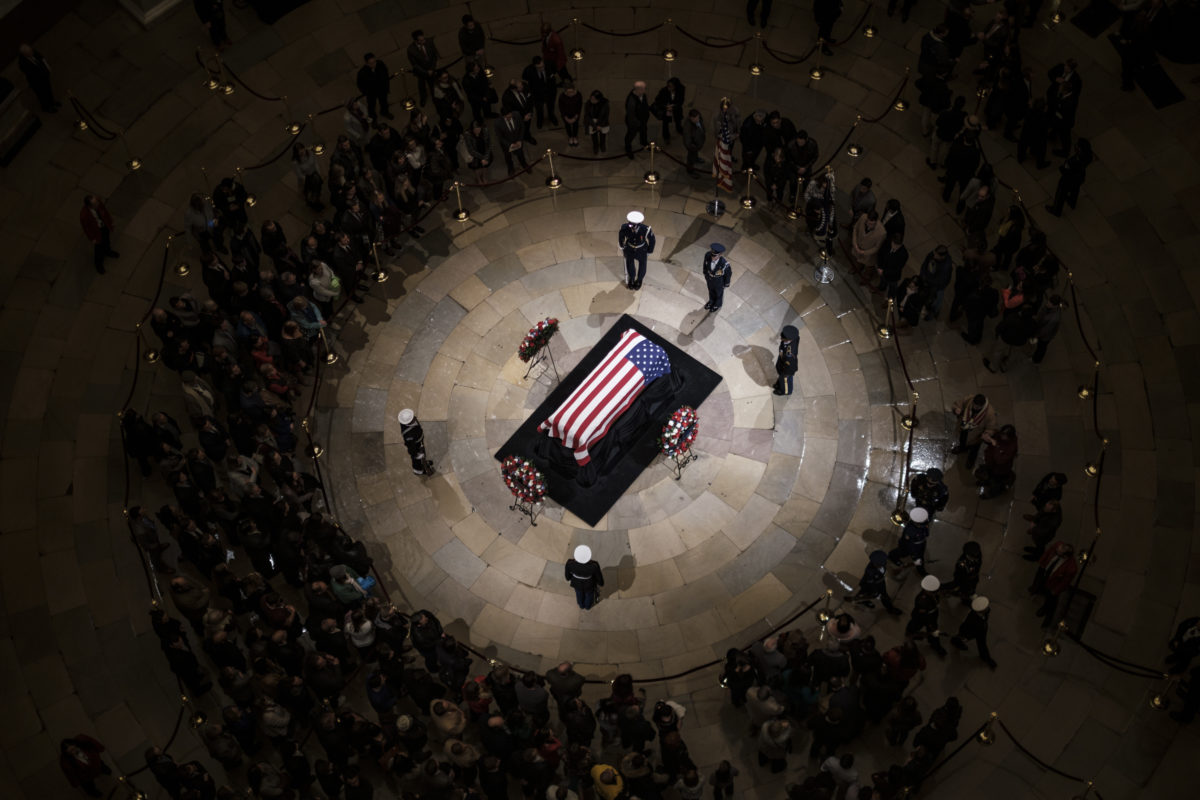 Former President George H.W. Bush Lies in State in the United States Capitol
The body of former President George H.W. Bush lies in state in the United States Capitol Rotunda on Monday, Dec. 3, 2018. (Photo by Pete Marovich for The New York Times)
Former President George H.W. Bush Dies
Photography by Pete Marovich for the New York Times
George Herbert Walker Bush, died November 30, 2018 at the age of 94. Bush served as the 41st President of the United States from 1989 to 1983, and as the 43rd Vice President of the United States from 1981 to 1989 under President Ronald Reagan. He had previously served as a U.S. Representative, Ambassador, and Director of the Central Intelligence Agency.
During his term as president, the Berlin Wall came down, the Soviet Union dissolved and the U.S. military removed Panamanian dictator Manuel Noriega from power. Bush responded when Iraqi President Saddam Hussein's invasion of oil-rich Kuwait (August 1990), by leading a military strike to drive Hussein out of the country.
In 2005 he joined forces with former president Bill Clinton, the Democratic candidate who defeated him in 1992, to help the people affected by Hurricane Katrina, which devastated the Gulf Coast region.
In 2011 Bush was honored with the Presidential Medal of Freedom by President Barack Obama.
State funeral arrangements included the former president lying in state in the United States Capitol Rotunda and a memorial service at the National Cathedral in Washington, D.C.
Following a funeral service at St. Martin's Episcopal Church in Houston, Texas, Bush's remains will be transported to Texas A&M University – the site of the George Bush Presidential Library and Museum. It is there that George H. W. Bush will be interred, near his wife Barbara and daughter Robin.
Images from this story may be licensed for editorial or educational use by publications and educators. Click on the link below to learn more.
VIEW ALL IMAGES FROM THIS STORY
There are usually more images available from this story than are presented here. Click on the link below to view the entire collection.