COVID-19 and the
Carpool Cinema
Text and Photography by Pete Marovich
Two hundred thirty people braved a pandemic and drove into the Carrie Furnaces' parking lot in the early evening of July 24, 2020, to watch the 1983 classic film "Flashdance," the story of a girl who works a day job in a steel mill and dances in a bar at night. Set and filmed in Pittsburgh, the film was projected on the side of the Carrie Furnaces' blowing engine house building in Rankin, Pa. The furnaces were shut down less than 5 years before the movie was made.
Rivers of Steel, a nonprofit dedicated to the industrial heritage that gave Pittsburgh its Steel City moniker, normally holds tours, workshops, exhibitions and festivals against the backdrop of the historic structures from the regional industry that helped build America.
With many summer commitments scheduled at Rivers of Steel being cancelled due to the COVID-19 pandemic, Rivers of Steel, has begun hosting drive-in movie experiences that could abide by the state's current health guidelines. With a maximum occupancy of 250 allowed due to COVID-19 guidelines, only 230 tickets were sold so that Rivers of Steel staff could work the event.
Dubbed "Carrie Carpool Cinema", the premiere event  featured a double feature with "Flashdance", followed up with "Out of the Furnace", which includes several scenes shot at the Carrie Blast Furnaces and nearby Braddock.
The Carrie Furnaces were built in 1881 as part of U.S. Steel's Homestead Works, a sprawling 400-acre complex that spanned both sides of the Monongahela river. They produced up to 1,250 tons of steel a day until 1978 when they were closed. 
While the majority of the site was razed for a shopping center, the 100-foot high furnaces, an extremely rare example of pre-WWII ironmaking technology, still stand. The furnaces were designated as a national historic landmark in 2006 and preservation efforts are underway.
Since 2014 I have been documenting the current state of the former steel towns around Pittsburgh, Pennsylvania, such as Rankin and neighboring Braddock and Homestead. Braddock still has an operating mill.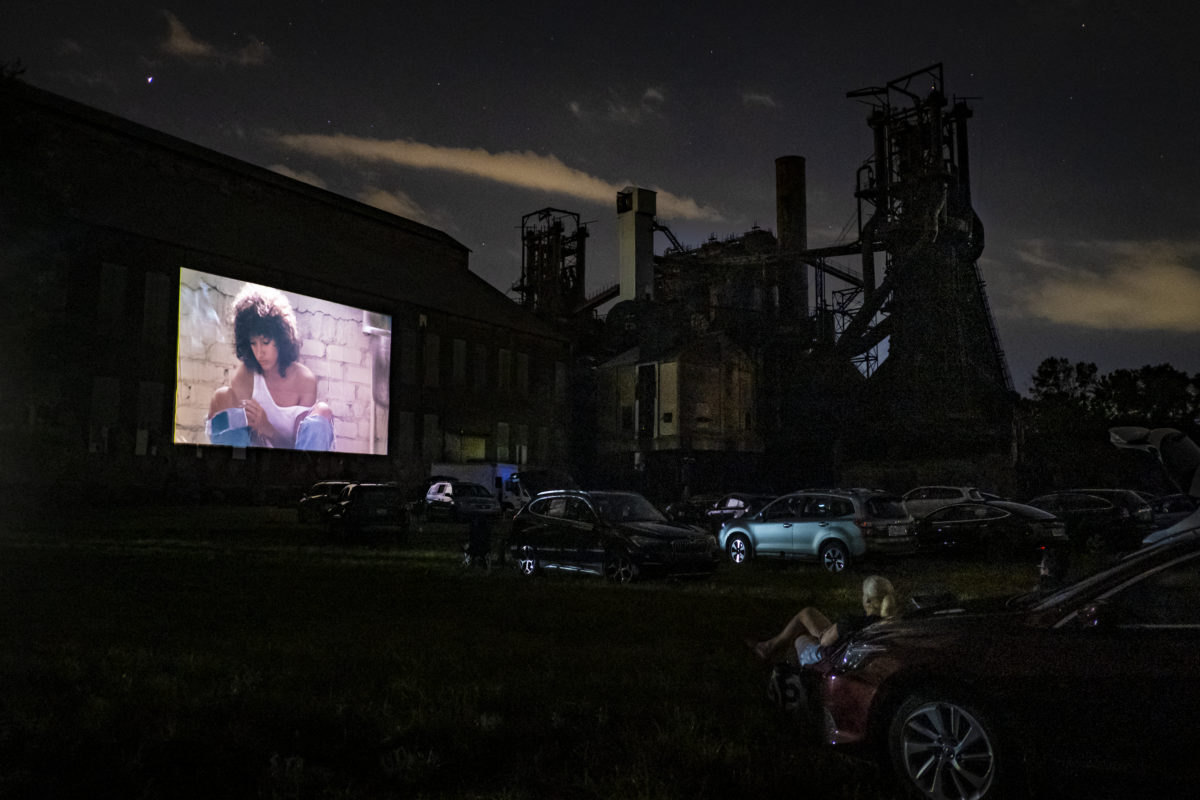 Photograph by Pete Marovich/American Reportage
At one time these quintessential American towns were prospering, with neat rows of craftsmen-style homes lining their residential streets, and decorated storefronts welcoming a steady stream of shoppers along their main thoroughfares. 
Towns such as Aliquippa, Homestead, Braddock, Rankin, Duquesne, McKeesport, Clairton, Monessen, and Natrona were all dependent on the steel industry. The mills attracted thousands of immigrants from Croatia, Italy, Serbia, and Ukraine with good jobs and the promise of a better life.
Thriving commercial districts, with movie theaters, restaurants, libraries, post offices, five-and-dime stores, churches, service stations, and, of course, bars for unwinding after an arduous day in the mill, where the norm. 
But today it is difficult to imagine these towns as former exemplars of the American dream. The destitute state of these towns traces back to the 1980s steel industry collapse. That's when companies like Jones and Laughlin Steel Corporation (J&L) and United States Steel shuttered their operations, leaving the tens-of-thousands of immigrants who flocked to these communities filled with such hope unsure what to do next.
The region is a microcosm of the problems facing post-industrial towns across America where crime, racism, a depressed economy and now the COVID-19 pandemic, continue to make the prosperity of the 1950's nothing more than a memory and dream.
Gonzales has worked in multiple professions during his 56 years of living in Hawaii. When he is not dressed up as Santa, he is a foster caregiver, a drummer at several local churches, and a fumigator. However, during the holiday season, he has taken on the red and white outfit entertaining people around the island.
The Villages: Dueling Golf Cart Rallies
Donald Trump is popular in The Villages. This is evident with the amount of people that arrived at Lake Miona Recreation Center to participate in the golf cart parade. There's not an accurate number for the amount of people who attended the event on September 23rd, but the oversized parking lot was packed to the brim with golf carts. 
Muslims in Hawaii celebrate Eid-ul-Adha by sacrificing cattle in the rural countryside – something that is unusual to find in Hawaii's landscape. While this is a common ritual to find in a Muslim country on the Islamic holiday, it's unusual in an isolated state like Hawaii. 
The unsinkable Anchor Grill has re-opened in Covington, Ky., following closure in mid-March due to the state's Covid-19 restrictions. Proud to call themselves a "dive," and featuring an iconic neon sign that says "We May Doze But Never Close," the eatery has remained open since 1946.
ALL CONTENT ON THIS SITE IS PROTECTED BY UNITED STATES COPYRIGHT LAW
All photographs and text contained within AmericanReportage.com are copyrighted material and are presented for web browser viewing only.
All rights to images, video and text are reserved by the individual creators of the work.
No image or text contained within this site may be modified, published, transmitted, sold, reproduced, distributed, or displayed in whole or in part. without the prior written permission from the photographer or writer and American Reportage.
Using any image as the base for another illustration or graphic content, including photography, is a violation of copyright and intellectual property laws.
Violation of copyright is actively prosecuted.
Charlie Borst
Stephen Crowley
Cathaleen Curtiss
Nikki Kahn
Michael Keating
Molly Roberts