Text and Photography by Rod Lamkey Jr.
I had been watching the protests on television in response to the death of George Floyd, and naturally, my instincts were to get out there and cover the unfolding events. I was seeing the work of my colleagues on Instagram, FaceBook and in print and it was difficult to stay home at such an important time.
However there were things I had to consider, COVID-19 being the main concern: hundreds of people packed together, shouting and possibly coughing from tear gas. It only takes one infected person who and not wearing a mask, to pass it on to me. I could not risk bringing COVID-19 home and infecting my wife and friends. Additionally the risk of injury or my personal gear being destroyed was problematic since I did not have an assignment.
I wanted to visit the protest area in Washington, D.C., to see what it looked like from the preceding turbulent days. I decided that an early morning walk around The White House neighborhood at sunrise would be safe and the streets should be fairly empty.
As I drove down I Street towards 16th St. NW, I was caught off-guard by a scene which left me at a loss for words. I was shocked as I viewed the remains of the chaos.
There was a car on its side and completely destroyed by fire. Just a skeleton. Next to it were two other cars also completely charred. One of them was parked under a tree with burned branches and the parking meter next to it was charred and melted.
The air still smelled like smoke. Day old smoke, damp, charred. It stuck to your clothes.I walked the area near the White House and photographed the remnants of the violence.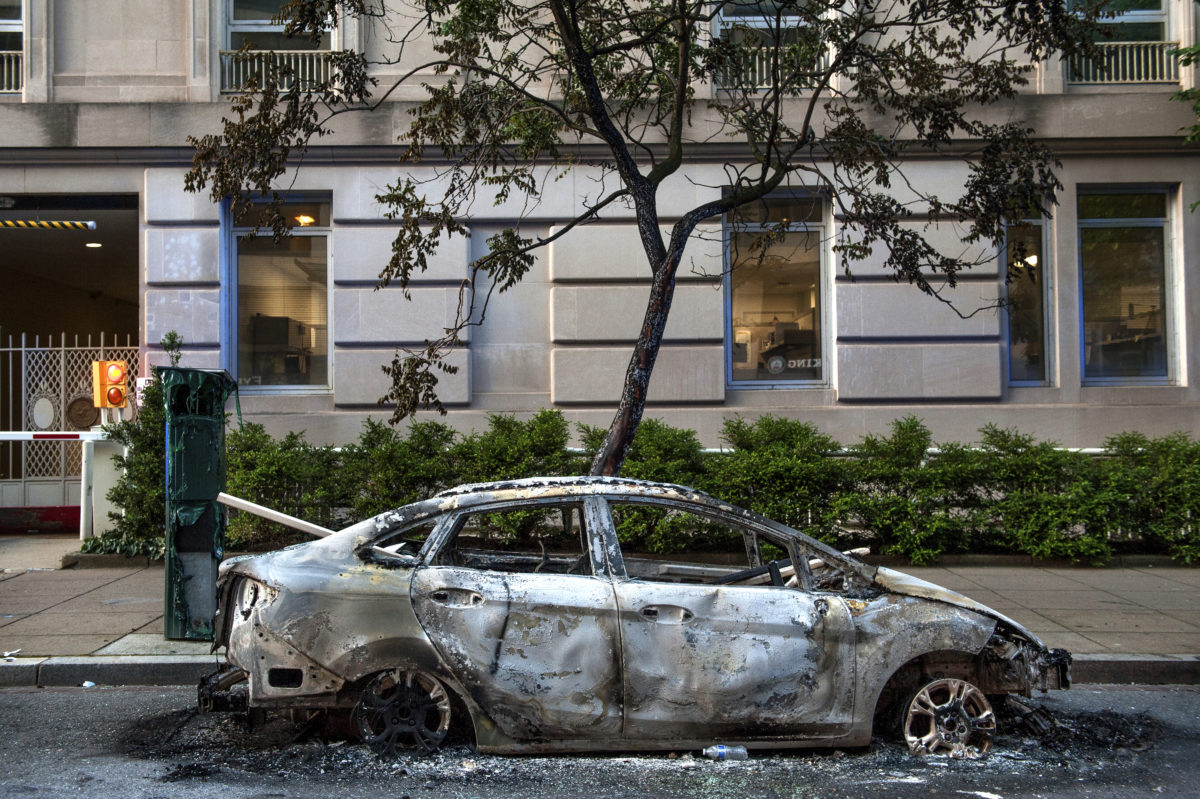 Photograph by Rod Lamkey Jr./American Reportage
Immediately after arriving at the intersection in front of St. John's Episcopal Church, where the chaos began just a day before, I started coughing even while wearing my mask. As my nose began to run, I realized the residual chemical smells from the clouds of tear gas from just several hours before, were still lingering in the air.
I thought about the events which spurred these protests. I thought about George Floyd who died while face down in the street, handcuffed, as a Minneapolis police officer knelt on his neck for more than 8 minutes.
I tried to picture the scenes of fires in the night and military police moving on peaceful protesters. I looked at the scene around me and attempted to process everything. I have returned many times at sunrise since that first morning when it's quiet. I watch people arriving there to take photos and also try to reflect on these recent events.
Gonzales has worked in multiple professions during his 56 years of living in Hawaii. When he is not dressed up as Santa, he is a foster caregiver, a drummer at several local churches, and a fumigator. However, during the holiday season, he has taken on the red and white outfit entertaining people around the island.
The Villages: Dueling Golf Cart Rallies
Donald Trump is popular in The Villages. This is evident with the amount of people that arrived at Lake Miona Recreation Center to participate in the golf cart parade. There's not an accurate number for the amount of people who attended the event on September 23rd, but the oversized parking lot was packed to the brim with golf carts. 
Muslims in Hawaii celebrate Eid-ul-Adha by sacrificing cattle in the rural countryside – something that is unusual to find in Hawaii's landscape. While this is a common ritual to find in a Muslim country on the Islamic holiday, it's unusual in an isolated state like Hawaii. 
The unsinkable Anchor Grill has re-opened in Covington, Ky., following closure in mid-March due to the state's Covid-19 restrictions. Proud to call themselves a "dive," and featuring an iconic neon sign that says "We May Doze But Never Close," the eatery has remained open since 1946.
ALL CONTENT ON THIS SITE IS PROTECTED BY UNITED STATES COPYRIGHT LAW
All photographs and text contained within AmericanReportage.com are copyrighted material and are presented for web browser viewing only.
All rights to images, video and text are reserved by the individual creators of the work.
No image or text contained within this site may be modified, published, transmitted, sold, reproduced, distributed, or displayed in whole or in part. without the prior written permission from the photographer or writer and American Reportage.
Using any image as the base for another illustration or graphic content, including photography, is a violation of copyright and intellectual property laws.
Violation of copyright is actively prosecuted.
Charlie Borst
Stephen Crowley
Cathaleen Curtiss
Nikki Kahn
Michael Keating
Molly Roberts