Generations Living Together
in a Pandemic
Text and Photography by Tina Russell
When news of a deadly virus sweeping the world and heading to the U.S. became apparent in March 2020, it was clear that lives were going to be impacted profoundly, and change how we do even the most common things.
My husband, cat and I sheltered inside a rented house with plenty of space and continued our work online without disturbing one another. Not everyone was so lucky.
I wanted to know how families were adjusting to quarantine, but I also wasn't comfortable going into a stranger's home as the number of people infected by the COVID-19 increased.
Because of that, I decided to look at my own family members. In March, my cousin, Tara Silcott, and her three children Aubrey, Aiden and Adriel took shelter inside a three-bedroom, two-bath house with three other adults, Tara's parents, Barbara and Mike Silcott, and Tara's aunt, Julie Russell, my mother. This wasn't new to them. This multigenerational family had been living together for years. Tara and her children have been living with their mother at their grandparents house on and off for their entire lives.
The difference was they were forced to stay indoors. No more school. No more parks. No more socializing with friends. Like so many other college students, Tara was forced to take her college courses to become an online licensed practical nurse, while also making sure her two oldest children, Aubrey and Aiden, took their elementary school classes online. The children shared one room with their mother, but found ways around sleeping in one room together. Adriel migrated to Julie Russell's bed at night, and Aiden did the same with his grandmother, Barbara Silcott.
The loud noises of children spilled into every room of the house. Toys were spewed all over the living room floor. Children jumped up and down on beds and the couch. Temper tantrums ensued when they weren't allowed to get things they wanted like snacks. When it got too loud, they were sometimes sent outside, where they played on a wobbly swing set that rose from the ground when Aubrey and Aiden pumped their legs too hard, reaching greater heights on the swings. They came up with their own games, branches in hand, running around in circles. The inground pool was their favorite place to be, and it was a place where Tara could study comfortably nearby. In the afternoon, they would go on their daily bike rides around the neighborhood. Tara Silcott trailed behind them on a scooter.
After two years living with her sister, my mother, Julie Russell, found a one bedroom apartment and moved out on May 14. This allowed Aiden and Adriel to finally get their own room that they shared. They each had a bed of their own. The walls were painted green and black letters were hung over the bed to spell each of their names. Tara glued plastic dinosaurs to green and orange canvases and hung them on the wall.
As Florida was engulfed in humidity, the children were forced to stay indoors. Aubrey and Aiden had tested their boundaries far too much by going into the deep end of the pool, so Mike Silcott locked up the pool and kept the key on him. They were only allowed in the pool when he was present. He isn't around very much. He's the only person who works full-time in the household as an essential employee in the waste sanitation business.
Barb Silcott couldn't watch the children when Tara Silcott had online clinicals or worked part-time as a home health aid. Her health is declining. She has an abdominal aneurysm wrapped around her kidney, and she can't get surgery until her kidney numbers are up. She also has osteoarthritis. "I don't think I'm ever going to get well," Barb Silcott said one evening while laying on the living room couch. "It's a process," Julie Russell replied.
Julie Russell dropped two teaching classes at the local community college to help her sister and niece. She found herself back at the house on Fridays when Tara Silcott had her clinical training and on late afternoons and evenings when Tara Silcott worked part-time as a home health aide. Barb Silcott doesn't know what she would do without her sister. She considers herself lucky to have her help. Julie sees it as being there for her family.
Tara Silcott's exhaustion is visible with tired eyes and her movements have become slower. When she tries to take a daytime nap, it's quickly interrupted by children jumping on her. She's thought about quitting her home health aide job. The part-time job is becoming too much with her full workload from her LPN classes. "I want this Coronavirus to go away," Tara Silcott said. "I need my life to go back to some type of normal."
Friday, July 24th, was her first day of clinical training at AdventHealth Ocala. She woke up at 4 a.m. to get ready and then make the one-hour drive to Ocala. Her training went from 6 a.m. to 3 p.m. When she got back home, she felt drained but her kids felt the opposite. They were rambunctious. Tara Silcott broke up multiple fights that afternoon between her two oldest children, Aubrey and Aiden. Once tempers calmed, they piled into the boys' room, watched videos and danced. The first attempt to get the kids to bed was at 7:15. It failed after Aiden entered the room at 7:40. As Tara Silcott studied for an upcoming exam, he and Aubrey giggled as they played games on their phone. After being forced to go back to his bed, the kids were asleep by 8. Tara finally ended her day at 9, and went to bed.
Tara Silcott's graduation is scheduled for Sept. 19th, 2020. She can't wait for the day to start her new career and move out of her parents house with her children. She frequently looks at mobile homes available for rent and to buy online. She wants to show her children what being an independent person looks like. She wants to give them a space where they can be as loud as they want to be. Where they can express their creativity. Where they can make slime and paint.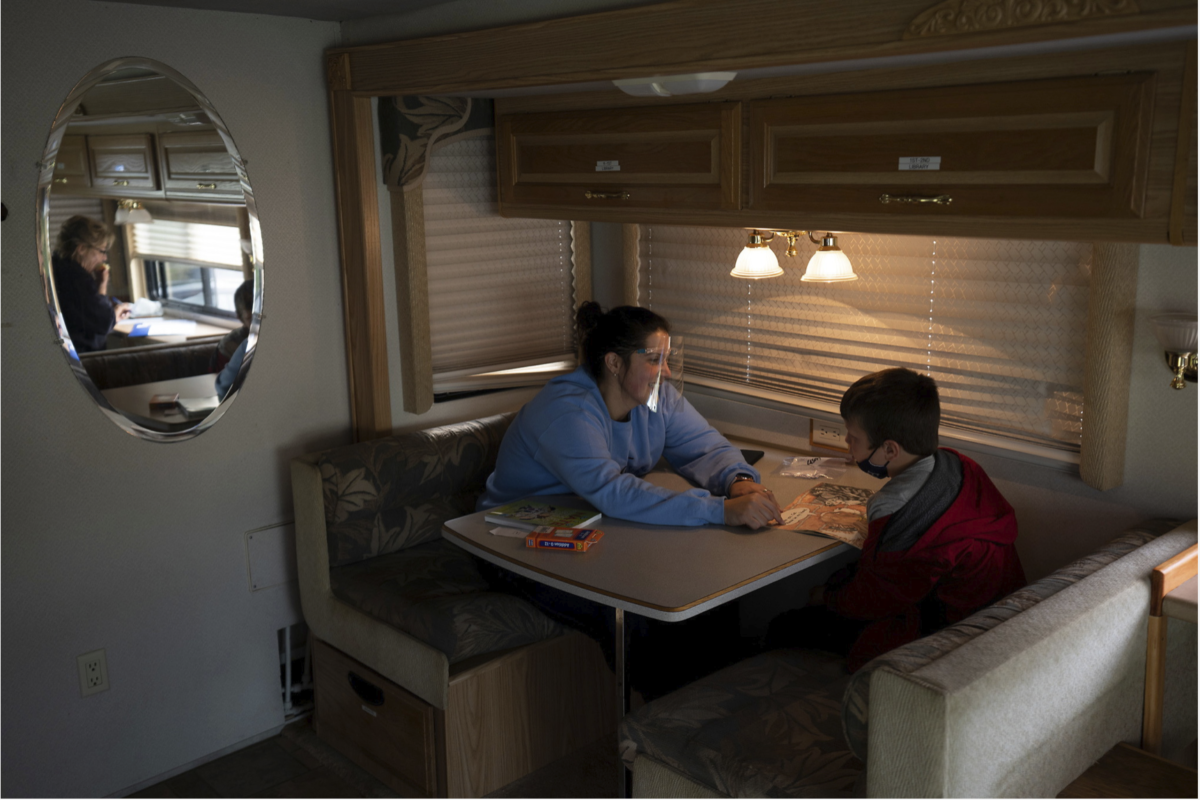 Gonzales has worked in multiple professions during his 56 years of living in Hawaii. When he is not dressed up as Santa, he is a foster caregiver, a drummer at several local churches, and a fumigator. However, during the holiday season, he has taken on the red and white outfit entertaining people around the island.
The Villages: Dueling Golf Cart Rallies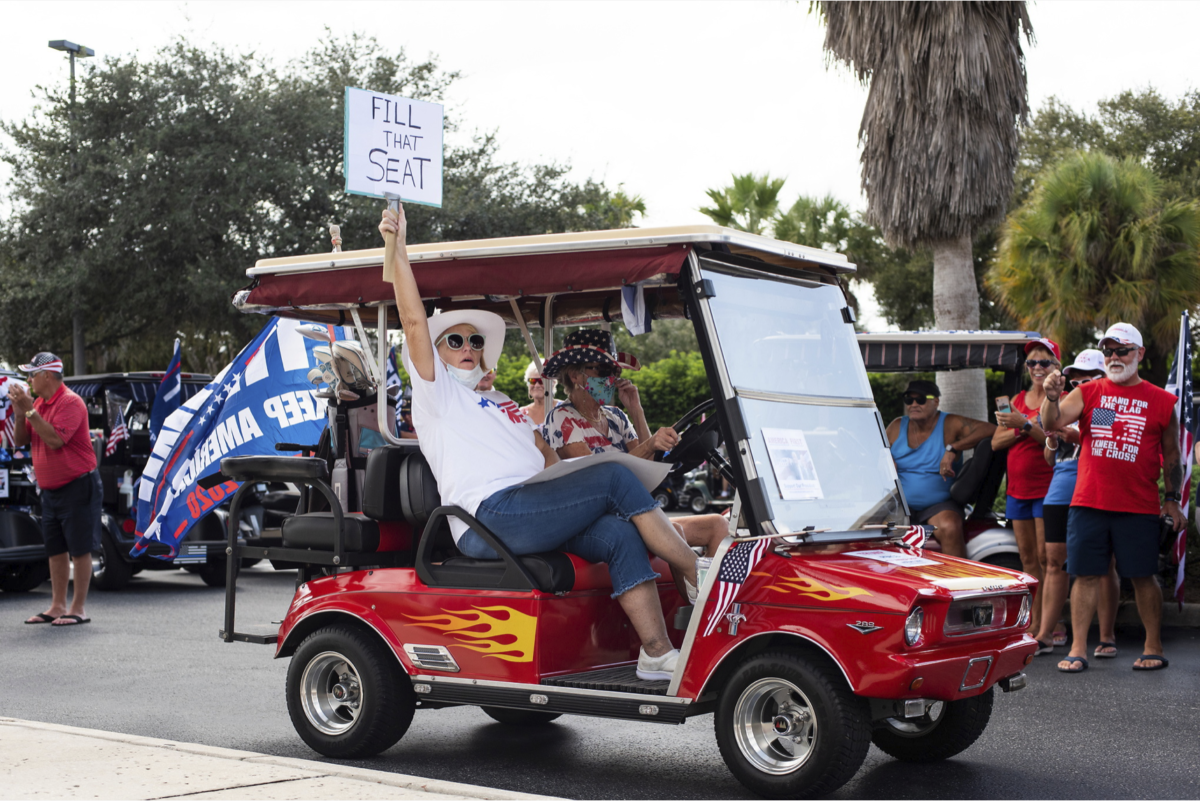 Donald Trump is popular in The Villages. This is evident with the amount of people that arrived at Lake Miona Recreation Center to participate in the golf cart parade. There's not an accurate number for the amount of people who attended the event on September 23rd, but the oversized parking lot was packed to the brim with golf carts.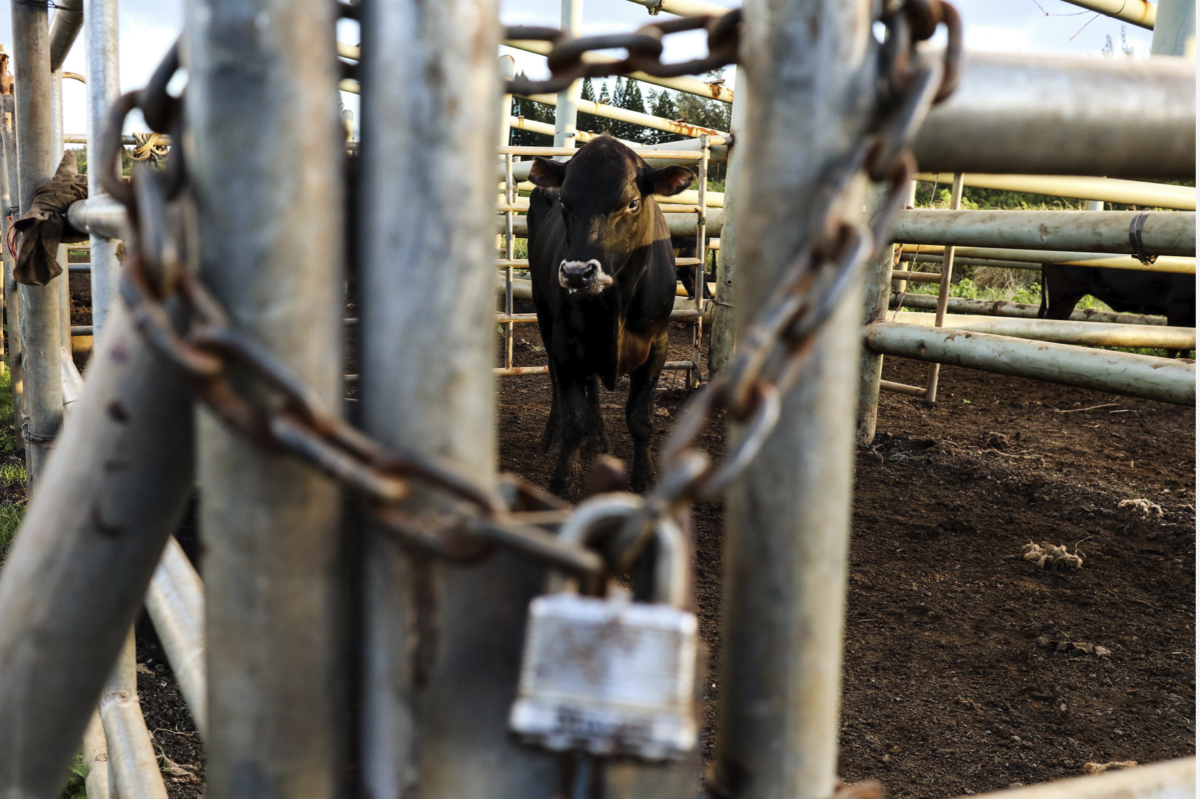 Muslims in Hawaii celebrate Eid-ul-Adha by sacrificing cattle in the rural countryside – something that is unusual to find in Hawaii's landscape. While this is a common ritual to find in a Muslim country on the Islamic holiday, it's unusual in an isolated state like Hawaii.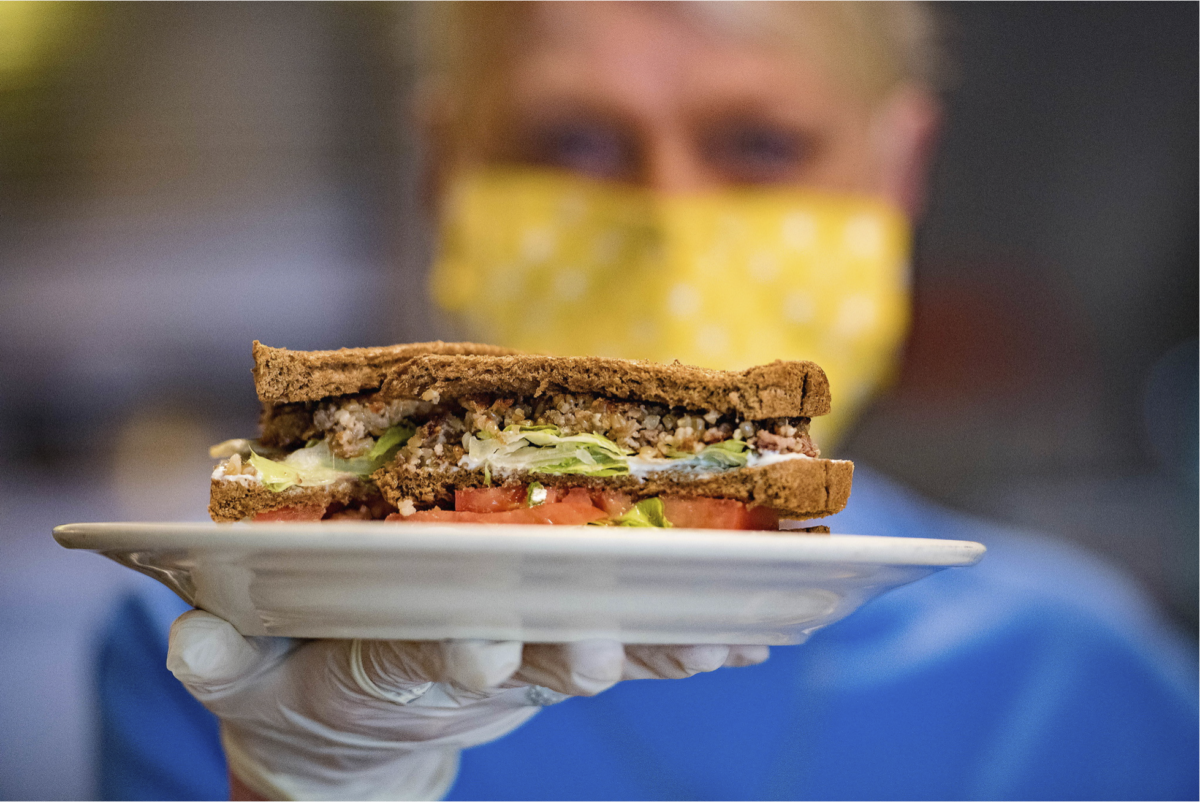 The unsinkable Anchor Grill has re-opened in Covington, Ky., following closure in mid-March due to the state's Covid-19 restrictions. Proud to call themselves a "dive," and featuring an iconic neon sign that says "We May Doze But Never Close," the eatery has remained open since 1946.

ALL CONTENT ON THIS SITE IS PROTECTED BY UNITED STATES COPYRIGHT LAW
All photographs and text contained within AmericanReportage.com are copyrighted material and are presented for web browser viewing only.
All rights to images, video and text are reserved by the individual creators of the work.
No image or text contained within this site may be modified, published, transmitted, sold, reproduced, distributed, or displayed in whole or in part. without the prior written permission from the photographer or writer and American Reportage.
Using any image as the base for another illustration or graphic content, including photography, is a violation of copyright and intellectual property laws.
Violation of copyright is actively prosecuted.
Charlie Borst
Stephen Crowley
Cathaleen Curtiss
Nikki Kahn
Michael Keating
Molly Roberts